Ys1s.xyz – another browser hijacker produced by QxSearch Inc. that messes with original browser settings such as the search provider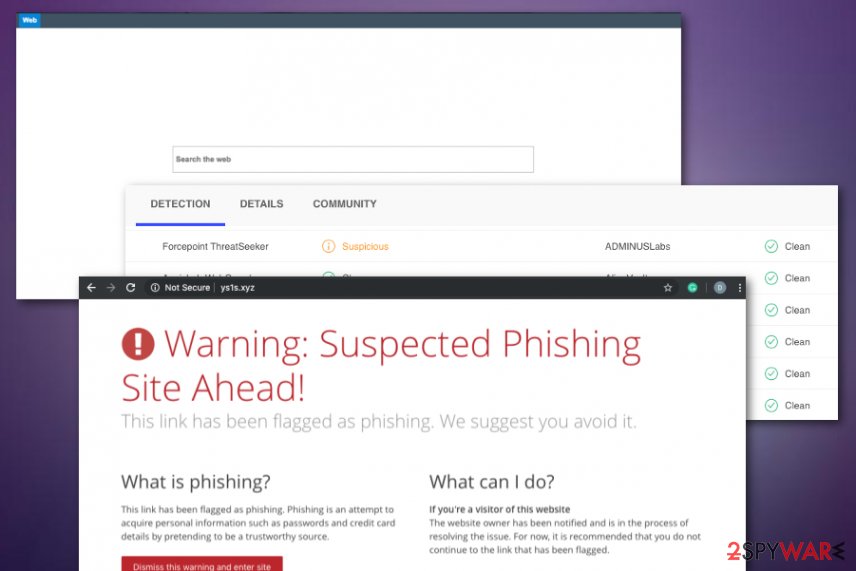 Ys1s.xyz – a potentially unwanted program that travels through third-party downloading domains such as softonic.com, cnet.com, download.com, etc.
Ys1s.xyz, developed and produced by QxSearch Inc., is a browser hijacker that interferes with users' browsing by providing intrusive advertisements, redirects, and altering major settings. The PUP changes the default search engine to https://Ys1s.xyz and users' are forced to receive search results from this provider whenever the user performs a search process. Also, Ys1s.xyz might add various BHOs[1] to the settings section and harden the browsing activities by displaying an entire load of advertisements, redirecting to odd networks, and enhancing user browsing history. In addition, this app is very similar to another browser hijacker named Losx.xyz and shares the same operating principle.
Name
Ys1s.xyz
Type
Potentially unwanted program
Sub-type
Browser-hijacking app
Developer
This suspicious third-party application has been developed by a company named QxSearch Inc.
Similar apps
This browser-hijacking program is closely similar to another PUP named Losx.xyz
Aim
To gather income from gullible users in all types of ways possible
Activities
The browser hijacker alters major browser settings such as the search engine, displays targeted advertising, performs redirects to affiliate domains, gathers browsing-related information
Spreading
It is known that such PUPs spread via third-party applications such as APP, SDL, and secondary downloading sources such as cnet.com, download.com, etc.
Removal tip
You can employ automatical software to get rid of the browser hijacker or try out manual removal guidelines that are added to the end of this article
System/file repair
Once Ys1s.xyz virus is gone, you can try to repair some corrupted registries or files if there are some left after the PUP attack. Try repairing some objects with the help of a tool such as

Reimage

Reimage Cleaner
Ys1s.xyz is a potentially unwanted program that has been detected as suspicious by Forcepoint ThreatSeeker.[2] However, you can accurately spot browser-hijacking signs by yourself. The PUP might show symptoms on both the hijacked web browser and the affected computer system.
Apart from the altered browser settings, you might find bogus extensions and domain names added by Ys1s.xyz virus. This is usually what helps the browser hijacker to perform advertising activities and redirect users to affiliate domains during browser sessions.
Even though Ys1s.xyz redirects are provided to take users to networks that are filled with attractive-looking offers, sometimes the potentially unwanted app might seak to infect the person through a hazardous website. Be aware not to click on any content if you are taken to some type of location forcibly.
Furthermore, Ys1s.xyz might try to get you involved in advertising campaigns. The browser hijacker might provide you with a big number of advertisements that share supposedly reliable offers and deals whereas the provided suggestions are only tricky ways to swindle your money or personal data.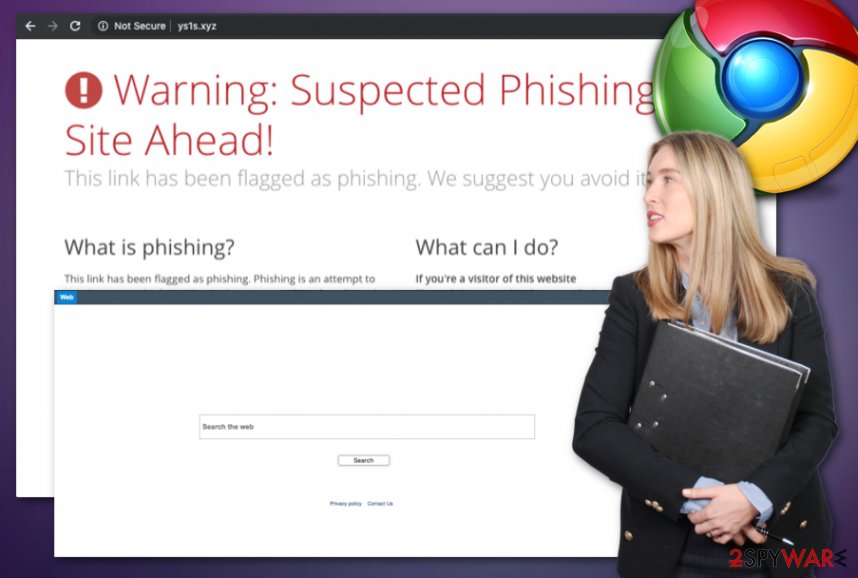 Ys1s.xyz is a browser hijacker that alters the main search engine of the infected web browser app
Continuously, you need to be cautious and prevent yourself from entering any private data in particular surveys, questionnaires, prize claims, etc. Ys1s.xyz aims to gather as much income as possible and displaying fake deals is one of the easiest ways to do that.
In addition, Ys1s.xyz might record non-personal data such as search queries performed, hyperlinks and ads clicked, websites visited, saved bookmarks, your computer IP address, etc. This allows the developers to identify what type of deals are relevant for you at the moment and get you involved in targeted advertising.
Usually, browser hijackers such as Ys1s.xyz use HTTP cookies for tracking browsing-related data. However, the developers might also employ pixels and beacons for this purpose. Additionally, they might share the gathered data with other parties for receiving even more income.
Ys1s.xyz might be distributed to your computer through third-party apps such as APP and SDL, so you should be careful while downloading particular software to your machine. After the installation, you might discover that the Task Manager and Registry are filled with dubious-looking content.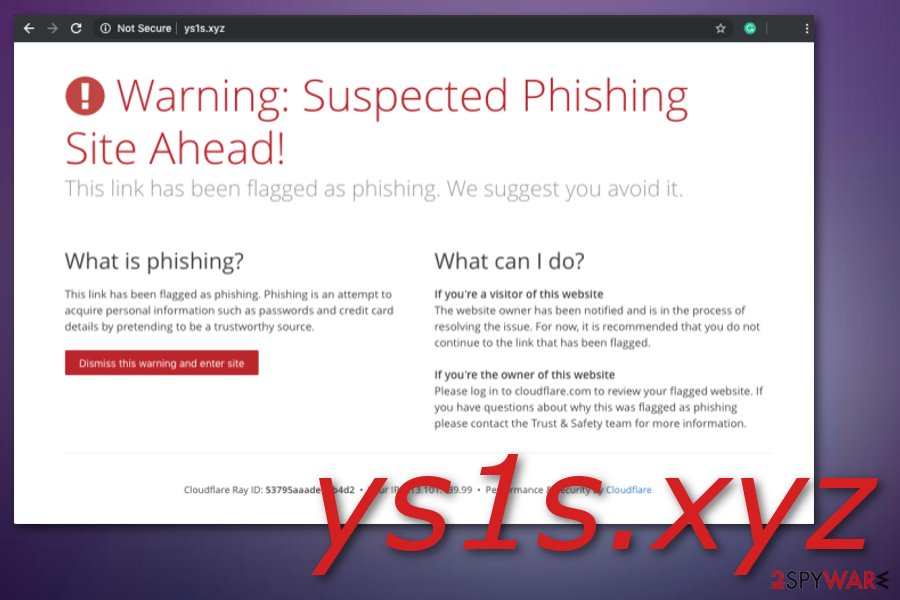 Note that once you opt for Ys1s.xyz removal, you have to ensure that all affected locations on your computer are fully cleaned. You can do that by employing reliable antimalware software or following the step-by-step guidelines that have been added to the end of this article and should lengthen the elimination process for you.
The browser hijacker might bring other PUPs or suspicious objects that can find ways to alter some system files or entries. After you remove Ys1s.xyz permanently, you can give a try to Reimage Reimage Cleaner which might help you to fix some damage that was supposedly applied by the browser hijacker and other potentially unwanted apps.
Security experts claim that PUPs travel through third-party downloading networks
Specialists from NoVirus.uk[3] found out that potentially unwanted programs, including browser hijackers, are spread via third-party sources such as download.com, soft32.com, softonic.com, and cnet.com. Users often get the suspicious product in a bundle with other software such as APP, SDL, etc.
Furthermore, this mostly happens when the user carelessly chooses downloading sources and software developers. Additionally, the installation mode also does the trick. If you opt for the Basic/Recommended configuration, you might end up with a browser hijacker on your computer easily.
However, the Custom/Advanced mode allows you to track all incoming objects and opt-out the products that give you a concerning look. Some other PUP[4] distribution sources might include:
Unsecured hyperlinks.
Third-party advertisements.
Fake software updates.
It is also very important to hold antimalware protection on your computer system for automatical safety while completing browsing tasks and other online activities. Also, make sure that you regularly upgrade your antivirus program, otherwise, it might not operate properly and you will have weak computer protection.
Removal instructions for Ys1s.xyz virus
Ys1s.xyz removal can be performed by using one out of two different techniques. You can eliminate the browser hijacker by using the step-by-step guidelines that are provided at the end of this article or by employing reliable security software. Below you will find manual steps on how to clean web browsers such as Google Chrome, Mozilla Firefox, Internet Explorer, Microsoft Edge, and Safari.
Continuously, you can remove Ys1s.xyz and all its helper objects by downloading automatical software. This type of technique is much easier and safer to carry out. So, if you lack some skills or experience in the virus elimination field, you should employ reliable programs. Afterward, you can try fixing damaged files if there are some by choosing a tool from our below-provided list.
You may remove virus damage with a help of Reimage Reimage Cleaner . SpyHunter 5Combo Cleaner and Malwarebytes are recommended to detect potentially unwanted programs and viruses with all their files and registry entries that are related to them.