Your account was hacked scam is a social engineering attack that tries to extort users' money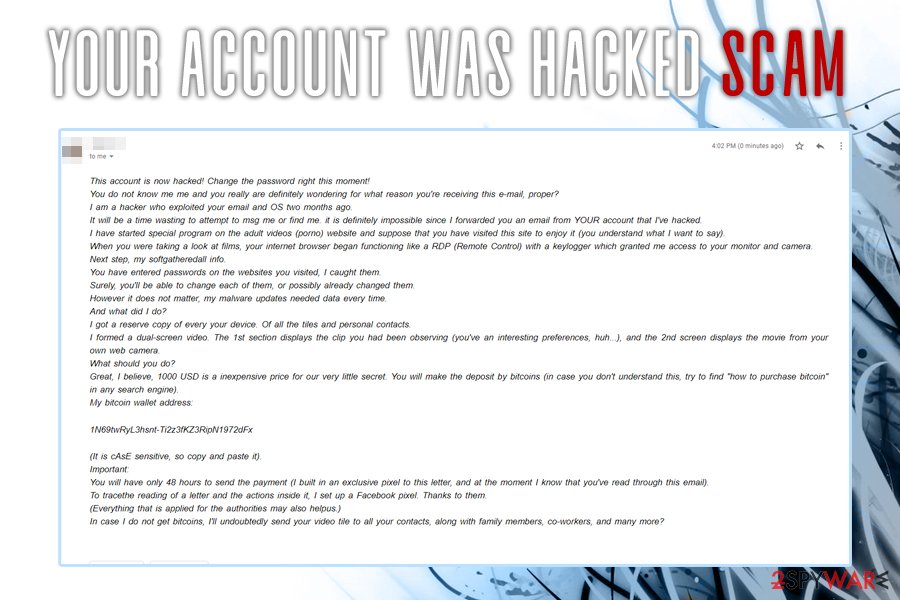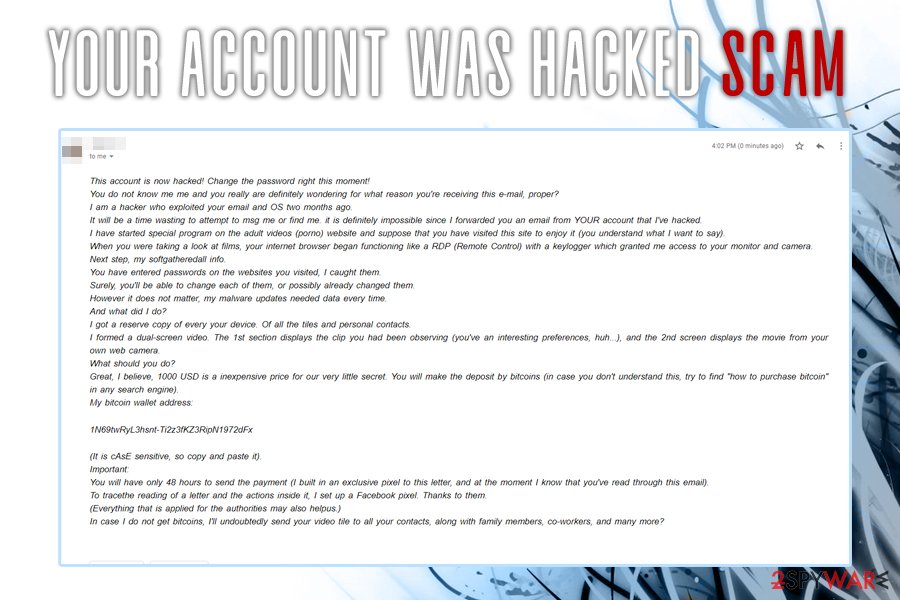 Your account was hacked is a fake email that users receive in their inboxes which claims that their computers have been compromised by a hacker. The social engineering[1] attack tries to play on users' emotions and lack of cybersecurity knowledge in order to make them pay a predetermined amount of money in Bitcoin.
The scam attempts to convince victims that malware is installed on their machines and that it managed to breach the installed camera (regardless if it is the case in reality). Allegedly, the bad actors planted spyware into adult-oriented websites, and the user managed to get infected there.
Fraudulent email author then claims that the recording of the user via the webcam was taken when he or she visited porn sites. The hacker then asks for as much as $1,000 to be transferred to a provided Bitcoin wallet to keep the allegedly recorded video away from the victim's family and friends.
Summary
Name
Your account was hacked
Type
Money extortion scam
Distribution
Via email service
Similar scams
I have bad news for you, I'm a programmer who cracked your email scam, I am a spyware software developer email scam, Porn Blackmail scam, etc.
Risk factors
Money loss, sensitive information disclosure to hackers, malware infections, etc.
Actions to be taken
Delete the email and never contact crooks, scan your computer with anti-malware and change all your passwords
Recovery
If your system was infected, scan it with

Reimage

Reimage Cleaner

Intego to fix virus damage
As evident, this is merely a scam and should never be trusted, as these emails are just a part of a much broader campaign that targeted tens of thousands of users worldwide. If you received such an email, immediately remove Your account was hacked email from your inbox and never communicate with cybercriminals.
In this article we will provide scam removal instructions, along with what to do to increase your online safety after a potential account compromise.
Scam authors claim that the email address itself is compromised
Despite that many different scams were created previously, they all had one goal: to make victims believe that their computers are infected with malware and that they need to pay Bitcoins to keep the compromising video away from their friends and family.
In most of the previous cases, bad actors used a compromised email password as a "proof" that the allegations about malware infection are true. Data breaches are relatively common and affect industry giants, including:
This time, however, Your account was hacked scam authors claim that the email address itself is compromised, as the "From" address appears to be from the victim himself/herself. This is due to a technique called email spoofing – it allows hackers to any type of email address to appear in the "From" line. It is very typical for scams where users are misled by seemingly original Amazon, Google, UPS or other contact email address.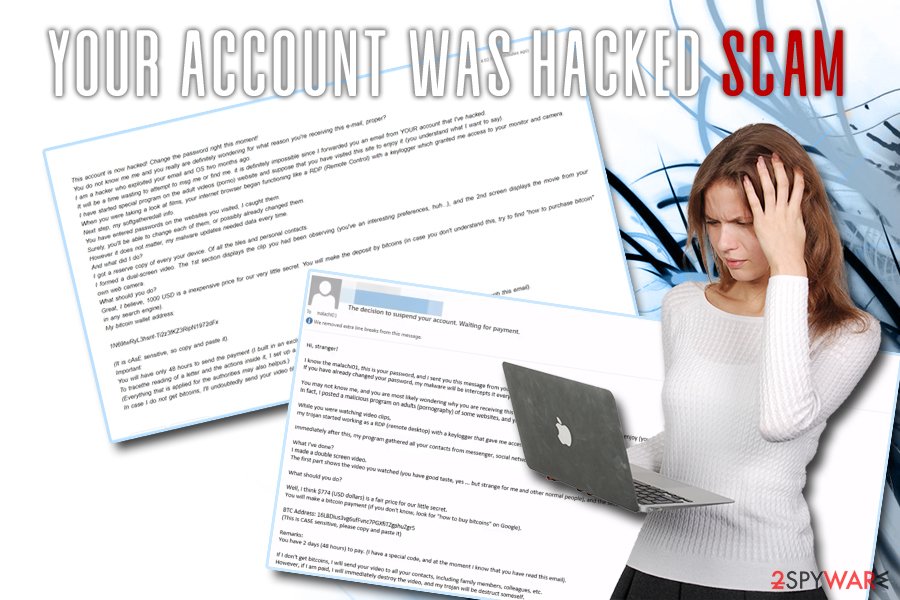 A fraudulent email that users might receive without any triggers. It should be ignored as all the claims are fake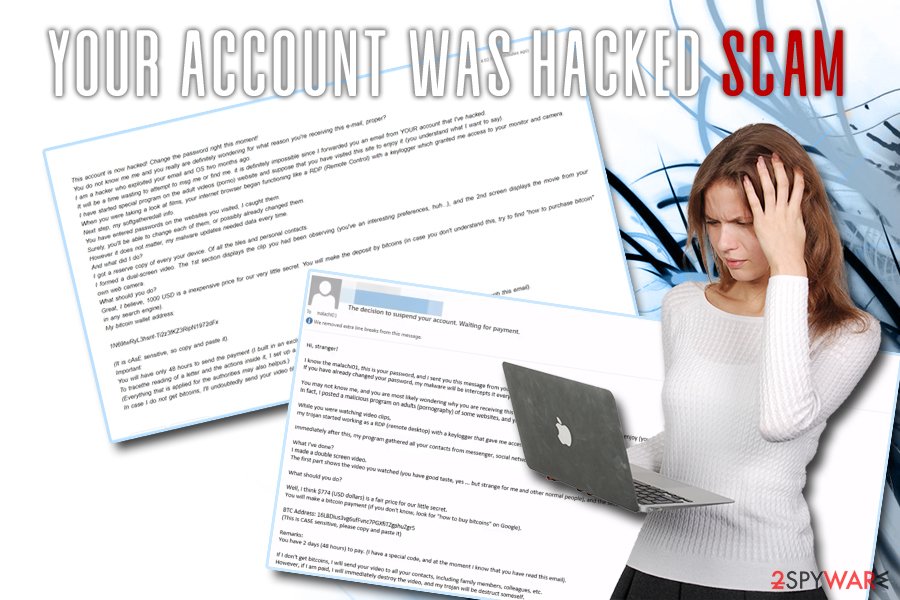 A fraudulent email that users might receive without any triggers. It should be ignored as all the claims are fake
According to cybercriminals, the initial breach occurred when the victim visited porn websites, and the login credentials were stolen. Using the RDP (Remote Desktop Protocol) connection, hacks claim full control of the machine.
This scam is a prime example of social engineering attempts that are aimed at less experienced computer users, as using terms as "malware" and "spyware," along with seemingly logical explanation of how the infection occurred might make many believe that the email is real and that their privacy is actually in danger.
Here's what crooks behind Your account was hacked write in one of the variants (be aware that it may differ):
Your account was hacked! Renew the pswd right away!
You probably do not know me me and you may be certainly wanting to know for what reason you're receiving this message, right?
I'm ahacker who burstyour emailand devices and gadgetsnot so long ago.
Do not attempt to msg me or alternatively try to find me, it is definitely hopeless, because I sent you a letter from YOUR hacked account.
I installed spyware on the adult vids (porno) website and suppose you enjoyed this site to enjoy it (you know what I mean).
During you have been watching content, your browser started out operating as a RDP (Remote Control) that have a keylogger that granted me authority to access your desktop and webcam.
Afterward, my programobtainedall information.
You have typed passcodes on the websites you visited, I caught all of them.
Surely, you could possibly change each of them, or perhaps already modified them.
But it really doesn't matter, my malware renews it every time.
And what did I do?
I compiled a reserve copy of every your system. Of all files and personal contacts.
I got a dual-screen video recording. The 1st section demonstrates the video you were observing (you've got a good preferences, ahah…), the second screen demonstrates the movie from your camera.
What should you do?
Great, in my opinion, 1000 USD is basically a reasonable amount of money for this little riddle. You'll do the deposit by bitcoins (in case you don't understand this, go searching "how to purchase bitcoin" in any search engine).
My bitcoin wallet address:
The crooks then further claim that victims only have 48 hours to pay before the shameful video is released. Criminals also claim that they know when the email was read due to the pixel that is inserted inside. Note how they are trying to substantiate every action they allegedly do on users' machines.
Simply because hackers actually use these tools and terms, many can fall for the scam, as they do not wish such a video being exposed to those that matter the most – family and friends. As we previously mentioned – it is a scam, do not trust it and simply delete the malicious email and never contact criminals.
Nevertheless, it is worth mentioning that, your account or computer safety might be compromised due to the breached personal information, for example, an email address, login credentials of various accounts, etc. Therefore, it is worth scanning your device with tools like SpyHunter 5Combo Cleaner and Reimage Reimage Cleaner Intego to ensure it is clean and there is no malware installed.
Extortion scams pose tremendous risk
Extortion scams are nothing new, although previously the real photos or videos were held hostage to make victims pay. Nevertheless, bad actors are always coming up with new ideas, and sextortion scams now claim malware infections, remote code execution, RDP connection, and other tricks that real cybercriminals use to spread computer viruses.
Nevertheless, some of the extortion scams are real and might affect users in many different ways. For example, a similar form of blackmail is used in ransomware attacks, although it is users' files that get locked, and criminals demand payment for the decryption key that could give back the access to users. Talking about ransomware, some of the extortion scams convince users into installing the infamous Azorult trojan, which consequently downloads GandCrab ransomware.
Sextortion scams might result in not only financial losses but also in psychological problems, as one in four victims seek help from medical professionals[4]. Many people are ashamed of the situation, and some of them even resort to suicide.[5] Due to the nature of such scams, it is believed that the number of the affected is much higher than the estimated, as most of such cases remain unreported.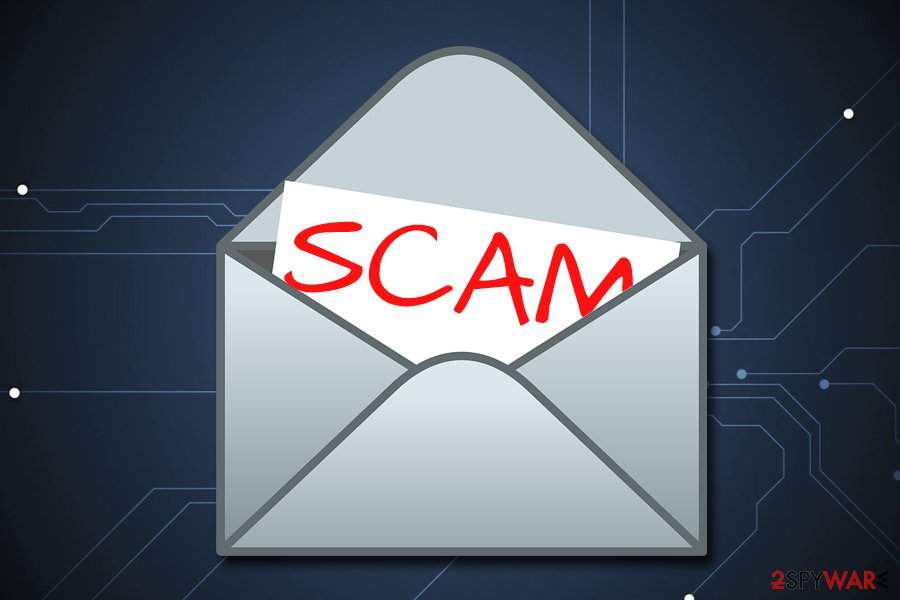 Email Scam is just one of many sextortion-type scams. Users should never trust the cleverly engineered message, as no video that hackers claim they recorded actually exists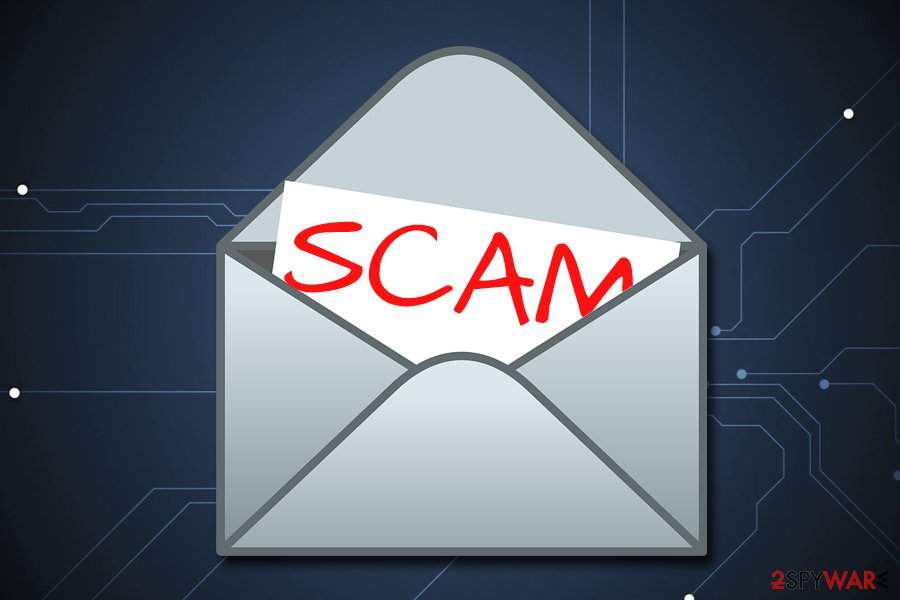 Email Scam is just one of many sextortion-type scams. Users should never trust the cleverly engineered message, as no video that hackers claim they recorded actually exists
Do not get tricked by malicious scam emails
The possibility of getting infected with malware that might actually track your every move usually comes from spam emails. The fake messages often include attachments that ask users to enable macro feature or hyperlinks that lead victims to a malicious domain where the virus is downloaded and installed automatically.
Therefore, never trust suspicious emails, and be warned that most of these end up in Spambox, which means that the email was recognized as malicious by built-in scanners. Nevertheless, the ever-evolving techniques might prevent the engine from identifying scam messages, and they might end up in the Inbox. Therefore, exercise extreme caution when dealing with spam.
Other methods hackers use to proliferate malware include:
Exploit kits;
Malicious ads;
Fake updates;
Infected or repacked installers;
Unprotected RDP;
Credential stuffing;[6]
Therefore, make sure you run security application, enable Firewall, update your system regularly and avoid high-risk sites (especially torrents that distribute software cracks or keygens).
You should delete "Your account was hacked" email and never pay the ransom in Bitcoin
If you received an email that claims that your system has been compromised, you should first report the incident to your local authorities that handle fraud cases. They might ask you to send them the received message, so do not remove fraudulent email straight away. Nevertheless, do not contact bad actors or pay the demanded sum, as you will only end up losing the money.
Next step would be scanning your device with reputable security software, such as Reimage Reimage Cleaner Intego or SpyHunter 5Combo Cleaner. If the cybercriminals did infect your PC with any type of malware, anti-malware software would be able to detect and remove it immediately. However, we recommend performing the scan in Safe Mode with Networking, as some severe infections might tamper with the anti-virus program and prevent it from working correctly. We explain how to access Safe Mode in the instructions below.
Additionally, you should change all your passwords, especially the one you use for your email and enable two-factor authentication for all your accounts. Finally, use a password managing software that would keep all your accounts away from cybercriminals. Once you complete all these steps, you can proceed with Your account was hacked email removal.
This entry was posted on 2020-04-16 at 04:25 and is filed under SPAM tools, Viruses.