Hacktool:win32/keygen is a a detection name for programs designed to bypass licencing process of a legitimate application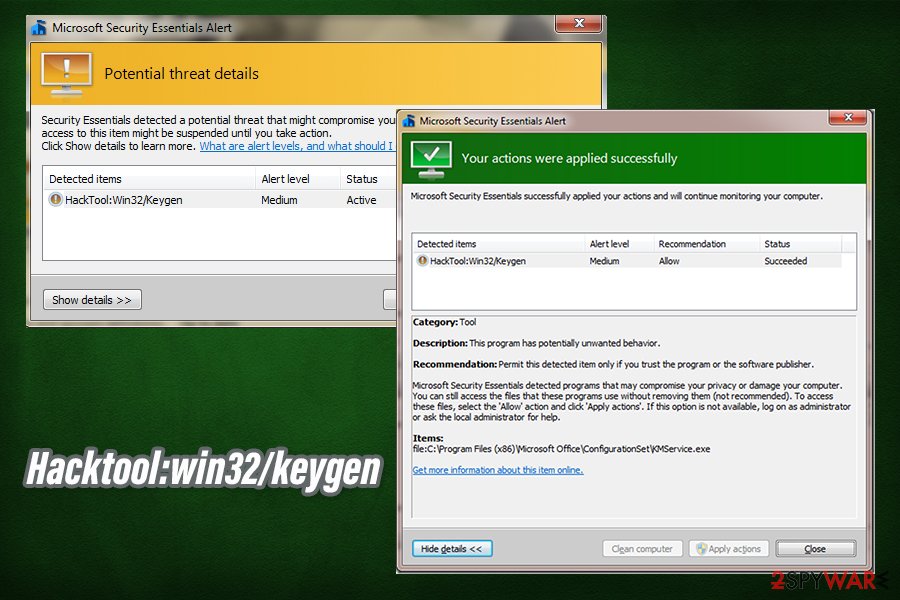 Hacktool:win32/keygen is potentially malicious application that can represent a variety of different malware infections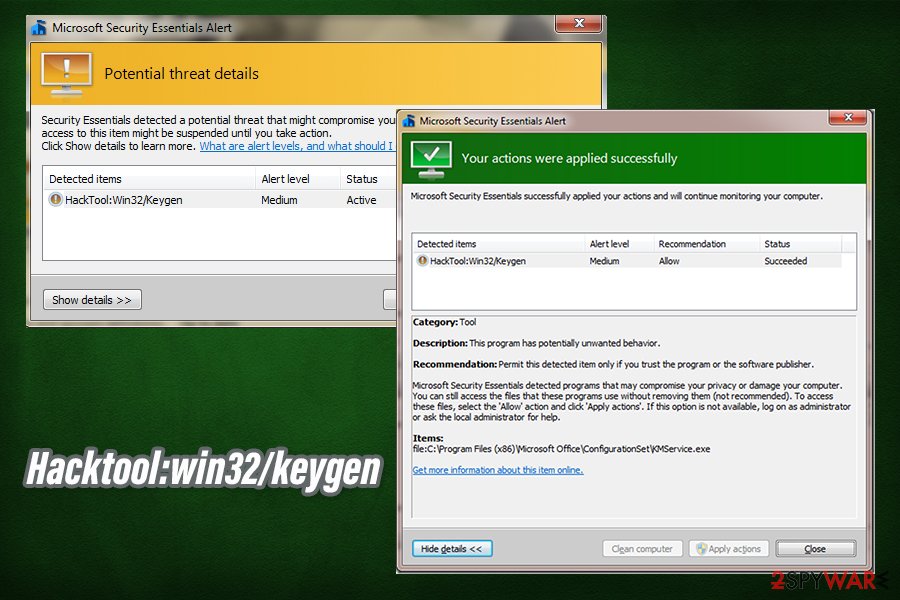 Hacktool:win32/keygen is potentially malicious application that can represent a variety of different malware infections
Hacktool:win32/keygen is a representation of a cracking tool, which is often detected by anti-malware applications. While not all the cracks are malicious, they are often boobytrapped or distributed with a variety of malware, such as Remote Access Trojans, ransomware, cryptominers, backdoors, worms, etc. In most cases, users download Hacktool:win32/keygen intentionally when trying to bypass restrictions of application trials, or simply use an otherwise paid program for free.
In case Hacktool:win32/keygen is programmed to infect the machine with malware, it can result in serious consequences, although these depend on the infection type. For example, ransomware could result in permanent personal file loss, while a stealthy backdoor can proliferate more malware and gather sensitive information (such as banking credentials, login details, etc.) in the background, without emitting any symptoms. If you have recently download the tool, you should hurry up and remove Hacktool:win32/keygen as soon as possible – we explain how in this article below.
Name
Hacktool:win32/keygen
Type
Malware, Trojan
Distribution
Hack tools and keygens are acquired from insecure third-party websites that host pirated software (torrents, warez)
Related
KMSpico, AutoKMS
Symptoms
Symptoms vary greatly, as malware behind crack tools can be different; symptoms range from total lockdown of personal files, high CPU usage, system crashes, to no visible signs of intrusion
Dangers
Further infection of malware, loss of personal files, sensitive information disclosure to cybercriminals, high electricity bills, etc.
Removal
To get rid of malware behind Hacktool:win32/keygen, users should immediately scan their machines with reputable anti-virus, such as SpyHunter 5Combo Cleaner or Malwarebytes. In case the virus is tampering with security software, Safe Mode with Networking can be used – check the bottom section for more details
System fix
In some cases, malware can permanently damage Windows systems and render them useless. To fix all the damage done by the virus an remediate the system, use repair tools like

Reimage

Reimage Cleaner

Intego
It is a very rare occasion when users spot a Hacktool:win32/keygen pop-up of their anti-malware tool while being unaware of its presence. In other words, users download keygens deliberately to avoid licensing fees or other restrictions. Thus, users typically get infected with Hacktool:win32/keygen malware after they visit insecure sites that host pirated programs and software cracks, such as torrent websites.
Possibly the most used cracks are AutoKMS and KMSpico (used to bypass the licensing process of MS Office suite, as well as Windows OS) – these can most commonly be detected as Hacktool:win32/keygen.
Since Hacktool:win32/keygen is a heuristic detection name, it can represent a variety of different files, each having different functionality. For example, some hack tools are simply applied as executable files, while others generate keys that can be inserted directly into an application or a video game. Besides the tool's functionality, malware that can be related to Hacktool:win32/keygen can vary greatly, and so will the symptoms of the infection.
While Hacktool:win32/keygen malware can be classified as a Trojan (users believe they install a hack tool, but instead they infect computers), the functionality of each particular infection and ramifications of such can vary greatly. Here are a few examples of what Hacktool:win32/keygen execution on your PC could infect you with:
Ransomware. Possibly the most devastating malware – it encrypts all personal files on the system, and only the attackers can return the access to it. Typically, hackers ask for ransoms raging anything between $100 to $1,000 in Bitcoin per PC, with payments rising to thousands of dollars for corporations. One of the best examples that are being distributed via cracks is Djvu ransomware – one of the most widely-spread crypto-malware in the wild.
RATs (Remote Access Trojans). These parasites can allow malicious actors to control the machine remotely, execute malicious commands, and even lockout users from their computers.
Rootkits gain one of the highest levels of permissions on the system, and typically are very difficult to eliminate (if not impossible, in some cases).
Cryptominers use around 90% or more CPU (sometimes GPU as well) to mine digital currency to cybercriminals' wallets, while users suffer from errors, crashes, and increased electricity bills.
Banking trojans enable the attacks to perform web injects and other tactics to steal financial and other sensitive information from users' machines.
Keyloggers can log all the information typed on a keyboard and utilize it for malicious purposes.
As evident, threats that could be installed via Hacktool:win32/keygen can be extremely devastating to every user, and can also result in further computer compromise. To make matters worse, most of the info-stealing malware is programmed to remain on the system unnoticed for long periods of time[1] – this is another reason to ensure that a powerful anti-malware is employed at all times.

Hacktool:win32/keygen is a tool that is usually downloaded to bypass program's licensing process

Hacktool:win32/keygen is a tool that is usually downloaded to bypass program's licensing process
As for Hacktool:win32/keygen removal, you should always employ reputable anti-malware software for the job. While manual termination is possible, it is a complete opposite for regular computer users, and an automatic option should always be chosen. Thus, download powerful anti-malware and perform a full system scan. In case this process fails, you can access Safe Mode with Networking and perform a scan from there, although most modern AVs should be able to eliminate Hacktool:win32/keygen virus easily.
Additionally, once malware infects your machine, it might not run at its full capacity anymore, even after it is terminated. Therefore, if you are experiencing any issues post-termination of Hacktool:win32/keygen, you can employ Reimage Reimage Cleaner Intego to repair virus damage with ease.
Here is why you should not be downloading software cracks and hack tools
First of all, we should talk about intellectual property. Application and video game developers all put a lot of effort to deliver results, and each need to be paid a salary. By downloading software cracks, users simply strip creators of their earned money, which can be devastating to some companies or entities.
If morality is not an issue, you should keep in mind that pirating software is illegal and punishable by law. Copyright laws were not immediately implemented, although even now, torrent and other illegal software distribution sites still manage to bypass restrictions implemented to protect the intellectual property of others.
In the meantime, crack sites also became a hub for malware distribution,[2] as there are by far less regulated, even though site owners not necessarily want to infect users with malware. Ad space can be bought by hackers, which allows the deployment of malicious ads. As a result, some users can get infected as soon as they access such a website – and this is another reason to stay away from pirated software and its distribution sources.
Finally, most of the anti-malware tools will flag cracks as malicious, regardless if they actually are. This is because hack tools are designed to break the code of an application, which is essentially malicious activity. Therefore, even if the installer is not boobytrapped with malware, there is no way to check, even by uploading it to analysis tools like Virus Total. Next time you click on a crack, remember that it can result in severe computer infection, such as ransomware.
Remove Hacktool:win32/keygen malware without a delay
Keep in mind that, while some malware installers might be named as software crack (for example, KMSSS.exe),[3] others can function as a crack, providing the promised functionality, all while executing code in the background and downloading malicious payload. As a result, you might not know that malware is running in the background and also might not realize that you need to remove Hacktool:win32/keygen virus to protect your personal safety and privacy.
Since the malware embedded in cracks can vary greatly, Hacktool:win32/keygen removal can sometimes also be complicated. For example, rootkit can be difficult to eliminate and need specific tools, while other malware might disable anti-virus tools altogether. If any difficulties arise, you can always access Safe Mode with Networking and perform a full system scan from there – instructions how to reach it are listed below.
This entry was posted on 2020-04-16 at 02:36 and is filed under Malware, Viruses.