Yontoo Layers Client – adware that modifies DNS servers to take control of your visited online sources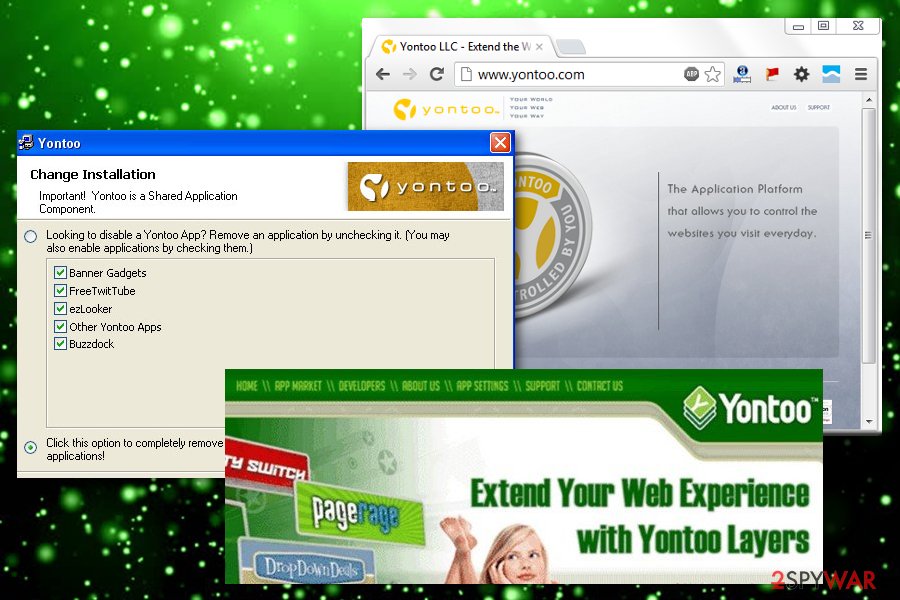 Yontoo Layers Client is an adware program that is very similar to other PUPs named Yontoo and Yontoo Pagerage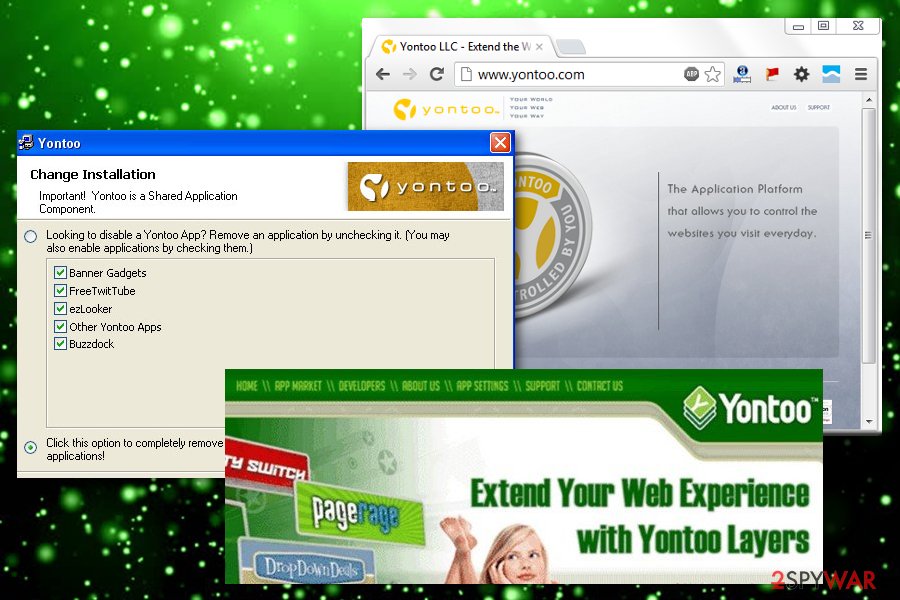 Yontoo Layers Client is an adware program that is very similar to other PUPs named Yontoo and Yontoo Pagerage
Yontoo Layers Client is a questionable browser add-on from Yontoo Technology, Inc., which can be used for creating a specific look for webpages. One of the most interesting parts of this adware program is that it changes the computer's default DNS server to its own in order to be able to manage the websites that the users are visiting and include its own ad server. A big variety of users appears to be encountering trouble while trying to get rid of Yontoo Layers Client virus activity permanently because they do not disable the created DNS server and the program keeps spamming with adverts. Advertising is known to be the most popular income source for adware developers as they often support the pay-per-click marketing strategy.
When the adware enters the targeted computer system, it can drop its own created files in the C:\Program Files\ or C:\ProgramData section if it is operating on a Windows computer. If it is a Mac that has been affected, you can encounter doubles files and apps in the Applications section. Beware that Yontoo Layers Client is very similar to other PUPs such as Yontoo and Yontoo Pagerage that have already been included in our website some time ago. Even though this PUp can appear on any type of web browser app, you are likely to see the YontooIEClient.dll file on the computer if you are employing the Internet Explorer app as your main browsing tool.
Name
Yontoo Layers Client
Type
Adware/potentially unwanted program
Developer
Yontoo Technology, Inc.
Similar to
Yontoo, Yontoo Pagerage
Features
This adware application compromises the DNS servers and replaces them to the ones that are employed by the developers, can initiate major web browser changes on the homepage and new tab URL sections, display advertising content, reroute the user to affiliate sources, collect non-personal information related to the user's browsing habits and online experience
Main file
When the adware program enters the computer system, it drops the YontooIEClient.dll file if it has appeared on the Internet Explorer web browser
Location
You can find suspicious files and folders included in the C:\Program Files\ or C:\ProgramData locations on your Windows computer system
Targeted apps
You can find signs of the adware on web browsers such as Google Chrome, Mozilla Firefox, Internet Explorer, Microsoft Edge, and Internet Explorer
Spreading
If you have been infected with the adware app, there is a big chance that it has come from bundled software packages that you have downloaded from secondary sources
Removal
To get rid of the adware application that has invaded your computer and web browser, you should perform an automatic or manual removal process. For step-by-step guidelines, check the end of this article
Fix tip
If you have discovered some system compromisation on your PC and have been looking for a tool that could help you to fix it, try downloading and employing

Reimage

Reimage Cleaner
As soon as Yontoo Layers Client enters the computer, it may easily alter the homepage, new tab URL, and some other settings. You are also likely to see your web browser filled with unknown components such as extensions,[1] plug-ins, and add-ons. These types of objects help the adware to fulfill its functionality.
After doing so, you may need to deal with Yontoo Layers Client redirects to unknown websites that are sponsored by the program's developer. There you might meet some questionable deals and offers. However, the worst part about these reroutes is that you can be transferred to a potentially malicious location that includes dangerous parasites such as ransomware or Trojan viruses.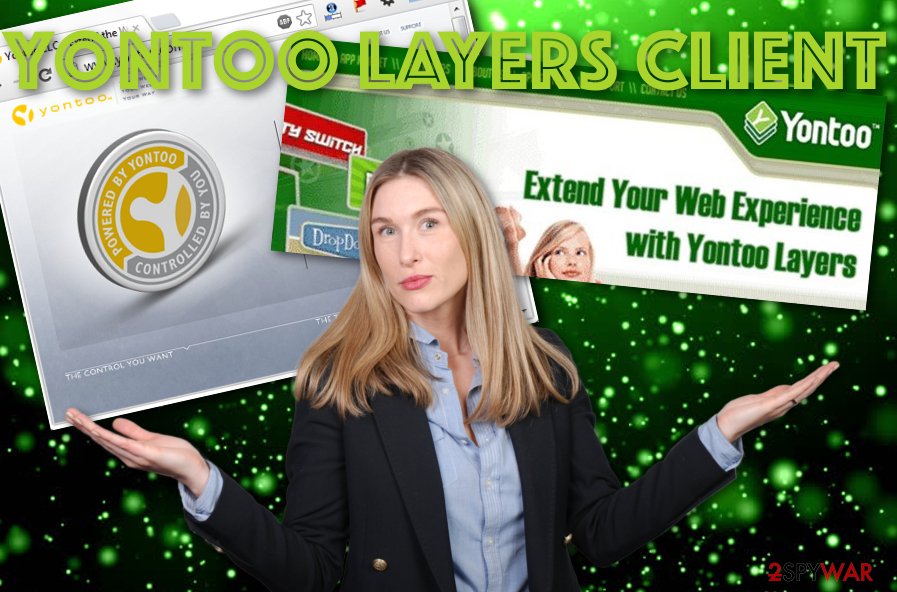 Yontoo Layers Client is an adware program that changes the DNS servers to its own to monitor the websites the user is visiting and replace the original ad server with its own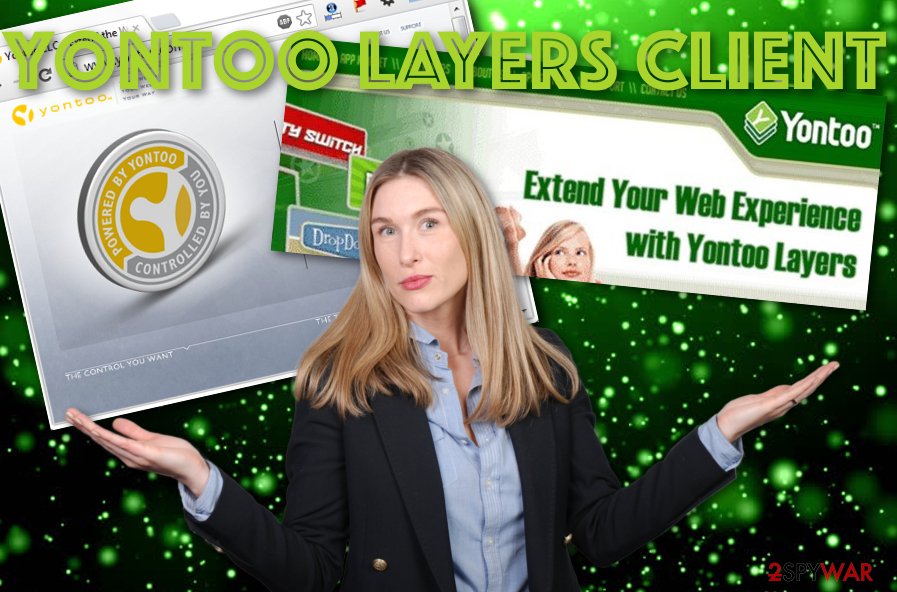 Yontoo Layers Client is an adware program that changes the DNS servers to its own to monitor the websites the user is visiting and replace the original ad server with its own
However, the most intense activity that is completed by Yontoo Layers Client is advertising. The adware loads a big variety of advertisements while the user is completing online sessions with the infected web browser app. Users often get spammed by various bogus offers, deals, coupons, surveys, and scams. The best thing to do is have nothing income with the ads, i.e. provide no information about yourself or your computer.
According to a user who has been having trouble with Yontoo Layers Client on the Internet Explorer web browser, he kept receiving the following message during the activity period of the browser app:
This website wants to run to the following add-on "Yontoo Layers Client for Internet Explorer" from "Yontoo Technology, Inc., (unverified publisher).
Nevertheless, if ads from Yontoo Layers Client keep approaching you frequently, you might find the infected web browser struggling to maintain browsing sessions and even load properly. This can happen because the advertising activity has gotten so intense that your computer's processor can hardly deal with all of the sessions at once.
Besides, Yontoo Layers Client may start tracking you and may collect various data about your browsing habits. For example, it may record your search terms, mostly visited websites, data that you leave when visiting each of these sites and information about your computer, like its IP address, location, your email address, etc.
If you, just like us, think that such information shouldn't be revealed for unknown parties, you should remove Yontoo Layers Client from your computer. Be sure that it will hide in your machine as an optional browser add-on, which is compatible with each of the web browsers and has scattered various unknown files in various locations of your PC.
Yontoo Layers Client removal includes downloading and installing an antimalware program that has been tested by security experts. Also, you can try using the manual step-by-step guidelines that have been added at the end of this article. If your computer has experienced any compromisation as adware can let other bogus or even malicious apps plant themselves on the affected PC, you can try diminishing the damage with Reimage Reimage Cleaner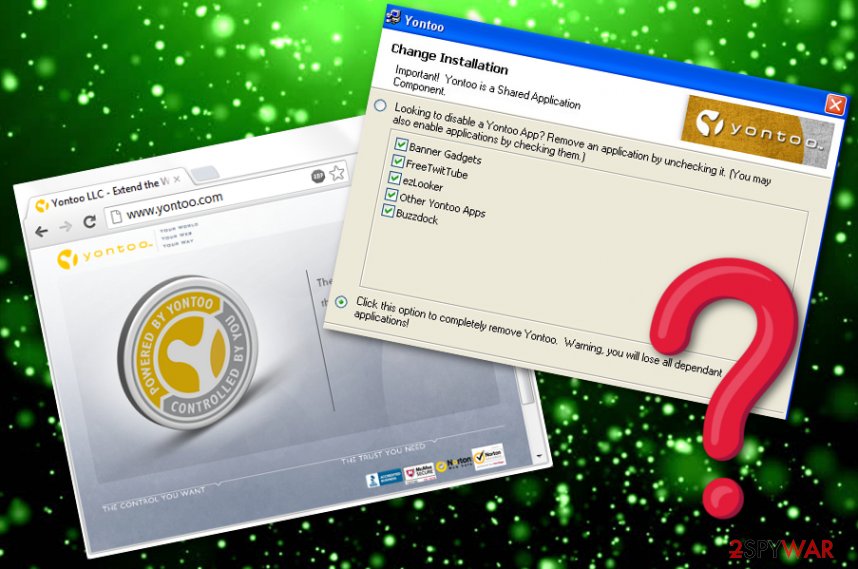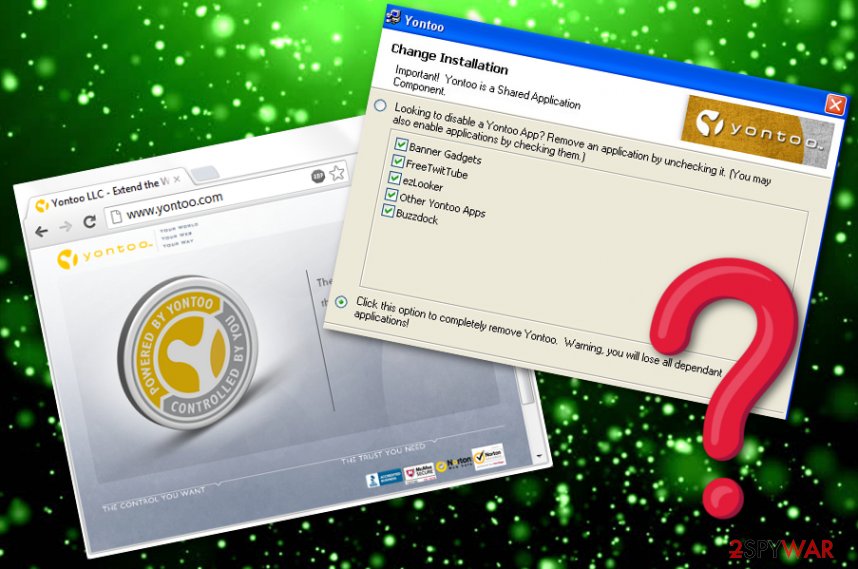 The infiltration process of adware programs
Cybersecurity specialists from LesVirus.fr[2] claim that adware programs are often distributed through a deceptive technique called "software bundling".[3] Developers who spread such apps are interested in targetting a bigger number of users and this can be done only by infiltrating the application via stealth technique (bundling).
Users who have selected the Quick or Recommended technique over the Custom or Advanced one are highly recommended to change the configuration immediately, otherwise, they might not notice how suspicious applications sneak into their computer systems. By opting for the Advanced mode you will give yourself the ability to track all incoming downloads and deselect all of the unwanted ones.
Furthermore, adware applications are often delivered via secondary downloading sources such as cnet.com, download.com, soft32.com, softonic.com and come together with various download managers, video players, and PDF converters. You should avoid receiving your software from such websites as you are at a high risk of getting an additional product (adware) during the installation, especially if you are likely to skip some downloading/installing steps.
To continue, potentially unwanted programs can be settled on a particular computer system through infectious advertisements and hyperlinks that users meet while browsing the web. You should prevent yourself from visiting websites that have been marked as deceptive by your web browser or antimalware software. This way you will have a chance to avoid landing on unknown places that are filled with unknown content.
Eliminate Yontoo Layers Client virus from your PC
To remove Yontoo Layers Client from your Windows or Mac computer system, you should employ automatical security software that is tested as trustworthy by various security experts. These types of tools will make the entire elimination process safer and more effective for a big variety of less-advanced users.
However, if you believe in your skills, you can try completing Yontoo Layers Client removal with the help of the manual step-by-step guidelines that have been added to the end of this article. There you will learn how to perform OS and browser cleaning at once.
Note that it is important to uninstall Yontoo Layers Client virus not only from your computer system but also from surfing apps such as Google Chrome, Mozilla Firefox, Internet Explorer, Microsoft Edge, and Safari. The adware might have left questionable browser extensions and plug-ins in your browsers.
You may remove virus damage with a help of Reimage Reimage Cleaner . SpyHunter 5Combo Cleaner and Malwarebytes are recommended to detect potentially unwanted programs and viruses with all their files and registry entries that are related to them.