YahLover.worm pop-up is a bogus alert that tries to make users spend money on fake tech support services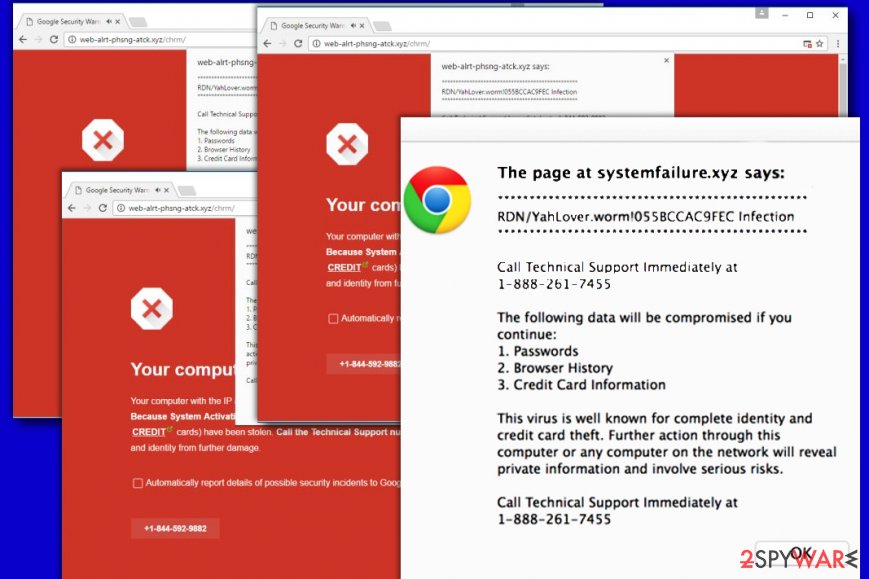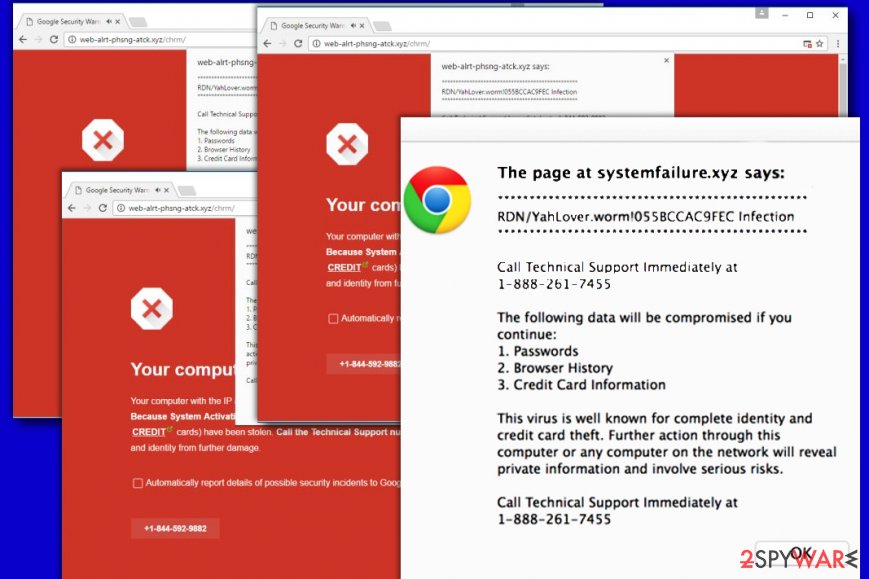 YahLover.worm is a non-existent virus name that malicious actors came up with to use in a scam scheme. The fraudulent pop-up might show up on Google Chrome, Mozilla Firefox, Safari, or another web browser unexpectedly. In the background, users will also see a seemingly legitimate Google-type browser waning that alerts about malware or phishing danger. In the meantime, the alert will inform you that the computer was infected with a YahLover.worm virus and that a personal information leak is almost inevitable.
However, YahLover.worm virus pop-up is a tech support scam[1] that should never be trusted, as the message is simply a web page shown within the browser. Once the provided number is called, threat actors will attempt to extort money from victims in various ways or infect their machines with keylogging or other info-stealing malware.
Name
YahLover.worm
Type
Tech support scam (might be related to adware infection)
Infiltration
Adware is typically distributed via software bundles, although can also be installed via fake update prompts, attractive ad offers, and similar deceptive methods
Infection symptoms

Pop-ups, deals, offers, promotions, coupons, in-text links, and other ads appear on all visited sites
Unknown extensions or apps installed on the computer
Web browser becomes slower and sometimes prevents navigation to certain places
Unknown processes running in the background
Homepage, new tab URL and the search engine of the web browser altered
Search results are filled with sponsored ads and promotional links, etc.

Scam traits
Users will see a pop-up message that displays a notification about an alleged computer infection that leaks sensitive user data. In the background, users will see a red-colored page which is meant to evoke feelings of anxiety about an imminent danger
Risk factors
Financial losses after calling the provided number, malware infections, personal data exposure to malicious parties, identity theft, increased telephone bill, etc.
Removal
To eliminate adware, perform a full system scan with a reputable security tool or follow our manual guide below
System fix
To eliminate virus damage on the system, scan it with

Reimage

Reimage Cleaner

Intego
While you can encounter YahLover.worm notification on a random website by accident, frequent appearances of bogus websites and ads might indicate adware infection on Mac or another operating system. When such an infection infiltrates the system, it hijacks the web browser and starts causing fake alerts.
Similarly to You Have A ZEUS Virus scam, Windows Detected ZEUS Virus scam or Windows Defender Alert: Zeus Virus, this infection scam seeks to scare you into thinking that your computer is infected with the banking virus and that the only way to fix it is to dial a special number and reach for some "reputable" technicians. In reality, the only ones that you can reach are scammers.
Pop-up window titles of such fake alerts vary. However, the most popular of them are RDN/YahLover.worm!055BCCAC9FEC infection and rdn/yahlover.worm 055bccac9fec infection notifications. They both suggest dialing 1-844-592-9882, 1-800-214-7440, or similar numbers to get technical help.[2]
On the one hand, the felons did a good job by forging a legitimate browser's alert. Interestingly, that phone number varies each time, which suggests the scale of this scam.
What is more, the scam may prevent you from leaving this page. However, you can cancel it by choosing "Prevent this page from creating additional dialogues." After that, we highly recommend you to remove YahLover.worm fake alert and programs (malware) which are related to it.
Despite its name, which falsely claims to be a computer worm, the notification has nothing to do with malware infection (although adware is sometimes considered malicious by some security researchers). Therefore, YahLover.worm removal is not necessary, as such a virus simply does not exist. What is necessary tho is terminating adware from the computer as we explain below, resetting the installed web browsers, and then using Reimage Reimage Cleaner Intego to fix potential damage done to the system.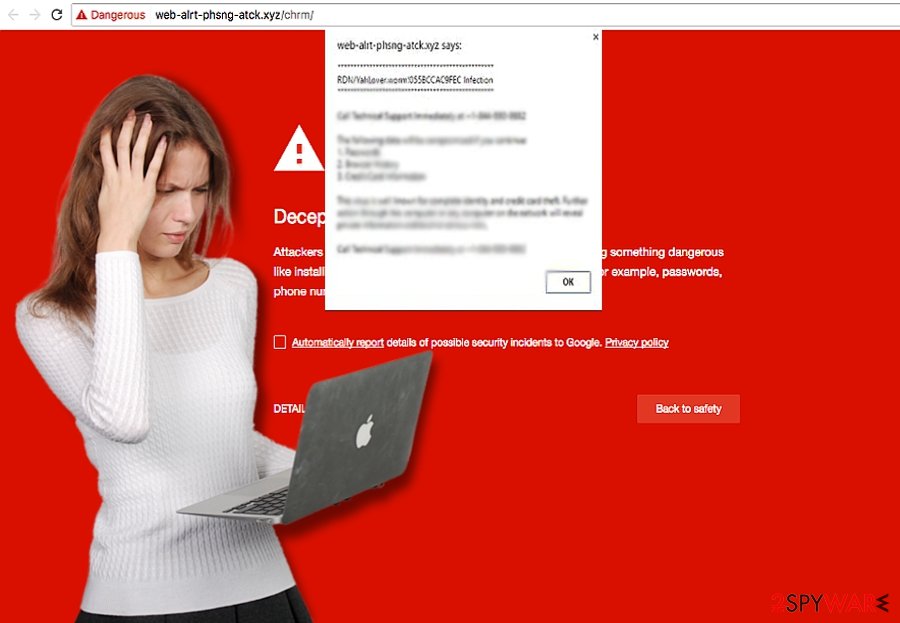 YahLover.worm urges victims to call the number ASAP.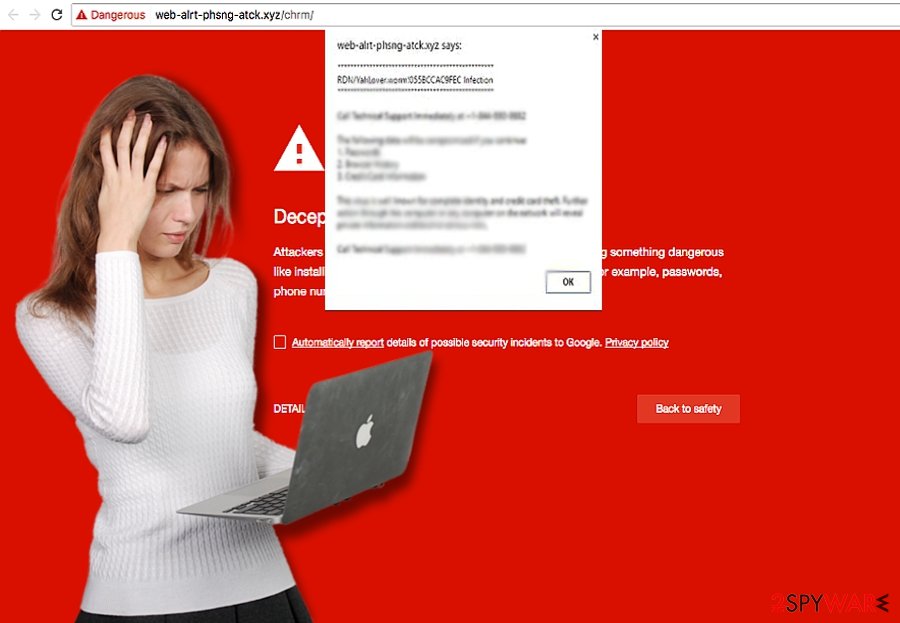 YahLover.worm urges victims to call the number ASAP.
Recently, tech support scams have become more active than ever[3] and there is no surprise why. In the age of informational technologies, personal data has become one of the most valued things. The idea of losing it may seem more terrifying than the fact itself. Likewise, such sentiments are the perfect inspiration resource for crooks.
The creators of YahLover.worm have been trying to scare netizens with a virus infecting their systems and stealing personal information.[4] If you are one of their victims, you should notice such misleading alert on your Safari or other web browser:
RDN/YahLover.worm!055BCCAC9FEC Infection
*************************************************
Call Technical Support Immediately at 1-800-214-7440
The following data will be compromised if you continue:
1. Passwords
2. Browser History
3. Credit Card Information
This virus is well known for complete identity and credit card theft. Further action through this computer or any computer on the network will reveal private information and involve serious risks.
Call Technical Support Immediately at 1-800-214-7440
Less proficient computer users might be horrified with such a message and dash off to call the number given in the report. In this case, you can be tricked into losing hundreds of dollars for supposed tech support.
Once the scammer notices that the victim is inexperienced PC user, he/she usually tries to connect to the system remotely and shows the alleged competence by launching Command Prompt or Powershell. Users might fall into such a scam and transfer the money for the supposed technical assistance.
While some scammers remove the "virus" to withdraw pop-up from the computer, other felons leave a "farewell gift" – ransomware or another virus. In this relation, YahLover.worm infection scam may not behave so aggressively, but its presence should not be ignored.
The distribution peculiarities of this tech support scam
The majority of tech support scams are spread via corrupted websites and poorly protected web pages. Likewise, if you tend to download programs and use services promoted in pirated domains, you might be redirected to the website monitored by the scammers, and then, enjoy the unpleasant effects of adware hijack.
Luckily, this adware does not possess a sophisticated technical structure, so it will not be difficult to deal with it. However, its termination process will require your attention.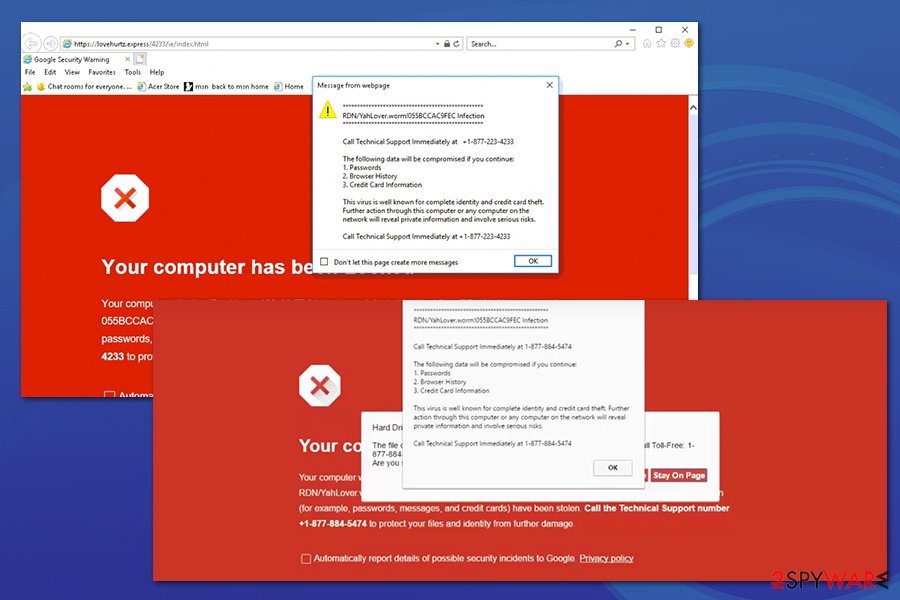 RDN/YahLover.worm is a full name that threat actors use to make users believe that their systems are infected with malware and call the provided number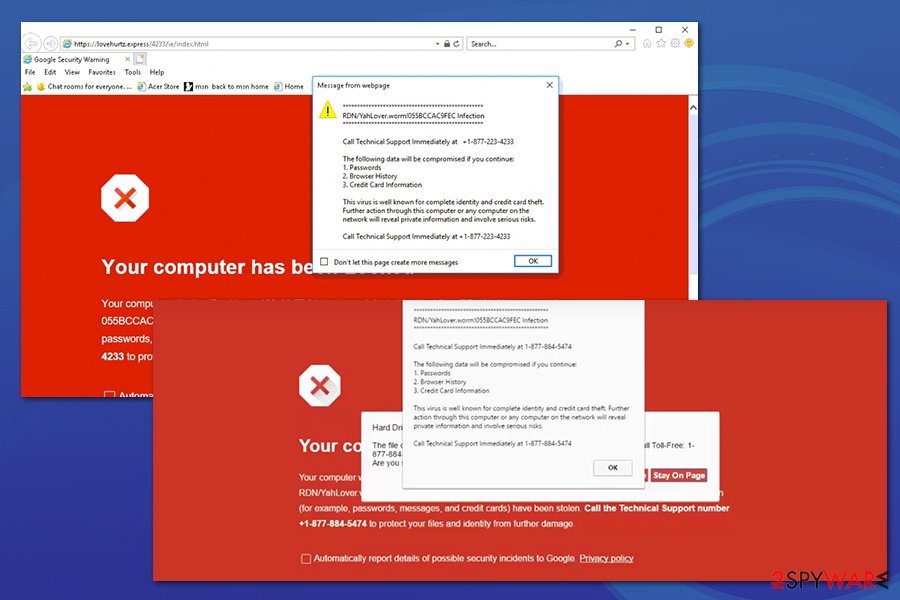 RDN/YahLover.worm is a full name that threat actors use to make users believe that their systems are infected with malware and call the provided number
Terminate adware that shows fake YahLover.worm alerts
Reliable security software can easily take care of YahLover.worm removal. In fact, you need to find all adware-type programs that could be related to this scam. For that, you need to install one of the tools that are given below and update it before you start the system scan The software usually takes from 5 to 20 minutes to scan the device and remove YahLover.worm virus scam.
It is modified adware, so we highly recommend thinking twice before using manual guidelines. If you are willing to use them, it would be better that you combined manual and automatic removal options. The below-shown instructions display how to reset the browser.
YahLover.worm scam reminds you of a general truth that your safety and the confidentiality of your data greatly depend on your awareness and cautiousness as well[5].
You may remove virus damage with a help of Reimage Reimage Cleaner Intego. SpyHunter 5Combo Cleaner and Malwarebytes are recommended to detect potentially unwanted programs and viruses with all their files and registry entries that are related to them.
This entry was posted on 2020-05-21 at 07:38 and is filed under Malware, Viruses.