Windows Support Alert pop-up is a scam that shows up on web browser due to adware infection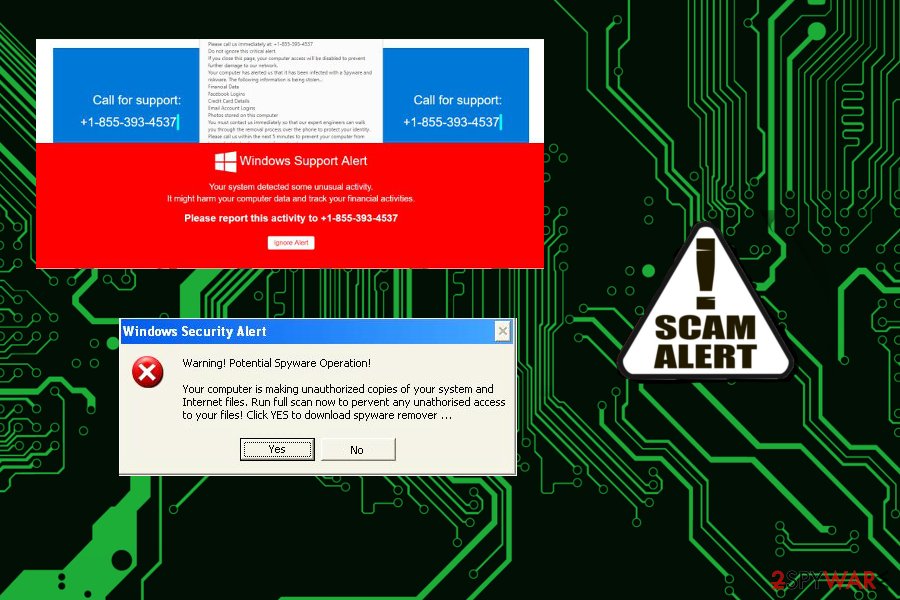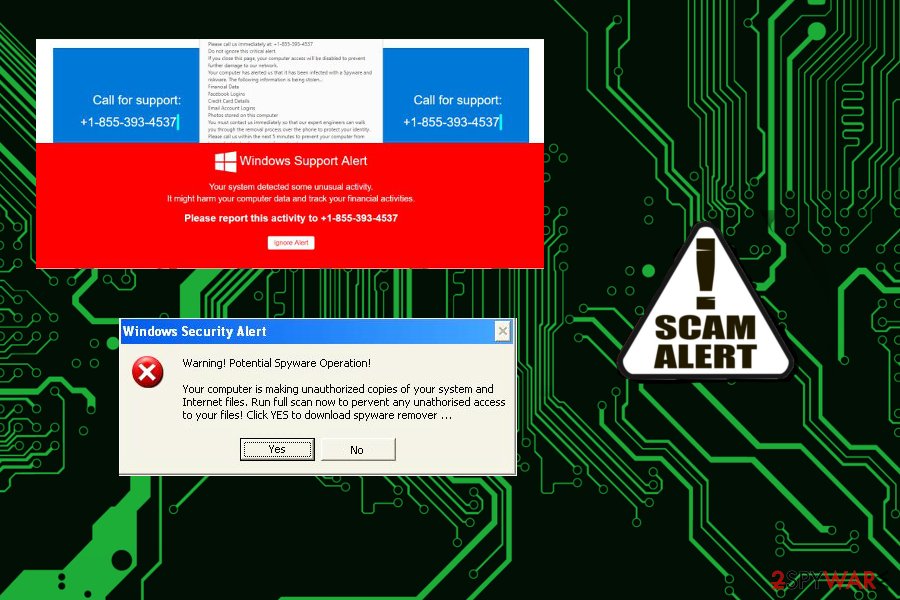 Windows Support Alert scam is a rogue technical support alert, which shows up on web browsers if an adware-type malware is installed on the system. Criminals use social engineering techniques to scare people into thinking that their devices are infected by a dangerous virus and offer to call +1-855-393-4537 number and connect with the "Microsoft tech support team." However, we can assure you that Windows Support Alert scam has nothing to do with Microsoft and that dealing with these people can be dangerous.[1]
The first thing you need to know is that scammers, who are working behind this fake error message, rely on social engineering.[2] Typically, Windows Support Alert virus appears on victims' desktop out of the sudden, while they are browsing the Internet. After being caught out of the sudden, they fall into frightening claims about detected malware.
Name
Windows Support Alert
Classification
Technical Support Scam
Symptoms
When browsing the web, a new tab window called "Windows Support Alert" shows up and freezes the browser. The notification contains a mobile number and attempts to look like a legitimate Microsoft's notification. In addition, the web browser may display advertising content and redirect to suspicious websites
Related programs
This rogue pop-up emerges on the system due to adware infection, which creates a scheduled web browser's task to load a tech support scam window regularly. Therefore, any advertising malware can be the culprit of these pop-ups
Criminal contacts
+1-855-393-4537. Nevertheless, the provided telephone number may vary because the scam is regularly updated
Affected web browsers
Google Chrome, Mozilla Firefox, Internet Explorer, Microsoft Edge, Safari are primary targets. Nevertheless, it exhibits compatibility with other less popular web browsers as well
Danger
The pop-up itself is not dangerous. Force quit your web browser if it got stuck with "Windows Support Alert." However, those who got tricked by the alert and called the given number may experience money loss or inadvertently allow criminals remotely connect to their devices
Removal
Scam pop-ups on web browsers mean that the system is contaminated with malware. Thus, a full system scan with a reputable AV is required.
Fix malware damage
Post-malware system may encounter errors, slowdowns, and similar malfunctions. In this case, optimize the system with

Reimage

Reimage Cleaner

Intego utility.
The most important thing is to ignore the telephone number given in the alert because such scams seek to sign users up for paid and useless services. Besides, you can be tricked into downloading malware to your computer in the form of a useful tool that is supposed to fix a computer.
The fake Windows Support Alert warning message reads:
Windows Support Alert
Your system detected some unusual activity.
It might harm your computer data and track your financial activities
Please report this activity to +1-855-393-4537
No matter how terrifying the message might sound, you must keep calm and never contact cyber criminals. Their only goal is to make easy money. Instead, you should remove the Windows Support Alert virus from your computer using Reimage Reimage Cleaner Intego or any other software you might prefer.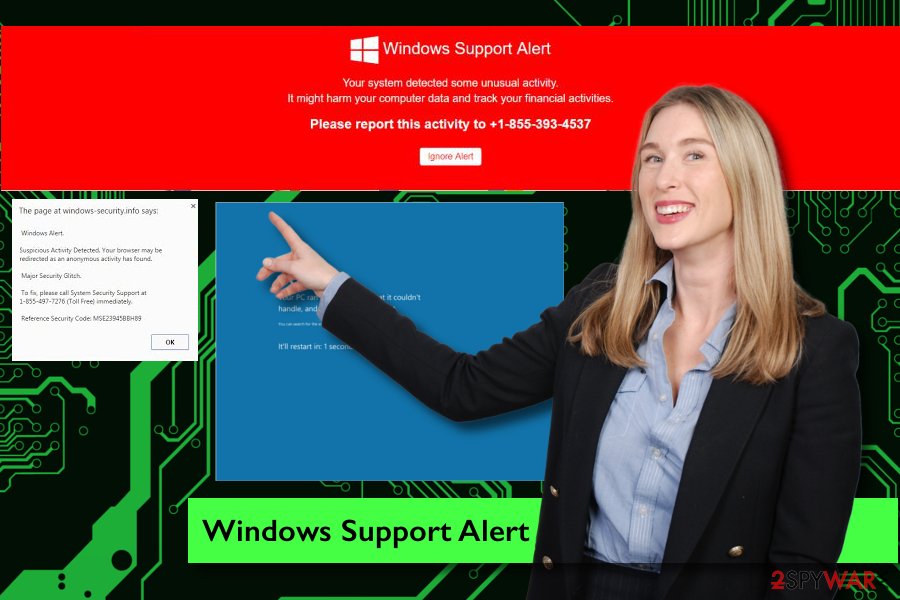 Windows Support Alert scam tries to create an image that it is related to Microsoft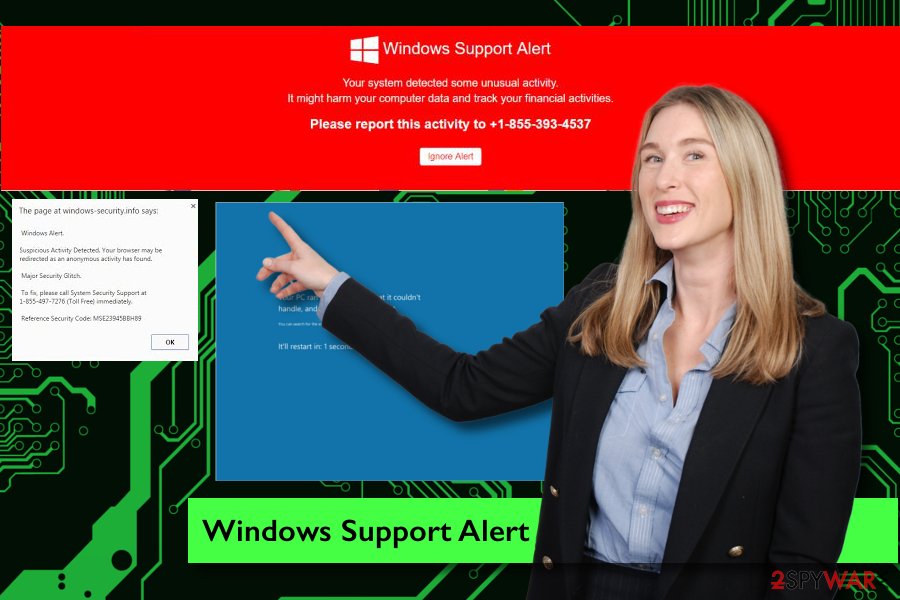 Windows Support Alert scam tries to create an image that it is related to Microsoft
Reasons why crooks alert you about the supposed infection
The scam messages and fake pop-up ads are displayed for a reason. First of all, they might ask for remote access to your machine and install malware. Beware that all these "powerful" optimizers and similar software that is promoted with the help of such scams do not work. In the worst-case scenario, hackers might try to install a keylogger or trojan to steal your personal information.
Following some "investigation" performed by fake technicians, you can also be asked for a payment in exchange for the bogus services provided. Alternatively, they might urge you to subscribe to fraudulent services that can lead you to the money loss every month.
Evidently, trusting cyber criminals is not a good idea. Their only goal is to steal your money, so you should waste no time and use our Windows Support Alert removal at the end of this post. However, continue reading if you are interested in how these scams get into your system.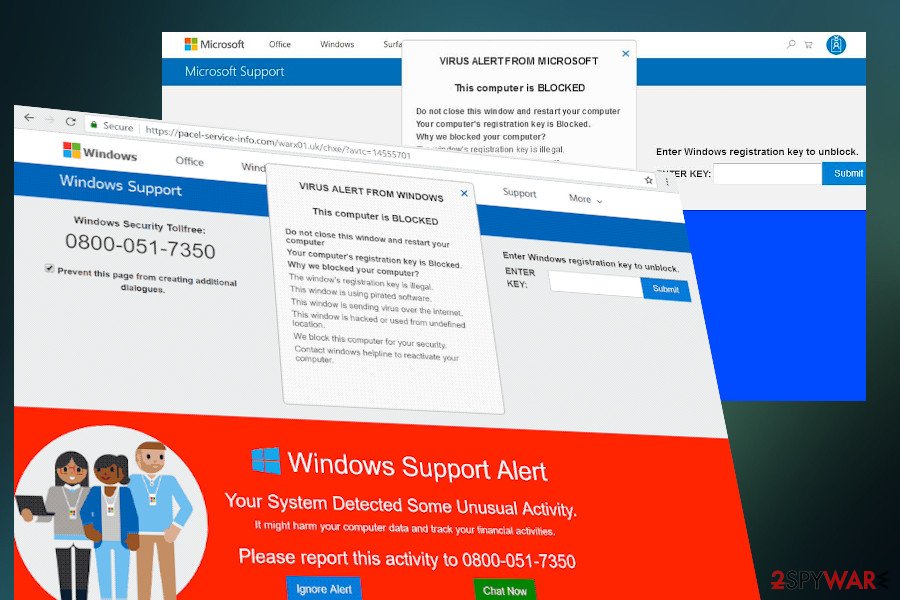 Windows Support Alert scam tricks people into calling for criminals and granting remote access to a target device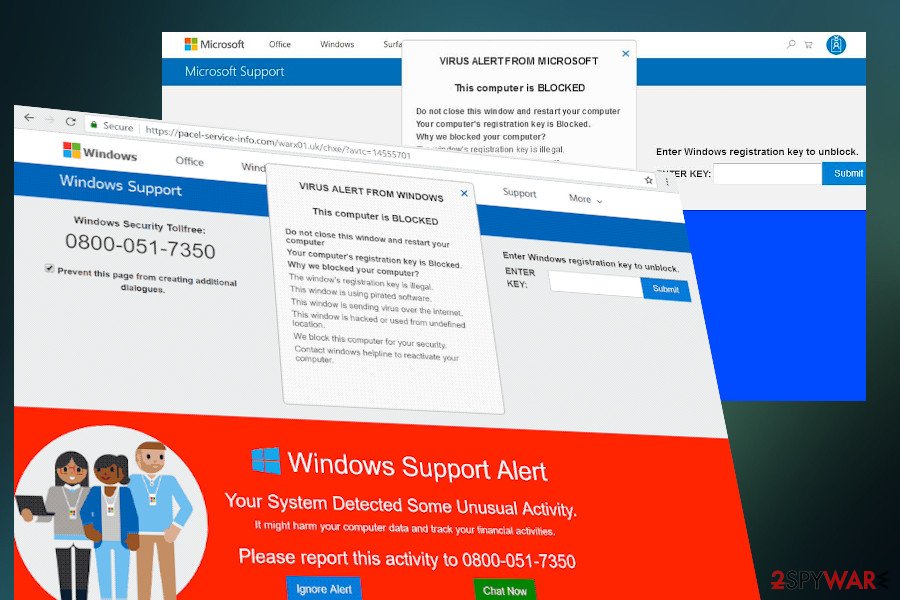 Windows Support Alert scam tricks people into calling for criminals and granting remote access to a target device
Update 2020: one of the latest Windows Support alert scams displayed an aggressive Google Chrome window, which freezes the web browser and scares the victim with false claims that "This computer is BLOCKED." The message contains a supposedly Toll-Free Microsoft support telephone number 0800-051-7350. The alert says:
VIRUS ALERT FROM WINDOWS

This computer is BLOCKED

Do not close this window and restart your computer
Your computer's registration key is Blocked.
Why we blocked your computer?
The window's registration key is illegal.
This window is using pirated software.
This window is sending virus over the Internet.
This window is hacked or used from undefined location.
We blocked this computer for your security.
Contact windows helpline to reactivate computer.
On the right side of the window, the user is asked to enter a valid Windows activation key, which should be provided by the Windows support team. However, criminals on the other side of the handset may try to get remote access to your PC or induce to install a trojan, keylogger, spyware on the system. Therefore, if you see such and similar pop-up, close your web browser and remove the Windows Support alert virus from the system. For that, use a professional anti-malware program and make sure to reset the web browser to prevent the pop-up from reappearing.
To protect your system, be careful with free software
To prevent your system from displaying tech-support scams, make sure you take the needed steps to protect yourself from adware. As adware mostly spreads with the help of bundling, experts[3] recommend being careful when downloading free software from the web.
It might seem like a good idea to use Recommended settings while installing freeware, as it is advised by developers. However, it is a trick designed to conceal additional unwanted programs within the installation manager. Taking into account that users skip steps to rush the whole installation process, there is no surprise that they end up with adware or other unwanted programs installed on their computers.
Therefore, always use Advanced mode while installing freeware, as it is the only way to avoid installing additional components. If you are not sure whether you are affected by such PUP, look for suspicious signs in unexpected pop-ups: grammar mistakes within the text, amateur graphic design, etc.
Remove Windows Support Alert virus from your computer
The most reliable way to remove Windows Support Alert scam is to use a genuine anti-malware tool. You have plenty to choose from the list given below. However, beware that your security software must be up-to-date before a scan to make sure that all suspicious components are gone from your computer. Otherwise, BHOs (browser helper objects) can reinstall malware right after rebooting the system.
However, if you possess decent computer skills and do not want to employ additional software, you can attempt to uninstall Windows Support Alert yourself. Just follow our guide below carefully, and you will be able to enjoy a problem-free browser again.
Once a full Windows Support Alert removal is performed, you should take extra precautions:
Reset passwords on all your accounts;
Contact your bank to revert payments if any was performed by you or other people;
Apply security software updates as soon as they are available.
You may remove virus damage with a help of Reimage Reimage Cleaner Intego. SpyHunter 5Combo Cleaner and Malwarebytes are recommended to detect potentially unwanted programs and viruses with all their files and registry entries that are related to them.