Vip Lucky Gifts Center – a scam falsely claiming that you are a winner of a mobile phone or another device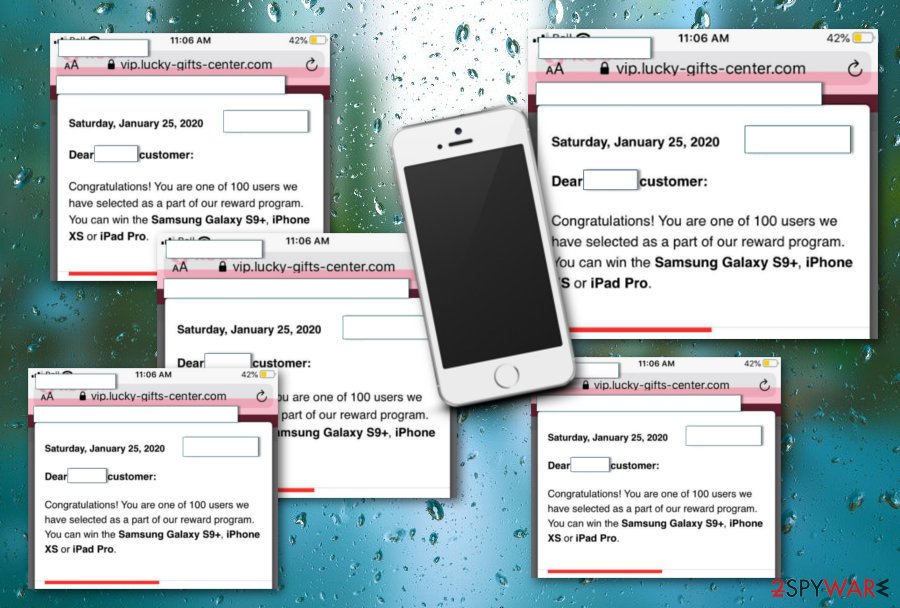 Vip Lucky Gifts Center has been described as a scam and spam tool mostly targetting macOS and iPhone users. Some people have already reported the appearance of this PUP on their Safari web browser app.[1] Even though the scam is just a rogue message itself, if you keep seeing it often, that might be a sign of an adware infection. Another user has also complained that messages from vip.lucky-gifts-center.com have been flooding him on outof.cards website and almost entirely blocking the page.[2] The main goal of this scam can be to earn income from gullible users, swindle their personal information, or get the biggest number of people as possible involved in targeted advertising campaigns.
Name
Vip Lucky Gifts Center
Type
Potentially unwanted program/scam
Sub-type
Adware
Target(s)
This suspicious product is most likely to appear on macOS computer and iPhone mobile phone devices
Activities
If this scam is a result of an adware infection, you should be ready to receive various unwanted activities such as displaying advertising content during browsing sessions, redirecting the user to affiliate domains, collecting information that is related to the user's browsing history and activities
Potential danger
If you have been dealing with this scam frequently, it might try to lure you in fake reward claims that require revealing personal and credential data. Also, you can get redirected to a potentially malicious website where you might be attacked by dangerous malware
Removal
You can eliminate the potentially unwanted program with the help of automatical software or by using the manual step-by-step guidelines that have been provided at the end of this article
Fix
If you have discovered some compromised areas on your computer system, try repairing them with the help of automatical software such as

Reimage

Reimage Cleaner
Vip Lucky Gifts Center iPhone scam can appear to you whenever you are browsing the Internet sphere on a third-party domain. If you press the "x" button and the message does not keep appearing again, you should be fine. However, if the notification keeps loading up, again and again, there might be a PUP that you are dealing here with.
Nevertheless, Vip Lucky Gifts Center spam can start appearing on websites that are related to Apple in order to give you a look of legitimacy. Continuously, you might find the rogue message even on Facebook or another social platform account if it is posted in a form of a hyperlink by a random stranger that might also be the disguised developer.
Even though Vip Lucky Gifts Center scam is not dangerous malware itself, this rogue message can lure you into providing your personal information, contact details, and credentials. It can load you with fake reward claims that ask you to type in your ID and other personally-identifiable information for "receiving the prize". This is one of the offers that the scam might try to trick you with:
Dear customer:

Congratulations! You are one of 100 users we have selected as a part of our reward program. You can wind the Samsung Galaxy S9+, iPhone XS or iPad Pro.
Note that there truly is no prize and Vip Lucky Gifts Center virus is trying to trick you. If you reveal your private data, it might get exposed on the Internet sphere by various hackers. Also, avoid entering any credentials as your money can get swindled and do not provide any contact data as you might get flooded with questionable offers later on.
If Vip Lucky Gifts Center is a sign of an adware infection on your computer, you can be loaded with an enormous amount of advertising during your browsing sessions. The PUP can start pushing questionable-looking offers and try to convince you to purchase rogue products or subscribe to useless services for an inadequate monthly price.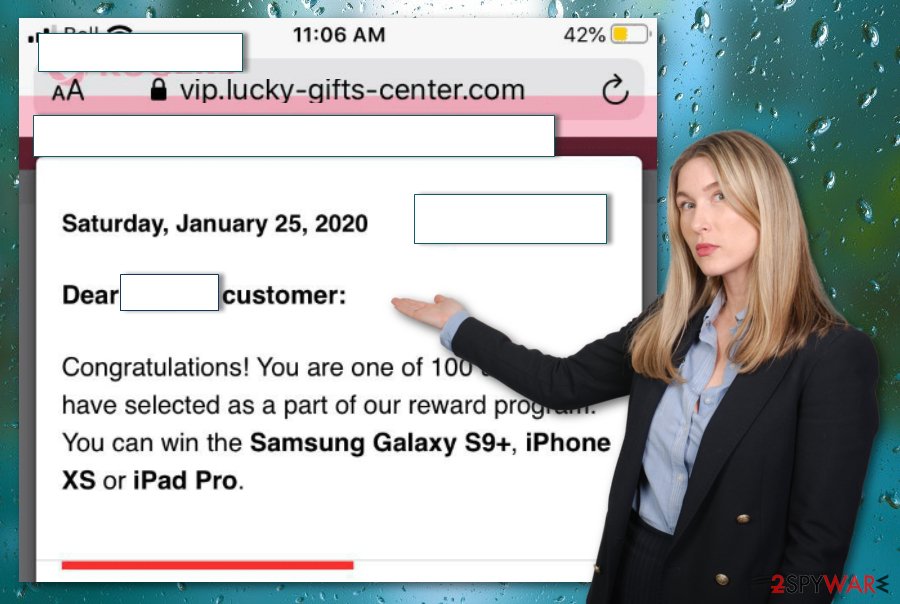 Vip Lucky Gifts Center is a scam that can aim to collect personal and non-personal information about the targeted users
Furthermore, some of the ads might seem related to your preferred offers as Vip Lucky Gifts Center can stary recording your browsing information and online history. PUPs often targeted data such as recently visited websites, the user's IP, ads accessed, and so on, so that the developers would be able to generate more income via the pay-per-click[3] technique.
Continuously, you can start receiving redirects from Vip Lucky Gifts Center and the PUP that is hidden behind this scam. This activity also aims to take the user to sponsored locations. However, here you also take the risk of landing on an infected website and catching a notorious malware infection, e.g. trojan, ransomware, worm, spyware.
Vip Lucky Gifts Center removal is the best option if you have been meeting this scam very often recently. You should download and install a reliable product that will be able to identify the cause of this scam message and get rid of the potentially unwanted program and all its added objects.
There are two ways that can help you to remove Vip Lucky Gifts Center from your machine or device. You can always lean on automatical software that will complete the job for you or you can use manual instructions. We also have provided browser cleaning steps at the end of this article in case any changes have been made to these apps.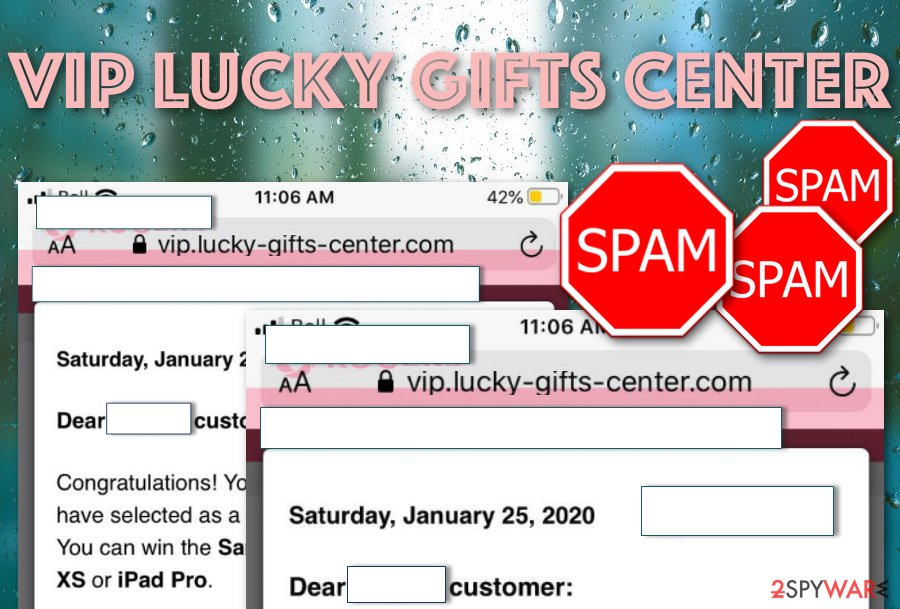 Vip Lucky Gifts Center is a message that frequently spams your computer if you have been infected with a PUP
Learn about PUP distribution and how to avoid these threats
According to Internet specialists from NoVirus,[4] third-parties employ multiple techniques for the distribution of potentially unwanted programs. However, the most popular methods include:
Software bundling. This method succeeds when the victim gets the PUP within a package of freeware or shareware.
Fake updates. Some PUPs disguise themselves as Adobe Flash Player or JavaScript updates.
Infectious components. If you like clicking on every ad and link you are provided with, you decrease your chance of receiving a PUP infection.
Other rogue apps. PUPs can get delivered through other PUAs such as adware, browser hijackers, scareware, etc.
One of the best ways to avoid the stealth installation of adware, browser hijackers, and other suspicious products, is to pay attention to the downloading/installing process that you are completing. Never skip any crucial steps and make sure that you have set the "Custom" and "Advanced" installing mode as default.
Continuously, do not download any unknown updates from the Internet. If you are not sure about some type of upgrade request, you should check the official update release first. Travel to the program's original website and better get all of the updates from there.
Last but not least, always use antimalware software. Be sure that these tools are regularly updated as they can help you to track potentially unwanted programs that might be trying to invade your system and warn you if you are trying to enter a potentially infectious website.
Terminate Vip Lucky Gifts Center virus from iPhone
If you have been receiving Vip Lucky Gifts Center pop-up on your iPhone mobile phone device, this is a clear sign that you have been dealing with an iPhone virus lately. In some cases, the scam will not stop throwing you misleading notifications unless you get rid of its cause properly. For this purpose, erase all suspicious applications, files, and other content that might have been brought to your device unknowingly:
Open the Settings section.
Find and click the General option.
Go for Erase All Contents.
If there is an adware app or another potentially unwanted program that has got you involved in the scamming of Vip Lucky Gifts Center spam, you should also check your web browsers for suspicious changes. Refresh Safari by clearing all web history information by completing the following steps:
Continue to Settings.
Press on the Safari icon.
Select the option that says: "Clear History and Website Data".
Get rid of Vip Lucky Gifts Center scam from your computer
You can employ automatical termination tools for proper Vip Lucky Gifts Center removal. This method is considered to be the best option as reliable AV software is capable of searching for questionable products all over the computer system and making sure that potentially unwanted programs do not bother you anymore.
However, this is not the only technique that can help you to remove Vip Lucky Gifts Center from your machine. You can also apply manual guiding steps and search for the cause of the scam. Do not forget to clean your web browsers as if there is adware on your machine, it might have inserted questionable components into your browser apps too.
You may remove virus damage with a help of Reimage Reimage Cleaner . SpyHunter 5Combo Cleaner and Malwarebytes are recommended to detect potentially unwanted programs and viruses with all their files and registry entries that are related to them.