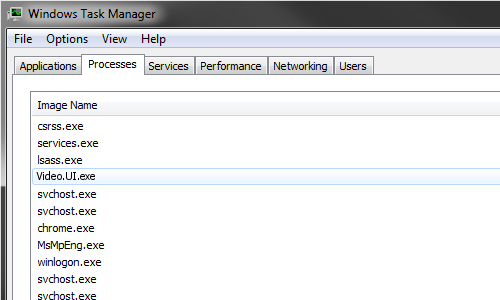 Video.UI.exe is an executable file that belongs to Xbox Live Entertainment Platform by Microsoft Corporation, but can sometimes be malware-related
The Video.UI.exe is a legitimate executable file[1] that belongs to the Xbox Live Entertainment Platform by Microsoft Corporation. It's a core component of Microsoft's Xbox Live video application, formerly known as Zune, though it is not an essential Windows process. Therefore, if the system is experiencing runtimeVideo.UI.exe errors or AV keeps reporting the file for suspicious activities, it can be disabled without affecting the system's performance.
The original Video.UI.exe location is C:\Program Files, an entry related to Microsoft ZuneVideo or YoYo games. However, many Windows users are looking for a solution on how to remove Video.UI.exe or terminate it successfully due to multiple system errors or AV engines going rampant about it. In such a case, it is recommended to initiate a full anti-malware scan with a professional AV engine to check if the Video.UI.exe is not misused by malware-related programs.
NAME
Video.UI.exe
FILE TYPE
An executable file related to Xbox Live Entertainment Platform known as Zune
PERFORMANCE
The Video.UI.exe file loads at startup and runs in the background continuously
ASSOCIATED
Microsoft.ZuneVideo
DISTRIBUTION
The file is released as a part of Windows OS or comes with the installation of Video Entertainment apps. However, malware can camouflage the legitimate executable file and get installed onto the system along with pirated software[2]
DANGER LEVEL
If the Video.UI.exe runs in the background and does not cause any system malfunctioning, it's danger level is low because it's one of the core system files. However, a diagnosis is required if the executable triggers runtime errors, exhibits high CPU usage, or is detected by AV engine as suspicious
FIX POSSIBILITIES
In case of any system problems related to exe files, it is advisable to run a scan with a repair tool like

Reimage

Reimage Cleaner

Intego. Executable files commonly encounter crashes and can be easily affected by malware
The Video.UI.exe is a Windows OS based file, which can typically be found in C:\Program Files\WindowsApps\Microsoft.ZuneVideo_3.6.15361.0_x64_8wekyb3d8bbwe\Video.UI.exe. Normally, it loads during Windows boot and keeps running in Task Manager continuously. Despite non-malicious natural traits, the file can be issued for malicious activities. Commonly, malware developers render the names of legit system files to disguise malicious programs.
In the case of Video.UI.exe virus, the system starts exhibiting abnormal activities, such as high CPU usage, common errors, slowdowns, software freezes, and similar. A few examples of Video.UI.exe error pop-ups:
Video.UI.exe Application Error.

Video.UI.exe could not be found.

Video.UI.exe failed to initialize properly.

The program can't start because Video.UI.exe is missing from your computer. Try reinstalling the program to fix this problem.
Such and similar issues frequently occur due to corrupted, though legitimate, Windows processes and files. Therefore, experts recommend optimizing Windows performance regularly with the help of professional optimization tools, which has the latest database of Windows OS related components.
However, the Video.UI.exe can be related to cyber infections, such as spyware or Trojans[3]. At this point, you should open Task Manager (Ctrl + Alt + Delete), find the third process among the others, right-click on it, and open the file location. If the file location redirects to C:\Program Files\WindowsApps\ or C:\Windows\System32, the file is safe and can hardly be malware-related.
Nevertheless, the absence of the file in its default location may be a sign of malware. Dangerous programs tend to delete or corrupt legitimate Windows files and replace them with camouflaged, though dangerous, executables. Consequently, software conflicts and other non-traditional behavior may occur.
Typically, files like Video.UI.exe can become a target for Trojan viruses. The latter infections may cause serious issues on the system and put the data on the host PC at the risk. Trojans can spy on the users, damage the system's integrity, and open a backdoor to other computer viruses easily.
Nevertheless, Windows OS experts, as well as cybersecurity researchers, agree upon the fact that the original Video.UI.exe file is non-malicious and should not cause any damage. People encountering any problems related to the file can navigate to the Task Manager and disable the process to check how the system corresponds accordingly. Even more, the related Xbox Live Entertainment Platform Zune can be completely eliminated if not used via the Applications folder.
However, Video.UI.exe removal is not a necessity. It may be malfunctioning due to external factors or the inner system's problems. Thus, we recommend fixing the Video.UI.exe errors using Reimage Reimage Cleaner Intego repair tool. This particular program will help to identify any problems related to Windows OS, including system files, registry entries, and Windows-related software.
If nevertheless, manual repair of the file, as well as an automatic repair tool, cannot remove Video.UI.exe virus, then you may need to run a full system scan with anti-malware to eliminate malicious entries and initiate Windows repair procedure afterward.
Pirated software and malicious entries can damage system files and replace legitimate processes
Windows OS runs hundreds of executable files, both OS and software related. Many of them are auto-run along with system boot and run on the background of the system without any problems. However, malware developers commonly disguise malicious programs under EXE files and distribute them in packages with freeware, pirated software, or malicious spam email attachments.
Downloading game cracks, free software from third-party download sources or torrents, visiting adult-content websites, clicking on suspicious online content (free virus scanners, software update ads, hyperlinks, etc.) pose a high-risk of malware infiltration. Therefore, people have to be conscious and pay close attention to every step when browsing the net.
Employ an AV engine, which features real-time protection, regularly run malware-scanner, and keep your system optimized. Besides, do not blindly trust freeware download sources because, despite being legitimate, they tend to use bundling distribution strategies to push adware and other malware to a wide audience. Opt for the Advanced installation option and monitor the process of each program that is being installed on the system.
Before Video.UI.exe removal, make an analysis of its performance on the system
Video.UI.exe virus is not a correct reference to this executable file. It's one of the core systems files, which normally runs in the background and does not exhibit malicious traits. However, sometimes it may be referred to as dangerous due to the corruption by Trojan, spyware, ransomware, or another cyber infection.
Anyway, do not rush to remove Video.UI.exe as you may damage the system's integrity or cause serious malfunction of the related software. First of all, a thorough analysis and diagnosis of performance are required. If the file is running in the background with a normal CPU consumption, the related application is running properly, and Windows, in general, does not exhibit any problems, then leave the file as it is.
Video.UI.exe removal is not necessary even if the AV engine keeps reporting it for malicious activities. In many cases, AV detections referring to EXE files are false positive. Therefore, it is advisable to initiate Windows OS repair using Reimage Reimage Cleaner Intego or similar optimization utility.
In case of system repair did not stop the AV engine from reporting the executable, the Video.UI.exe virus removal may be required. For this purpose, run SpyHunter 5Combo Cleaner, or Malwarebytes, and see if the program reports a malicious activity related to the discussed file. Remove the file and associated software is recommended by a professional AV engine.
This entry was posted on 2020-04-27 at 03:09 and is filed under Application files, Files.