Idp.alexa.51 is a detection name for potentially malicious software by multiple anti-malware vendors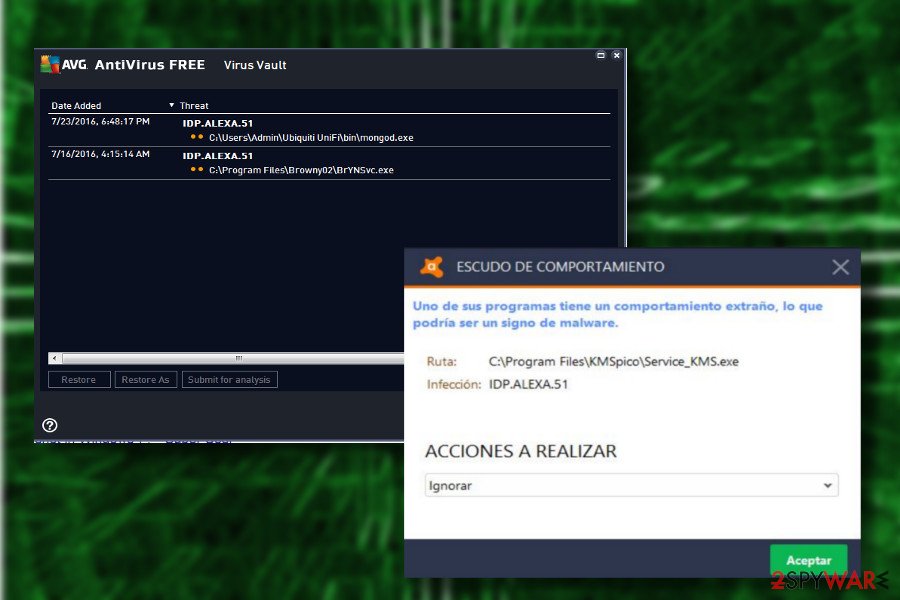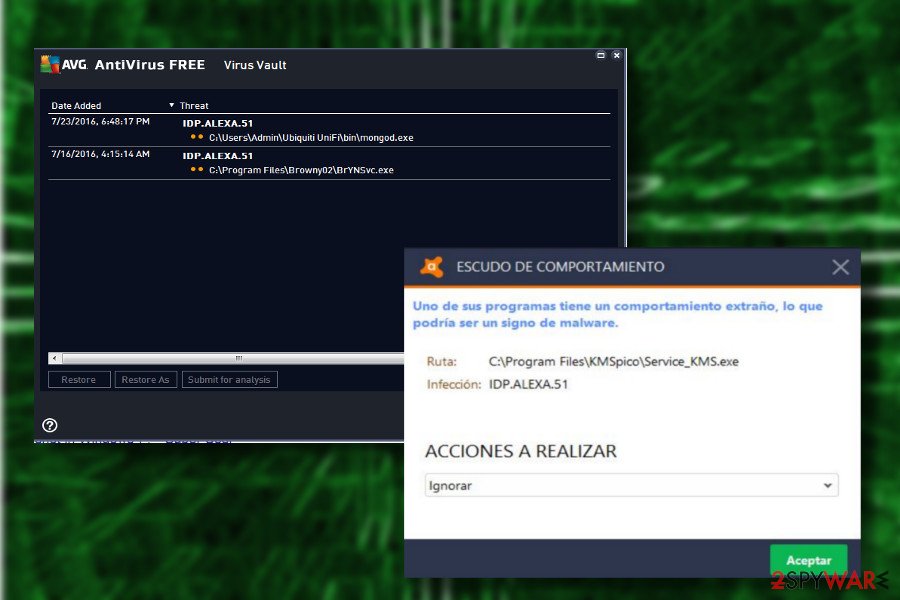 Idp.alexa.51 is a heuristic detection name typically used by Avast, AVG or Avira[1] to flag potentially malicious activity on the computer. Essentially, it means that the infection has not been identified as such and was not associated with a particular malware family, although its behavior was suspicious enough for the AV application to flag it as malicious.
Users who downloaded and installed seemingly safe applications such as Plants vs. Zombies or SeaMonkey noticed that Idp.alexa.51 pop-up shows up, detecting malicious files belonging to these programs in Temp and AppData folders. However, if these apps were downloaded from legitimate sources, it is highly likely that the Idp.alexa.51 detection is a false positive.[2]
However, you should be aware that Idp.alexa.51 virus could also be a real issue. For example, users who downloaded Windows/MS Office suite crack KMSPico, also reported that they saw the warning from their anti-malware apps. In such a case, the detection is most likely flagging malware that could harm your computer and put your personal safety, as well as privacy, at risk. Thus, you should always check whether Idp.alexa.51 is actually a threat or a false positive before performing further actions.
Name
IDP.ALEXA.51
Type
Malware or false positive detection name presented by AVG, Avira, and Avast
Symptoms
The malicious example causes system slowdowns, high CPU usage or system crashes. False positives are harmless
Distribution
Spreads in a bundle with SeaMonkey, Plants vs. Zombies, EasySpeedUpManager2, KMSPico, MyDailyLIfe, FiveM and other games/apps/websites
Also known as
Alexa virus. In case it's not a false positive, the IDP.ALEXA.51 detection refers to a severe cyber infection that has to be removed.
Elimination
We recommend running a full system scan with anti-virus software to remove Idp.alexa.51
System recovery
In some cases, malware can damage the system in several ways, rendering it susceptible to lag, crashes, and errors. If you suffer from such issues, scan the computer with

Reimage

Reimage Cleaner

Intego
Idp.alexa.51 started showing up in 2016, when users began flooding the associated antivirus developers' forums with inquiries, asking whether the pop-up is indeed correct. This detection is primarily associated with online games or apps, such as SeaMonkey, Plants vs. Zombies, or potentially unwanted programs like EasySpeedUpManager2, and others. The AVG scan results usually report this "file" or detection to stem from the .tmp and .exe files (e.g. swUSB.exe) located in c:\windows\, %appdata% and %temp% folders. Just to be clear: you should absolutely not ignore Idp.alexa.51 detection and scan a new file with another anti-malware to be sure that it is not a false-positive.
According to the analysis being held a year ago, the IDP.ALEXA.51 malicious detection prevails on the systems running 8.1 located in Portugal and Brazil. However, the extent of this erroneous detection did not decrease and is currently often found on Windows 10 systems running Avira and AVG. In some of the cases, AVG firewall may block the installation of HitMan Pro reporting the HitmanPro.exe as an IDP.ALEXA.51 malware.
Since idp.alexa.51 can be related to various types of malware,[3] note that when AV engines detect this file as a malicious and dangerous one it is possible that the threat can:
Download other malware;
Use resources of the computer to run additional processes;
Give attacker remote access to your device;
Deliver advertisements, pop-up messages;
Recommend fake updates, promote programs;
Redirect to suspicious sites with commercial content;
Record keystrokes and information you enter on various websites;
Collect and send information about your PC to a remote server or hacker.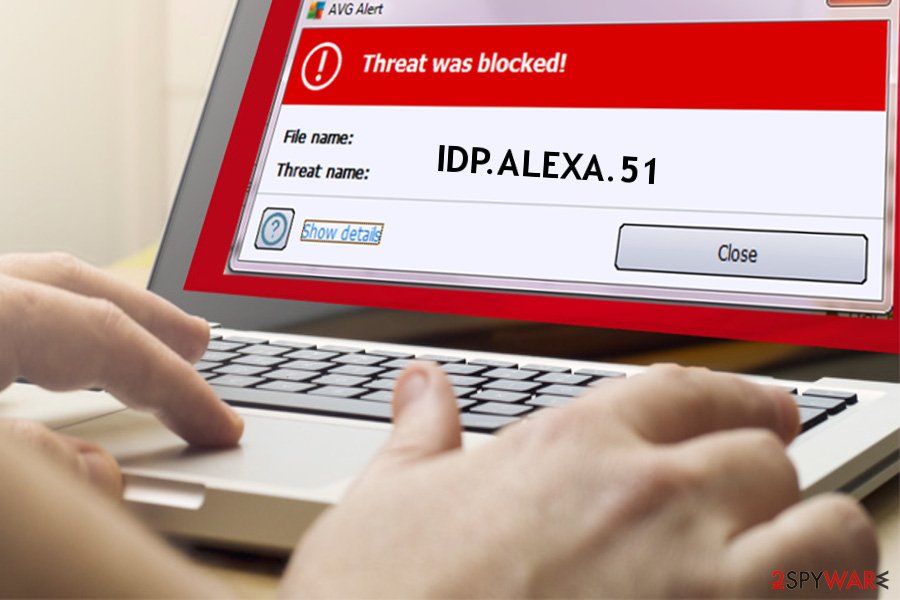 IDP.ALEXA.51 virus is malware detection related to Avast, AVG and similar anti-virus software.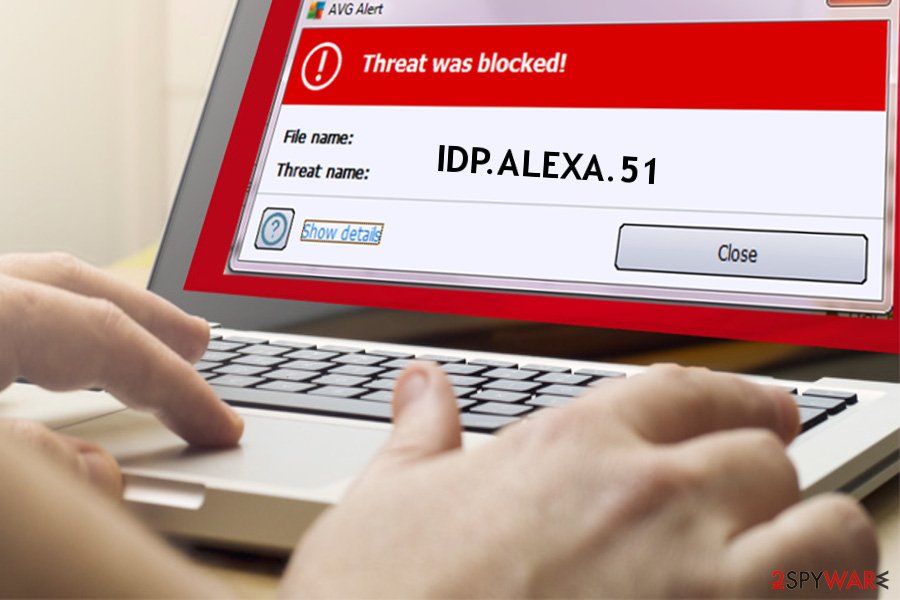 IDP.ALEXA.51 virus is malware detection related to Avast, AVG and similar anti-virus software.
The file is related to suspicious malware
Some cybersecurity researchers categorize the IDP.ALEXA.51 file as a Trojan horse or Alexa virus. Although there's no clear evidence for such classification, cybersecurity experts warn that the suspicious detection called IDP.ALEXA.51 might not be a false alarm.
Reputable AV engines like AVG might recognize it as a false-positive detection or threat due to the outdated version running on the system (AVG 8.5, 9.0, 2011, 2012, 2013, 2014 or 2015) or outdated virus database. In 2017, the company acknowledged that this same problem had been triggered by faulty AVG software update.
However, that's not the only reason why AV engine, not necessarily AVG, can report IDP.ALEXA.51 as threat detected in various system's locations. Malware developers can exploit such files or names of the false AV detection to disguise malicious programs or processes.[4]
IDP.ALEXA.51 even has a few similarities with known trojans and other suspicious detection names like FileRepMalware and TrojanWin32/Tiggre!rfn. You should be aware of many possibilities that this is a virus and scan your device using SpyHunter 5Combo Cleaner, or Malwarebytes and see if malware is actually present on your machine. In case you are experiencing any type of post-removal issues, such as computer crashes or system errors, fix malware damage with the help of repair tools such as Reimage Reimage Cleaner Intego.
Suspicious files come with the system along with freeware
This is not one of the system's files. It is associated with the various application that can be downloaded from the Internet for free. It's not possible to reject the installation of this file-component since it's a part of the software package responsible for its performance.
Although its original version is not considered as malicious, it can be misused by hackers for disguising ad-supported apps, rogue software or even malicious cyber infections. Therefore, each time you install games like Zombie vs. Plants or other free apps, make sure to select the Advanced or Custom installation option and read the terms carefully.
TIP: NoVirus.uk[5] experts recommend people not to let your young children download apps without your intervention as they will undoubtedly skip License Terms and Privacy Policy, thus exposing the system at the risk of being infected with potentially unwanted or malicious programs.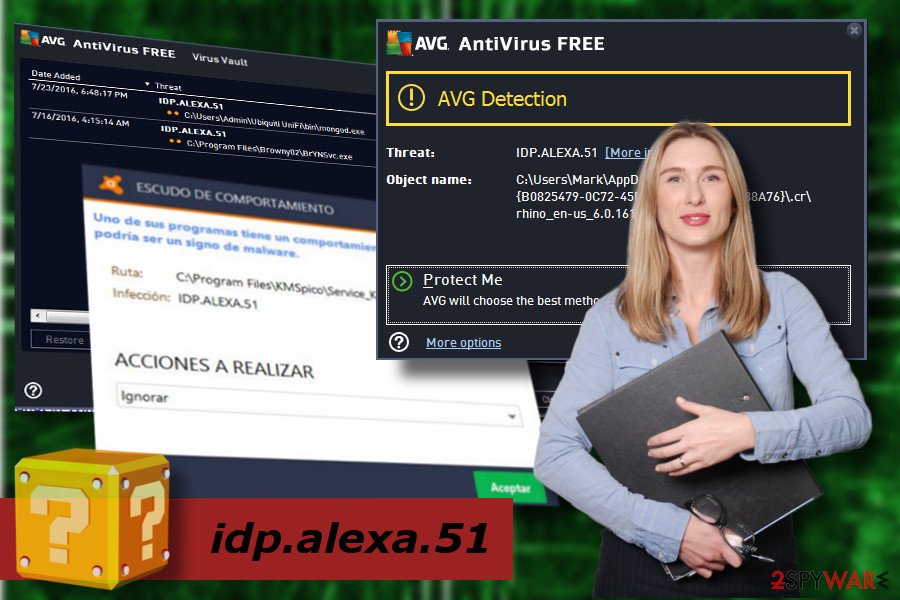 Idp.alexa.51 is the detection name presented by anti-malware tools that can mean one of the two things – either a need to update anti-virus or a need to remove malware from the system.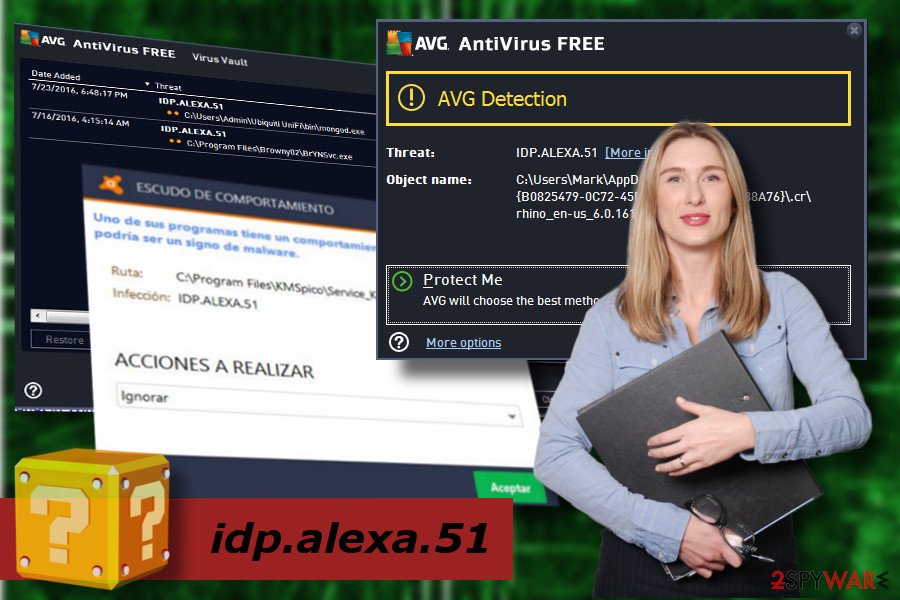 Idp.alexa.51 is the detection name presented by anti-malware tools that can mean one of the two things – either a need to update anti-virus or a need to remove malware from the system.
Remove IDP.ALEXA.51-related malware and add it to exclusions if it is a false positive
In case the detection is indeed a false positive, all you have to do is to address your antivirus tool to remove Idp.alexa.51 pop-ups. First of all, you should make sure that your security tool is running the latest versions since the Alexa virus detection is often associated with anti-malware tools that run outdated databases. As soon as you do that, you can check whether the pop-up persists (upon detection, potentially malicious files should be quarantined, so you should not worry about their presence at that point).
In case the issue persists, you should download alternative security software and perform a repeated computer scan. However, make sure you download anti-malware from the developers' website, as there are plenty of fakes that could damage your computer way beyond Idp.alexa.51 virus detection and result in Trojan, Spyware, Keylogger, and similar malware infection. Keep in mind that these infections can seriously compromise your safety and result in monetary losses or even identity theft. Alternative antivirus software would help you with Idp.alexa.51 removal, although you can also use the original tool for that.
Finally, if you are sure that Idp.alexa.51 detection is indeed a false positive, you can always add an exception via the security application's settings. This process differs depending on the utilized tool, and you can refer to the developer's website for step-by-step instructions on that.
This entry was posted on 2020-04-27 at 03:01 and is filed under Malware, Viruses.