Utopia.net is the DNS hijacker that redirects to malicious websites and compromises Windows system settings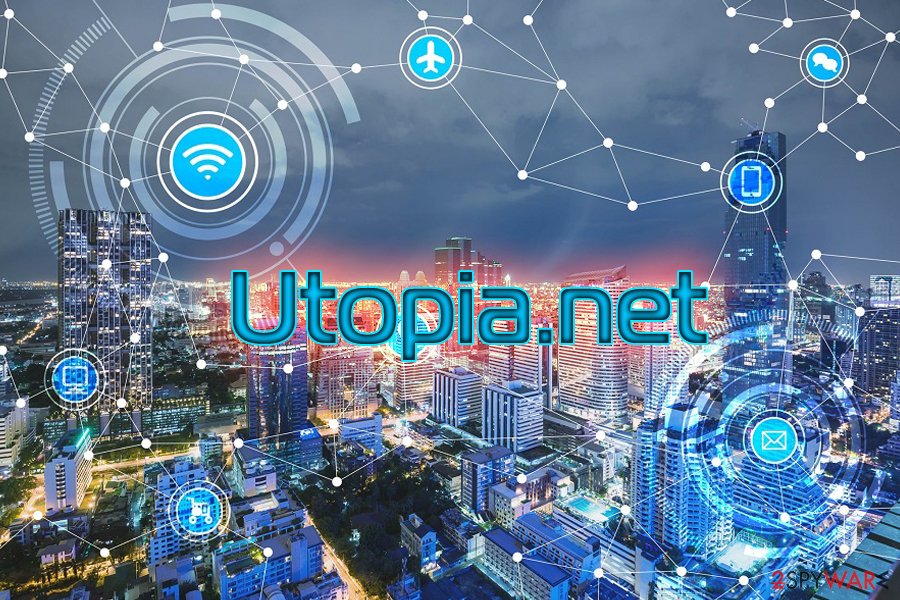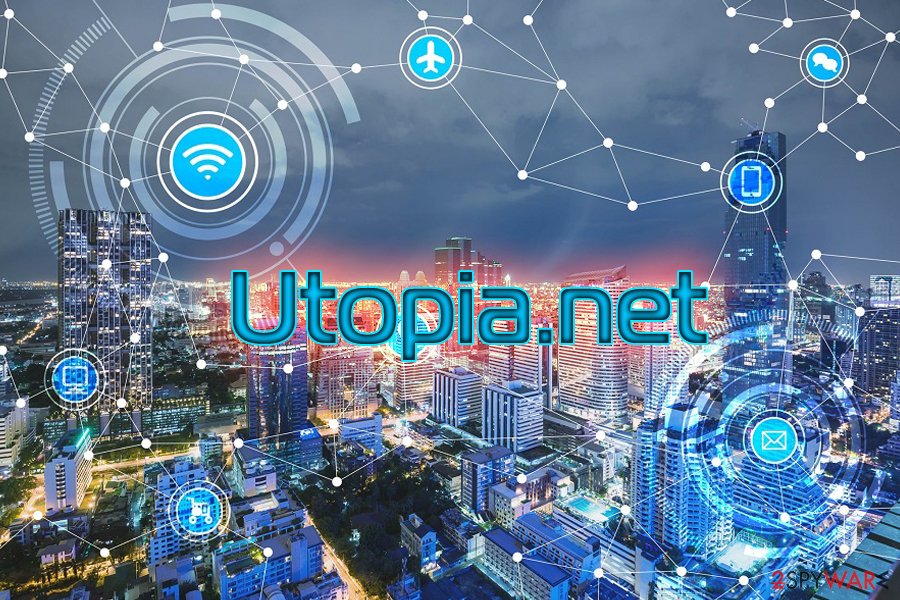 Utopia.net is a DNS hijacker[1] that is similar to DNS Unlocker and overrides targeted machine's TCP/IP protocols in order to change the behavior of a trustworthy DNS server. Affected users report that they are unable to access certain sites, as well as some applications, such as Steam,[2] are unable to start. This is a malware that changes router or modem settings and can reset other preferences on the system, so uninstallation and removal become difficult.
Websites that users can connect to are filled with advertisements and are loading very slowly. Most victims think that their modems or other hardware is at fault, and do not suspect any type of cyber infection. However, users should be aware that Utopia.net malware needs to be eliminated to regain normal operation of the device. According to reports, this issue affects only Comcast (the largest internet provider in the United States) users.
Summary
Name
Utopia.net
Type
DNS hijacker
Category
Malware
OS affected
Windows, Mac
Infiltration
Malicious links, spam email attachments, malware-ridden websites, etc.
Elimination
Use reputable security software
Optimization
To retrieve default system settings, use

Reimage

Reimage Cleaner
Users do not often understand how malware gets injected into their machines. Bad actors are well aware of that, that is why they are using phishing to gain monetary benefit from innocent users.
If you are wondering how Utopia.net virus entered your machine, it is most likely that this happened due to your cybersecurity negligence. Please read our tips below to find out how to eliminate DNS hijack, fix these settings and prevent attacks in the future.
DNS hijack issue is something users are not that familiar with, and they are often left baffled why aren't their Google Chrome, Internet Explorer, Mozilla Firefox or Safari browsers are still redirecting them to questionable sites and slow down the machine. Additionally, Utopia.net removal proved to be a tough nut to crack for most users.
Utopia virus creates frustration and becomes a nightmare for people that encounter this threat on their machines. You need to alter various settings including registry entries and browser preferences to end all the malicious and unwanted processes. This is not an easy virus to fight, so rely on professional tools to get back to the virus-free machine.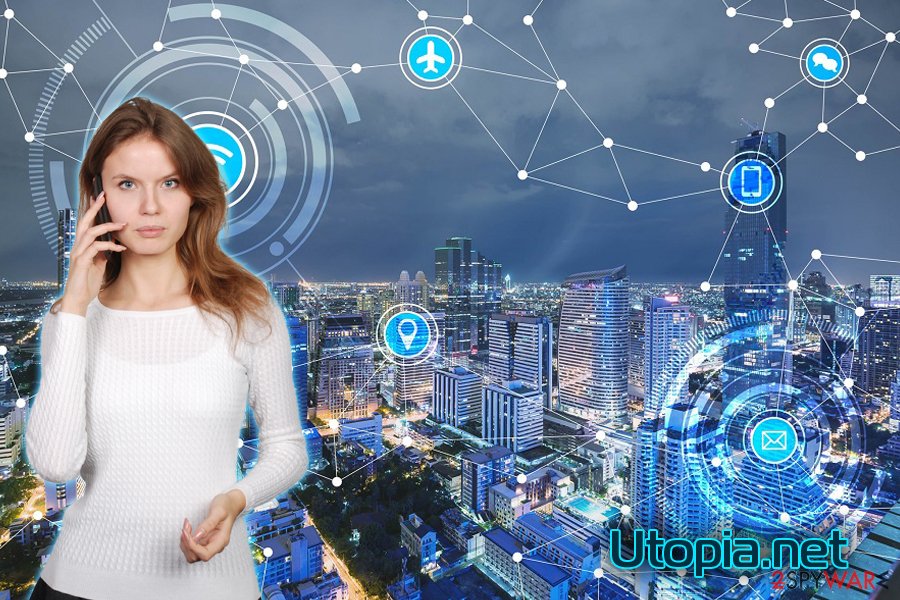 Utopia.net is malware that changes DNS settings and prevents users from visiting certain web pages and considerably slows down the machine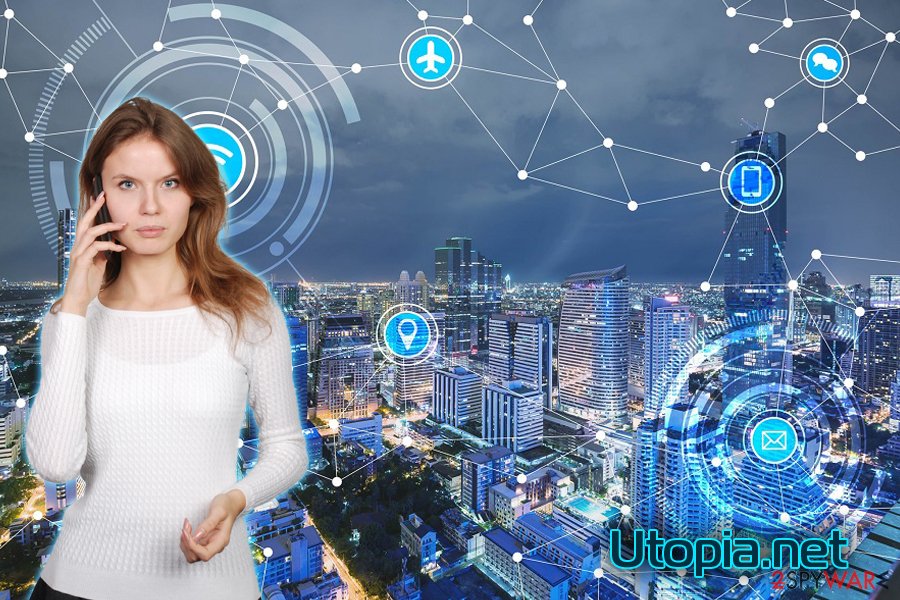 Utopia.net is malware that changes DNS settings and prevents users from visiting certain web pages and considerably slows down the machine
Those who have become victims of Utopia.net DNS hijack report the following:
Inability to access certain websites;
Inability to go back to default hardware/software settings;
Major slowdown in the operation of the machine;
Rerouting to suspicious websites;
Inability to open several applications installed on the device;
Altered error message display.
Furthermore, users who are affected by Utopia.net virus are most likely excessively tracked by bad actors. This might include not only non-personally identifiable information but also sensitive data like credentials. Thus, security experts[3] highly recommend not to enter any personal details while the DNS settings are hijacked.
Utopia nacks modems wi-fi networks and even servers to hijack the system and configure the settings. When the access is changed devices cannot connect to the Internet properly. Malware infects modems, in most cases, but all these changes can lead to more severe damage to the infected computer or further malware infiltrations.
When Utopia.net virus gets on the system it can spread trojans, malware, or even crypto-extortion based viruses, so make sure to get rid of this hijacking tool as soon as possible to avoid these additional changes and danger. Users complain about the difficult removal process, so we have a few tips below the article.
Because the DNS hijacking could be related to malware, we highly advise users scanning their machines using anti-malware software. If anything is found, make sure you remove Utopia.net and other hack-related entries. Then, you can restore your device's settings and repair system damage with the help of Reimage Reimage Cleaner .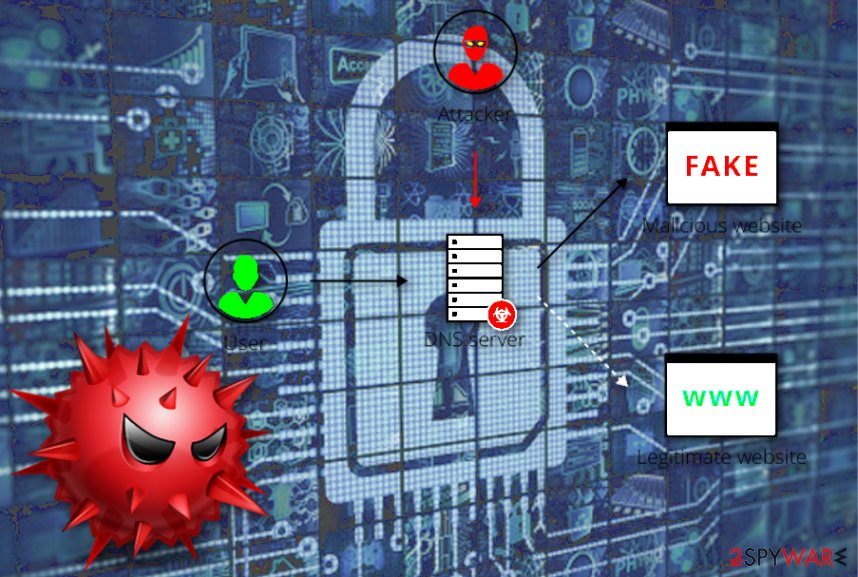 Utopia.net is the site that exposes the user to malicious pages and can lead to severe malware infections if left untreated.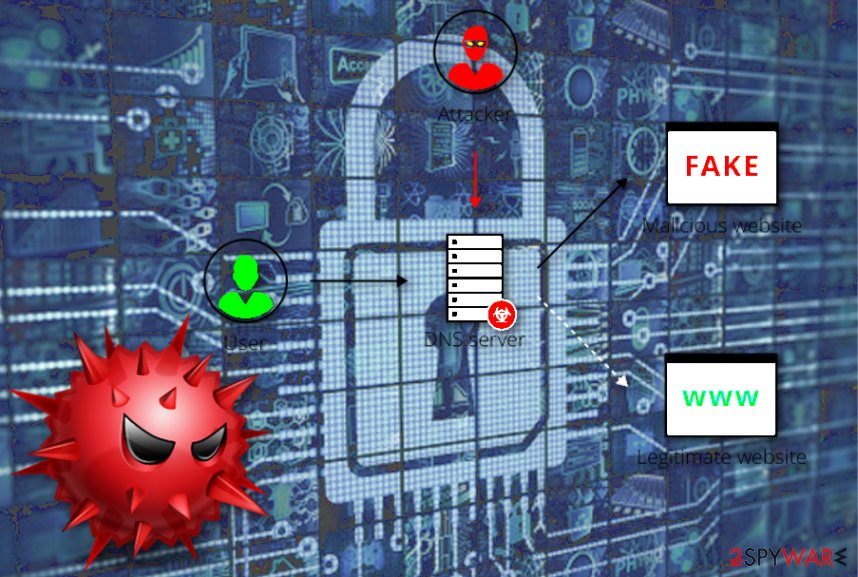 Utopia.net is the site that exposes the user to malicious pages and can lead to severe malware infections if left untreated.
To avoid malware you should practice safe web surfing
As we already mentioned, the computers' operator is almost always at fault when it comes to malware infections. Reasons can vary from pure laziness to lack of knowledge. Thus, if your machine got infected, you should first eliminate the threat and then make sure stay extra careful when browsing the internet.
To avoid malware infections, please follow these security tips:
Employ security software – this is a must to any computer user;
Do not get tricked by phishing emails – malicious actors often use social engineering to enable malware;
Stop visiting suspicious sites, including porn, file-sharing, torrent, and similar;
Update your software on a regular basis, as security patches fix vulnerabilities that can be abused by malware;
Use strong passwords for each of your accounts.
Eliminate Utopia.net malware and go back to normal browsing
If your browser has been slowing down, your programs crashing, and you have been dealing with similar issues, you might address them to failing hardware. However, if you have noticed these or any other changes on your PC, it is time to scan it using anti-malware software like Reimage Reimage Cleaner , SpyHunter 5Combo Cleaner, or Malwarebytes and perform Utopia.net removal.
Viruses can do a wide array of damage and can act differently, depending on what it is programmed to do. Therefore, you will most likely won't be able to remove Utopia.net virus without professional help.
Retrieve your DNS settings after the Utopia.net hack
As soon as Utopia.net removal is performed, you should fix DNS hack by restoring DNS settings on your computer. Please follow these steps explaining how to fix DNS settings on Windows:
Open Control Panel and go to Network and Internet > Network and Sharing Center > Change Adapter Settings
Right-click on your internet connection and pick Properties
Locate Internet Protocol Version 4 (TCP/IPv4) and click on Properties
Tick the Obtain an IP address automatically and Obtain DNS server address automatically
Alternatively, you can use Google's DNS service[4] that does not show spoofed results, which are 8.8.8.8 and 8.8.4.4. For IPv6, users can use 2001:4860:4860::8888 and 2001:4860:4860::8844.
To fix DNS settings on Mac, follow these tips:
Go to System Preferences on your Mac computer and select Network option;
Choose Wi-Fi, Ethernet or other Network preference and click the Advanced button;
Click on the DNS tab and then click twice on the DNS address you need to change;
Make sure that the results added to the DNS service are 8.8.8.8 and 8.8.4.4;
Click OK and Apply to finish the procedure.
This entry was posted on 2020-02-19 at 05:32 and is filed under Malware, Viruses.