Untsorce.cool is a browser infection that tries to establish background connections to malicious sites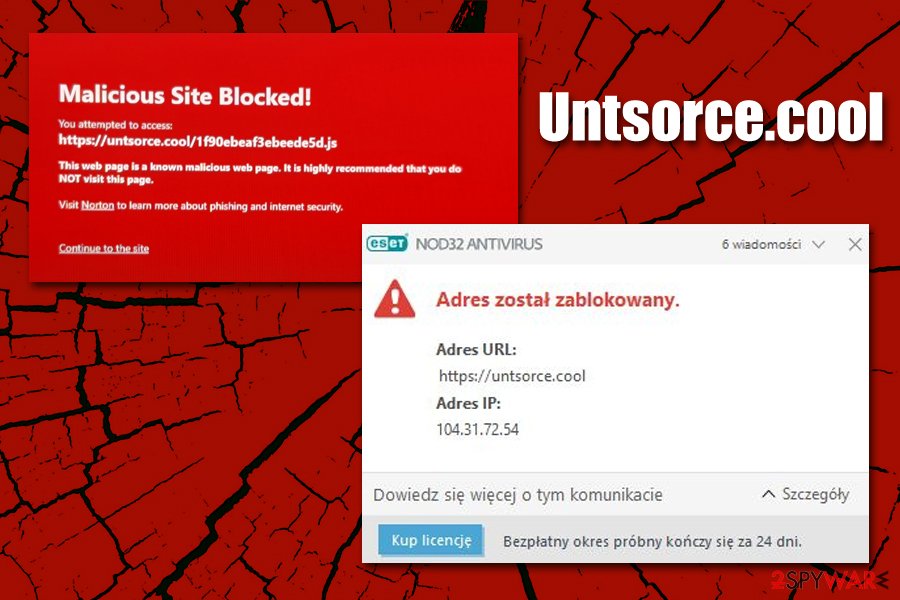 Untsorce.cool is a malicious website that may expose users to malware or scams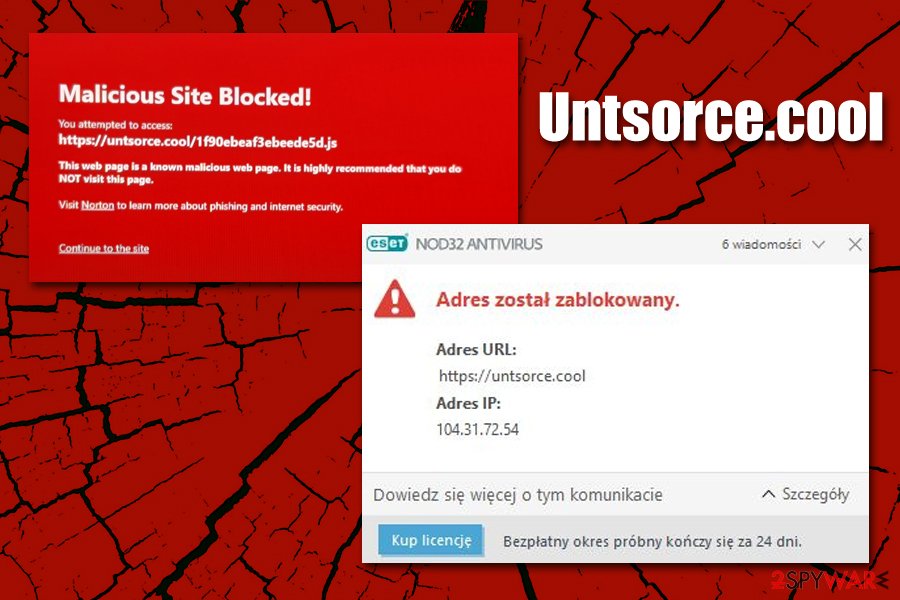 Untsorce.cool is a malicious website that may expose users to malware or scams
Untsorce.cool is a redirect virus[1] that users might encounter at any time while browsing the web on Google Chrome, Mozilla Firefox, Safari, Brave, MS Edge, or another browser. Many users reported that they suddenly are taken to the site without prior warning, and it is often filled with various undesirable content, such as intrusive pop-up ads, scam messages, and even malicious downloads. In other words, Untsorce.cool hijack is something that most would like to get rid of as soon as possible.
In some cases, users who were using third-party web security solutions were blocked from entering the site. However, they could not remove Untsorce.cool virus' intrusive behavior, as it kept coming back regularly – particularly when they clicked on a link or access a new website.[2] The reason for this behavior is one of the following: either there is a potentially unwanted program (namely, adware) installed on your system, or there is a browser infection that keeps trying to enable background connection to the Untsorce.cool site.
Name
Untsorce.cool
Type
Adware, browser redirect virus
Infiltration
Malicious websites, third-party freeware sites, torrent sites, fake updates, etc.
Symptoms
Random redirects to suspicious websites, intrusive advertisements on all visited websites,
Risks
Installation of other potentially unwanted programs or malware, sensitive data disclosure to cybercriminals, money loss
Detection
Multiple anti-virus engines mark the domain as malicious (Virus Total scan results)
Removal
In case the adware is involved, termination of it would stop the intrusive browser redirect behavior (check the instructions below for details). In other cases, resetting web browsers, as well as a sync option, might help with getting rid of Untsorce.cool
Recovery
Adware and malware may damage system components and make it unstable. If crashes, errors, lag, and other issues are common on your device, you can fix them with repair tool

Reimage

Reimage Cleaner
Initially, adware is not considered to be as bad as malware by most (although some security advocates disagree). Most of the regular users agree that pop-ups, deals, banners, offers, in-text links, auto-play, and other types of ads are never a pleasant experience when browsing the web, while others are unaware that the PUP is causing the unwanted behavior. That being said, the adware can sometimes pose just as great danger as malware and redirects to Untsorce.cool or similar domains should never be ignored.
Adware is usually distributed with the help of software bundle packages that are downloaded from third-party sites. Due to deceptive offers within the installers or misleading download buttons on those sites, users might sometimes install software they never intended to in the first place. As a result, they might think that Untsorce.cool ads and redirects came seemingly out of nowhere.
Besides Untsorce.cool redirects, users may also notice the following symptoms:
A different homepage and new tab URL is set on the web browser;
Altered search engine directs searches that are filled with sponsored links;
Intrusive advertisements show up on all visited websites;
Some web pages take awhile to load;
Unknown browser extensions installed without permission, etc.
Additionally, it is also important to note that most adware apps are using web beacons, Flash cookies,[3] pixels, and other tracking technologies to gather information about users. This data usually includes the device's technical details, installed apps, IP addresses, visited websites, search queries, etc. In some cases, even private information might be collected, so Untsorce.cool adware might be a risk to privacy.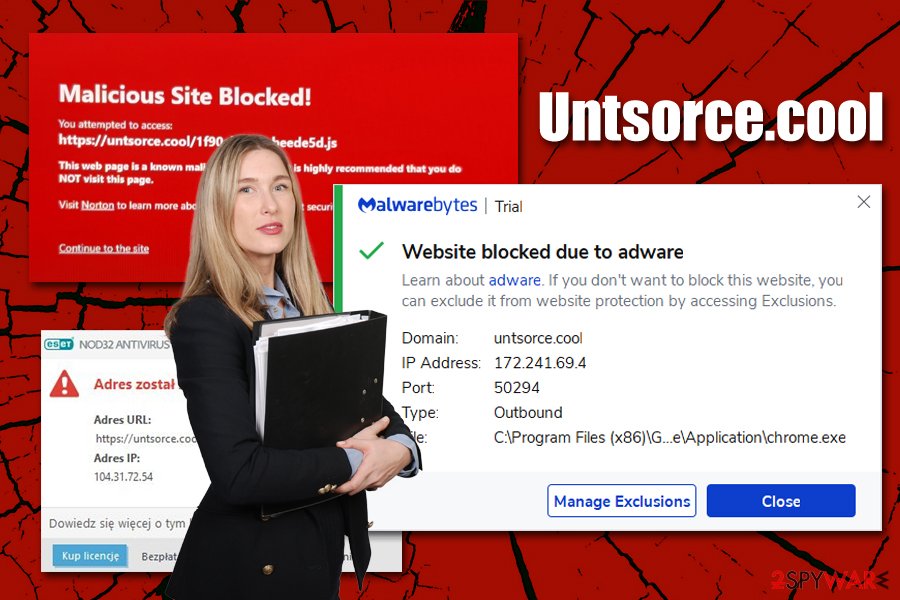 Untsorce.cool is a redirect virus that users had problems terminating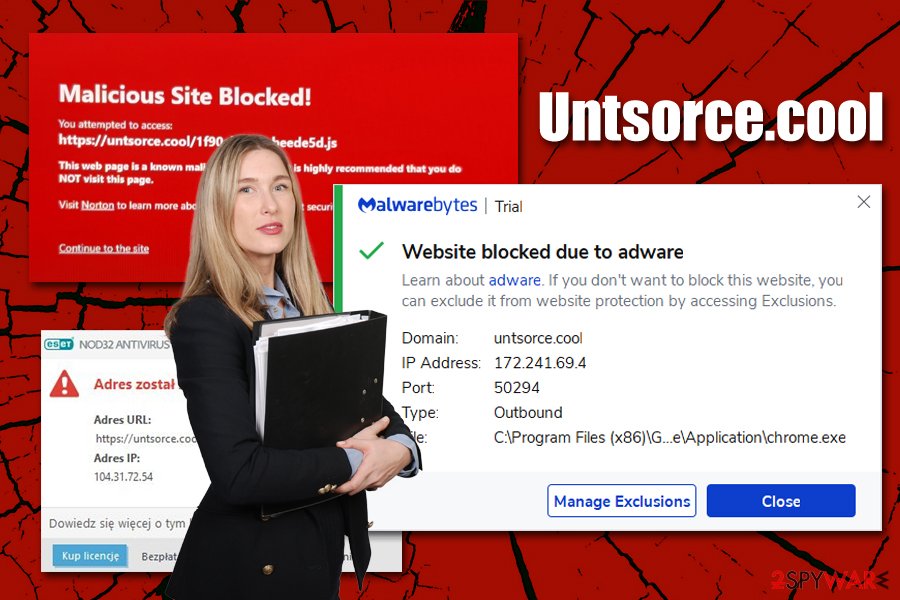 Untsorce.cool is a redirect virus that users had problems terminating
To get rid of the Untsorce.cool virus, you should either scan your machine with reputable anti-malware that also detects PUPs or uninstall them manually instead as per our instructions below. We also advise using Reimage Reimage Cleaner for best results, especially if the computer is suffering from stability issues after adware/malware termination.
Untsorce.cool removal might sometimes not be successful even after the suspicious apps are uninstalled from the system. In such a case, users should try to reset all the installed browsers or reset Google Chrome's sync, as some of the settings are stored on Google's servers that third-party antivirus solutions do not have access to.
Unsafe software downloads and unintentional clicks might lead to browser problems
While it may seem the web is safe (considering that there is a tremendous amount of effort put into security by industry giants like Google, Apple, and Microsoft), it most certainly is not, as users' actions also have an impact on one's online safety. There are thousands of websites that are being blocked daily due to malicious activities such as scam, phishing, or malware, but it is likely that cybercrooks are launching twice as much. As a result, Google and other sources cannot block the vast amount of malicious content immediately, and some get exposed to it.
Therefore, we highly advise users to employ additional security measures, including third-party web protection applications, ad-block extension, and a Firewall. These measures will significantly diminish the possibility of being affected by various internet dangers. As mentioned above, however, users' actions are also very critical, so stay away from high-risk sites like torrents, gambling, and online gaming.
Finally, you should also consider avoiding freeware applications from third-parties. The installers are typically compiled in a way that deliberately hides optional components, so users let in unwanted browser extensions, system optimizers, PDF converters, and other adware into their system without knowing it. If you insist on downloading programs from third-party sources, do it very carefully:
Make sure that the app you are downloading is not deceptive – read about it online first;
Check for important documents, such as Terms of Service and Privacy Policy;
Always opt for Advanced or Custom installation settings instead of Recommended ones to stay in control;
Watch out for pre-ticked boxes, misleading offers, misplaced buttons, and other tricks used by freeware authors.
Get rid of Untsorce.cool virus for good
Some browser and computer infections might be easy to get rid of, although Untsorce.cool removal proved to be difficult to some. Cybercriminals constantly come up with new ideas on how to gain profits from users by exposing them to ads, and also employ new technologies to achieve it. Therefore, in some cases, the termination of unwanted browser behavior might not be as simple as uninstalling unwanted apps in a regular way.
Despite that, we highly suggest you follow our guide below to find and eliminate unwanted programs on your system and then perform a full system scan with anti-malware software – it might just be enough to remove Untsorce.cool virus from your computer. If unsuccessful, we advise you get rid of all the installed extensions or reset the installed browsers as per the guidelines below.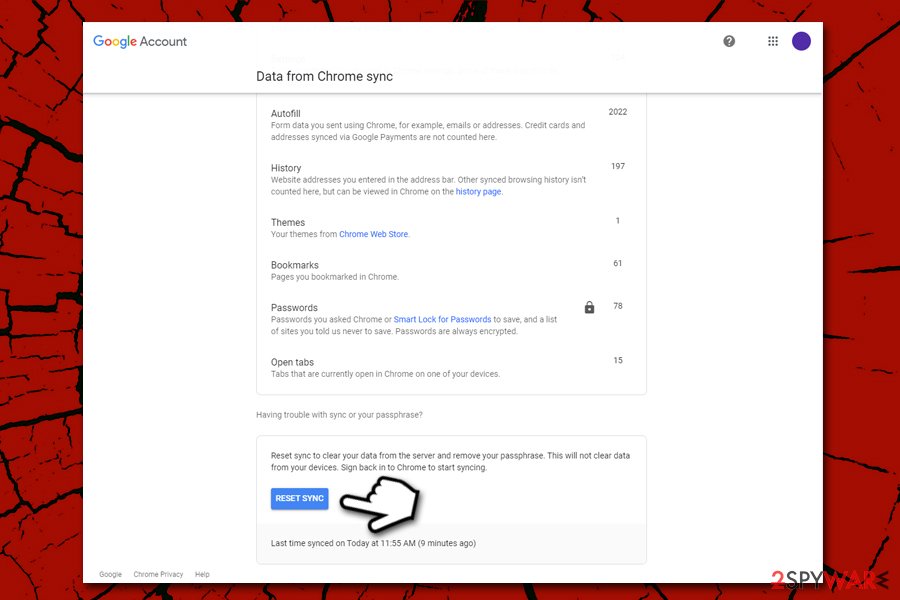 In some cases, resetting Chrome Sync may help to get rid of the intrusive redirects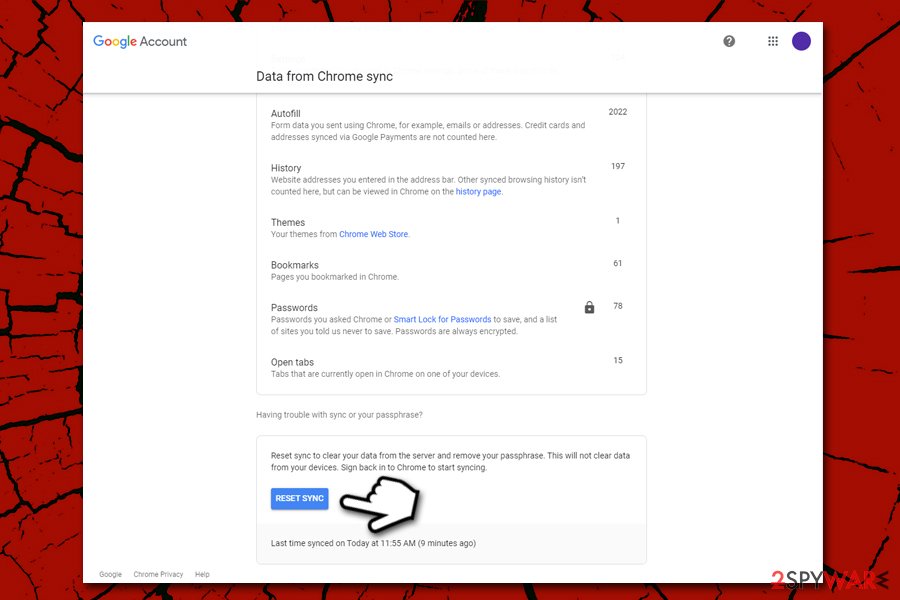 In some cases, resetting Chrome Sync may help to get rid of the intrusive redirects
If you are using Google Chrome, the cause for Untsorce.cool redirects might be related to the synced items – these might include malicious caches. To do that, go to Google's Chrome Sync page, and select Reset Sync at the very bottom (this will not remove your extensions, bookmarks, and other settings – it will only reset these on Google's servers).
You may remove virus damage with a help of Reimage Reimage Cleaner . SpyHunter 5Combo Cleaner and Malwarebytes are recommended to detect potentially unwanted programs and viruses with all their files and registry entries that are related to them.