Choose the right web browser to protect your privacy. Staying anonymous online is not only a trend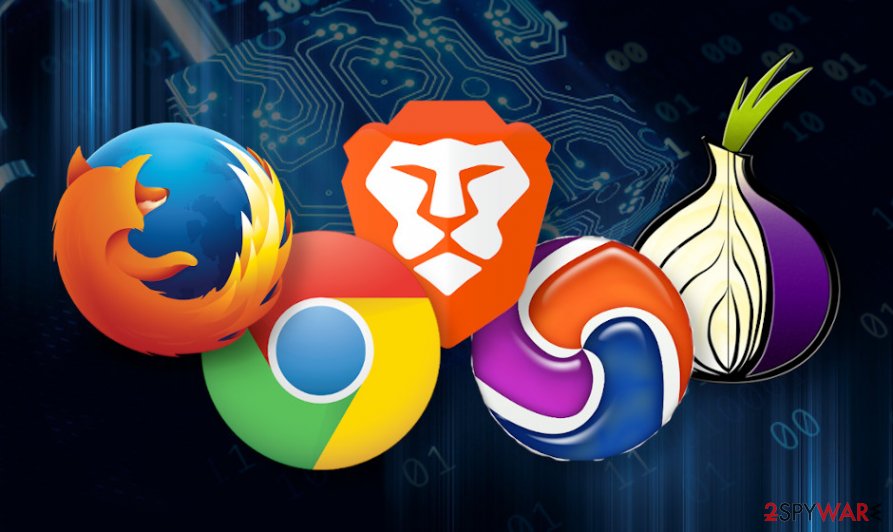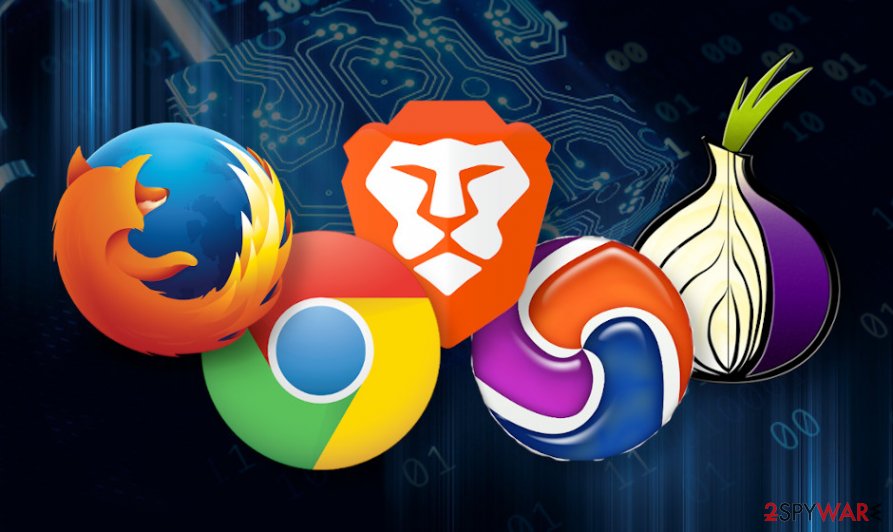 An attempt to stay anonymous online has been associated with the criminal world or some shameful activities a decade ago. However, increasing news about spyware on Chrome Web Store[1], cookies injected into your web browser by faceless technology corporations, governmental institutions[2], or even your spouse to keep monitoring you and recording your every move motivate to arm against spying, isn't it?
Each of us has the right to privacy and there are plenty of things that all of us want to keep for ourselves. Most of the activities that we perform on desktop PCs, laptops, tablets, or mobile phones are initiated via the web browser. Thus, no matter if you want to make a research, make the payment, play games, participate in chats, send emails, buy products, pay bills, look for travel directions, or whatnot, you have to open your web browser first and establish an Internet connection.
Unfortunately, clearing browsing history regularly does not protect your privacy. Cookies can be installed on your web browser by various third parties who may seek to leak your geolocation, IP address, search queries, websites visited, and any other browser-based information.
Unfortunately, you won't find a web browser on the market that would ensure full privacy protection. For this purpose, you should take advantage of the VPN programs[3] that can completely camouflage your identity while you browser the web. Nevertheless, although browsers can't fully protect your privacy, some are much better at helping people maintain anonymity and we'll provide you with a list of the most secure web browsers on the market for 2020 to make it easier for you to choose.
The traits that a secure web browser exhibits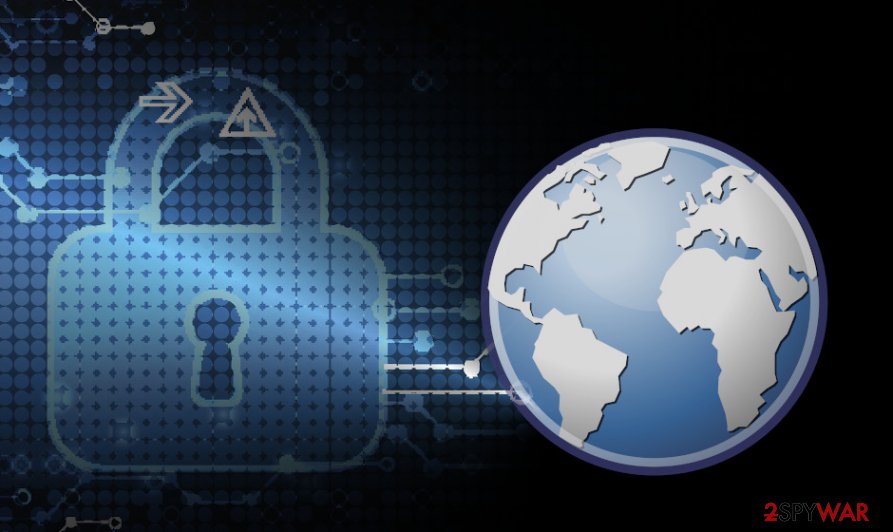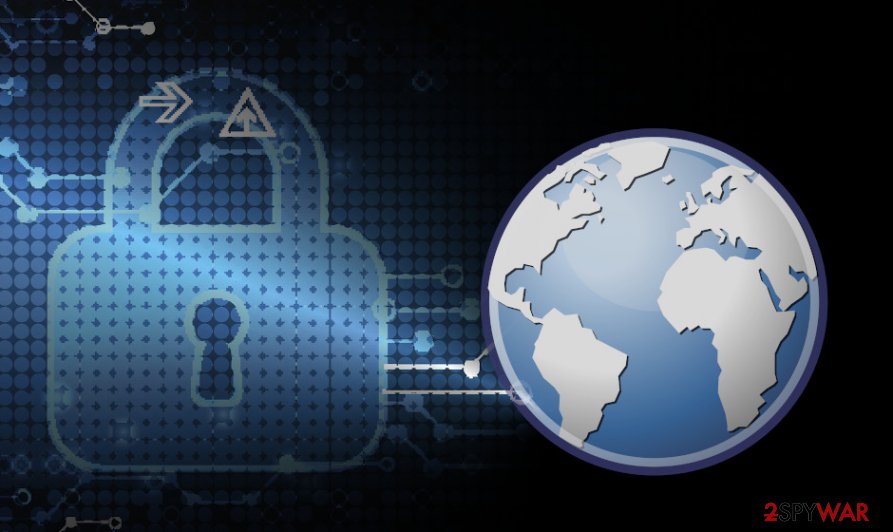 The web browser can be considered safe or not safe on several grounds:
Sandboxing[4]. It's a term used to refer to a security mechanism, which prevents malware and malicious applications from infiltrating the system without escaping the sandboxing. The most private web browser must have a strong sandboxing mechanism since the vast majority of spyware end up on machines via web browsers and their vulnerabilities

HTTPS upgrading[5]. HTTPS is a secure version of HTTP. It ensures a safe connection to most of the websites by encrypting the traffic. This secured connection minimizes the risk of man-in-the-middle attacks and prevents connection interruptions that were extremely common during the HTTP era.

Protection of the active content. Active content is related to the audio and video content that relies on Java, Adobe Flash, and similar software. According to the cybersecurity experts, a secure browser should not support any browser plugins for displaying active content. The practice with Adobe Flash, which has been irreplaceable since the early 2000s.

Phishing protection. To spoof credentials, cybercriminals often launch rogue websites, such as online surveys, prize giveaways, lucky visitors, etc, that ask to submit personal information, such as first name, last name, email address, telephone number, address, etc. The so-called domain spoofing protection is an inbuilt feature of some web browsers.

Tracking protection. Every browser-based application uses tracking cookies to haven't non-personal information about users' browsing preferences. This way, business improves advertising schemes and create personal ads to every user. The secure browser should contain an in-built ad blocker that disables cookies and does not allow the leak of personally identifiable information via third-party cookies and web beacons.
The top 5 most secure web browsers for anonymous web browsing
The list of web browsers available on the market is long. While some web browsers are taking the lead of the market, there are several web browsers that are worth attention, especially when the most significant aspect of a discussion is privacy. At this short overview, well introduce Brave, Mozilla Firefox, Tor, Epic privacy browser, and Google Chrome.
1. Tor browser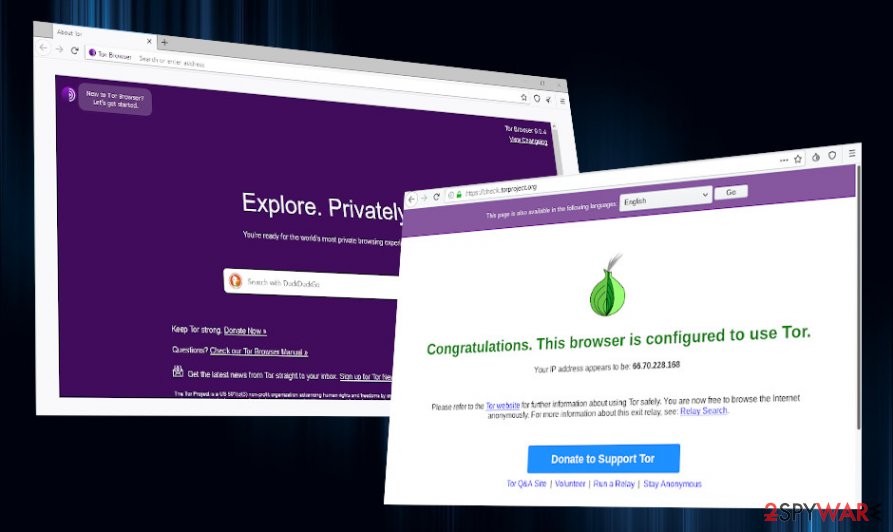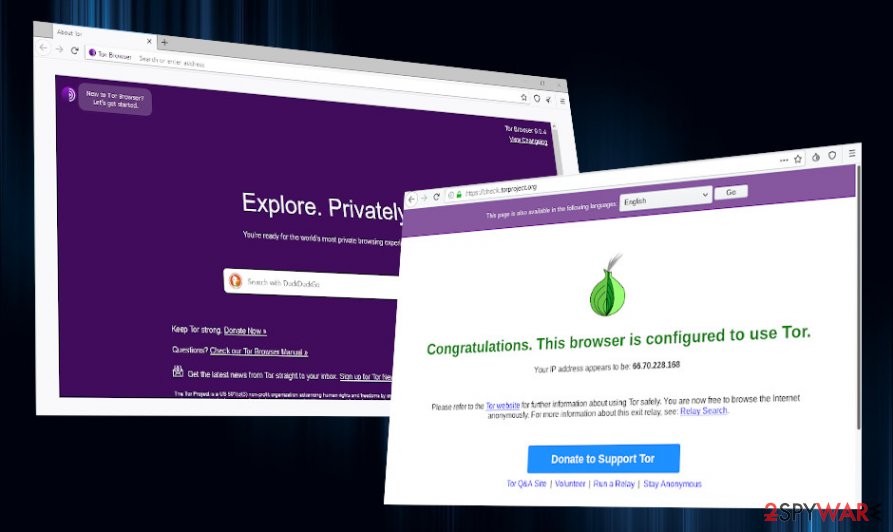 Those looking for an extremely safe web browser, but are less concerned about its performance, are strongly recommended to use Tor[6]. This web browser is a subsidiary or a version of Mozilla Firefox, except that its principle of performance is rather different. Tor is similar to a VPN client. It's a network of volunteers that aim at privacy security. These volunteers established a network of over 7000 servers, meaning that each web browsing session is encrypted and the network is established via three layers.
The Tor browser has several in-built add-ons, such as NoScript (blocking active content), automatic HTTPS upgrading, and privacy-oriented search engine DuckDuckGo.
It might be said that Tor is the safest web browser on the market since its triple encryption allows staying completely anonymous online. However, those users who are looking for a web browser that would be equally fast, Tor is not very likely to be of use. Its major drawback is extremely slow speed. Since it established the connection via three diverse servers that may be anywhere in the world, sometimes users need patience while the destination website is loaded. However, speaking about privacy and security, the following pros of Tor can be distinguished:
It's open-source software, meaning that the risk it contains malicious backdoors is minimal
Allows users to circumvent censorship
Routes the traffic through three relay servers
Supports all .onion sites (no other web browser does that)
Provides complete anonymity by establishing the connection via hidden service
Hides the IP. It is impossible to track
Easy to setup
Works in a similar manner as VPN service, thus doubling the security protection
Has several in-built privacy-oriented add-ons, including NoScript, automatic HTTPS upgrading, and DuckDuckGo
2. Epic Privacy Browser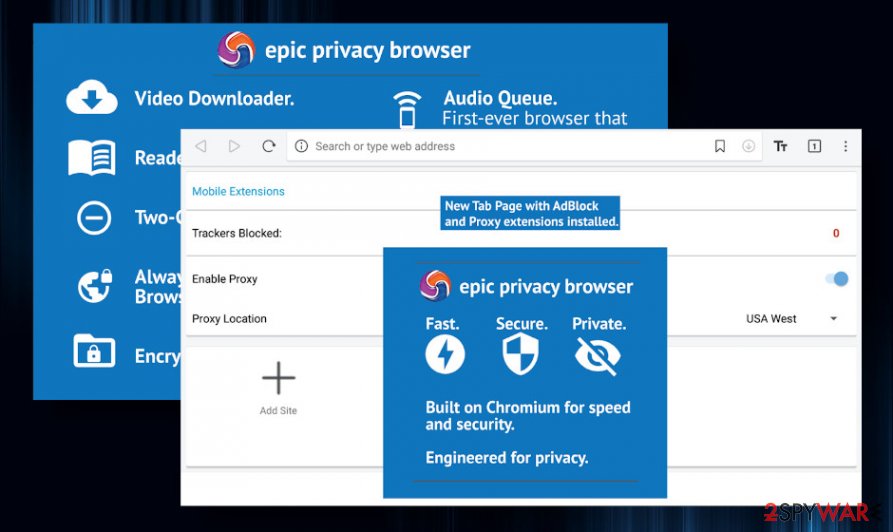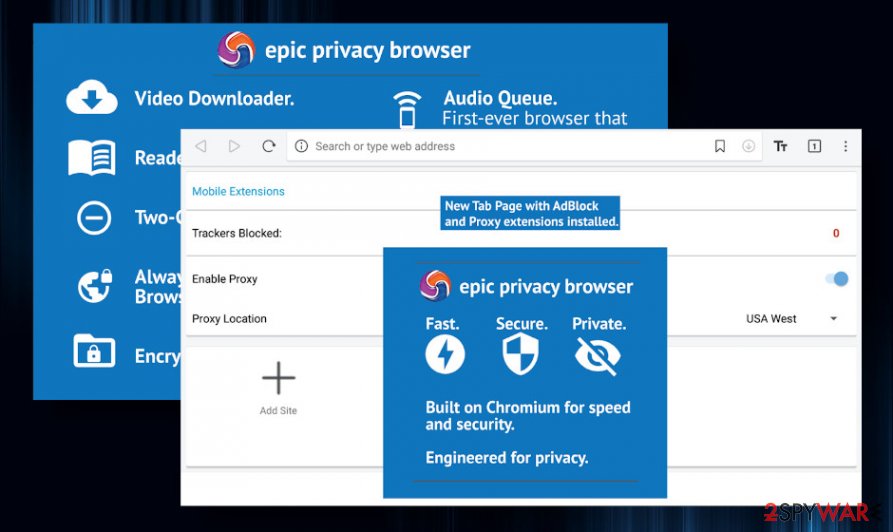 Who has heard about Epic Privacy Browser? In fact, despite being launched in 2014, the Epic browser[7] is plowing its way to the market really hard. However, those who are aiming at protecting themselves online from spying and cyber-attacks should consider using this browser.
Epic is a Chromium-based web browser created by Hidden Reflex six years ago. In order to protect its users, the browser routes traffic through a US proxy server, thus camouflaging the unique user's IP address. On top of that, it automatically blocks web trackers and cookies, including but not limiting the analytics and social media widgets. Besides, it's programmed to clear browsing history after each web browsing session, thus ensuring that no website or tracking software can read or harvest users' browsing activity logs. Epic Privacy Browser is also set to automatically block plugins.
In comparison to Tor, Epic features a much greater performance, though weather privacy protection. Besides, people may disapprove of this browser as it does not support add-ons. Having in mind that third-party browser add-ons often infringes on the privacy, this feature may seem useful for those who seek online anonymity. However, others can miss features like password managers, main checkers, spell checkers, etc. Nevertheless, if you seek to prevent spying on you online and protect yourself from cyber attacks, try using this browser. It's main cons:
Reroutes web traffic through a VPN to disguise user's location
Reroutes traffic through a US proxy server
Blocks trackers and cookies by default
Automatically clears web browsing history when the session is finished
Offers great privacy protection, user-friendliness, and performance ratio
The interface is similar to Google Chrome
Blocks ads, fingerprinting, cryptomining, and ultrasound signaling
3. Brave browser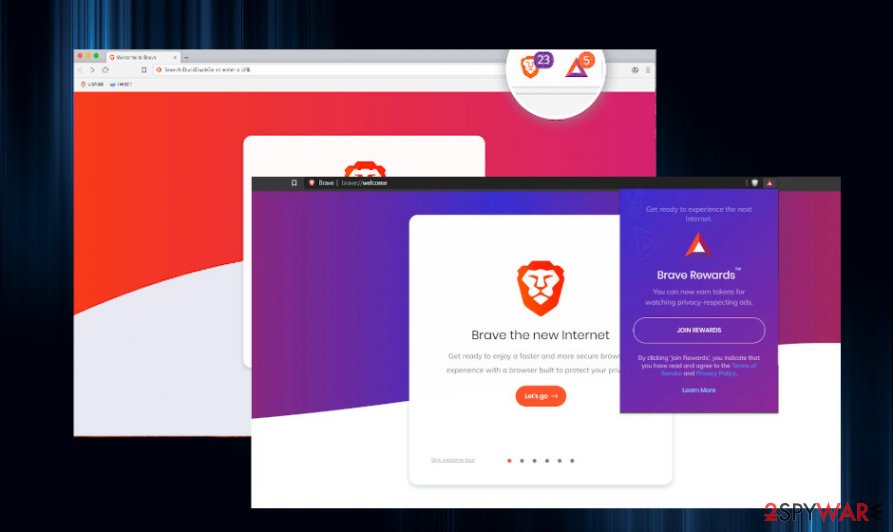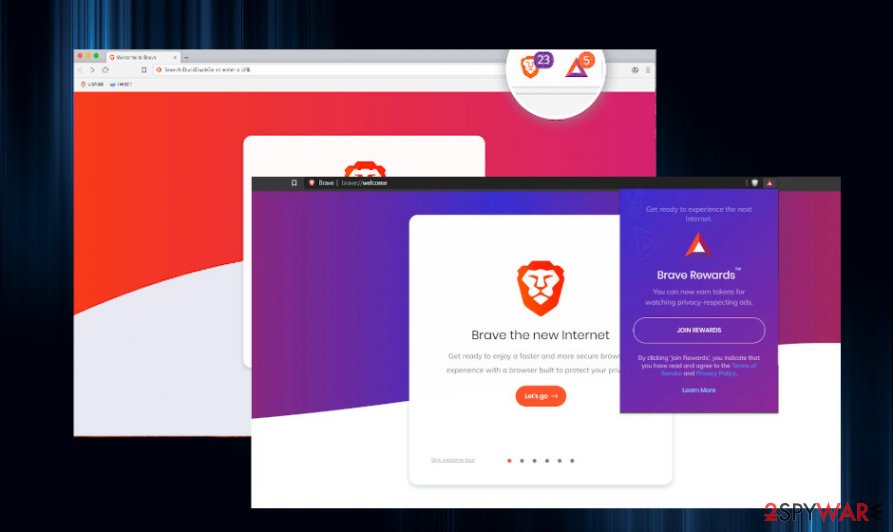 Brave browser is a relatively new player on the market. It has been released in 2016, so it's half younger if comparing it to Google Chrome. Nevertheless, its main developer is Brandon Eich, who was formerly contributing to the development of the Mozilla Firefox. Having a long-term experience in the development of web browsers, this man and its colleagues are aiming at fixing the problems that everybody already knows and pay specific interest in protecting people's privacy.
Brave is a Chromium-based web browser, which is described as a fast, secure, and privacy-oriented web browser that is worth attention. The following privacy-aimed traits of this browser can be distinguished:
In-built ad and tracker blocker
Fingerprint protection
Built-in script blocker
HTTPS upgrading
Sandboxing support
Customizable Shield settings
The Brave browser has some downsides and that's natural. However, this browser turns out to be one of the most secured web browsers the speed of which does not decrease. The websites loading speed is fast and privacy protection is high. This web browser makes its best in terms of ad-blocking in particular. It disables both commercial content and potentially malicious ads, thus minimizing the risk of installing spyware or running on malicious scrip injected websites.
4. Mozilla Firefox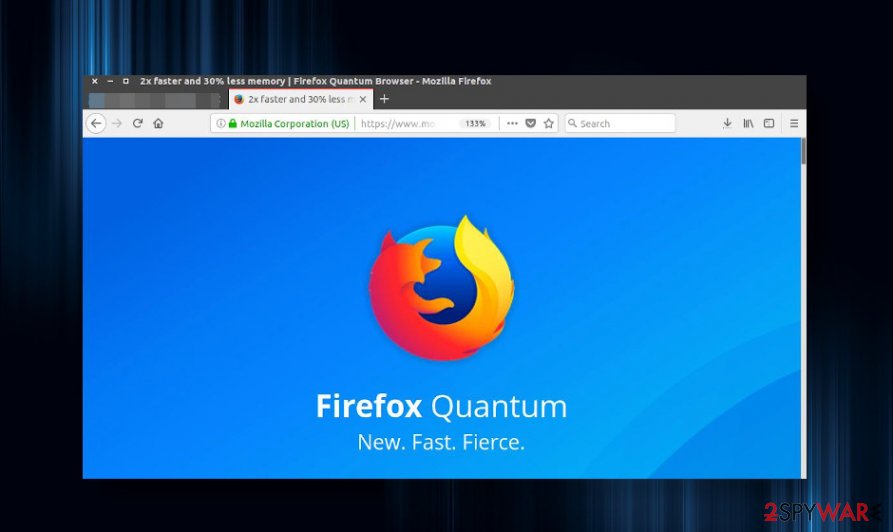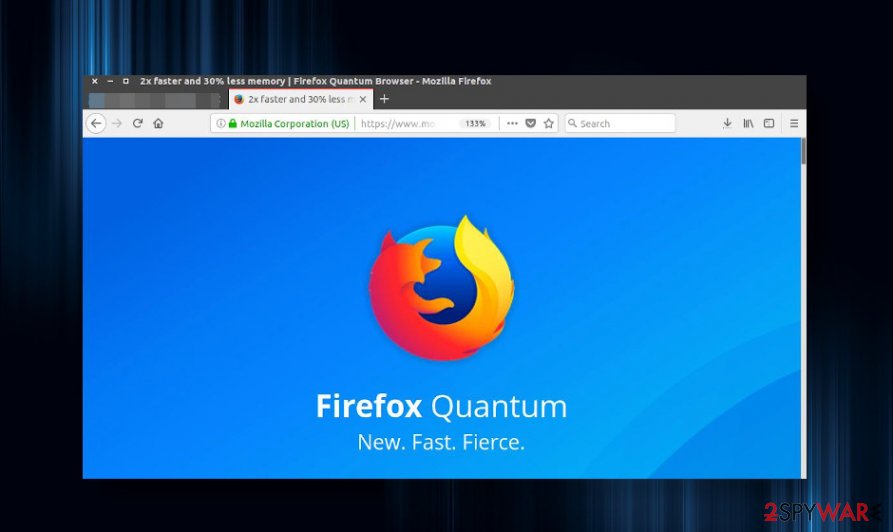 Mozilla Firefox has been topping the charts of the most popular, most secure, most convenient. etc. for many years. While it can hardly compete in terms of speed with Google Chrome, it has a well-developed package of tools for protecting the privacy and features a user-friendly interface.
Although its share of internet users change (decreasing steadily in parallel with the growth of Chrome's popularity), it topped the second most popular web browser in 2019. Evaluating Mozilla Firefox from the privacy perspective, it's one of the tools that have a huge package of in-built features, as well as a great army of supporting privacy-related extensions.
In-built sandboxing feature since 2018
Crypto-jacking protection (launched with Firefox Quantum version)
Fingerprint protection
HTTPS upgrading
A huge database of extensions and add-ons
Customization of privacy and security settings
Private browsing
Ad tracker blocking
According to experts, Mozilla Firefox is not the best for privacy and security by default. However, it has exceptional customization possibilities for strengthening (or weakening) the security of privacy. Firefox allows its users to select between Standard, Strict, or Custom levels of security. Those who are security inclined should disable Firefox's telemetry, which allows recording technical and international data, as well as install and run studies within a web browser unless disabled.
5. Google Chrome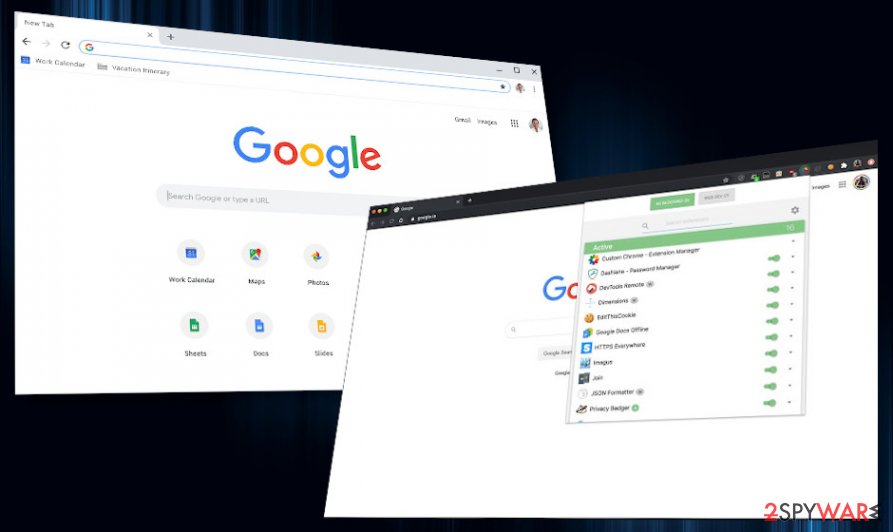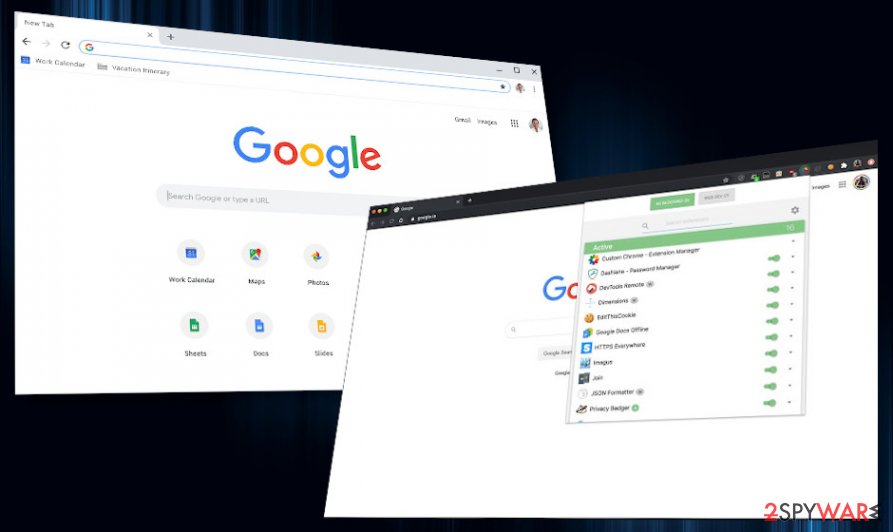 Google Chrome remains one of the most popular web browsers across the world since 2012. While it had to prove its place and compete with the Internet Explorer for some time, users were quick to reveal its great performance, the multiplicity of customization settings, add-on support, and many features that allow users to enjoy convenient web browsing routine.
Within the year 2019, Google Chrome's market share reached nearly 70% of all users, thus leaving very little space for other web browsers. Although Chrome's performance is considered to be the fastest of all, the same cannot be said about privacy and security. In comparison to the above-listed web browsers, Chrome stands the last in the line, though it stands out from the crowd due to the support of security-related plugins and extensions.
Those who appreciate Chrome's speed, performance, and convenience and are not very likely to switch Chrome, should take precautionary measures and customize the browser to strengthen privacy protection. Nevertheless, there are little or no chances to block data transmission to Google's servers, where people's web browsing activities are continuously analyzed for statistic purposes.
The following security-related pros can be distinguished:
Easy cookie-management policy (users can select to block third-party cookies)
A security tool that blocks phishing[8] and dangerous sites
Ad-blocking feature (multiple extensions approved by Google available)
Chrome's version 79 offers enhanced password security features
Version 80 added a new cookie sorting and blocking feature (first-party cookies allowed only)
Google filters some ads by default on the bases of Coalition for Better Ads and EasyList rules
A number of fingerprinting protection, prevention of data collection that would allow identifying individual users
In general, Google Chrome can hardly offer online anonymity or full protection. However, it has the biggest database of extensions, so if you prefer using this web browser, you should select a pack of privacy-oriented extensions and use them to strengthen the security. Otherwise, if you seek anonymity and protection, the other web browsers, including Tor, Brave, Epic Privacy Browser, and Mozilla Firefox have more features for protection.