"System Blocked for Security Reasons" is a fake alert that informs users about a virus infection on their Windows machines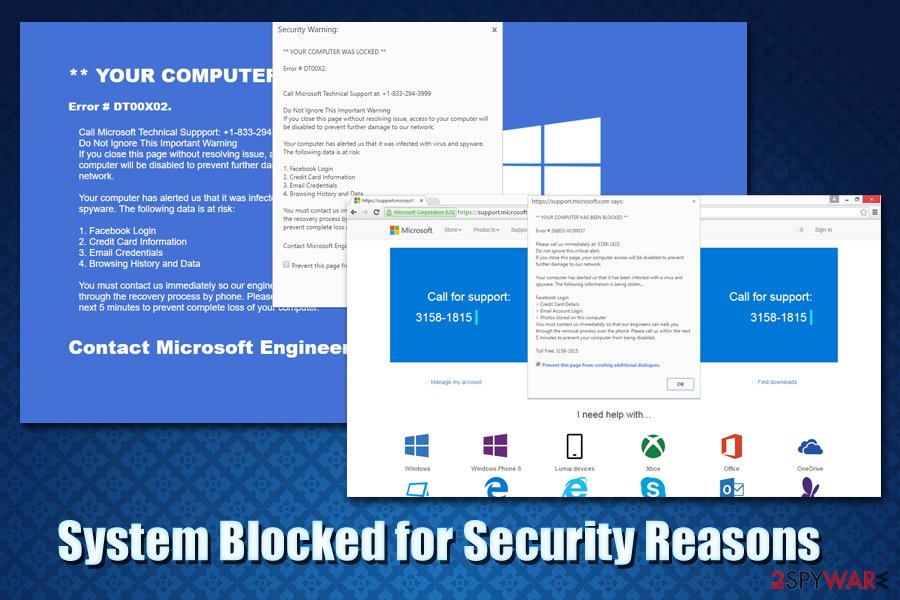 System Blocked for Security Reasons is a fake pop-up message that claims viruses have been detected on the computer
"System Blocked for Security Reasons" virus is a pop-up that tries to trick you into calling alleged Microsoft technicians due to virus infection on your machine. This message can seem like it is legitimate at first, but it does not take long to notice that it is displayed via the browser, such as Google Chrome, Mozilla Firefox, Safari, Internet Explorer, or any other.
Typically, "System Blocked for Security Reasons" tech support scam[1] can be encountered on various shady websites that you get redirected to after clicking on a malicious ad, or if your computer is infected with adware. While in the first case scenario there is nothing to worry about as long as you do not call the self-proclaimed technicians, the latter should be uninstalled from your system, as adware will continue showing you pop-ups, deals, offers, coupons, and other commercial and scam content like "System Blocked for Security Reasons."
Name
System Blocked for Security Reasons
Type
Tech support scam, online fraud
Distribution
The scams are delivered to users whose machines have been infected with adware or after they get redirected from a malicious website
Claim
The fake alert claims that users' computers were infected with a dangerous virus, and personal data, system files, banking details, and social network account passwords may have been (or already are) compromised. In order to prevent the damage, users are prompted to call an alleged Microsoft helpline
Main risks
Users who call the fake technicians risk of losing money after paying for obscure services, disclose their personal details or infect their machines with malware as soon as remote access is provided to crooks
Similar scams
Windows Activation Error Code: 0x44578, Pornographic virus alert from Microsoft, Your device has been blocked, etc.
Removal
You can get rid of "System Blocked for Security Reasons" notification by simply closing down the browser and never contacting the crooks; however, in case you often encounter ads and are redirected to suspicious sites seemingly out of nowhere, you will have to get rid of adware app that is installed on your system. For that, you can use anti-malware software or follow our manual instructions below
Recovery & optimization
In case your computer works slowly, shows errors frequently and suffers from other instability issues, we suggest you scan your machine with PC repair software

Reimage

Reimage Cleaner

– it can fix virus damage and remediate your Windows OS
"System Blocked for Security Reasons" popup is shown in a way that imitates the Windows Blue Screen of Death,[2] or similar legitimate prompts. However, this scam has nothing to do Microsoft or any other legitimate company, as it is a doing of cybercrooks willing to con money out of you. One of the best tactics of doing so is by scaring you that something is very bad is about to happen – like your personal details might get stolen, as well as funds from your banking accounts.
However, "System Blocked for Security Reasons" alert is just a hoax, and, most likely, there are no viruses present on your machine. The main goal of scams like these is to get you on the phone with a tech support scammer, and then they will do the job of convincing you how "infected" your computer is, and how only they can help you. By operating this illegal business, tech support scammers swindled millions of dollars away from unsuspecting users each year,[3] so do not fall a victim and remove "System Blocked for Security Reasons" virus from your browser by closing the tab it is shown in immediately.
There are several versions of the "System Blocked for Security Reasons" virus in the wild, which typically consists of a pop-up, as well as a background message. Here is one of such examples:
***System Alert***
System Blocked for Security Reasons.
Please ensure you do not restart your computer it may lead to Permanent Damage to the System or data loss.

WARNING – Microsoft windows has detected that a porn virus has infected your system and trying to steal pictures, data and social networking passwords. This is a serious hacking issue You may be a victim of online identity theft.
Please Call +1-800-604-9921 for Support or Visit Support.Microsoft.com.

Terms & Conditions
Copyright 2019 :copyright:Microsoft. All rights reserved.

*******************************************************************
Call Toll Free +1-800-604-9921 Or Visit Support.microsoft.com.
*******************************************************************
Keep in mind that Microsoft never provides contact phone numbers within its error or warning messages, and has other means of contacting is customers. Besides, detecting malware the way System Blocked for Security Reasons scam claims is virtually impossible, as you need an anti-virus program installed on your machine. Thus, do not call cybercriminals, as they will try to convince you to pay for their fake tech support services, install malware after remote access is given, or make you reveal personal information.
While it is highly unlikely that your computer is infected (and all those scary things about the loss of data, virus attack, personal information disclosure, etc., are just lies), it is worth checking your machine for adware – a type of a potentially unwanted program that focuses on displaying commercial content. Unfortunately, many of such programs also lead users to insecure sites like "System Blocked for Security Reasons."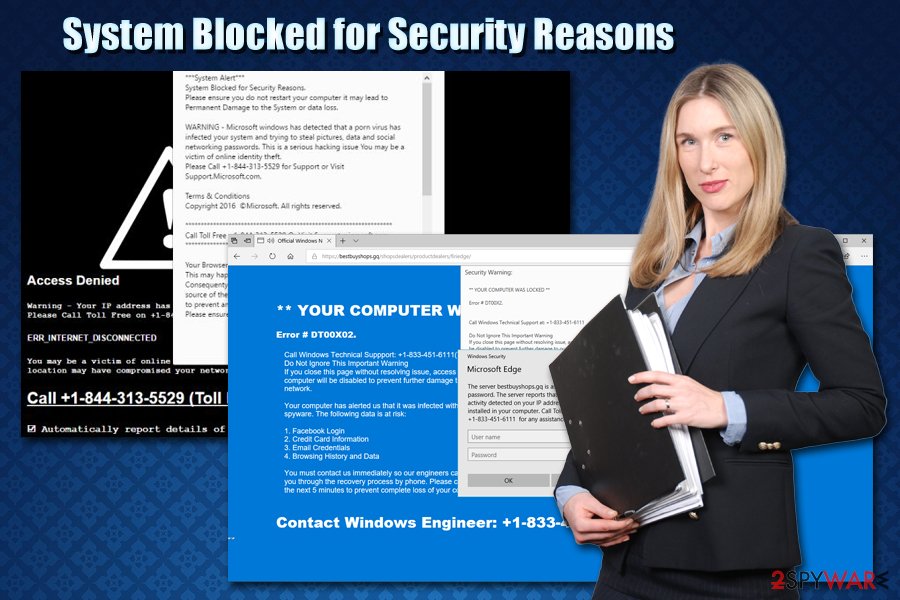 System Blocked for Security Reasons is a scam that seeks to swindle users' money
Adware is typically distributed with the help of software bundles downloaded from third-party freeware sites, so users mostly miss its point of entry. As a result, they are unaware that "System Blocked for Security Reasons" virus alert has appeared on their browsers due to a potentially unwanted program on their machines. Besides, adware might also sometimes act more like malware, preventing its termination, and collecting personal user data.
Therefore, "System Blocked for Security Reasons" virus removal might sometimes cause troubles to users, as it is not immediately clear whether a PUP is related to the browser redirect issues, or it was triggered by a simple miss-click. The best way to know is to perform a full system scan with anti-malware software that could automatically detect suspicious programs and get rid of them for you.
Of course, if you are well familiar with all the apps that should and should not be installed on your machine, you can opt for manual "System Blocked for Security Reasons" adware removal – we provide instructions below for help. Additionally, once you get rid of a PUP, you should also reset the installed browsers and scan the computer with Reimage Reimage Cleaner to fix virus damage, in case you are experiencing issues with your PC.
Adware can get installed on your system without a proper warning
Millions of users download free applications every day, and many choose to use third-parities for that. The practice comes from the time no official web stores existed, such as Microsoft Store, App Store, Google Play, etc. Nowadays, however, there are millions of apps that can be downloaded from the official sources, so there is no need to rely on third parties anymore.
However, if you believe that there is no other software that could replace the one that you want to download from third-parties, you should take several things into consideration – it would help you not to compromise your machine with suspicious software. Here are some tips from security experts:[4]
Install reputable anti-malware and keep it updated at all times;
Before installing an unknown app from a freeware site, check up on it online – read blogs, forum posts, reviews, etc.;
Ensure that you de-select all ticks in the pre-ticked boxes;
When the installation wizard shows up, ensure you rely on Advanced/Custom settings instead of Recommended/Quick ones;
Read the fine print, as it usually contains information app developers don't want you to know;
Watch out for deceptive deals, misplaced buttons, and other tricks – be more attentive in general.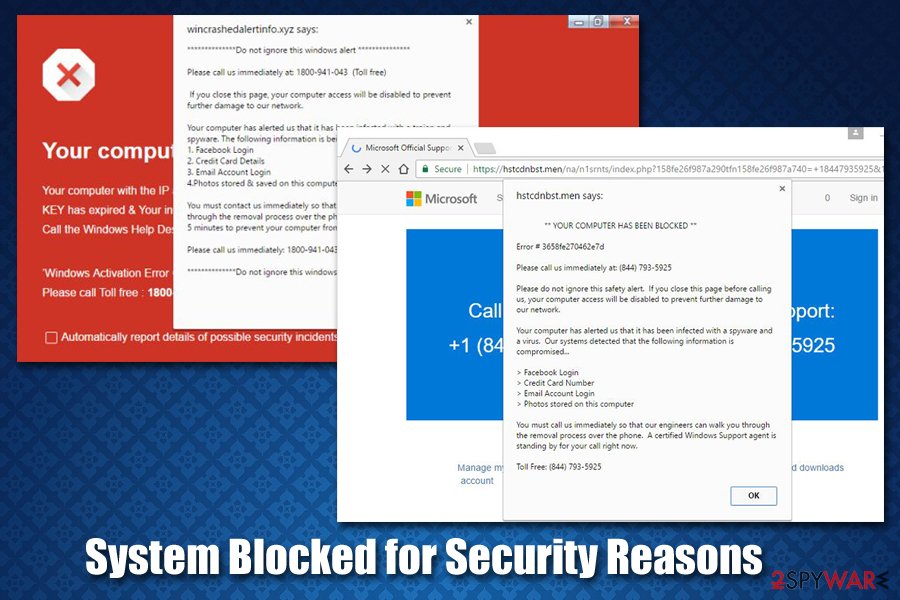 System Blocked for Security Reasons fake alert is shown within the browser and includes the "Toll free" contact number
"System Blocked for Security Reasons" removal guide
In case the suspicious browser activity is related to adware infection, it is possible to remove System Blocked for Security Reasons virus using two ways. The first option includes manual elimination. Follow the steps provided below carefully to ensure that the malware is rooted out completely.
However, if you are not sure whether adware is involved at all or you don't know which application is the culprit, it is best to proceed with automatic "System Blocked for Security Reasons" virus removal. For that, you should download and install a reputable anti-malware program and perform a full system scan (don't forget to bring security software up to date before that).
Additionally, since adware might change web browser settings without permission, we highly suggest you reset all the installed search tools, including Google Chrome, Internet Explorer, Mozilla Firefox, and others – we provide instructions for that below as well.
You may remove virus damage with a help of Reimage Reimage Cleaner . SpyHunter 5Combo Cleaner and Malwarebytes are recommended to detect potentially unwanted programs and viruses with all their files and registry entries that are related to them.