SupTab – a third-party app that includes rogue extensions into web browser apps without the user's consent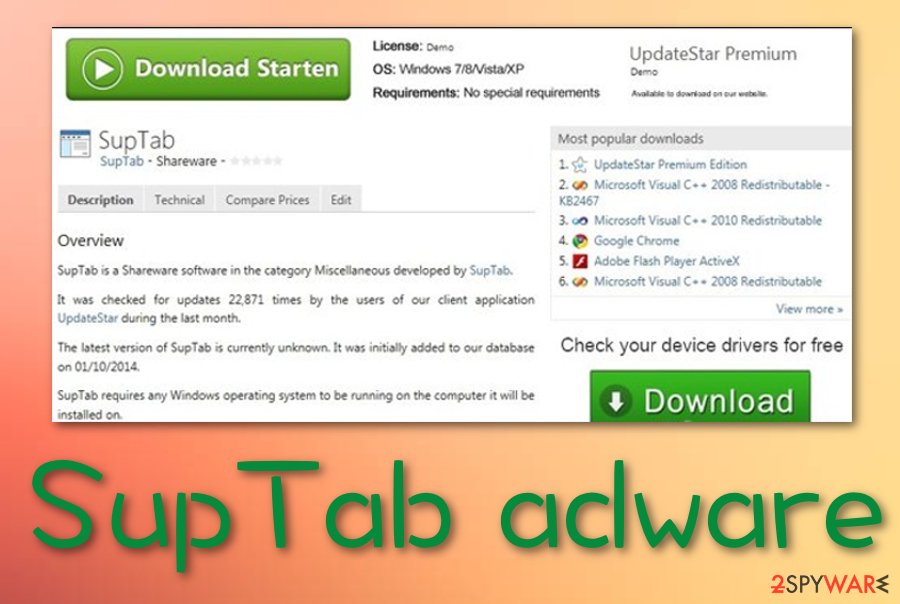 SupTab is a potentially unwanted program that can display intrusive advertisements on the infected web browser app
SupTab (MiuiTab) is a questionable program that can distract the user from computing work by loading intrusive ads and provoking redirects. When received from a bundle, the adware initiates multiple changes on web browsers. It can modify the homepage, new tab URL zone, and inject suspicious add-ons to the browser settings. These extensions are responsible for the advertising and redirecting that you are likely to receive while infected with this PUP.[1] SupTab virus can drop inconvenient deals and offers that will be expected to be clicked and generate income. In addition, the adware virus includes the HpUI.exe process in the Windows Task Manager that is the main task for launching the bogus app. The executable should be properly disabled and eliminated while completing the SupTab removal process.
Name
SupTab (MiuiTab)
Type
Ad-supported application/PUP
Related file
Once the adware appears on the computer system, it installs the HpUI.exe process in the Windows Task Manager. This executable allows executing and running the third-party app
Appearance
Software bundles are the most popular way how the ad-supported application ends up on the targeted computer system. The program can abuse weak downloading settings such as the Recommended ones. Also, the app can infiltrate the machine through third-party downloading sources such as cnet.com, download.com, softonic.com, and soft32.com
Changes
When the potentially unwanted program places itself on your web browser, you are likely to expect changes on your browser's homepage and new tab URL zone
Elimination
You can get rid of the adware program by launching an antivirus program or by using the manual step-by-step instructions that have been included in this article
Fix tool
If you have discovered any compromised areas on your computer, you can try restoring them with the help of software such as

Reimage

Reimage Cleaner
SupTab is an unreliable application that comes bundled with freeware or shareware,[2] otherwise, it would not reach its targets as almost no one would want to download this type of program intentionally after learning what it does. Additionally, the PUP is known to be spread by a browser hijacker named Awesomehp.com. If you receive this third-party product, note that your web browsers, Windows Task Manager, and Windows Registry[3] are likely to be filled with questionable content.
One of the most annoying activities that are promoted by SupTab is advertising. this type of task interrupts browsing sessions and loads the user with irrelevant offers and deals that the person is encouraged to check out. However, some of these ads might sponsor completely useless products and services for an inadequate price. The adware might advertise rogue security software and other fake protection services.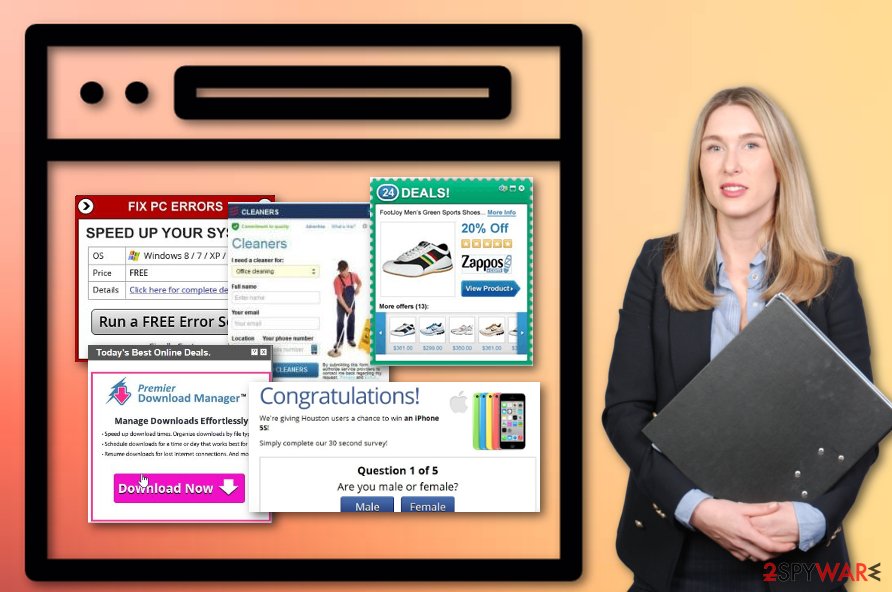 SupTab is an ad-supported application that travels with the help of bundled products or through unsecured downloading sources such as cnet.com, download.com, softonic.com, and soft32.com
What is more, SupTab can load you with unexpected scams, scareware, and surveys. If you are prompted to enter some personal details about yourself or any credential information, do not do that as some hacker might be able to easily access the sensitive data, steal your identity, or wipe out money from your banking account. Better click the "x" button for every advertisement that appears from this app.
Redirecting is another problem related to SupTab. This PUP can throw you to sponsored domains that are filled with additional attractive-looking offers but do not hold any true value. If you ever land on such a location, you should be careful with content that is placed there as you might have landed on a potentially malicious website. If this is the case, you can experience a secret malware installation.
We have made a thorough investigation of SupTab and discovered that this ad-supported application can redirect the user to a wide range of third-party domains. Some of the websites include the following ones:
mysites123.com;
mylucky123.com;
nuesearch.com;
yoursearching.com;
yoursites123.com;
omniboxes.com;
istartpageing.com.
Continuously, SupTab might fill your web browsers with cookies, beacons, or pixels. These products aim to track the user's browsing history and record information that is related to the user's online sessions. The adware developers might target details such as commonly visited websites and networks, hyperlinks, advertisements, and other locations that you have entered, your IP address, geolocation, browser type, etc.
This type of information is mostly used in advertising campaigns so that the developers can target a wide range of users by finding out their preferred deals. However, these types of offers might also be misleading and seek to pull out money from the person's pocket. Furthermore, SupTab developers might share the collected browsing information with other third-parties for receiving even more monetary income.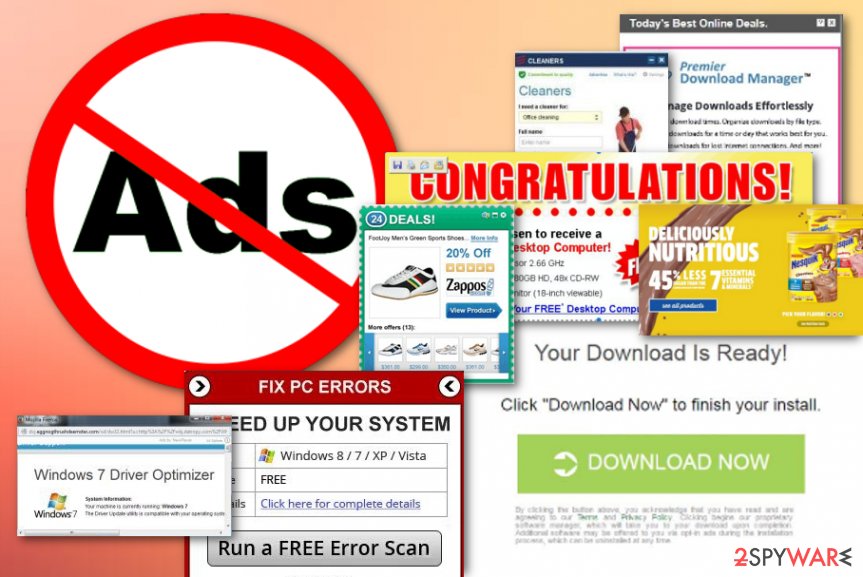 SupTab malware is a name attached to this adware due to all the suspicious activities that are promoted by the app. All of the advertising and redirecting tasks combined together create a bit of a heavy load for a weaker computer processor to carry. As a result, you might discover that the power of your CPU is constantly rising and that some of your software and the system has become more sluggish than ever before.
If you have been recently facing such a problem, you should remove SupTab from your Windows or macOS computer system with the help of antimalware products or manual instructions (we have provided some guiding steps at the end of our article). Also, if the adware has brought other suspicious software and products that might have compromised some areas in your system, try fixing them with a tool such as Reimage Reimage Cleaner .
Note that SupTab might also appear on your web browser if you are currently visiting an unsafe website. If the lack of protection is the reason why you have been dealing with ads from this app lately, you should get a reliable antimalware tool that will prevent you from visiting unsecured pages. Also, install an adblocker such as Adblock Plus that will stop the incoming notifications during browsing sessions.
The infiltration process of adware programs
Users often install these types of potentially unwanted programs without even knowing about them. In fact, there are tens of many freeware, shareware and other third-party programs that are used to spread adware apps. These questionable products can come from secondary downloading networks such as download.com, cnet.com, softonic.com, and soft32.com. Free programs are filled with questionable extensions for a very simple reason – monetization.
However, you can do something for preventing their infiltration. The first thing that you should take in your own hands when installing doubtful programs is reading the terms of the agreement. By doing so, you will have a better understanding of what program you are installing and what comes attached to it. In addition, select the advanced installation method and follow the entire process, step by step. During this stage, unmark all unwanted accessories.
According to experts from Virusai.lt,[4] it is strongly advisable to employ an antivirus program that includes as many protective features as possible. The tool will scan your entire system once in a while and announce to you the security state of your computer. Also, it will likely warn you when you are trying to enter a potentially malicious website.
SupTab elimination guidelines for all users
In order to prevent redirects, annoying pop-up ads and slowdowns on each of your browsers, you should remove SupTab adware from your system. For that, you can employ automatical software and run the entire scanning and eliminating process with the tool or you can continue with manual guidelines that are appended to the end of this article.
SupTab removal requires eliminating all additional components that were added during the adware infiltration process. Regarding this purpose, you should rather rely on automatical products that are capable of gathering all the suspicious products. However, if you choose to get rid of the adware yourself, do not forget to clean and refresh web browser applications such as Google Chrome, Mozilla Firefox, Internet Explorer, Microsoft Edge, and Safari.
You may remove virus damage with a help of Reimage Reimage Cleaner . SpyHunter 5Combo Cleaner and Malwarebytes are recommended to detect potentially unwanted programs and viruses with all their files and registry entries that are related to them.