Safeplex Search is an extension for Chrome and Mozilla Firefox web browsers that falls for PUP category due to various manipulations on settings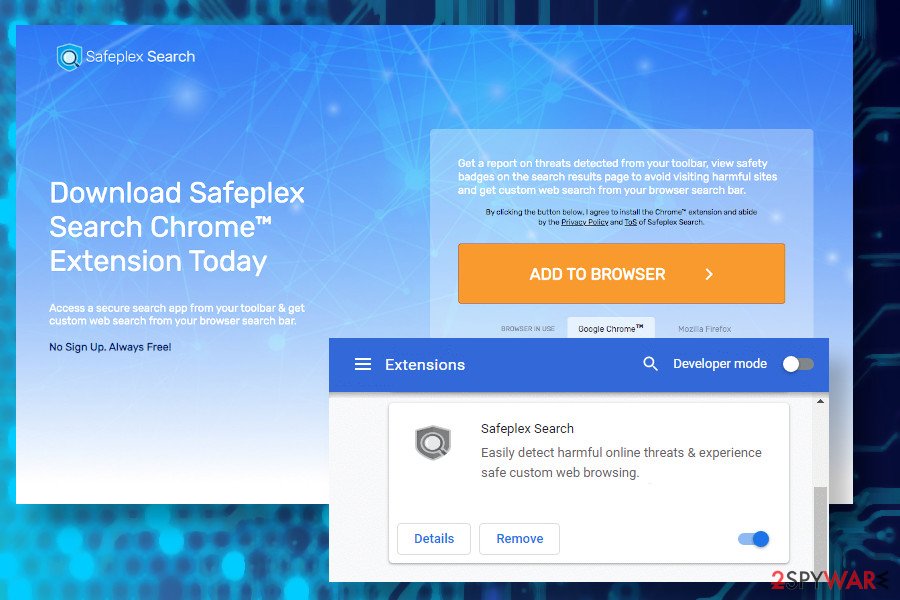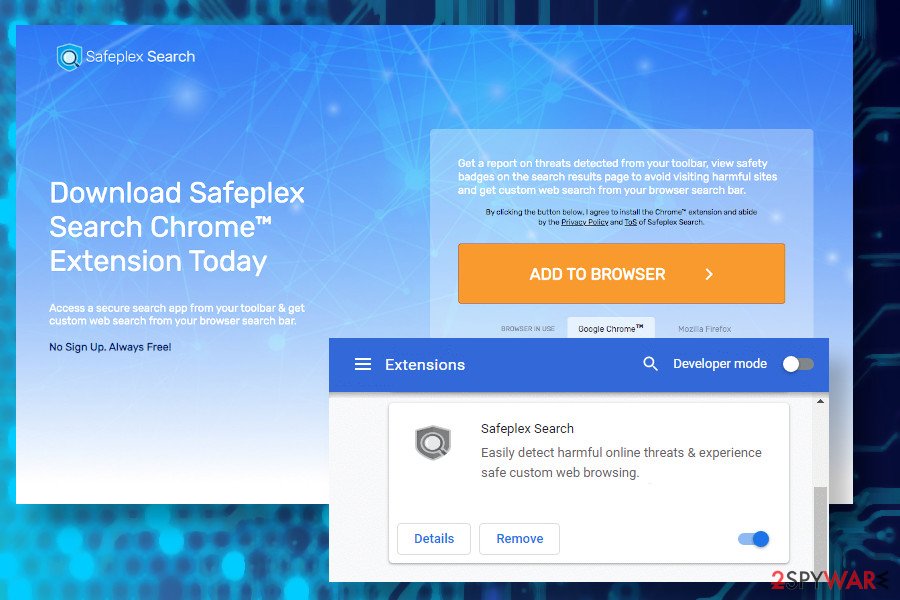 Safeplex Search is a potentially unwanted program (PUP) also dubbed as a browser hijacker. Developed by Innover Group Inc, the program is promoted as a secure search app for Google Chrome and Mozilla Firefox web browsers. It's developers boast about the app's in-built real-time threat protection that can prevent ransomware attacks[1] and other cyber infections. However, it has been revealed that Safeplex Search redirects to affiliate sites and may show sponsored search results by manipulating web browser's settings.
Upon the installation, the Safeplex Search hijacker replaces a search engine to search.yahoo.com, sets a new start page, new tab window, and adds a related toolbar to the default web browser. Besides, the injected extension gets administrative privileges and starts managing Chrome's and Mozilla's settings to prevent easy removal. Although in general, this search provider is non-malicious, keeping it on the system will bring about an unpleasant experience, such as an increased amount of ads, inappropriate search results, and continuous redirects to safeplexsearch.com sites.
Name
Safeplex Search
Type of malware
Browser hijacker / Potentially Unwanted Program (PUP)
Developer
Innover Group Inc.
Compatibility
Windows and Mac OS. The extension is compatible with Google Chrome and Mozilla Firefox web browsers
Distribution
There are several distribution strategies used for this PUP:
Official website
Google Play Store
Software bundles
Symptoms
The symptom of the Safeplex Search hijack is very obvious, i.e. replacement of start page and search provider, injection of related toolbars, redirects to sponsored Yahoo search, increment in ads, in-text links on random websites, inability to modify certain web browser's settings
Risks
Users may be tricked into installing other potentially unwanted programs or unconsciously disclose personal information.
Termination
You can select from manual or automatic removal of the browser hijacker. You can either use security software or check our manual removal guide below
Optimization and recovery
Browser hijackers and other PUPs are known for altering web browser's settings. However, they can also modify registries and scatter system's files. Consequently, the system may start showing errors. To prevent such a scenario, we recommend optimizing the system with

Reimage

Reimage Cleaner

Intego tool
Sometimes people describe this search provider as a Safeplex Search virus. The main reason for such reference is related to stealthy infiltration and aggressive modification of the web browser's settings. Although it has an official website and can also be downloaded from the reputable Google Play Store[2], most of its downloads are indirect – via freeware and shareware apps.
Seeing an app for the first time and not reading its reviews on the web can hardly make people think of this extension as a Safeplex Search virus. In contrast, the extension is represented as a security tool, which provides real-time protection, indicates threats instantly, and ensures non-intrusive experience. An excerpt from the official website states as follows:
Get a report on threats detected from your toolbar, view safety badges on the search results page to avoid visiting harmful sites and get custom web search from your browser search bar.
However, the official website does have any legal document indicating which AV vendors it is cooperating with, neither does it provide details on how is it able to protect users' web browsers from ransomware and other malware attacks. It seems that these promises are bogus since browser extensions, in general, are not that powerful to decontaminate the most dangerous cyber threats. Ar best, Safeplex Search virus detection mat be able to block ads with malicious scripts.
Those who have already been tricked into installing this PUP should consider Safeplex Search removal due to privacy infringements. A close investigation of the Privacy Policy provided on the official website revealed that the extension is powerful enough to harvest the following user data:
package tracking numbers
flight information and routes
notifications
uploaded files
to-do list
map search queries
IP address
names
ISP
browser-related information, etc.
The type of information depends on the specific Extension but may include package tracking numbers, flight information and routes, downloaded wallpapers, notifications, and (on a temporary basis and in no case for more than seven days) certain files you choose to upload. Other types of information necessary to the Extension may be collected but stored only on your computer (i.e., we do not store it on our server). This latter category depends on the specific Extension but may include your astrological sign, your reminders and to-do lists, your recipe search terms and recipes, and your map search queries.
Although it is stated that the Safeplex Search hijacker collects such information for marketing purposes only, collecting and analyzing personally identifiable information is illicit and can lead to identity theft.
Besides, do not fall for believing that this doubtful extension will provide a safe web browsing experience. Its main purpose is to generate from affiliate marketing. That is why it replaces the existing search engine and search provider to sponsored Yahoo search. Upon the changes, Safeplex Search redirects to sponsored websites regularly and promotes affiliated content via ads, banners, and pop-ups.
Unfortunately, there's no way to guarantee that some of the Safeplex Search ads will not redirect to phishing websites, rogue online surveys, x-rated domains, or sites that promote PUPs and malware. Every redirect triggered by this extension poses a potential risk, so it's better to get rid of it asap.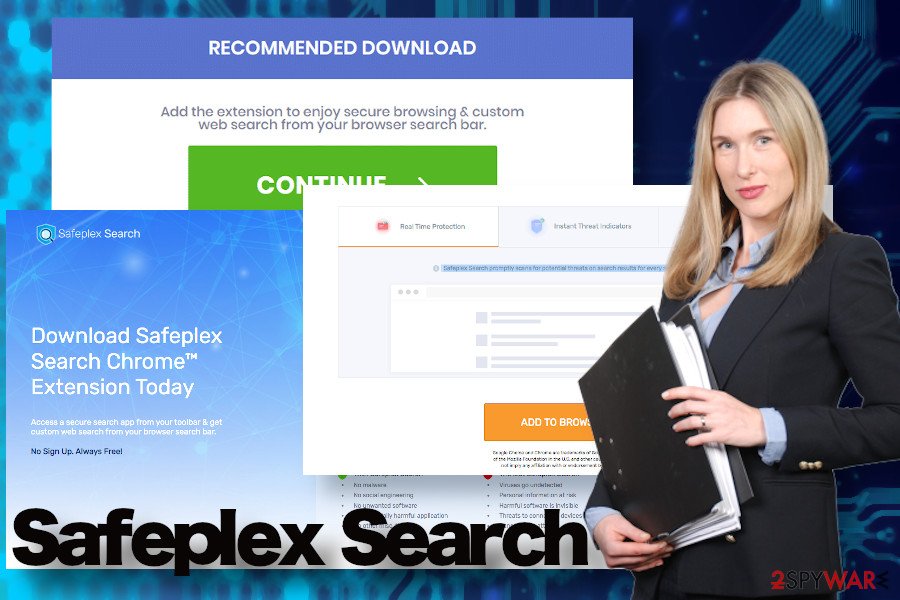 Safeplex Search is a redirect virus that displays sponsored search results and reroutes traffic to affiliate domains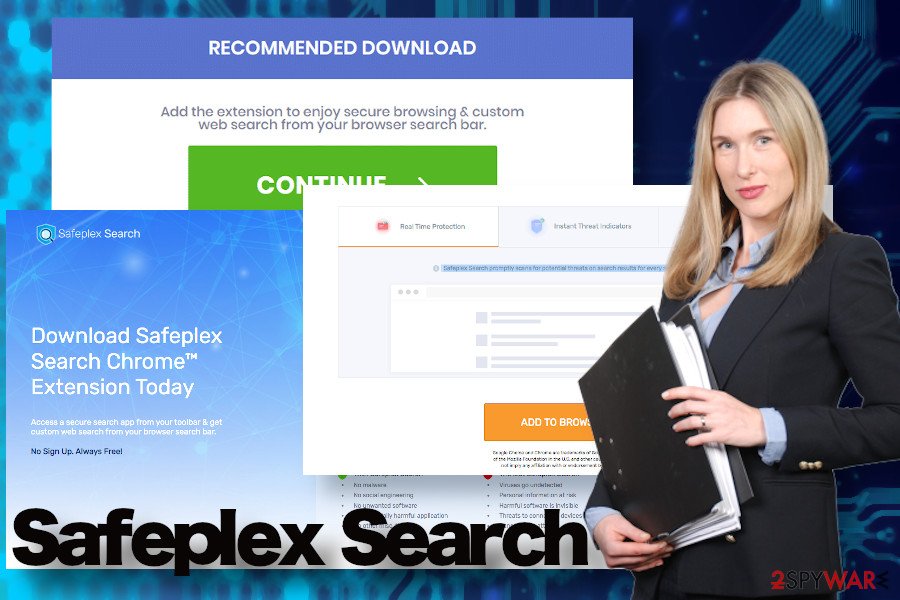 Safeplex Search is a redirect virus that displays sponsored search results and reroutes traffic to affiliate domains
According to NoVirus.uk[3] experts, the best option for Safeplex Search removal is a professional security tool. This potentially unwanted program can infiltrate PCs via freeware and actively promote other PUPs, meaning that your PC may be highly obfuscated. A full scan with SpyHunter 5Combo Cleaner, Malwarebytes, or similar tools would help. Besides, do not underestimate the need to optimize the system after the malware attack. To fix corrupted system files and processes, run a scan with Reimage Reimage Cleaner Intego after you remove Safeplex Search virus.
Browser hijackers use tricks to get user's permission to modify browser's settings
Browser hijackers fall for Potentially Unwanted Programs (PUP) category due to misleading distribution strategy known as bundling. In other words, they are often disseminated as pre-selected parts of freeware installers. The user's option of the express installation stands for permission to install the entire bundle.
Such distribution lacks the user's choice since he or she is not explicitly informed of what software is going to be installed, how it behaves, what are its intentions, and capabilities. In any case, if the software limits the user's choice and exhibits rather aggressive changes on the web browser and the system, it has no right to stay on the system.
As for this particular web browser, it spreads in several ways:
Users may be redirected to the official website after clicking on ads provided by the adware-program. The website contains all the necessary information and direct download links. There's nothing suspicious.
It is promoted on the Google Play Store. However, it's very difficult to detect the extension there, thus it's very likely that people get redirected to the store with the help of adware.
The last and most successful distribution method of this hijacker is dubbed bundling. It may spread in the disguise of freeware and share installers as an optional component. However, the term "optional" is not appropriate here because the additional extension is typically pre-checked and hidden under the Express installation setup. This way, it gets installed without the user even noticing it.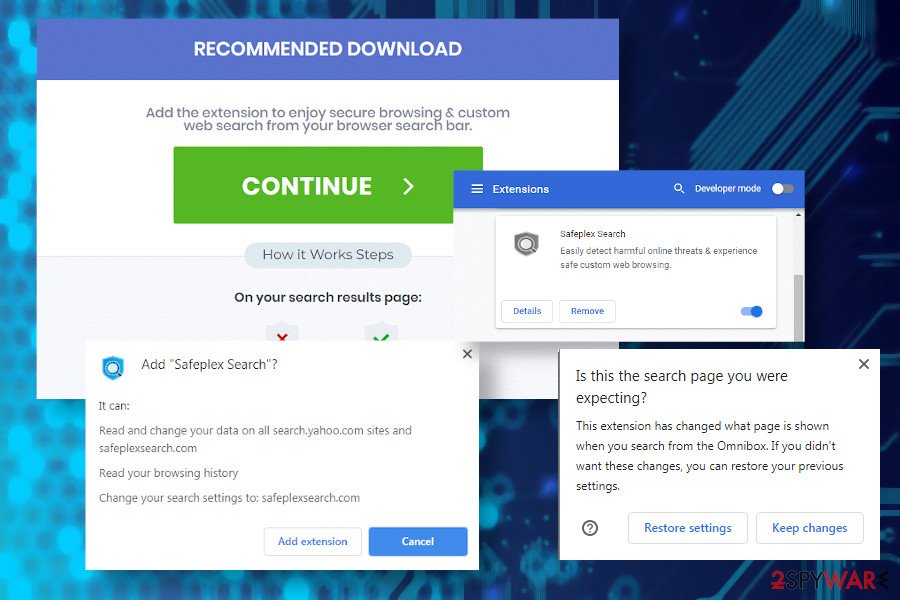 Safeplex Search is classified as PUP due to stealthy distribution and installation techniques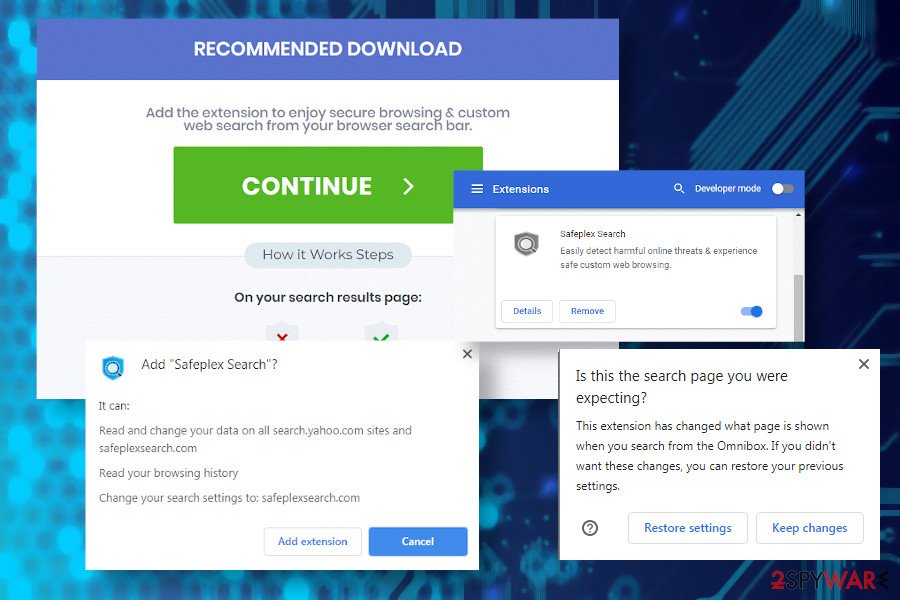 Safeplex Search is classified as PUP due to stealthy distribution and installation techniques
A full guide on Safeplex Search malware removal
No matter how intrusive this browser hijacker can be, Safeplex Search removal is not a big problem. To assist our visitors, we have submitted a comprehensive elimination tutorial that you can find down below. Make sure to follow each step and the PUP should successfully be removed.
Alternatively, it's advisable to remove Safeplex Search virus using a professional AV program. This way, you will ensure a full system's protection and PUP elimination. Our recommended programs are SpyHunter 5Combo Cleaner and Malwarebytes, though you can use any preferred security tool.
Once you remove Safeplex Search related PUP from the system, it's important to disable the extension on Google Chrome or Mozilla Firefox browser depending on which it settled down. Finally, scan with system with Reimage Reimage Cleaner Intego or similar optimization tool fo repair any damage that malware has done to the system.
You may remove virus damage with a help of Reimage Reimage Cleaner Intego. SpyHunter 5Combo Cleaner and Malwarebytes are recommended to detect potentially unwanted programs and viruses with all their files and registry entries that are related to them.