RocketFixio – a fake system optimizer not suitable for your PC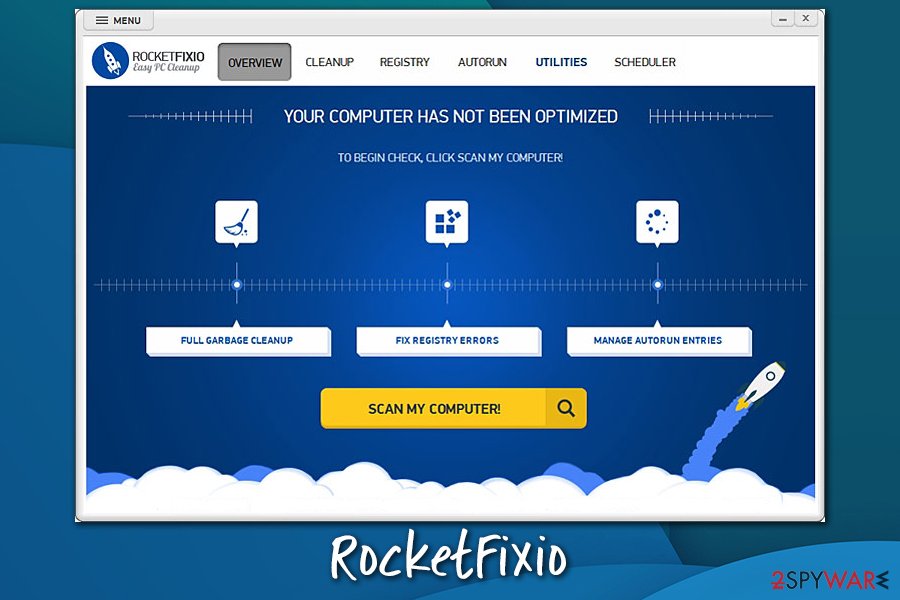 RocketFixio is a fraudulent system optimization utility that exaggerates scan results in order to make users but its full version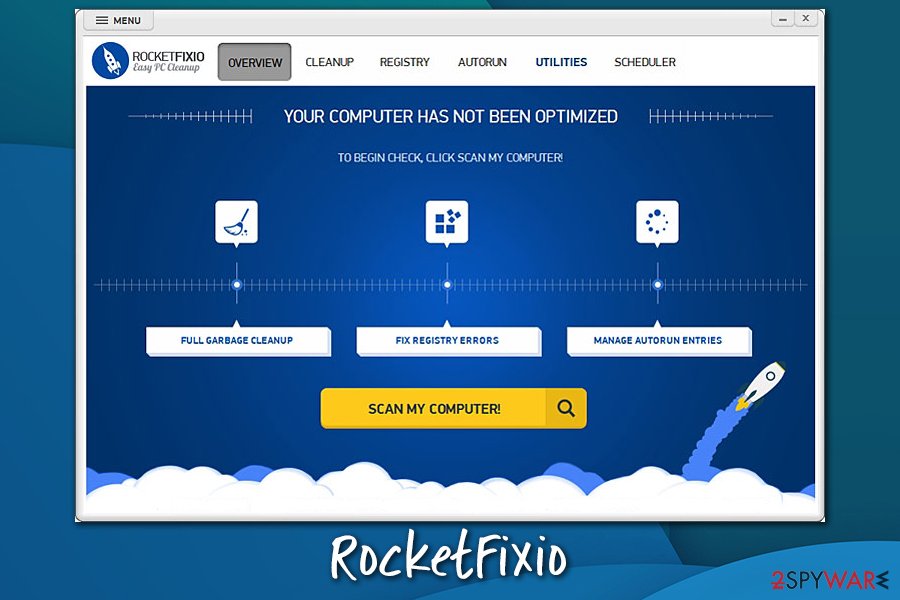 RocketFixio is a fraudulent system optimization utility that exaggerates scan results in order to make users but its full version
RocketFixio is a potentially unwanted program[1] that reports thousands of issues in order to mislead users about their system security. In most cases, such apps are distributed via dubious ways, such as software bundling or dishonest advertisements that can be encountered all over the internet. The app is presented as a useful utility that can optimize a Windows machine by clearing the registry database, removing junk files, fixing startup issues, and so on.
However, RocketFixio is not what it seems to be at first: it will not speed up your machine significantly, as is claimed on the official website. Its main goal is to create an illusion that the computer is heavily damaged and needs fixing as soon as possible. For that, it shows fake scan results, displaying thousands of issues that were allegedly detected on the PC.
Name
RocketFixio
Type
Potentially unwanted program
Distribution
Official website, third-party sources, software bundles, deceptive ads on various sites, etc.
Purpose
Developers promise to speed up a PC by 70% by cleaning junk files, repairing the registry, and fixing startup items. Considering such an outcome is impossible by performing these actions, the software can be considered fraudulent
Symptoms
A full system scan by the app is performed immediately after installation, which shows thousands of issues
Danger level
Medium. It is not malicious by design but is used to mislead users into believing that their machines are in a far worse condition than they actually are. As a result, users might spend money on useless software and might also encounter annoying pop-ups that remind to upgrade
Detection

Several AV vendors detect RocketFixio on Virus Total as follows:

Application.Deceptor.RT
PUA/RocketFixio.A
Win32.Trojan-psw.Deceptpcclean.Ljal
Riskware ( Dec002ba1 )
Program.Unwanted.3976
PotentialRisk.PUA/RocketFixio.A
Hoax.Win32.DeceptPCClean.dbh, etc.

Termination
You can uninstall potentially unwanted applications by following our step-by-step guide below
Alternatives
If you need a reputable system optimization tool, we recommend using

Reimage

Reimage Cleaner

Intego, as it can fix various Windows errors automatically using its patented technology
However, not everybody downloads the app via deceptive channels, as the app is available on its official website. Thus, many people might download it since they might see it as a good choice for system optimization. Nonetheless, if you found the app on your machine without permission, we recommend you remove RocketFixio as soon as possible, as it might have been downloaded with additional payloads from dangerous sites (e.g., torrents).
Besides, the promises developers make on the site are especially daring:
YOUR COMPUTER WILL RUN
70% FASTER
IT'S LIKE BUYING A NEW COMPUTER
RocketFixio will quickly and safely rid your system of junk files,
optimize the registry, and speed up Windows startup.
This statement immediately sparks suspicion, as scenarios where increasing computer speed by 70% are exceptionally rare, if not non-existent. There is no magical software that could make a PC running on old or malfunctioning hardware to work like new, and RocketFixio developers are straight out lying about this.
Allegedly, RocketFixio can speed up users machine by performing these three operations:
Cleaning junk files;
Optimizing Windows registry;
Managing autorun tasks.
To dissect these three aspects of a regular Windows computer, we need to look at the broader picture. RocketFixio claims that "even the most powerful systems eventually clog up" by alleged junk files and start running slow. While this is partially true, only computers that use a very low disk space could be affected by this issue, which could result in crashes and errors. Any modern computer can handle junk files.
When talking about the registry, RocketFixio claims that the registry should be cleaned on a regular basis due to alleged issues when programs are uninstalled incorrectly. The truth is, the Windows registry should rarely be touched by regular computer users, and deleting some small files of some applications' leftovers would not impact computer performance in any way. One of the rare occasions, when the registry should be fixed, is after malware infections, and we suggest using Reimage Reimage Cleaner Intego for that.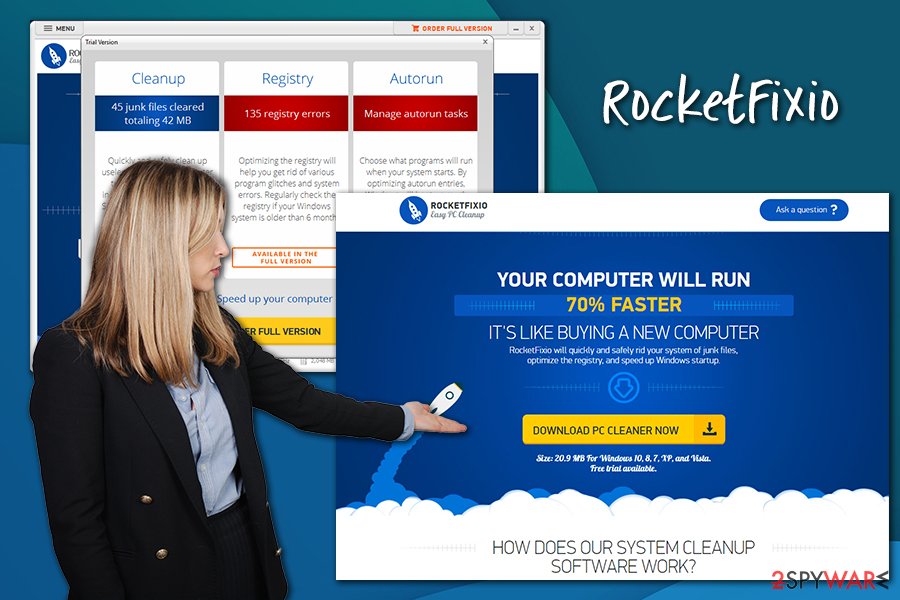 RocketFixio is a potentially unwanted application that can be downloaded unintentionally along with freeware from third-party sites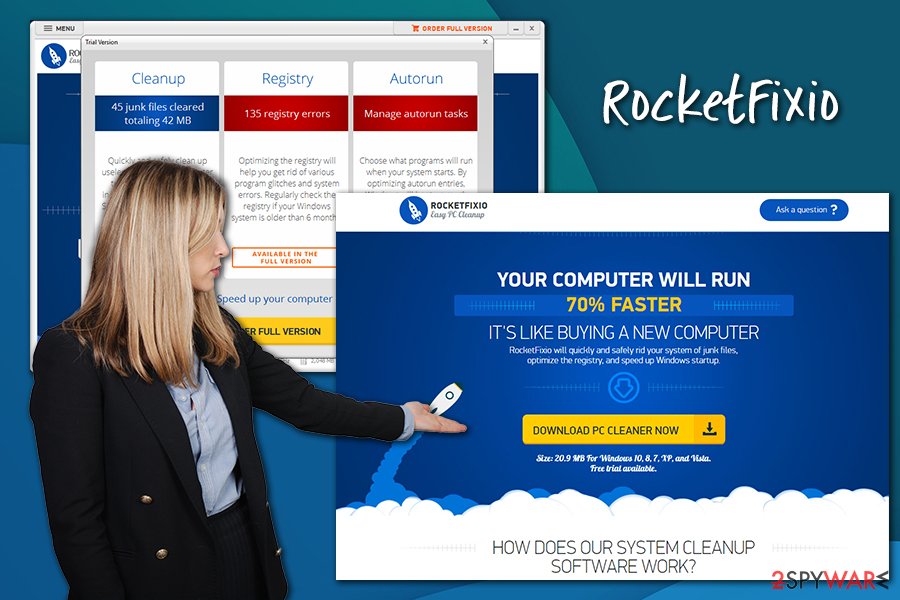 RocketFixio is a potentially unwanted application that can be downloaded unintentionally along with freeware from third-party sites
Note that incorrectly deleted registries by RocketFixio could actually damage the operation and performance of your Windows machine. Microsoft stated that it discourages the use of registry cleaners on its official blog post:[2]
Some products such as registry cleaning utilities suggest that the registry needs regular maintenance or cleaning. However, serious issues can occur when you modify the registry incorrectly using these types of utilities. These issues might require users to reinstall the operating system due to instability.
The problem with system optimizers like RocketFixio is that the developers are not honest with users, and are relying on those who have a lesser understanding of how the operating system works. The promise of a 70% speed boost can be very enticing for many, although in reality, these types of results could never be achieved.
When overlooking the deceptive distribution practices, as well as phony promises of a speed boost, RocketFixio is also guilty of providing a bunch of false-positives to users as serious issues. Once again, many people who do not understand much about PC's would be alarmed if they would see that their computers are affected by 2158 issues. Those issues are typically non-existent; the program picks up items like Google's cookies and marks them as dangerous.
In other words, we recommend you avoid fake system optimization tools and rely on those that are more reputable. To perform RocketFixio removal, please follow the instructions we provide below. If you see an increased amount of ads on your Google Chrome, Mozilla Firefox, Safari, or other web browsers, there might be other PUPs installed on your system. In such a case, perform a full system scan with anti-malware and then reset all the installed web browsers.
Avoid the installation of potentially unwanted programs
Software bundling is a program distribution technique that is practiced widely on third-party sources. Software developers or website authors often include several components into a single package and mislead users into installing these optional apps. Without a doubt, software bundles that are presented to users properly and are not deceptive are consumer-friendly and do not pose any negatives. However, in most cases, unintentional installations of adware, fake system optimizers, and other potentially unwanted programs occur regularly.
Therefore, it is important to get to know the peculiarities of tricks that are used in order to make users installed unwanted or even dangerous apps. Here are some tips from security experts from dieviren.de:[3]
If possible, always choose official download sources for your apps, e.g., Microsoft Store;
Before installing an app, read up on it online – blogs, forum posts that include feedback are often helpful;
Make sure that the app presents ToS and Privacy Policy prior to the installation;
Always opt for Advanced/Custom installation settings instead of Recommended ones if such choice is available;
Watch out for misleading offers and misplaced buttons;
Remove all markers from pre-ticked boxes;
Do not rush the installation process and read the instructions carefully.
Uninstall RocketFixio easily
As mentioned above, system optimizers have a generally bad reputation among the security community, since many tools of such kind are fraudulent. They are distributed in deceptive ways, show fake diagnostic results, and often urge users to purchase the license of the app. Hence, we recommend RocketFixio removal to be performed and no full version to be purchased, especially if the app was installed unintentionally.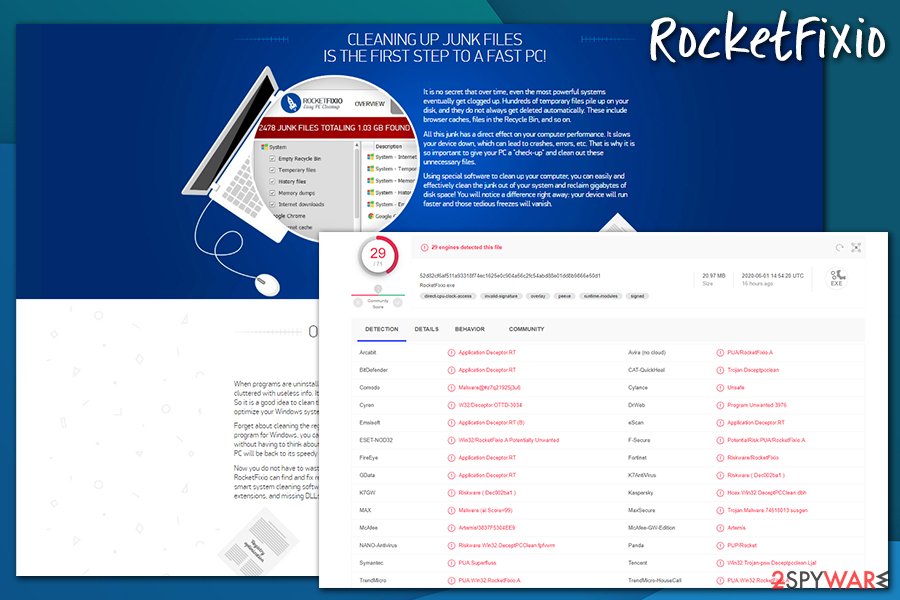 RocketFixio is detected by many security applications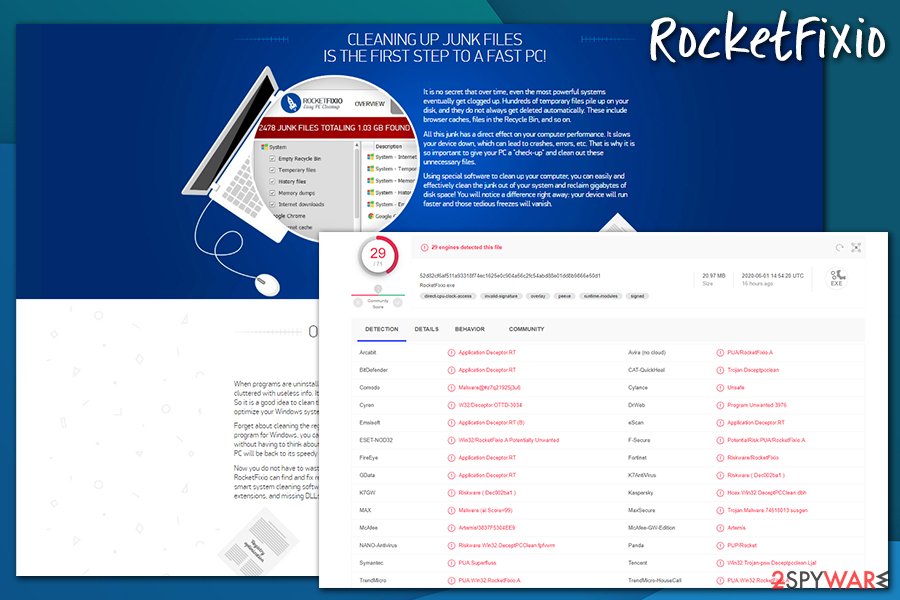 RocketFixio is detected by many security applications
To remove RocketFixio from your system, you have to access the full application list via the Control Panel section. If you have any doubts or need some tips, we provided step-by-step instructions below – make sure you follow them attentively. Nonetheless, you should also check your machine for other unwanted apps that might bring ads to your web browsers or even spy on you in the background.
The best way to check for viruses and other malware is by employing reputable security software. Bring the anti-malware up to date and then perform a full system scan. If adware was found, make sure you reset all the installed web browsers, as explained below.
You may remove virus damage with a help of Reimage Reimage Cleaner Intego. SpyHunter 5Combo Cleaner and Malwarebytes are recommended to detect potentially unwanted programs and viruses with all their files and registry entries that are related to them.
This entry was posted on 2020-06-02 at 04:01 and is filed under System tools, Viruses.