Retail Product Zone is a scam website that promises free gift cards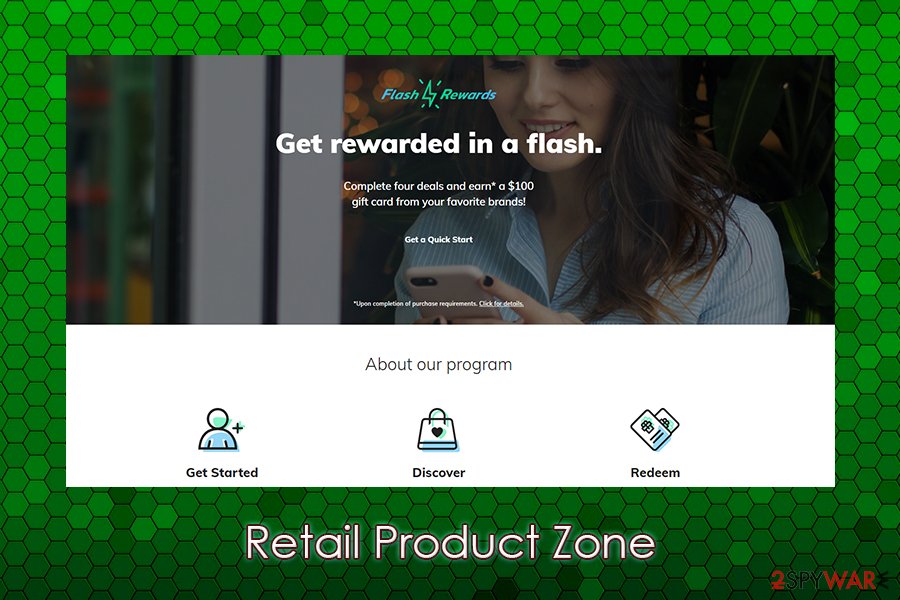 Retail Product Zone is a scam that is created to spend money of useless services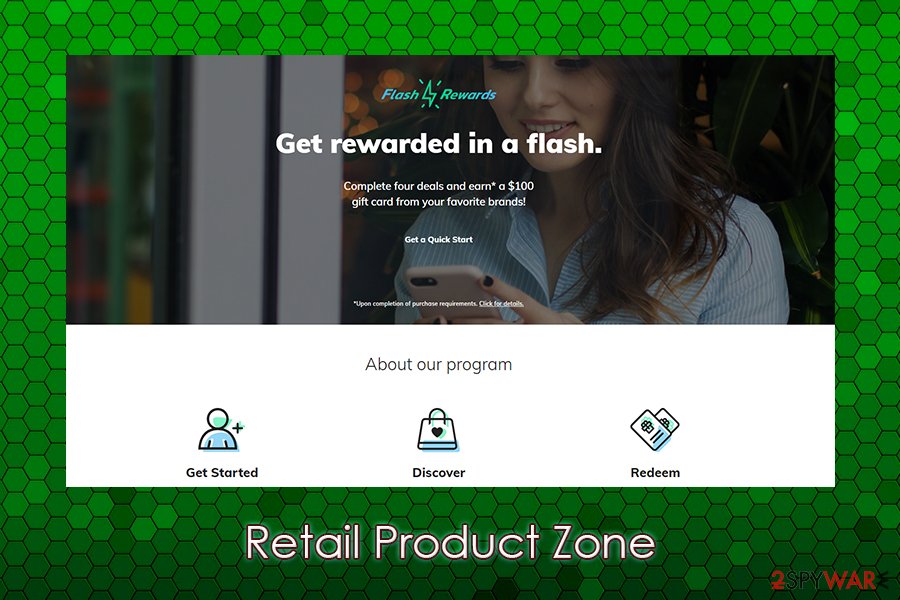 Retail Product Zone is a scam that is created to spend money of useless services
Retail Product Zone is a reward program allegedly created to give out free $100 Amazon, eBay, Walmart, and Visa Gift Cards. Users can participate in these deals via the website called retailproductzone.com, which is also referred to as Flash Rewards. Allegedly, all users have to do is download apps, fill in surveys, subscribe to entertainment services, and participate in similar advertised content.
However, Retail Product Zone is a scam, and the site should not be trusted as a reward system. Participation in the scheme can result in personal data disclosure to unknown parties, installation of potentially unwanted software or even malware, and loss of money due to promoted scams.
Name
Retail Product Zone
Type
Scam website
Website URL
retailproductzone.com
Developer
Deliver Technology LLC
Offers
The site allegedly offers free gift cards as long as users participate in surveys, download apps, and other tasks related to the site's affiliates
Risks
Retail Product Zone should no be trusted, as it does not protect the information on the site by using safe protocols and might fail to deliver what it promised. In the meantime, users might spend money on useless services (that might be scams as well) or install applications that will bring in ads or be harmful (malware infection)
Further actions
If you installed any applications though the promotional programs offered by the site, you should immediately delete them from your system with the help of the instructions below. You should also scan your machine with anti-malware and change all the passwords for extra security measures
System fix
If malware was terminated from your system, it may leave some unexpected consequences, such as crashes, lag, BSODs, and cause other stability issues. If you are suffering from such problems, you can use PC repair software like

Reimage

Reimage Cleaner

Intego to fix virus damage
Gift card scams have been around for over a decade now (most popular ones include Amazon Gift Card scam, Walmart Gift Card Winner scam, Today.gift cards, and many others) as popular retailers like Amazon and Walmart started to operate multiple services online.
There is no coincidence that the names of such well-known brands are used, as it gives users a false sense of credibility, and it makes it easier for scammers to make people believe that what they are offered is real. Indeed, a $100 Amazon Gift Card might be real, but none of the websites would be giving these aware for free.
In most cases, users are asked to fill in some easy questionnaire or answer some ridiculous questions, such as "What is your favorite browser?". These questions are only there for the show and make users believe that they can acquire expensive prizes for minimal effort. While these scams are easy to detect for most users, Retail Product Zone scam does much more than that.
The description of the Retail Product Zone scheme says the following:
Download and play free online games, try new monthly subscription boxes, discover the best entertainment services, and much, much more. Complete your favorite four deals (purchase may be required) to claim your gift card.
In other words, all the tasks that you would have to complete to eligible for the alleged reward is to visit partner's sites and spend money there. It is also highly likely that, even after fulfilling all the requirements, you might never receive the promised Retail Product Zone gift card.
There are several reasons why Retail Product Zone should not be trusted, which include:
the website asks for highly personal information, such as first and last name, email, home address, phone number, and other details. This data can layer be used for marketing purposes, and you might be spammed with ads and unwanted emails from affiliates;
the safety level of affiliates and partners is highly questionable;
you might end up installing potentially unwanted programs or even malware, compromising your computer safety;
rewards programs, even those that are not scams, are rarely worth time and money investment, as it is likely to cost you more than you received as a reward.
Users who decided to participate in the Retail Product Zone got scammed. They claim that the surveys and other offers that they have to complete are "virtually never-ending," and the promised Gift Card never arrives. In most cases, the scam authors find some type of excuse to eliminate users from eligibility, even if the money was already spent on third-party sites. Besides, you should also remove Retail Product Zone virus from your computer in case you installed some applications offered on partners' websites.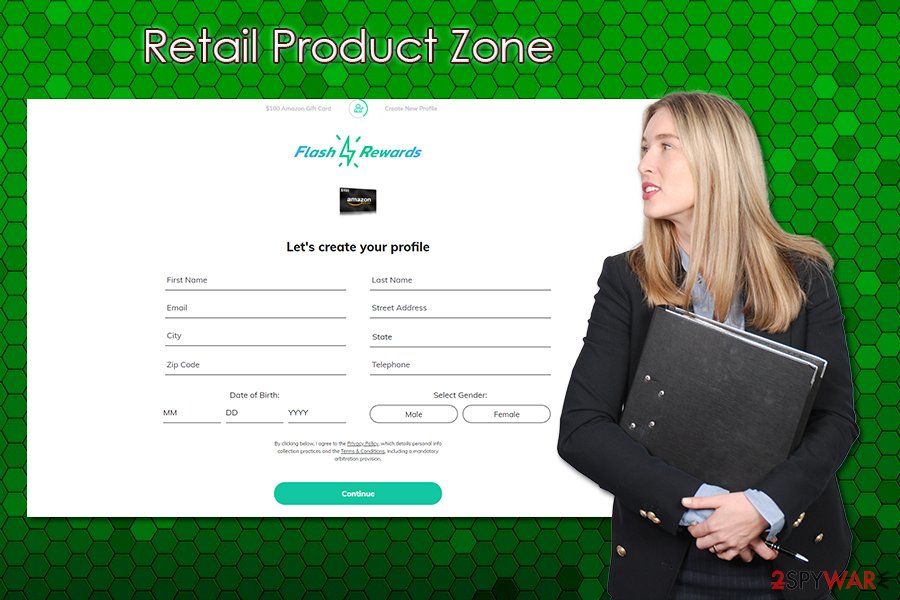 Retail Product Zone is a rewards program designed to make users register for various offers and disclose their personal information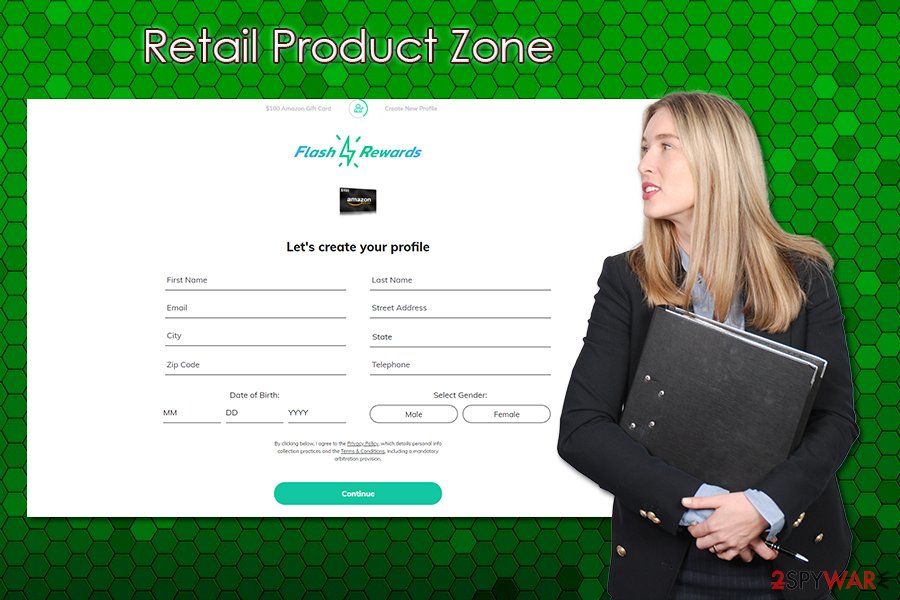 Retail Product Zone is a rewards program designed to make users register for various offers and disclose their personal information
For Retail Product Zone removal, you can use anti-malware software that is capable of eliminating PUPs or employ our manual instructions provided below. Also, since the scheme uses cookies[1] and other technologies,[2] you should reset Google Chrome, Mozilla Firefox, MS Edge, or another web browser that you use. Finally, scan your machine with Reimage Reimage Cleaner Intego for the best results.
Finally, it is also worth mentioning that Retail Product Zone is a rebranded version of USA Reward Spot scam – developers behind the program often rebrand itself to hide the negative comments and escape the bad reputation.
Do not download and install applications from suspicious websites
As previously mentioned, reward programs may ask you to fill in questionnaires, subscribe to some service (which also comes with its own set of risks), or download and install applications. These programs should never be trusted, as they are highly likely to be of adware-type. Adware[3] has typically very poor functionality and delivers users pop-ups, deals, offers, banners, coupons, and other commercial content to their web browsers.
Since these ads are also not clearly marked, many are also unaware of how to eliminate the unwanted web browsers' behavior. Besides, adware might also collect and share/sell user information, which can cause significant privacy issues and even identity theft, if the data ends up in cybercriminals' hands.
Therefore, never install applications from third-party sources, especially those that cannot be trusted. Also, before installing a new program, always check its review online and always opt for Advanced/Custom settings instead of Recommended/Quick one. Finally, protect your machine with comprehensive security software that would warn you about PUPs.
Eliminate unwanted programs from your computer
If you have not participated in the Retail Product Zone scam and did not fill in the required information, your personal data should be secure. However, if you did disclose your personal information, you can contact the company and ask them to delete all the details about you here. Also, we recommend resetting the passwords of your other accounts if you are often reusing passwords.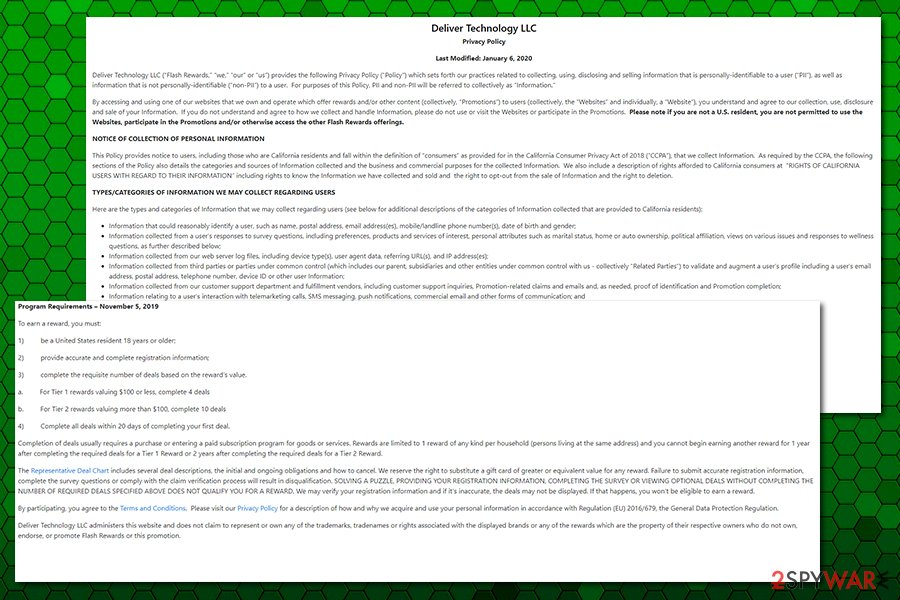 According to Retail Product Zone policies, all the tracked information can be eliminated as long as the user contacts Deliver Technology LLC directly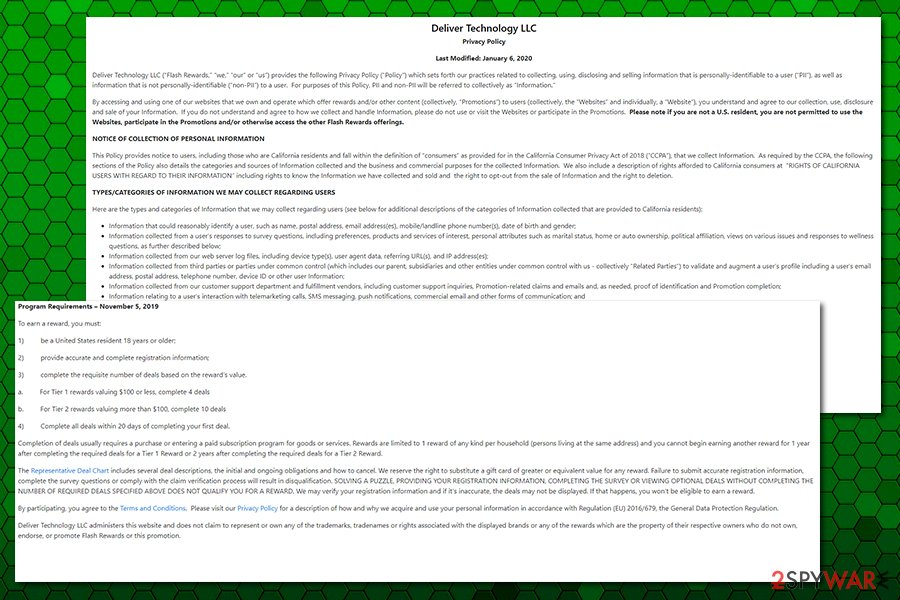 According to Retail Product Zone policies, all the tracked information can be eliminated as long as the user contacts Deliver Technology LLC directly
Additionally, if you installed any programs, you should remove Retail Product Zone by following the manual instructions below. For that, you will have to access the installed application list and terminate all the programs you do not recognize. Also, you should perform a full system scan with robust anti-malware software.
You may remove virus damage with a help of Reimage Reimage Cleaner Intego. SpyHunter 5Combo Cleaner and Malwarebytes are recommended to detect potentially unwanted programs and viruses with all their files and registry entries that are related to them.