Removing useless files is advised – a scam that shows alleged alerts about viruses and malware issues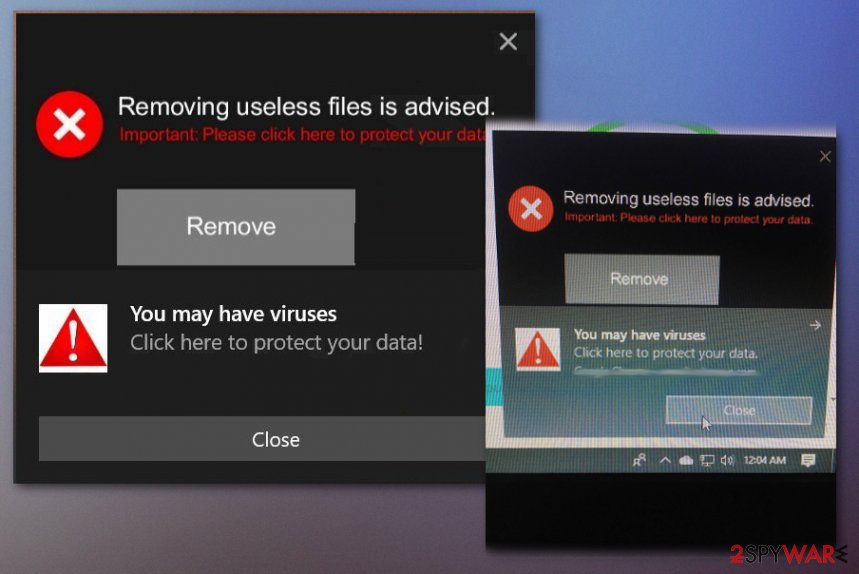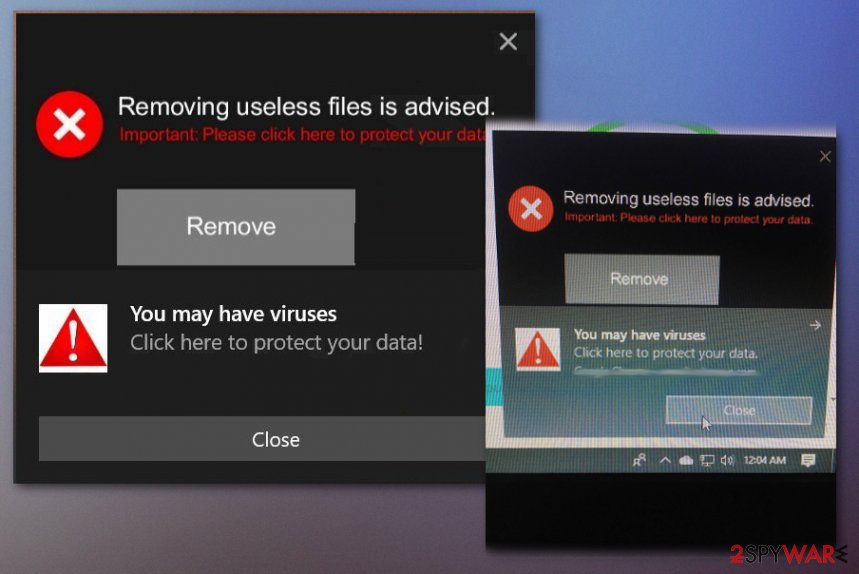 Removing useless files is advised is a potentially unwanted program that displays fake error messages and aims to trick people into installing additional PUPs. The browser-based scam can claim about programs that require uninstalling and viruses or even hacker activity on your device. These pop-ups appear mainly on macOS computers and more often on mobile phones that run iOS. If you are not careful when trying to exit the pop-up scam and close these windows, you may end up with additional application on the machine that controls specific functions of the affected device. The message suddenly interrupts your work and scares with the claims about possible virus infection.
When the dialogue box appears with Removing useless files is advised virus alert, there are not many options, and one of them is to exit the pop-up entirely or click on the displayed material that, unfortunately, can lead to malicious online content and even malware infections. If you become a victim of this scam, the first thing you should note is that the promoted rogue software that this scam tries to push is useless and cannot fix those problems that allegedly were found on the system. This is the main purpose of these scammy messages and claims, so you can visit commercial sites, generate views and clicks that can be monetized, or even install the program that is developed to further affect the speed and performance of your phone or computer instead of providing the alleged features.
Name
Removing useless files is advised
Type
Scam/ Mac malware
Tactics
Technical support scam[1] is the method that focuses on showing false claims about device issues, so the person that is targetted can be scared into purchasing or downloading a useless program or a rogue tool when scammers state about the ability to fix the supposed malware or OS problems
Symptoms
The pop-up message appears on the screen or from the browser itself and restricts your access to other web pages, claims that the system is infected, or may possibly get affected by malware or attackers. It states that the offered application is the one that could fix the problems with your machine and fix all the issues, remove malware
Aim
Generating rogue program installs and purchases is the purpose of the shady pop-up message
Distribution
Malicious websites can offer the app as a useful tool. Shady programs, applications that get installed by using the software bundling method can also lead to PUP infections
Elimination
Removing useless files is advised removal process should include the use of anti-malware tool and security programs because there is a huge possibility that your machine has more apps installed already and to end the unwanted behavior, you need to clear all the associated files off of the system
Repair
As for the issue of altered system settings or added files, you need a repair tool or system optimization tool.

Reimage

Reimage Cleaner

Intego may be the perfect option for you
Removing useless files is advised is not a real system alert as it may seem in the first place. The error message is a scam shown to trick people into thinking that their device has crashed due to virus infection or the system problem. This technique allows malicious actors to scare users and gather page views and purchases of the promoted tool.
The goal of this scam can also be achieved by showing promotional ads for the same application that is pushed using the scammy browser pop-ups. Removing useless files is advised claims about fake issues, and your machine has no problems or malware that could affect the performance, besides this infection itself.
Although the scam is not malicious and cannot be considered malware or virus, this is a cyber threat that cannot be controlled by you. Even the content that Removing useless files is advised pop-up shows and redirects you to can be dangerous and associated with malware creators, hackers, or criminals.
The possible message of the Removing useless files is advised scam can state the following message:
Removing useless files is advised.
Important: Please click here to protect your data.
Remove
You may have viruses.
Click here to protect your data!
If you click on the browser pop-up, you may end up on the malicious page with online material that manages to trigger automatic PUP install or simply exposes you to malicious content and uses ad-tracking[2] or similar information-gathering methods. Removing useless files is advised is a type of potentially unwanted program or adware-type intruder, so malvertising and data tracking can become serious privacy and identity theft issue.
This is why experts[3] recommend reacting to the pop-up as soon as possible, and getting a tool for the proper Removing useless files is advised removal. The best application that can work for this sort of procedure is the anti-malware tool compatible with OS you are using. Such programs can check various places of the machine and gather all the malicious or even suspicious files, programs to quarantine or eliminate from the machine.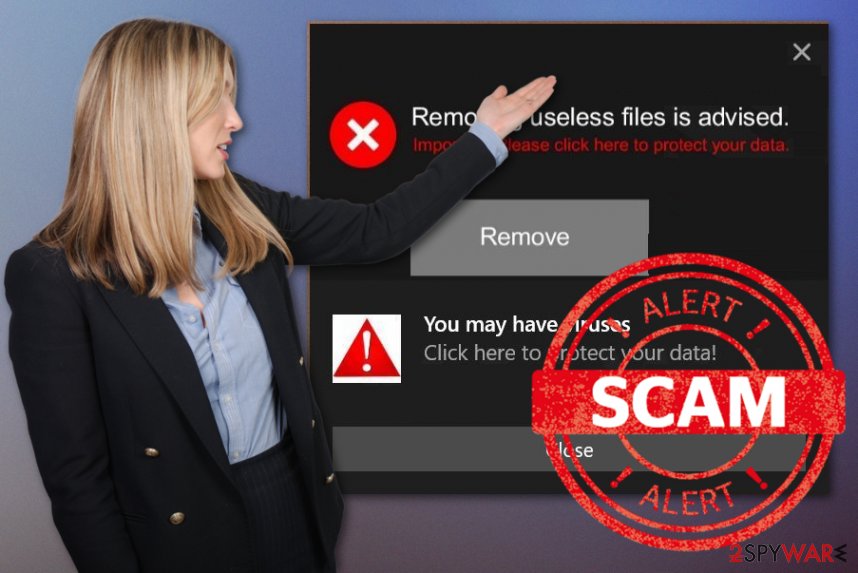 Removing useless files is advised is the mac malware type that shows false claims about viruses and system issues, otherwise known as a scam.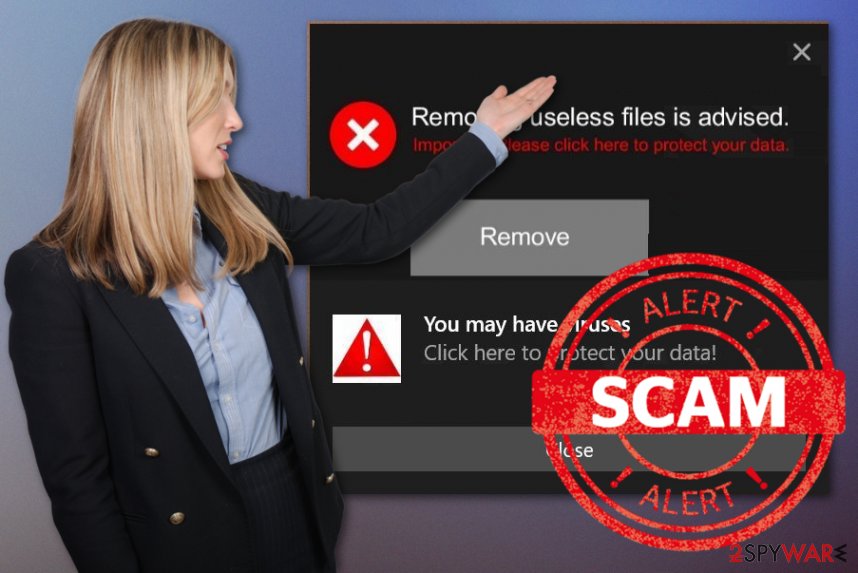 Removing useless files is advised is the mac malware type that shows false claims about viruses and system issues, otherwise known as a scam.
Unfortunately, it is not that easy to remove Removing useless files is advised due to all the files that get loaded in various places of the affected computer. Since this is a PUP and ad-supported site it can install browser-based threats and tools too, so the online traffic is significantly affected and controlled by the PUP creators and scammers. Until you manage to clear all the files and programs you cannot get rid of the scammy program itself.
Also, Removing useless files is advised scam, and the PUP that manages to control additional activities and behavior of the intruders can interfere with system files and programs. All these parts of the computer need to be repaired and fixed. It is not a manual job for the user too, so get a program like Reimage Reimage Cleaner Intego or a system optimizer from the official app store and run it on the computer or mobile device to recover features and files needed for crucial functions.
False system error claims trigger installs of rogue tools and ad-supported apps
Suspicious domains with useless material and claims about the system issues can lead to various installations of potentially unwanted applications to remote access tools or scam campaigns. There are tons of opportunities for the cyber threat to end up on your device, especially when you browse online without paying appropriate attention to details.
Freeware installations and promotional material can lead to these PUPs because software bundling is one of the most used techniques for spreading these intruders throughout the world wide web. Developers pack their programs alongside popular software that is distributed on the internet and when the person skips through installation setup steps all the included apps get to be loaded at once.
You can avoid these PUP installs by choosing Advanced or Custom options and loading the program list that shows all unwanted additions that you can de-select and exclude from the installation process. You should do that every time you download any software and go for reliable sources in the first place. Pay attention to sites that you visit and content that you click on and get exposed to. There are many instances when PUP can get installed without your knowledge or permission.
Go through the settings of the web browser to fully terminate Removing useless files is advised PUP
Removing useless files is advised virus can manage to change startup preferences or even registry entries that control crucial system features and what programs get to be launched after each reboot. These settings need to get changed back to normal and properly repaired. This is not the easiest procedure to do, and manual interference with such parts of the computer can lead to other issues.
Since the pop-up appears on the browser as well as on the computer screen in general, you need to remove Removing useless files is advised as soon as possible and using automatic tools because clearing each browser and finding all the associated files can take more time than you think.
Going for anti-malware tools when performing Removing useless files is advised removal saves time and effort for you, so you can manually eliminate all the suspicious extensions and applications loaded on the browser behind your back. Then the important part of the computer cleaning process is file repair in system folders. For all these procedures, go for reliable programs and freeware providers.
You may remove virus damage with a help of Reimage Reimage Cleaner Intego. SpyHunter 5Combo Cleaner and Malwarebytes are recommended to detect potentially unwanted programs and viruses with all their files and registry entries that are related to them.