R.eablink.com is a malicious website that users might encounter when being infected with adware

R.eablink.com is a malicious URL that takes over Google Chrome or another browser to perform background activities
R.eablink is redirect virus that many users complained about on Reddit[1] and other online forums. In most cases, they encounter a problem with their anti-virus software (Norton or AVG/Avast)[2] flagging most of the legitimate sites due to phishing or similar reasons while mentioning R.eablink prescience on them. The event is usually encountered on Google Chrome, although it does not exempt other browsers, such as Mozilla Firefox or MS Edge, from being affected either.
The reason for R.eablink.com to show up is due to an adware-type application or extension secretly installed on the web browser or Windows/Mac operating systems. In most of the cases, the deceptive infiltration happens when users are installing third-party software that uses package installers, i.e., there are are more than one application bundled under a single offer. AV vendors often mark the suspicious behavior of R.eablink.com as URL:Phishing.
| | |
| --- | --- |
| Name | R.eablink |
| Type | Adware |
| Category | Potentially unwanted program |
| Recognized as | URL:Phishing (r.eablink.com) |
| Related | R.eaburl.com |
| Installation | Users install potentially unwanted programs during the installation of freeware/shareware obtained from third-party sites or after being tricked by an attractive ad or a fake update |
| Mostly affected browser | Google Chrome |
| Symptoms | R.eablink triggers multiple alerts from the installed security software, which prevents users from entering legitimate websites. Additionally, they experience an increased amount of intrusive ads and redirects |
| Risks | Users should never interact with content presented by R.eablink, as it might result in the installation of other potentially unwanted programs or malware, money loss, personal data disclosure to unknown parties |
| Termination | Get rid of adware using robust security software or by following our manual removal guide below |
| Recovery | Keep in mind that adware and malware can cause damage to your operating system, later resulting in errors or crashes. To fix this virus damage, use Reimage |
Anti-malware software-induced pop-ups that keep blocking sites due to R.eablink.com adware is not the only problem the affected users may encounter. Ad-supported software also displays deals, offers, and targets users with promotional campaigns that are intrusive and disturb web browsing activities. Consequently, users may be directed to scam or phishing websites, where their personal details might get stolen.
If computer systems are not adequately protected (lack of anti-virus software, outdated applications), there is also a chance victims might end up on a compromised site where malicious JavaScript[3] is hosted. These can automatically download and install malware without user interaction whatsoever. Luckily, anti-malware software is designed to stop such attacks, so make sure you have it equipped to prevent R.eablink.com outbreaks.
The main goal of R.eablink.com virus is to load various background processes regardless of which sites you visit – this explains the strange behavior when anti-malware software is blocking legitimate websites. By doing so, adware manages to earn revenue by inserting sponsored content in the background. Needless to say, such behavior is more relative to malware rather than adware, so R.eablink removal should never be delayed for your own safety.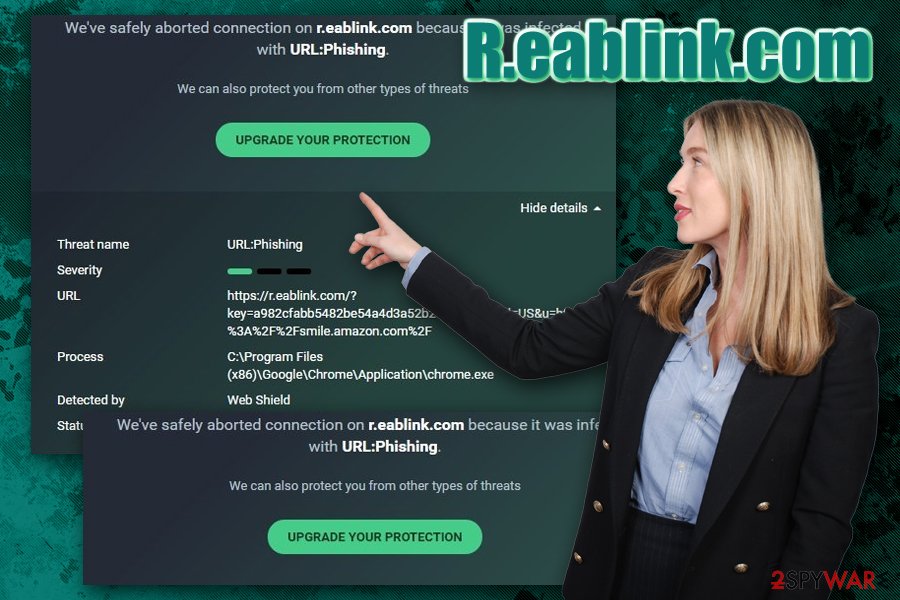 R.eablink.com is adware-related link – users download adware unintentionally during the installation of freeware/shareware
To remove R.eablink redirects and ads, you will have to determine which application is causing them in the first place. However, this might be a more difficult task than one might think, as adware might be disguised under legitimate names or prevent its termination by altering computer processes.
In most of the cases, however, you should be able to get rid of the unwanted behavior by scanning your machine with anti-malware software and resetting the installed browsers. If you want to try to eliminate R.eablink without security software, you should check our instructions below. Nonetheless, you should also perform a scan with Reimage to restore your system and prevent it from crashing.
Bundled software packages might include optional components – watch out for them
Software bundling is a well-established distribution technique that is often deceptive but is extremely beneficial for its users. Unfortunately, many freeware and shareware are distributed in packages that include potentially unwanted programs, such as adware or even malware. Therefore, it is vital to make sure that the installation process of new apps is never rushed and the instructions are carefully read. Novirus.uk[4] experts provide the following security tips:
If possible, download the desired program from official sources (Google Play, App Store, Microsoft Store, Amazon, etc.) instead of choosing third-party sites;
Avoid torrent and warez sites that host pirated applications or cracks/keygens;
Even reputable third-party sites like Cnet or FileHippo bundle software – do not put your guard down when relying on these websites;
During the installation, make sure you pick Advanced/Custom settings instead of Recommended/Quick ones;
Beware of software bundling tricks: watch out for pre-ticked boxes, misleading offers, misplaced buttons, fine print text, etc.
Employ anti-malware software that includes a feature which detects PUPs – it can prevent the infiltration of unwanted apps altogether.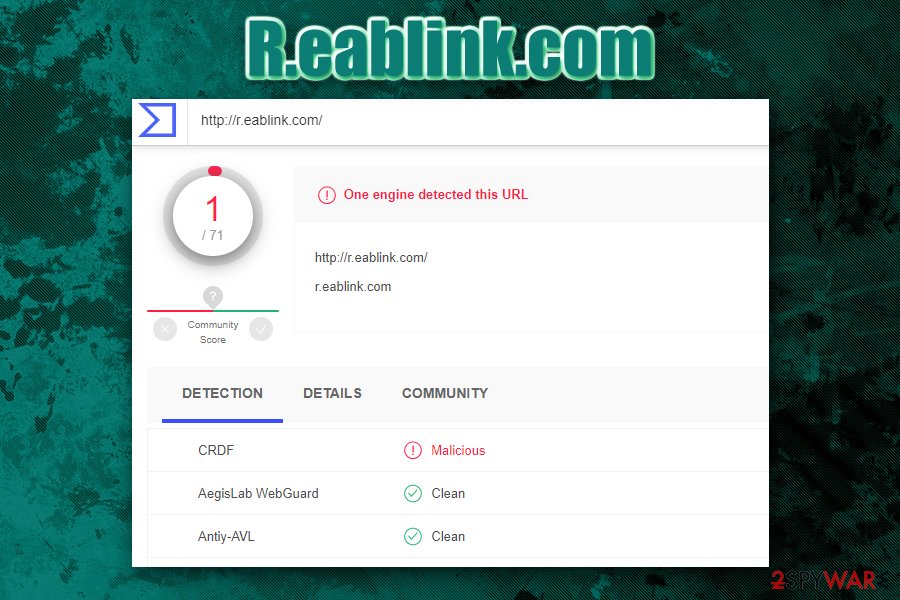 R.eablink.com is detected by some AV engines, although users using AVG, Avast and Norton software claimed that the site was blocked multiple times during web browsing sessions
Get rid of R.eablink.com ads in two different ways
As we already mentioned, you can attempt manual R.eablink.com removal by checking our instructions below – follow each step carefully and do not make any mistakes. Nevertheless, in some cases, the unwanted app might be masqueraded as something else, or be lost within a large number of installed programs. Additionally, the R.eablink virus might prevent its termination due to background activities on your machine.
If that is the case, we highly advise you to remove R.eablink.com with the help of powerful security software. Simply download a trusted application and perform a full system scan – it should only take a few minutes. Anti-malware is capable of finding all the unwanted components of adware and eliminating them automatically.
Nevertheless, if you already have Norton or AVG installed, and R.eablink.com warning is being spammed to you, you should immediately reset each of the installed browsers – this should resolve the issue promptly. For that, check our guidelines bellow.
You may remove virus damage with a help of Reimage. SpyHunter 5Combo Cleaner and Malwarebytes are recommended to detect potentially unwanted programs and viruses with all their files and registry entries that are related to them.