ProntoApp is adware application for Mac that is designed to spam users' browsers with intrusive ads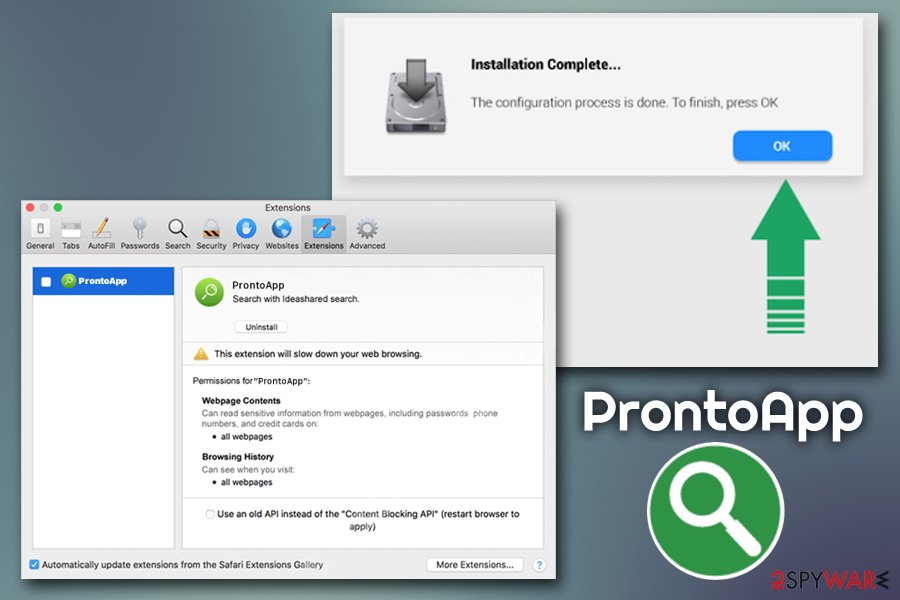 ProntoApp is an adware app that is installed unintentionally via third-party sites
ProntoApp is a potentially unwanted program[1] that belongs to a family of adware apps that started intruding users' Macs and performing unwanted activities. In most of the cases, users install the PUP without realizing it themselves, i.e., during the installation of freeware and shareware from third-party websites. Unfortunately, but some app developers do not adequately disclose the presence of optional components within the installers with the intent to make users install them inadvertently.
Once on the system, ProntoApp inserts multiple entries onto the Mac system and performs numerous changes to Google Chrome, Safari, Mozilla Firefox, or another browser. For example, multiple infected users claimed that their homepage, new tab URL, and the search engine are changed to Bing, Smart Search, or other. This activity guarantees that users will produce revenue for the app authors with every search or clicks on links. Additionally, the app can create multiple problems on Mac, including difficulties when trying to perform ProntoApp removal, persistent ads, redirects, a slowdown of the browser, etc.
Name
ProntoApp
Type
Adware, Mac virus, PUP
Infection means
Users typically get infected with the PUP during the installation of third-party apps like File Converter. This technique is referred to as software bundling – option components are deliberately hidden from sight and are installed along with the desired app
Symptoms
Web browser settings changed; a new extension attached to all web browsers; increased number of ads during web browsing sessions; sponsored links in the search results; difficulties in removing unwanted applications along with ProntoApp
Dangers
The unwanted application can lead users to insecure sites where they might download and install other PUPs or even malware; scam sites might trick users into paying fake tech support fees; personal data might be collected by unwanted parties or even cybercriminals on insecure sites
Termination
Refer to our manual elimination instructions below. Also, a scan with reputable anti-malware is highly recommended
Recovery & optimization
In case your Mac is struggling (lagging, crashing, showing errors) after the infection, you can use

Reimage

Reimage Cleaner

as a remedy for these symptoms and make it run well again
Besides modifying web browser settings, ProntoApp also attaches an extension to it. This helps the app to gather various information about users for targeted advertisement[2] campaigns. The collected data might include:
IP address;
Version of the OS and the installed applications;
Internet Server Provider;
Websites visited;
Links and ads clicked;
Bookmarks added, etc.
ProntoApp application is not the only one that has been infecting Mac users in recent months. It is highly likely that it is a work of the same developer as ProductEvent, CoordinatorPlus, IdeaShared, and many others. All of the programs use the same magnifying glass icon with a green background and are not signed by any developer. In other words, ProntoApp is a re-skinned version of the same application, just named differently – this is a common train of shady programs that are spread around the web by deceptive means in order to gain quick revenue from infected users.
In fact, ProntoApp is so intrusive and persistent, that many users attributed it "ProntoApp virus" or "ProntoApp malware" term. While it is not entirely true (this app seems to be an aggressive type of adware), users have every right to be concerned, as unwanted changes to the installed web browsers, redirects, pop-up ads, slowdown of macOS, and other symptoms are something that nobody should deal with.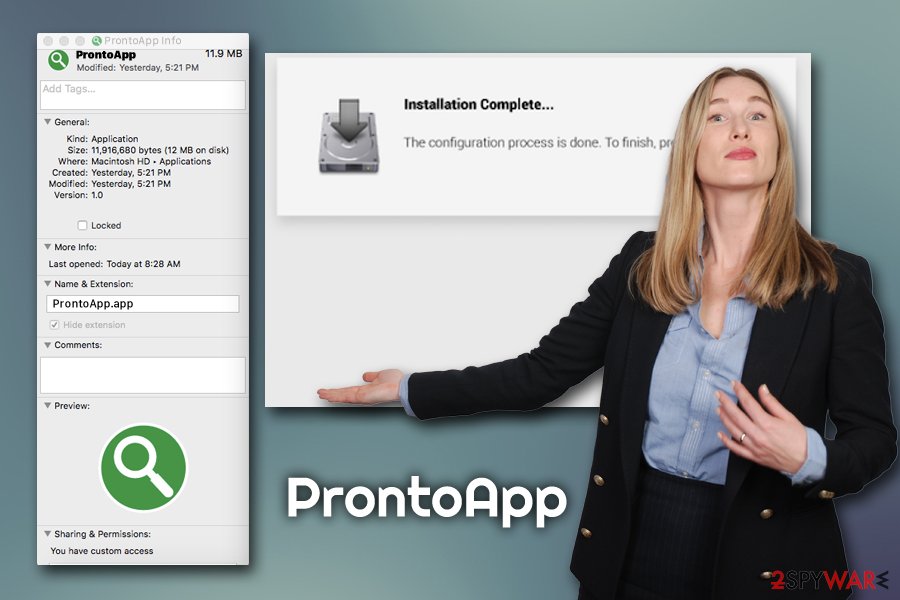 ProntoApp is a potentially unwanted application that displays unwanted ads and redirects to suspicious sites
Besides showing ads to infected users, ProntoApp is also dangerous due to its redirection tendencies. Adware is known to sometimes direct users to scam or fake update sites, where they are prompted to download other potentially unwanted programs or call fake technicians for an alleged fix – a few examples of popular scams include "Your system is infected with 3 viruses," "Immediate action required," and many others.
You should remove ProntoApp with the help of our instructions below. If you encounter difficulties during the process, you should also scan your Mac with anti-virus software. Additionally, you should also reset your browsers and employ Reimage Reimage Cleaner if you want to make sure that your computer is in its best shape after the infection.
Be careful when installing applications from third-party sites
There is a reason why many security experts[3] advise users staying away from third-party sites when it comes to new software installs. Apple uses sophisticated scanners and other checks before allowing an application into the App Store (although even the tech giant might sometimes fail to detect malicious apps, as 17 of them were recently removed after security firm detected shady practices of adware). Unfortunately, third-parties do not have the resources and the need to perform such broad checks before apps are placed on the site.
When you try to install an app from a third-party site, GateKeeper will detect the unofficial origin and ask your credentials to allow the installation – this stops many unwanted apps from entering without permission. The problem is that users are tricked into agreeing to install those applications and enter the credentials nonetheless.
When installing apps from third-parties, make sure you take precautionary measures. Most importantly, you should never rush the process, opt for Advanced/Custom settings, check each of the installation steps carefully, and decline all promotional offers on the way.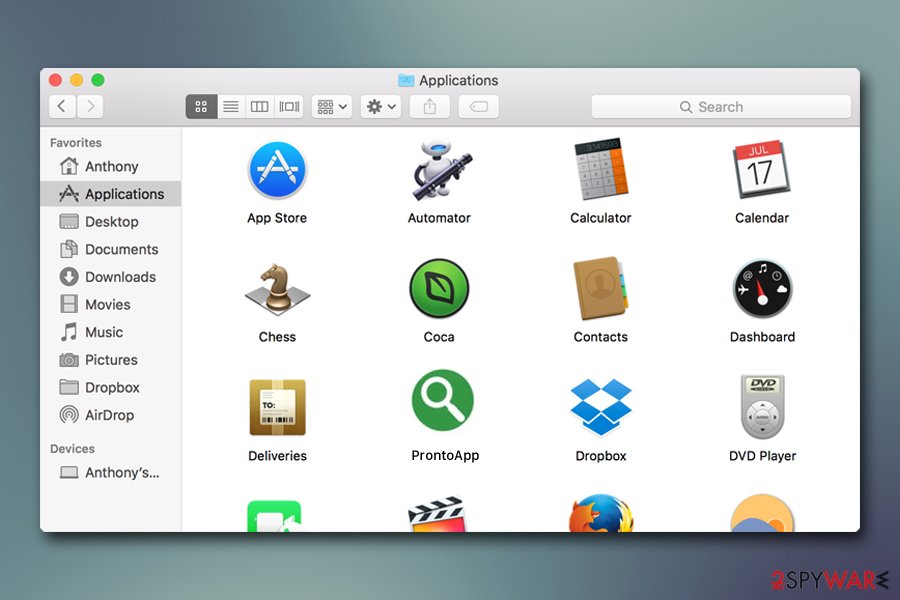 ProntoApp might install itself as a standalone app, although there is a high chance that a browser extension is added as well
Uninstall ProntoApp along with all other PUPs that might have entered the system without your approval
When it comes to ProntoApp adware, it is one of those more aggressive and deceptive types that nobody knows the origins of. If anything, it reminds more of malware that seeks to monetize on users' ruined web browsing experiences – it also puts their safety at risk. It is also not surprising, considering the nature of the app, that many might be struggling when trying to perform ProntoApp removal.
We suggest you first try to remove ProntoApp manually by finding all its components on macOS and deleting them. Here's what you should look for:
~/Library/LaunchAgents/pronto.notification.plist
~/Library/LaunchAgents/pronto.update.plist
~/Library/Application Support/ProntoApp/ProntoApp.app/Contents/MacOS/ProntoApp
The problem is, however, that the ProntoApp virus often comes along with other unwanted software, which might be difficult to find. For that reason, we suggest you scan your machine with anti-malware software to make sure all the suspicious elements are uninstalled. Additionally, we highly advise you reset Google Chrome, Safari, and Mozilla Firefox in order to prevent the unwanted activities of coming back.
You may remove virus damage with a help of Reimage Reimage Cleaner . SpyHunter 5Combo Cleaner and Malwarebytes are recommended to detect potentially unwanted programs and viruses with all their files and registry entries that are related to them.