Program:Win32/Wacapew.B!ml can be a false positive detection or refer to an SDBbot Remote Access Trojan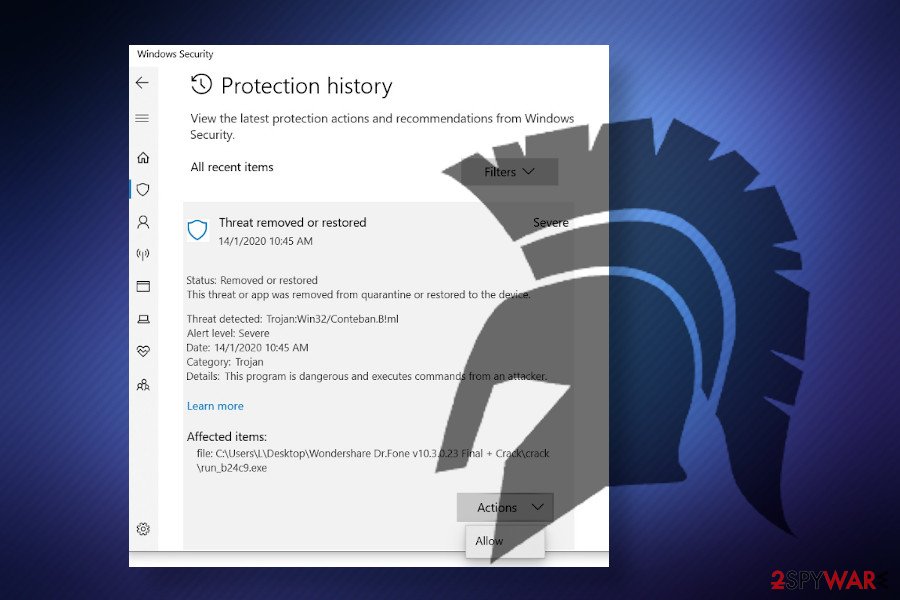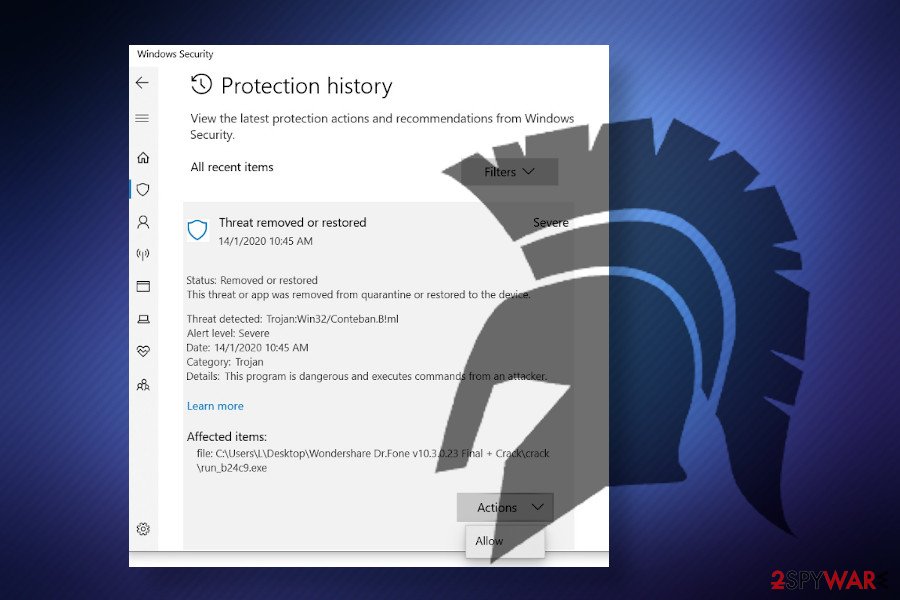 Program:Win32/Wacapew.B!ml is a generic detection name delivered to Windows users by Windows Defender antivirus program. Typically, people encounter a pop-up flagging malicious behavior on the machine after installing a piece of software, especially keygens, cracks of software for hack tools for the Windows license key. This issue has been extremely prevalent in 2019 as there were many reports on Microsoft forums.
Nevertheless, people keep asking how to remove Program:Win32/Wacapew.B!ml trojan up till now. If you keep getting a report from Windows Defender reporting this infection, the culprit may be wrong virus definitions of the in-built Windows security software. However, ignoring this detection may be a huge mistake because the detection may refer to the malicious mswinload0.dll file, which is one of the core processes run by Get2 downloader[1] and SDBbot RAT.
Name
Program:Win32/Wacapew.B!ml
Associated AV
Windows Defender
Classification
It's a generic virus detection name that can either be a false positive or flag a malicious banking Trojan infection
Possibly related virus
Get2 downloader and SDBbot RAT
Symptoms
The main symptom – Windows Defender keeps launching warning popups reporting the malicious behavior of the Program:Win32/Wacapew.B!ml virus. Apart from warnings, the Windows machine may become sluggish, CPU consumption may jump from low to high, etc.
Other detections
Win64:Trojan-gen (Avast), Malware@#15ko81j88dnzv (Comodo), Trojan.TR/Agent.gyhwl (F-Secure), Mal/Generic-S (Sophos AV), Win64:Trojan-gen (AVG), Trojan.GenericKD.42040575 (BitDefender), Trojan.GenericKD.42040575 (B) (Emsisoft), etc. (VirusTotal)
Removal
If any AV engine reports a malicious application, reboot the system into Safe Mode and perform a thorough system scan. Quarantine and remove all dangerous entries using an automatic tool
Malicious Trojans and spyware are capable of corrupting Windows registries and startup programs. Thus, the repair is required upon virus removal. For that, take advantage of the

Reimage

Reimage Cleaner

Intego repair tool
Program:Win32/Wacapew.B!ml detection alert by Windows Defender Antivirus can be a false positive. According to user reports, this security tool has had some issues with virus definitions and tended to flag reliable software as malicious. Upon testing the issue, Microsoft[2] has initiated comprehensive log changes for security intelligence update version 1.293.1036.0 and added renewed threat detections.
Upon the update, the issue regarding false positive detection of the Program:Win32/Wacapew.B!ml virus seems to have stopped. However, people are still having this same detection warning brought by Windows Defender Antivirus, while scanning the machine with alternative AV engines report the following detections:
Trojan.GenericKD.42040575
TR/Agent.gyhwl
Malware@#15ko81j88dnzv
W64/Agent.SE!tr
RDN/Generic.dx
Win32/Trojan.ba1
Trojan.Win32.SDBOT.A
Backdoor.Win64.Agent.ibh, etc.[3]
In this case, the Program:Win32/Wacapew.B!ml detection can be related to a highly dangerous SDBbot Remote Access Trojan and Get2 Downloader. According to Proofpoint researchers who detected this threat in spring 2019, this malicious RAT allows hackers to take full control over the host machine and subsequently sends commands to download and run files, monitor the activities, harvest information, log keystrokes, take screenshots, capture Webcam shoots, and similar.
Program:Win32/Wacapew.B!ml virus is typically downloaded by a Get2 trojan. The latter can get into the system silently via spam email attachments (hpe_s_hp-inv_02[.]xls, dc123456[.]xls, business cloud invoice no142 09-09-2019[.]xls, etc.), roots into the system without manifesting its presence, thus ensuring persistence.
After that, the Get2 Trojan runs a pack of malicious processes and downloads the FlawedGrace, FlawedAmmyy, Snatch, and SDBbot RAT as secondary payloads. According to cybersecurity experts, Windows Defender and other AV security tools recognize the malicious performance of the mswinload0.dll file.
In the registry-based persistence mechanisms, a separate loader DLL is used to execute the RAT payload. In the analyzed sample, the loader was named "RegCodeLoader[.]dll" and saved to disk as "mswinload[.]dll" or "mswinload0[.]dll". The application shimming-based persistence doesn't use a separate DLL, but the code it patches into services[.]exe is similar in functionality. In both cases the random registry key and value name is patched into the loader code.
Anyway, if your security suite keeps warning you about a highly dangerous Trojan, evaluate the situation adequately, and take needed actions to remove Program:Win32/Wacapew.B!ml virus from the system completely. If the detection turns out to be related to the SDBbot RAT, it may lead to privacy violations, identity theft, or money loss.
If Program:Win32/Wacapew.B!ml Windows Defender Antivirus detection is bound to this particular security suite and none of the other AV engines detect issues on your device, it's possible that it's a false positive detection and you should report this issue to the Microsoft support.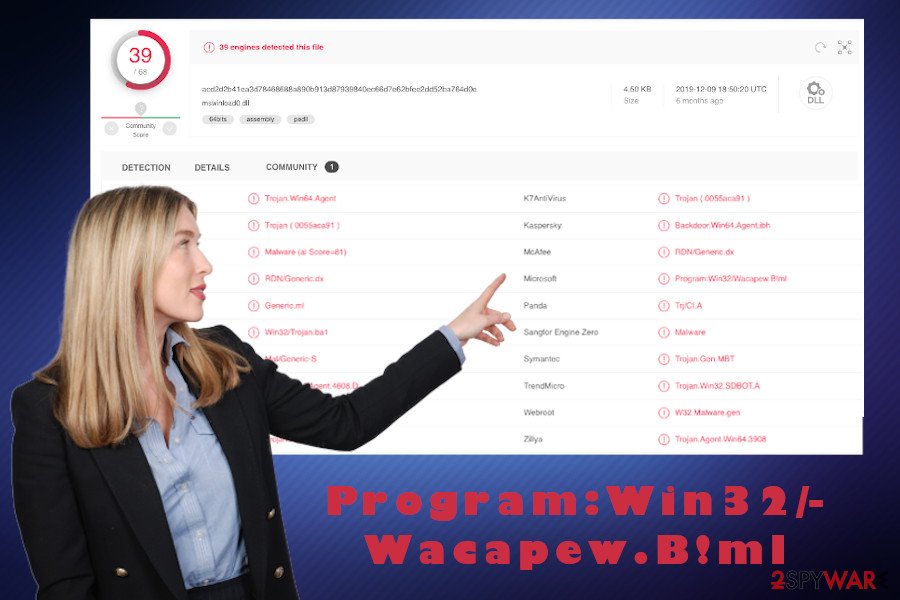 Program:Win32/Wacapew.B!ml Trojan RAT can spy on users, steal login credentials and trigger serious privacy issues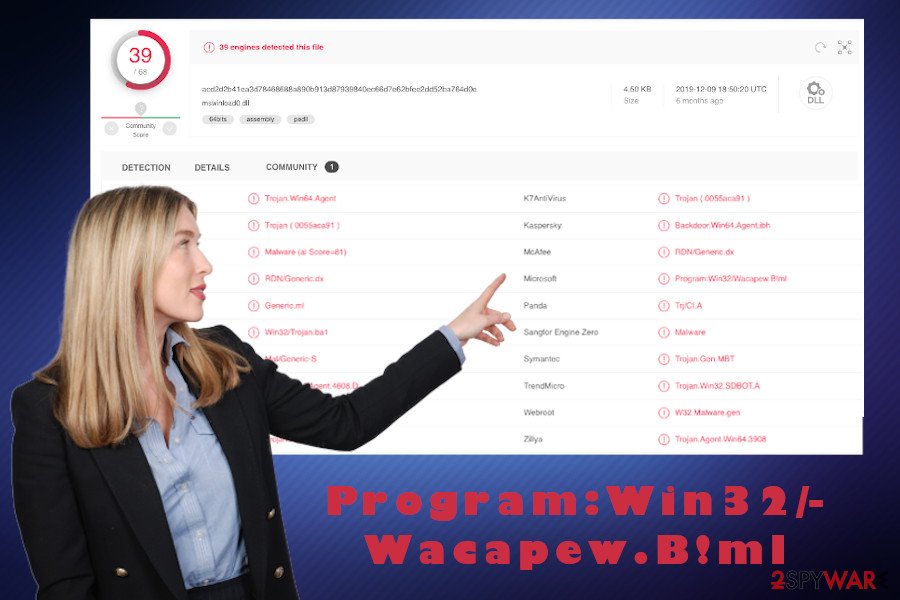 Program:Win32/Wacapew.B!ml Trojan RAT can spy on users, steal login credentials and trigger serious privacy issues
Otherwise, take action to protect yourself from hackers by initiating a thorough Program:Win32/Wacapew.B!ml removal. Malicious Trojans usually enable commands to disable AV software. Therefore, we recommend you to restart the machine into Safe Mode with Networking. You can rely on tools like SpyHunter 5Combo Cleaner, Malwarebytes, or another robust anti-malware.
Post Trojan state of the Windows machine can not be pleasant. Malicious viruses tend to alter Windows registry entries, startup programs, core processes, some system files, etc. that eventually can cause errors and BSODs. Therefore, right after you remove Program:Win32/Wacapew.B!ml virus detection, try optimizing the system with Reimage Reimage Cleaner Intego repair suite.
Spam emails and pirated software can deliver Trojans and other viruses
Malicious payloads can get into the system via malicious spam email attachments or pirated software like keygens and cracks. Beware that suchlike malicious files do not disclose their presence. Instead, they remain in disguise with legitimate Windows system files, such as mswinload0.dll, Svchost.exe, or Winrmsrv.exe.
Payloads are responsible for downloading cyber threats, such as Trojans, spyware, malware, RATs, and more. Beware that they are developed in an extremely sophisticated manner to bypass antivirus programs without being noticed. Thus, you should evaluate online risks to prevent launching malicious files related to viruses.
In most of the cases, such viruses are being disseminated via malicious spam email attachments. Hackers can release tens of thousands of email that contain Microsoft Excel attachments under names like
Subject – HPE INV-02 – Invoice and documents. Attachment hpe_s_hp-inv_02[.]xls.
Subject – Need to Apply. Attachment dc123456[.]xls
Subject – Document. Attachment business cloud invoice no142 09-09-2019[.]xls
Subject – EXECUTIVE SUMMARY. Attachment προτιμολογιο[.]xls
Such attachments require to enable macros, which is a catch used by hackers to make users download malicious virus payload. Thus, if you received a questionable email message that you were not waiting for, it's better to send it to spam inbox or completely remove it.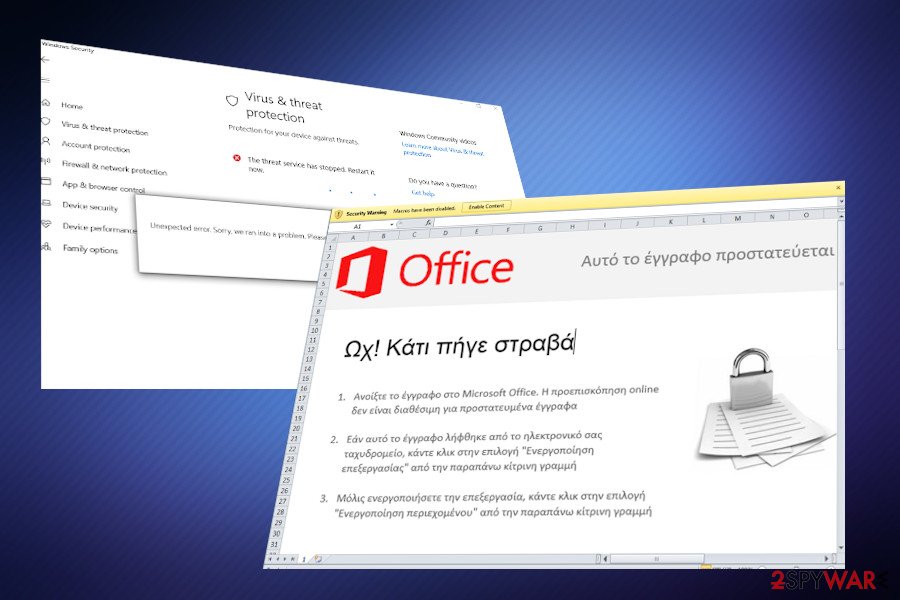 Program:Win32/Wacapew.B!ml warning should not be ignored as they may warn users about a severe cyber infection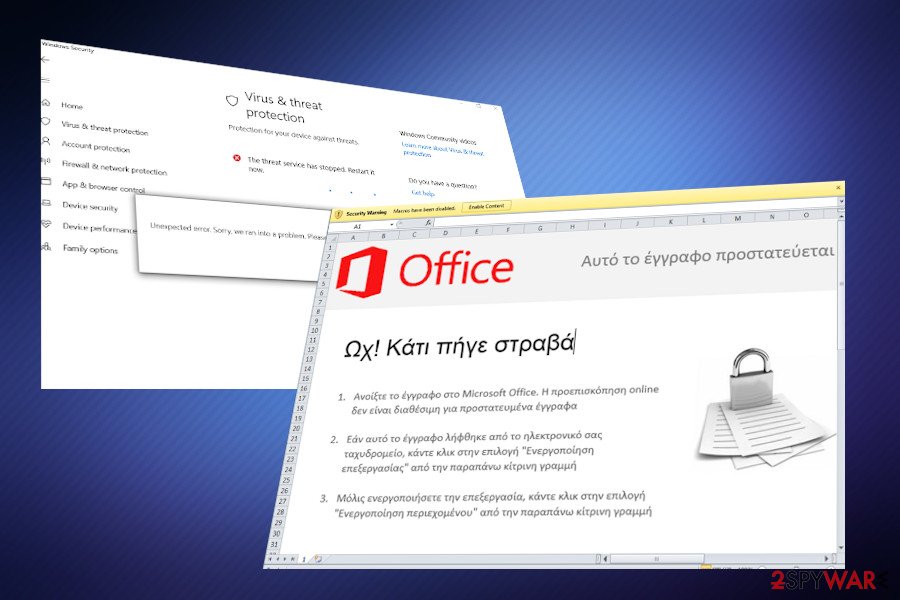 Program:Win32/Wacapew.B!ml warning should not be ignored as they may warn users about a severe cyber infection
Another perfect perfect medium for viruses to spread is pirated software. As pointed out by NoVirus.uk team[4], hackers can fill keygens and software cracks with malicious virus payloads quite easily. Thus, instead of downloading a "help" to hack some paid software, you can get your machine hacked.
Terminate Program:Win32/Wacapew.B!ml trojan to protect yourself from identity theft
When the Program:Win32/Wacapew.B!ml virus gets onto the machine, it can decrease its performance, increase vulnerability, and download other malicious entries to the system. Although it may be difficult to detect this entry manually, you can suspect the presence of a Trojan if the system keeps restarting all of a sudden, CPU usage gets high, AV engine keeps flagging malicious behavior, etc.
Keep in mind that severe computer viruses are exceptionally persistent and can hide malicious files over the system, disable AV tools, quarantine legitimate software, remove Windows registry entries, etc. Therefore, you should go to the Safe Mode and then focus on Program:Win32/Wacapew.B!ml removal.
To remove Program:Win32/Wacapew.B!ml virus completely, try using reputable anti-malware tools, such as Malwarebytes. Robust security tool ensures elimination of malicious files, clean PUPs, and other viruses. Nevertheless, AV tools are not programmed to repair the Registries and other Windows locations. Thus, we recommend scanning the system with Reimage Reimage Cleaner Intego tool that may increase the system's performance.
The government has many issues in regards to tracking users' data and spying on citizens, so you should take this into consideration and learn more about shady information gathering practices. Avoid any unwanted government tracking or spying by going totally anonymous on the internet.
You can choose a different location when you go online and access any material you want without particular content restrictions. You can easily enjoy internet connection without any risks of being hacked by using Private Internet Access VPN.
Control the information that can be accessed by government any other unwanted party and surf online without being spied on. Even if you are not involved in illegal activities or trust your selection of services, platforms, be suspicious for your own security and take precautionary measures by using the VPN service.
Computer users can suffer various losses due to cyber infections or their own faulty doings. Software issues created by malware or direct data loss due to encryption can lead to problems with your device or permanent damage. When you have proper up-to-date backups, you can easily recover after such an incident and get back to work.
It is crucial to create updates to your backups after any changes on the device, so you can get back to the point you were working on when malware changes anything or issues with the device causes data or performance corruption. Rely on such behavior and make file backup your daily or weekly habit.
When you have the previous version of every important document or project you can avoid frustration and breakdowns. It comes in handy when malware occurs out of nowhere. Use Data Recovery Pro for the system restoring purpose.
This entry was posted on 2020-06-11 at 04:25 and is filed under Trojans, Viruses.