Openload.co – a website that injects dangerous Coinhive miner to dig cryptocurrency on people's PCs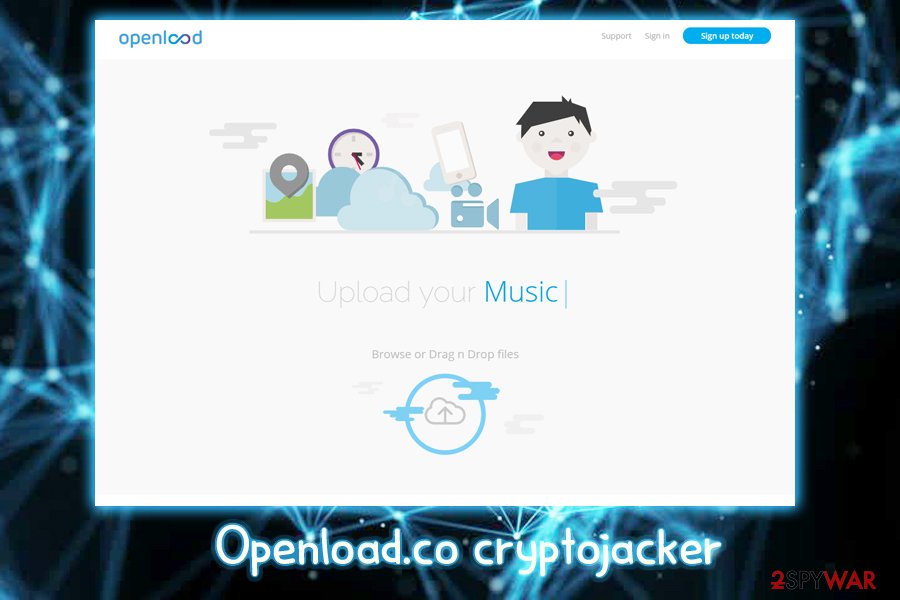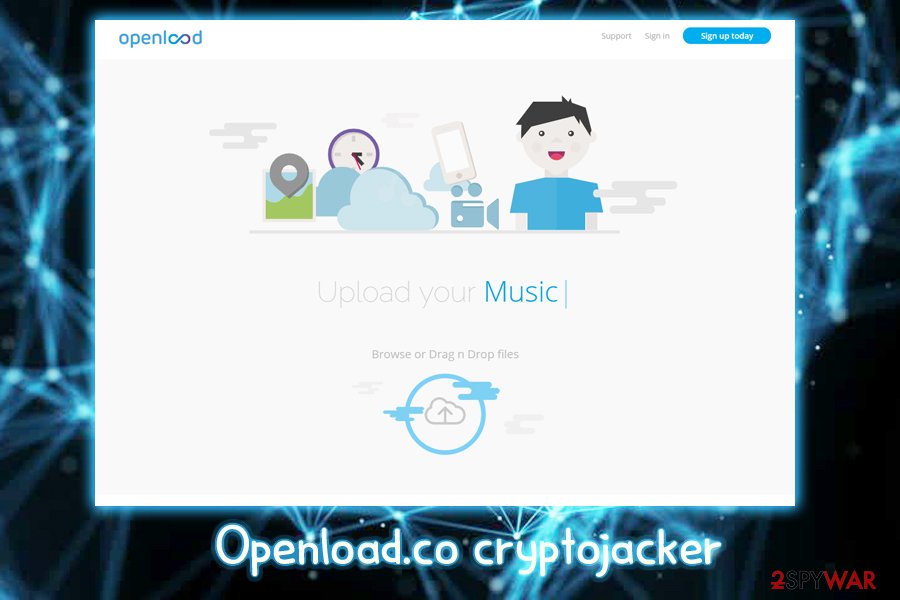 Openload.co is a streaming site that employs malicious Javascript[1] to mine cryptocurrency with the help of Coinhive miner in Google Chrome, Internet Explorer, Mozilla Firefox, Safari or other browsers. While many website publishers can employ crypto mining software as a great alternative to annoying pop-ups and other intrusive ads, those who do not inform of such activity taking place, become straight out criminals. Utilizing visitors' CPU or/and GPU power to solve mathematical problems makes the computer run at almost full capacity, resulting in a slowdown or crashing of the system. Additionally, Openload.co visitors might receive a massive electricity bill, as intensive computer usage consumes a lot of energy. Therefore, users should always be warned about such activity, giving them the possibility to opt out.
Summary
Name
Openload.co
Type
Crypto-jacking
Affects
CPU or/and GPU
Symptoms
Increased CPU usage, battery consumption on laptops, etc.
Browsers
Google Chrome, Internet Explorer, Mozilla Firefox, Safari, Opera etc.
Avoidance
Use security software with real-time protection feature
System optimization
Use

Reimage

Reimage Cleaner

Intego to make sure crypto-mining did not cause any damage to your PC
Openload.co is not the only streaming site using the unfair techniques to mine crypto. According to reports, Streamango, Rapidvideo, and Online Video Converter are also involved in a crypto-jacking scheme that is affecting almost 1 billion visitors monthly.
Many users might not even notice the changes in their system when they visit a crypto mining website like Openload.co and are busy converting or streaming videos. Nevertheless, there are several symptoms of crypto-mining scripts running, including:
Increased CPU usage
Battery drainage (on laptops)
Fans running on full speed
Hot air is blown out of the PC
Due to all these symptoms, many users might refer to it as an Openload.co virus. However, it is not malware as we know it, because no payload is executed on the targeted machine but rather the scripts are run directly inside the browser when the site in question is visited. The only way to remove Openload virus is by closing it down and never revisiting it.
Even though the website is using cryptocurrency mining as a way of monetization in priority, it is very likely that landing on this site people may also encounter some questionable openload ads. The majority of them are believed to be simple commercials, though these' a risk that clicking on some of them you may be tricked into downloading a script that runs crypto-miner directly on your PC.
Unfortunately, Openload is one of the most popular streaming sites out there, with an estimated 330 million visitors per month. The digital currency mining starts as soon as the video is launched. Additionally, these videos are often embedded into other sides, increasing the efficiency of the miner.
Security researchers at AdGuard claim[2] that the malicious scripts are being put on the website by unknown hackers:
We doubt that all the owners of these third-party sites are aware that the hidden mining has been built in to these players.
Nevertheless, the earnings earned by the malicious crypto mining are directed to those who hosted the script.
Crypto-jacking can also be associated with crypto mining malware that infects the computer. In such a case, Openload.co malware removal needs to be performed using powerful security software. If anything is found, make sure the virus is deleted. After that, scan your machine using Reimage Reimage Cleaner Intego to restore various system settings like Windows Registry back to normal.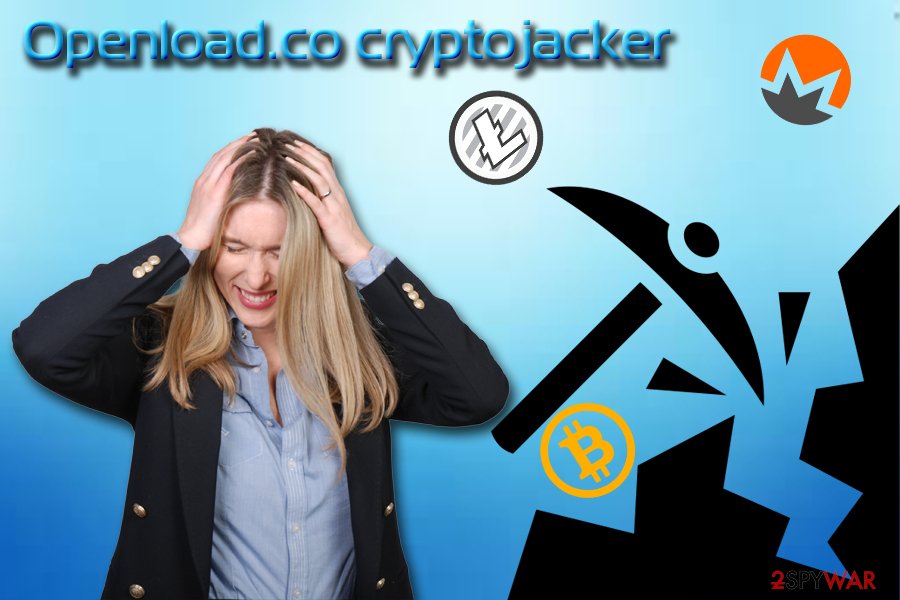 Openload.co is a website that helps crooks to obtain cryptocurrency by illegally abusing visitors' computer power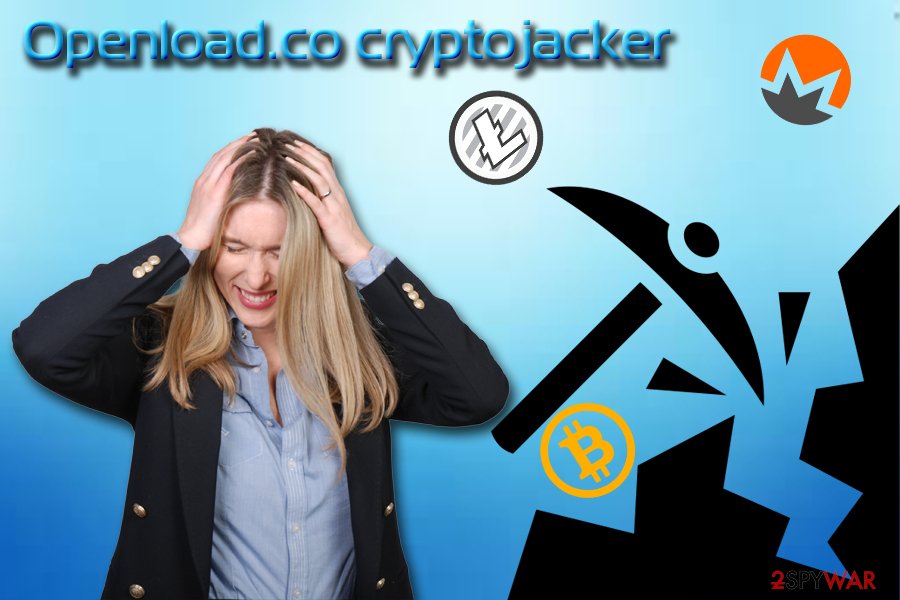 Openload.co is a website that helps crooks to obtain cryptocurrency by illegally abusing visitors' computer power
Suspicious means used by hackers to spread crypto-mining malware
Computer security is essential not only for high-profile corporations but also for regular users. As we already mentioned, some people might be OK with using some of their CPU power to support website creators instead of dealing with annoying ads. However, they need to be warned about that. Thus, websites that run such scripts should be blocked immediately. There are several security applications capable of blocking sites related to riskware. Make sure you use the provided protection if you care about your hardware and electricity bill.
Crypto mining malware can also get injected in various ways:
As a drive-by download (abusing vulnerabilities in the software)
Via hacked or compromised installers
Cracks, keygens, illegal software downloads, etc.
Insecure RDP configuration[3]
Sent via a phishing email, etc.
Therefore, do not click on anything you find on the internet. Use comprehensive security tools, utilize strong passwords, and patch your software as soon as updates are out.
Disable Openload.co processes on your machine
When it comes to crypto-jacking, the easiest way to remove openload malware activities is to close down the browser and never return to the site again. Some security software might block the entry to the site, but you can always add an exclusion if you desire. Although it is highly not recommended by security experts.[4]
Openload.co removal from your address bar is essential if you do not wish crooks to monetize on your hardware usage. Additionally, if crypto-mining malware is involved, you will have to do a bit more than closing down your browsers. We advise users to enter Safe Mode with Networking and perform a full system scan using Reimage Reimage Cleaner Intego, SpyHunter 5Combo Cleaner, Malwarebytes, or other security software.