Mainsourceofupgrade.best is the domain that presents fake update messages and leads to PUP downloads and more serious cyber infections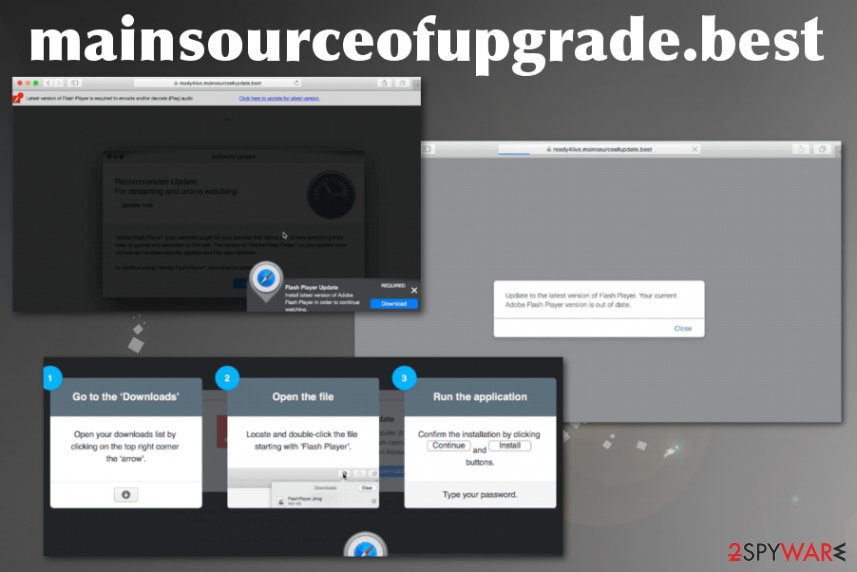 Mainsourceofupgrade.best – website designed to push visitors to believe that their software is outdated, so the suggested updater is needed to be installed. Unfortunately, pop-ups displayed on the domain require little to no interaction, so the installation can get triggered easily. Once that is done, the targeted device becomes infected in a matter of minutes. Initially, the web browser displays a notification that software like Adobe Flash Player needs an update and one click on the button launches the download of the updater file. This file contains high-risk content and can lead to either PUA infiltration or more serious malware infection.
The redirect to Mainsourceofupgrade.best domain appears out of nowhere, so the user cannot know what to do or how to react. The most important thing to note is that software update notifications are not coming from the browser. Such alerts can appear on the screen when the system itself indicates you about corrupted or old programs. The same thing goes for system tools or even AV applications, but legitimate messages from Apple or Microsoft team doesn't appear on the web browser. You should exit such messages immediately and stay away from clicking on anything because content like this keeps you one click away from PUP infiltration.
Name
Mainsourceofupgrade.best
Type
Adware[1]
Distribution
Deceptive sites deliver potentially unwanted programs when users trigger the downloads unintentionally. Also, various PUPs can come during insecure online content installations when Quick or Recommended options get selected instead of Custom or Advanced and all pre-bundled apps get loaded at once without requiring for additional permission
Main danger
Any ad-supported pages that focus on views and monetization rely on ad-tracking techniques that can lead to harmful content or privacy issues when browsing data or personal information ends up in the hands of third-party companies or malicious people
Symptoms
The domain delivers pop-ups the browser out of nowhere and shows alerts requiring to update the particular software. Pop-ups and banners, blinking boxes and similar material with additional content fill up the screen and triggers redirects to more suspicious pages
Elimination
Mainsourceofupgrade.best removal requires professional anti-malware tools, so all traces of the PUP and related files get deleted completely
System cleaning
Intruders that run in the background can affect registry or startup preferences and damage the machine this way. Such modifications may cause issues with the performance of the PC, so get a system utility like

Reimage

Reimage Cleaner

and indicate affected or corrupted files
Mainsourceofupgrade.best is a general domain name that can appear with different beginnings like ready4live; checkupdates; centersource; securedconnection, and so on. These are scam websites based on social engineering tactics that trick user into performing particular actions, clicking on the website, pop-up or installing promoted content.
The particular intruder is not specified for the operating system and users complain to encounter Mainsourceofupgrade.best redirects on various machines including Mac and Windows devices. The only thing that differs from victim to victim is the message and the outcome because such deceptive pages can suggest updates for various software and install any malicious applications.
Mainsourceofupgrade.best page can deliver messages similar to these:
Update to the latest version of Flash Player. Your current Adobe Flash Player version is out of date.
Flash Player Update REQUIRED
Install latest version of Adobe Flash Player in order to continue watching.
Download
Latest version of Flash Player is required to encode and/or decode (Play) audio files in high quality. – Click here to update for latest version.

Software update

Adobe Flash Player
Install the latest update
Update now

"Adobe Flash Player" is an essential plugin for your browser that allows you to view everything from video to games and animation on the web. The version of "Adobe Flash Player" on your system does not include the latest security updates and has been blocked.

To continue using "Adobe Flash Player", download an updated version.
Update Download Flash…
Mainsourceofupgrade.best is showing multiple messages and each of them triggers additional pop-up and redirects with claims about the content enabling or urges to click on the download link so the update can get started. the installer file or updated version of the program gets downloaded quickly but the content is injected with PUP directly or different types of the malicious script.
It is advised by experts[2] to click away from these suspicious pop-ups if you received them once or twice. However, continuous Mainsourceofupgrade.best redirects and notifications about outdated or missing files indicate that PUP is causing the activities and that is not going to stop until you terminate the intruder completely.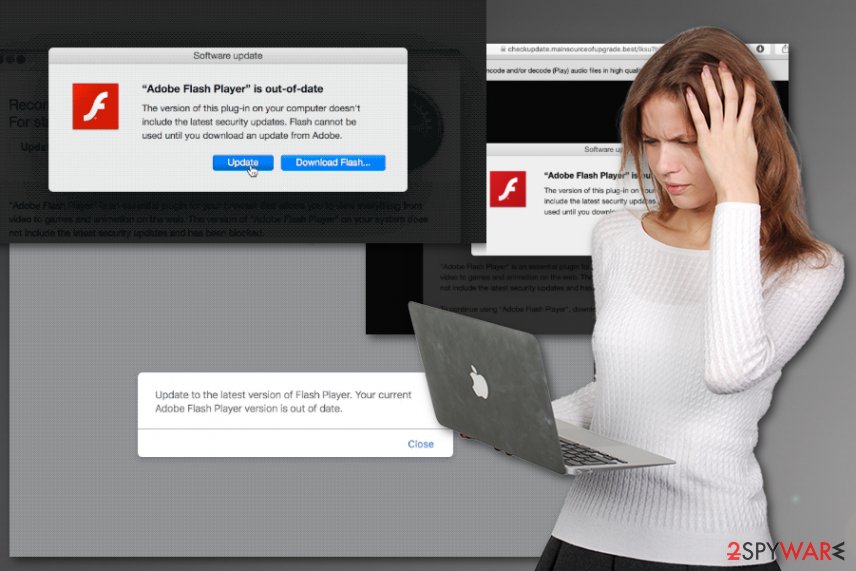 Mainsourceofupgrade.best is the potentially unwanted program that causes various pop-ups and fake alerts stating about the required download. Such deceptive sites and scam messages, fake alerts like the ones that appear on Mainsourceofupgrade.best domain are force-opened by the initial potentially unwanted programs. Intrusive applications have many features including redirecting to dubious pages and even changing settings of particular web browsers. This is why your Google Chrome, Internet Explorer, Mozilla Firefox, or Safari runs slow and the general performance of the PC becomes affected.
Also, this fact means that you need to remove Mainsourceofupgrade.best by terminating the PUP, so it stops triggering those background processes and redirecting the traffic to sponsored pages. This is not easy to achieve if you think you can do that manually.
Mainsourceofupgrade.best virus seeks to generate views, page visits and make a profit. Unfortunately, it tries to achieve that by tracking data regarding online browsing habits, search queries, and other preferences, so advertisements that you encounter are more geared towards your specific needs.[3]
However, Mainsourceofupgrade.best removal is because of this fact that data gets recorded and shared. Time is extremely important when these techniques are used because the more data is recorded the more pop-ups and scammy messages appear on the screen. Get the anti-malware tools and eliminate any detected programs and files that create any risk.
Also, besides tracking browsing-related data, Mainsourceofupgrade.best PUP is capable of accessing information in system folders, Windows Registry or even altering such settings. To repair possible damage, get a program that is focused on cleaning and repairing files. Reimage Reimage Cleaner may check for affected files and help to improve the performance of your computer.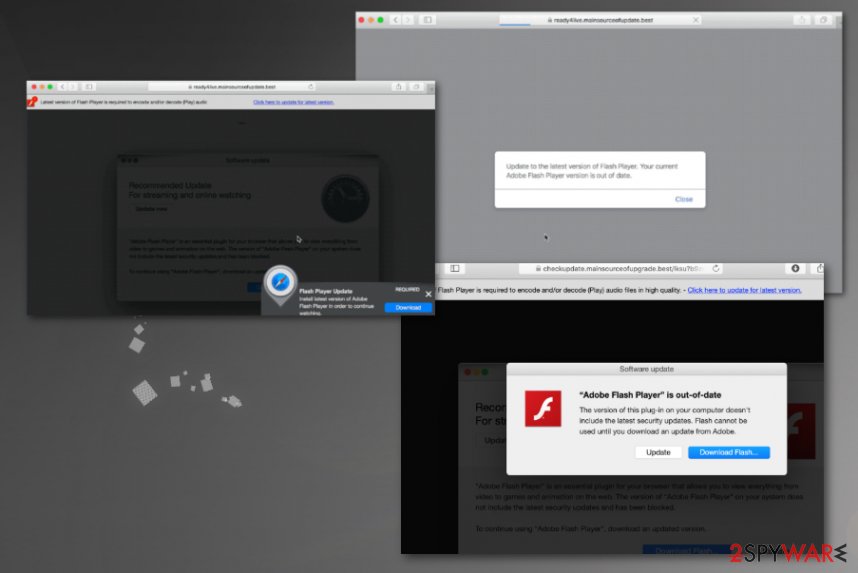 Mainsourceofupgrade.best is the adware-type intruder that focuses on redirecting online traffic to sponsored sites where views can generate revenue.
In-browser intruders get offered as extras during freeware installations
It is common that browser hijackers, adware or potentially unwanted programs appear out of nowhere because deceptive techniques and shady methods get used for the distribution of such PUPs. In most cases, your device gets additional PUPs during the freeware installations when you don't pay enough attention to details and choose recommended options.
Quick installations automatically skip through all the steps and allow every part of the bundle to get installed on the targeted system without additional permissions required. Choosing Advanced or Custom installations instead of the Default option is the solution.
Such installation mode allows the user to decide what programs get to be installed because a full list of applications appears on the setup and checkboxes can be deselected before proceeding with the download. Sites like p2p or torrent pages, free software distributors shouldn't be trusted because PUPs can be hidden easily, so rely on official developers instead.
Go for automatic Mainsourceofupgrade.best elimination to avoid loss of private information
Mainsourceofupgrade.best virus is the universal threat that affects various machines and can damage parts of your Windows device or mac computer if not terminated in time. Even though potentially unwanted programs are not dangerous or malicious themselves, redirects expose the user to the possibly dangerous material online.
To avoid further damage that adware-related programs or malware can cause, remove Mainsourceofupgrade.best by getting an anti-malware program once you notice the first symptoms of the intruder. You shouldn't try to find the PUP manually because various files get scattered all over the system.
The best option remains automatic Mainsourceofupgrade.best removal process that allows AV program to indicate possibly dangerous programs or files and remove them without causing any damage on the computer. Once that is done, you can manually terminate in-browser applications or suspicious add-ons and improve the speed by cleaning the registry with the PC repair tool.
You may remove virus damage with a help of Reimage Reimage Cleaner . SpyHunter 5Combo Cleaner and Malwarebytes are recommended to detect potentially unwanted programs and viruses with all their files and registry entries that are related to them.