Main Ready virus – a potentially unwanted application that is spread via fake Flash updates and pirated software installers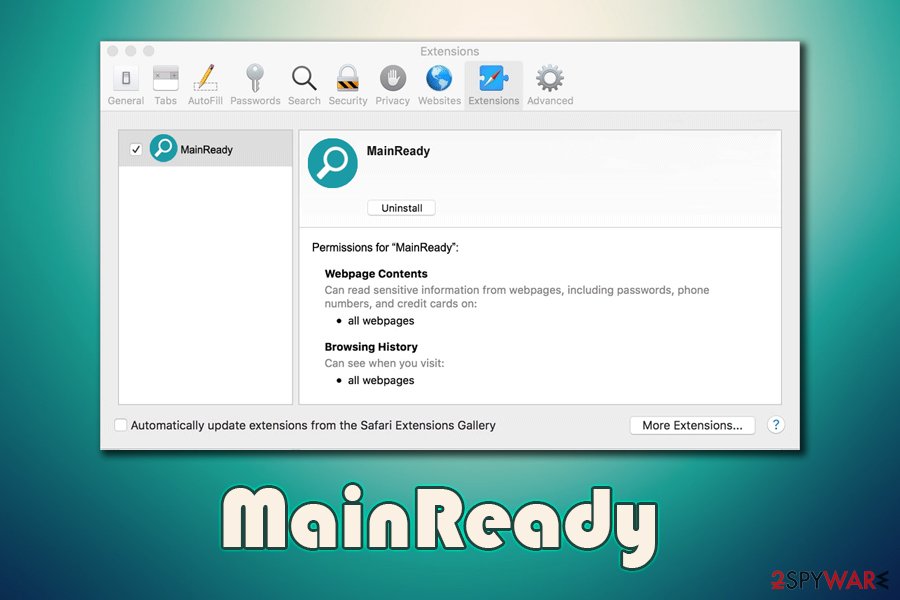 MainReady is a suspicious application that changes users web browser settings and harvests personal information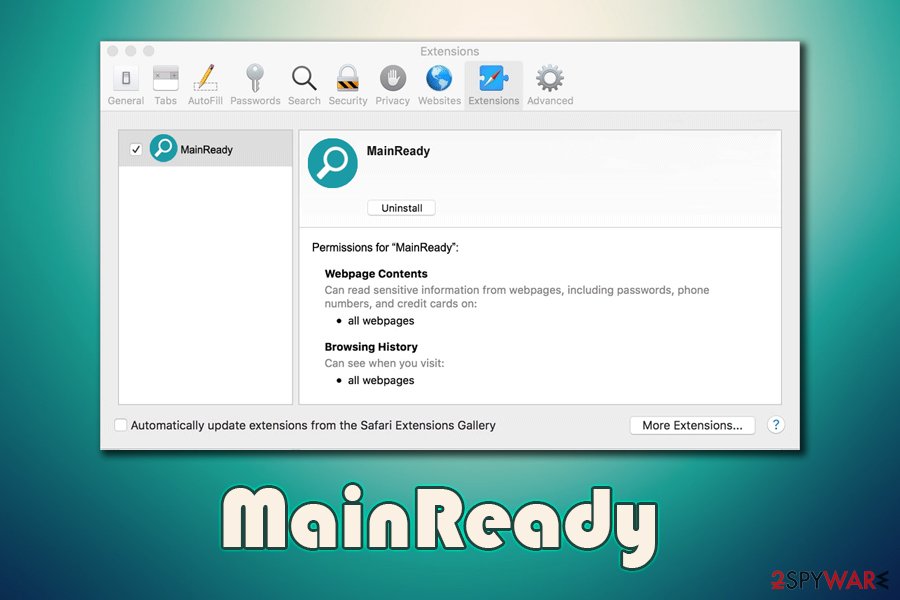 MainReady is a suspicious application that changes users web browser settings and harvests personal information
Main Ready is a malicious program that initiates a variety of changes on computers in order to display users intrusive ads on Safari, Google Chrome, Mozilla Firefox, or another web browser. It belongs to a large family of potentially unwanted applications designed for macOS/Mac OS X systems and has been distributed in massive campaigns that involve fake Flash Player installers. Nonetheless, the MainReady virus can also be installed when downloading freeware from Apple unapproved sources or installing software cracks/pirated applications.[1]
Upon installation, Main Ready can install a bunch of web browser extensions that are protected from elimination, and set the search engine to Safe Finder, all while redirecting searches via a.akamaihd.net. As a result, users will see a variety of sponsored content in search results and also intrusive ads on all visited websites. Finally, the MainReady virus also grants itself permission to read all the information typed on web browsers, including credit card details. This puts Mac users at enormous privacy risk.
Name
Main Ready virus, MainReady, MainReady 1.0
Type
Adware/Mac virus
Infiltration
In the majority of cases, the malicious app is not downloaded purposely, i.e., users get tricked by techniques like software bundling and fake Flash Player updates
Symptoms
Unknown web browser extensions installed on the web browser (Safari, Google Chrome, Mozilla Firefox, and others) with elevated permissions, search provider changed to Safe Search or another one, all the searchers are redirected via Akamaihd, websites are filled with intrusive ads, redirects bring to unknown places, scam encounters increase, etc.
Associated risks
Sensitive data compromise (credit card details, passwords) and disclosure to cybercriminals, installation of other malware/adware, monetary loss, etc.
Related
Safe Finder is typically assigned as a search provider and all searchers are delivered via the a.akamaihd.net
Detection
According to Virus Total,[2] several AV engines detect the virus under following names:

Adware.OSX.Adload.2!c
Mac/Virus.Adware.61d
Win32.Trojan.Multiple.Eand
Adloadr (PUA)
MacOS:Adload-AB [Trj], etc.

Removal
You can follow detailed guide that will help you to eliminate MainReady virus below
Optimization
To return a stable and optimized performance of your Mac after the infection, scan it with

Reimage

Reimage Cleaner

Intego
While regular browser hijackers and adware programs merely change web browser settings that can be reverted easily, Main Ready is a far more malicious program that should not be ignored. Not only will you encounter tremendous amounts of ads on all visited websites, but you will also struggle with Main Ready removal due to its persistence tendencies. While unwanted software can be eliminated manually, we also suggest scanning the system with reputable anti-malware, such as SpyHunter 5Combo Cleaner.
As mentioned above, the Main Ready virus belongs to a much broader malware family that is being operated by unknown developers, who previously released exactly the same app (using the same icon and operation techniques) under different names, including ProductEvent, ProntoApp, AgileHelp, IdeaShared, and many more. Nonetheless, it seems like the efforts pay off, as MainReady is the next creation that will profit cybercriminals at the end.
Main Ready is mainly distributed via software bundles that are downloaded from third-party sites or via fake Flash Player update prompts. Once installed, the unwanted app performs changes within the system that establish Safe Finder or another provider as the main search engine. As a result, users can see tons of sponsored links and ads when looking for something on the internet.
Other system changes allow ad injection into all websites that users visit – they see pop-ups, deals, offers, banners, coupons, and other intrusive content even on sites it should not be present. In some cases, such ads can be malicious and redirect users to sites claiming that their systems are infected with malware. Due to this, victims end up installing suspicious apps on Macs and then are constantly bothered by requests to buy a full license for the software.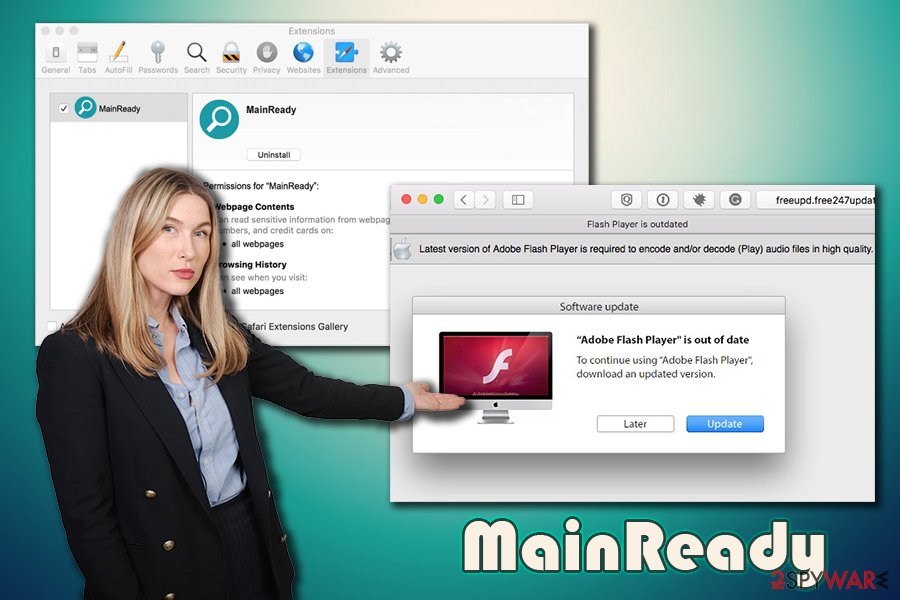 Main Ready is a potentially unwanted program that sets Safe Search as a default search provider on the web browser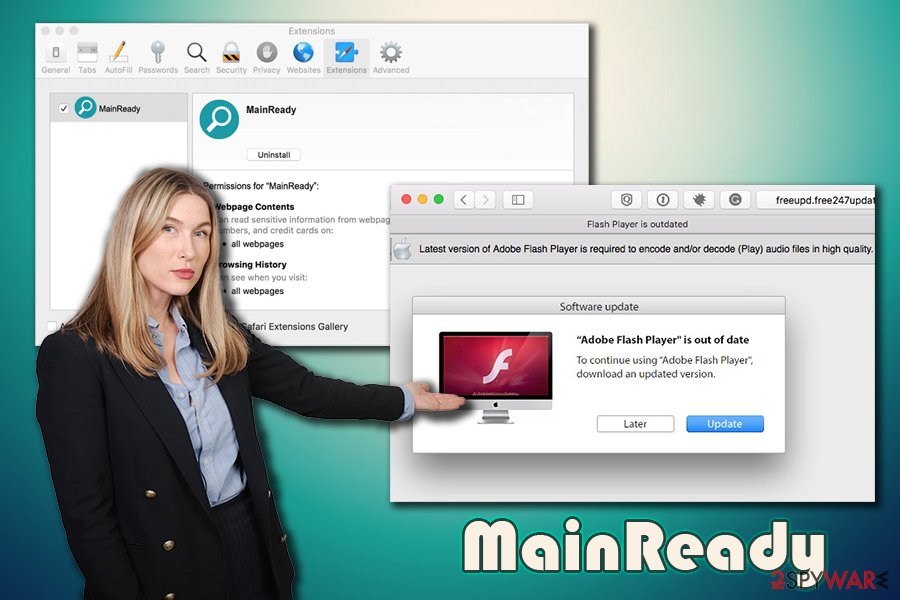 Main Ready is a potentially unwanted program that sets Safe Search as a default search provider on the web browser
Pop-up ads and redirects are not the only issues related to the Main Ready virus. Upon installation the app grants itself permissions that should never be provided:
MainReady 1.0

Permissions for "Main Ready":

Webpage contents
Can read sensitive information from webpages, including passwords, phone numbers, and credit cards on all webpages

Browsing history
Can see when you visit all webpages
Without a doubt, such permissions can be extremely dangerous when granted to a malicious app like MainReady, although users never agree to this in the first place, since the permissions are granted during the installation of bundled software. Thus, many users might not even know that their credit card and other sensitive information can be potentially exposed to unknown cybercriminals, resulting in financial losses or even identity theft.
Even if the app is caught in the act, users might not be able to remove the Main Ready virus that easily. This is because the "Uninstall" button might be grayed out, and the web browser settings might also be pre-set. Therefore, if you struggle with this malicious app termination, you should get rid of all the related files manually or scan your Mac with anti-malware. For the best results, we also recommend using optimization software Reimage Reimage Cleaner Intego.
Macs are not immune to malware and adware – prevent the installation of unwanted software
To describe MainReady correctly, we should explain distribution techniques, which are shady, to say the least. Users found the malware installed on their system after installing "Adobe Photoshop 2020 Crack" or similar tools that would help them bypass the licensing process of a particular program. In such a case, the Main Ready virus is bundled along with the so-called software crack programs.
Additionally, users might get tricked by fake Adobe Flash update prompts that can be encountered all over the internet. One of such fake messages reads:
Adobe Flash Player is out of date!

The version of "Adobe Flash Player" on your system does not include the latest security updates and has been blocked. To continue using "Adobe Flash Player", download an updated version.
The problem with Flash is that many users are associating the plugin with multimedia functionality – and it was one of the main tools for the purpose for many years. However, this flawed software[3] was long replaced by new technology and is no longer required by regular users. Thus, keep that in mind and never download and Flash Player "updates" since you don't need them in the first place.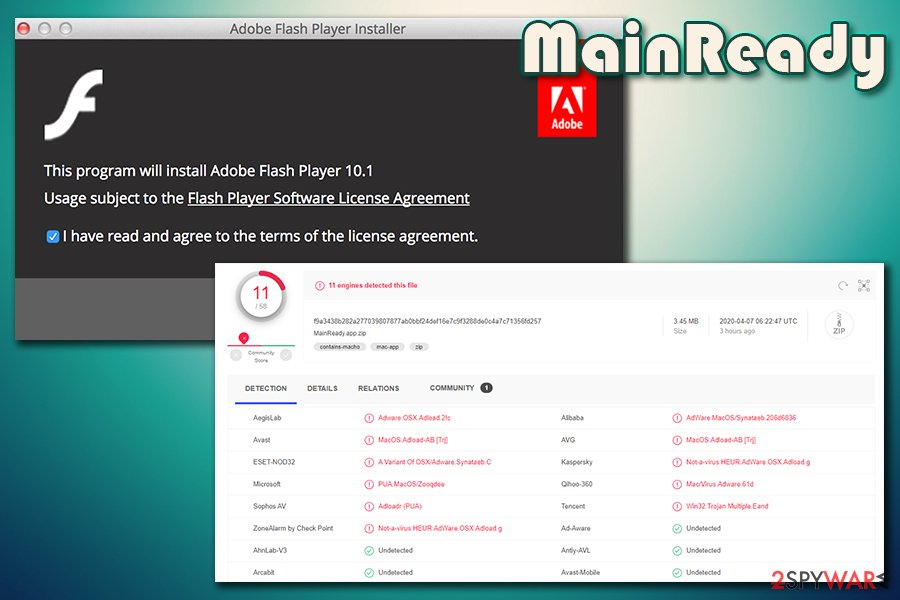 MainReady installer is typically distributed as a compressed installer of fake Flash Player update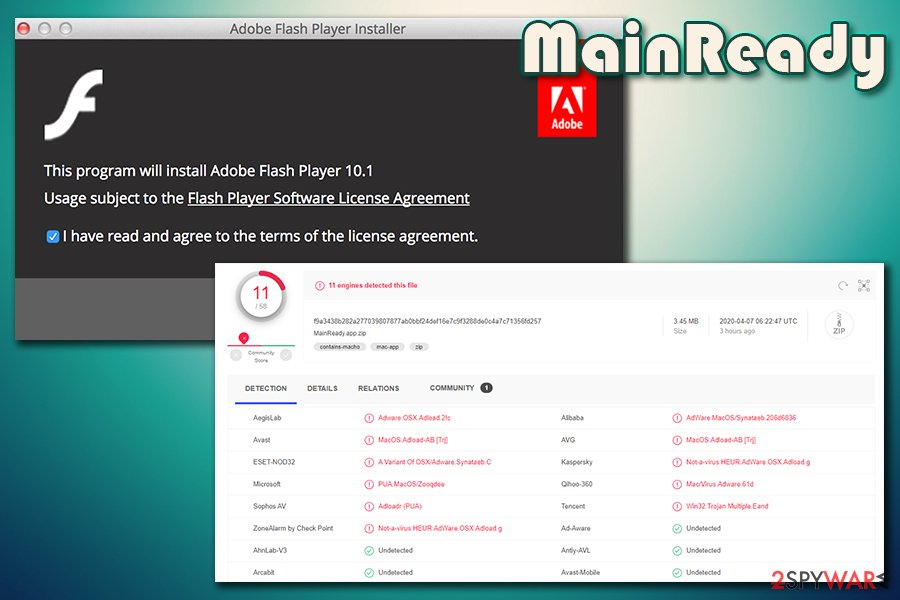 MainReady installer is typically distributed as a compressed installer of fake Flash Player update
Finally, we could not stress enough how important it is to stay away from pirated software installers and software cracks. These tools are often injected with malicious code or bundle additional components once installed. To make matters worse, anti-malware software can not defend you from malware inside cracks, so there is no way to check if the tool is malicious in the first place.
Finally, employ your Mac with reliable third-party security software and opt for downloads from official sources. If you insist on visiting third-party sites, ensure you pick Advanced or Custom settings when dealing with software bundle packages.
Eliminate Main Ready virus to ensure security of macOS and your personal safety
It is best to perform MainReady removal with the help of anti-malware software, as the malicious app drops a variety of files on the system that might not be eliminated by simply dragging the application to Trash. Nonetheless, if you want to try manual elimination way, you should check the following folders for malicious .plist files:
~/Library/LaunchAgents
~/Library/Application Support
~/Library/LaunchDaemons
After that, you should reset all the installed web browsers to completely remove Main Ready virus from the system. Otherwise, the unwanted ads and redirects might continue, even after you get rid of the related files. Nevertheless, keep in mind that there might be other unwanted apps or malware installed on your computer, so you should scan it with anti-malware just as a precautionary measure.
You may remove virus damage with a help of Reimage Reimage Cleaner Intego. SpyHunter 5Combo Cleaner and Malwarebytes are recommended to detect potentially unwanted programs and viruses with all their files and registry entries that are related to them.
This entry was posted on 2020-04-07 at 07:28 and is filed under Mac Viruses, Viruses.