MacKeeper – the program that should provide useful features and improve the performance of macOS devices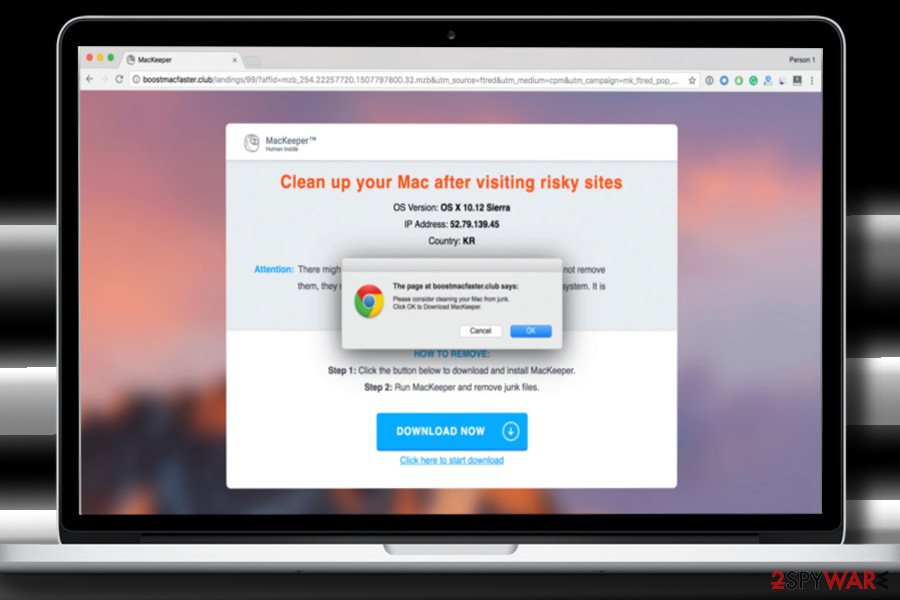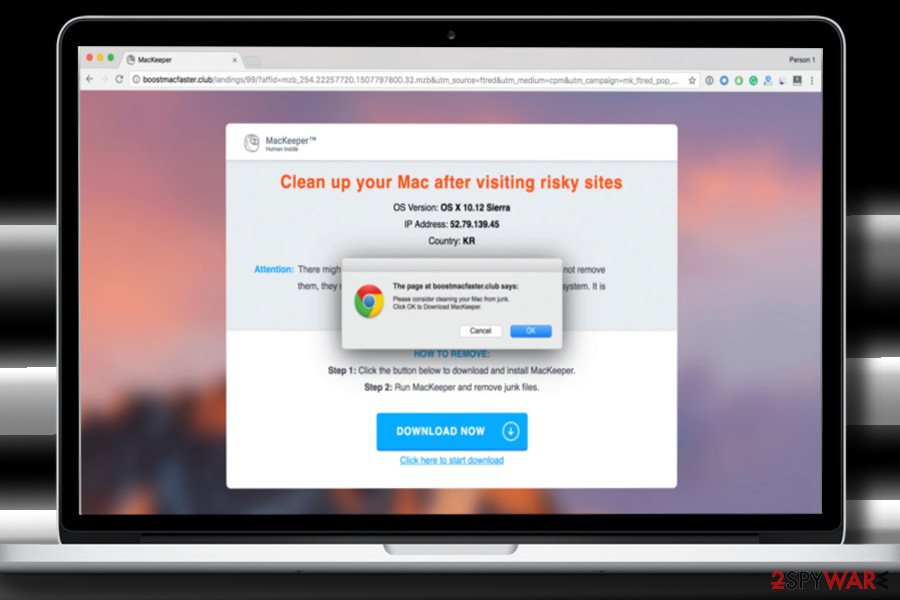 MacKeeper is the program that has not so positive reputation online due to intrusive advertising campaigns and PUPs associated to this name of software. It should be a useful system optimizer with security and AV engine features but adware creators abuse the name and inject PUPs on websites you visit, so revenue can get generated and the shady program installed without your permission. If you see pop-ups, banners, redirects, and other material on the screen that is keeping you from accessing normal content, surfing common sites, the PUP is most likely running on the machine.
MacKeeper App is promoted as a Mac maintenance and optimization tool. Its developers claim that it's a number one selection of millions of Mac users due to powerful scan engine, 24/7 support service, and other advantages. However, when looking at its reviews online, users' opinions divide into two groups. A part of users claim it to be one of the best optimization tools used ever; the others consider it to be a virus due to advertisements and pop-up ads. However, it's a fact that MacKeeper is NOT a virus, and it can't perform illegal activities on the user's PC.
Name
MacKeeper
Classification
System tools
Compatibility
The PUP and all the issues regarding the application occurs on macOS devices only
Danger level
Not dangerous. It's a legitimate Mac optimization tool that does not implement malicious activities on the system.
Issues
Users complain that redirects constantly promote the program and trigger pop-ups, banners, other material with shady content that leads to suspicious or even insecure sites on the internet
Why is it called a virus?
Some people claim it a virus due to irritating MacKeeper pop-up ads and issues regarding the fake software installs. The legitimate program shouldn't create any issues with your device
Removal
If you are not satisfied with this tool, you can eliminate it manually or with the help of antimalware tools that can find, detect and remove MacKeeper alongside other related files or apps
Repair
Since this program can alter some settings on the machine and damaged files in the system, you should recover virus damage using a tool similar to

Reimage

Reimage Cleaner

Intego
MacKeeper has been launched in 2010 by ZeoBIT, LLC. In 2013, the software was sold to Kromtech Alliance Corp. The previous company, ZeoBIT, used aggressive marketing strategies to promote the MacKeeper software, which consequently earned a bad reputation for the product. As a result, the company was sued for using deceptive tactics to convince users to purchase the full version of the software.
According to AppleInsider[1], the company didn't admit its fault but agreed to settle the lawsuit[2] for $2 million instead of going to trial. The indicated amount of money was put into a fund to cover expenses of attorney fees, refunds to users, and administrative costs. Therefore, users who purchased the software prior to July 8, 2015, were eligible for a full refund. However, those willing to fill a claim had to do it before November 30, 2015.
The current owner of MacKeeper is Kromtech Alliance, and the company has significantly lowered the program's campaigns. Although you can still run into MacKeeper pop-ups while browsing the Internet, they are not aggressive as they used to be when the product was owned by ZeoBIT. The current company that develops and controls the product (Kromtech) states[3]:
As we move forward in this next chapter, one of our main focuses is to change the way MacKeeper™ is advertised and marketed: we've improved our advertising to offer useful and helpful information; we've revised the language used during our software installation process to make it the best customer experience possible; and in the coming months we will be donating much of our extra advertising space to non-profit organizations and worthy causes. We want to earn the trust and customer loyalty that MacKeeper™ deserves.
Such statements really do sound promising. Although it takes a lot of time to rebuild user trust, it seems that the company is taking small steps towards this goal. We can already see fewer complaints about MacKeeper ads in online forums.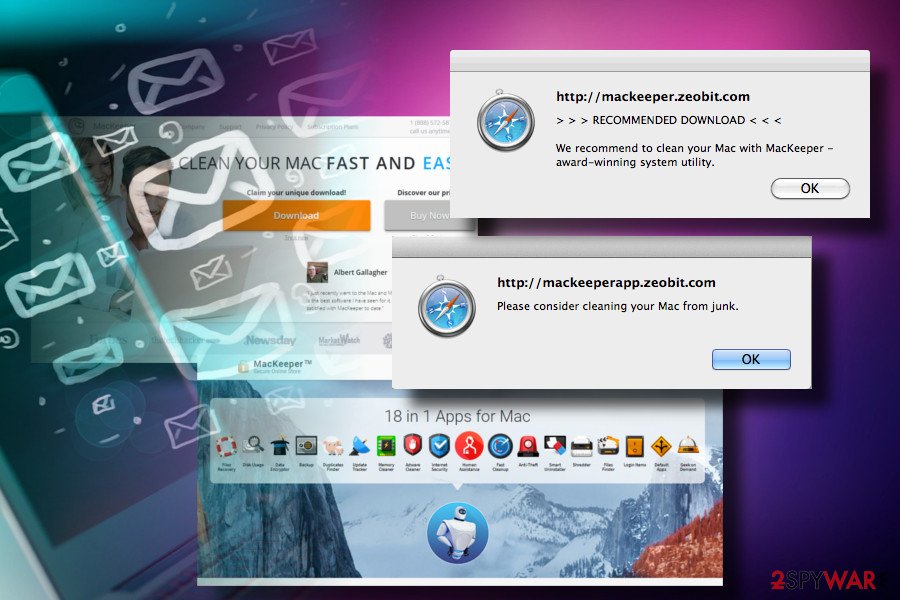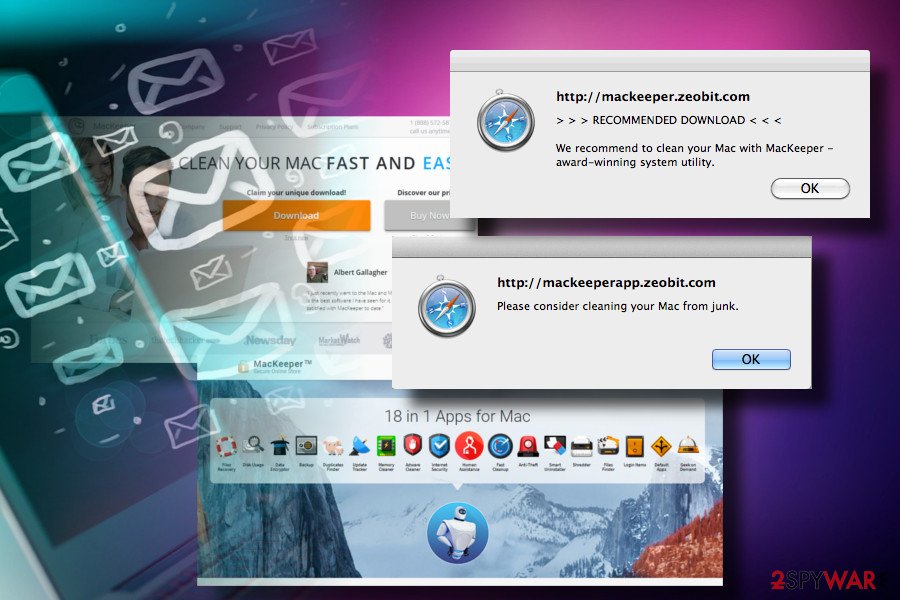 The reputation of the software is still not ideal – to be improved in the future
The latest version of the tool receives few negative reports, meaning that the company has already done much to get rid of erratic advertising campaigns and other traits disapproved by Mac users.
However, some of the user reviews give the impression that there is a lot of space for improvement, especially when talking about earlier versions. A popular discussion[4] on Reddit shows that users are still looking for an answer on how to get rid of MacKeeper pop-up.
Besides, we have noticed that some ad networks are still showing MacKeeper ads promoting the software. Usually, after entering the website, it displays a pop-up saying "Please consider cleaning your Mac from junk."
While the promotional website is not annoying or aggressive at all, it contains one promotional line that can be quite confusing: at the top of the page, there is an image saying that MacKeeper is the "#1 System Utility for MAC in the World." However, at the bottom of the page there is a line that clarifies the statement, saying that it is "solely subjective opinion" of the software developers and "is used purely for advertising and promotional purposes."
However, we have also come across websites such as www[.]apple.com-security.help/mackeeper that advertise the product in a much worse way. The detected site claims that "Your system is infected with 3 viruses!" and suggests that "personal and banking information are at risk."
Consequently, the site suggests to "remove viruses now," and clicking the button downloads MacKeeper to user's computer. However, we couldn't find any statements explaining how the web page detected "2 malware and 1 phishing/spyware" on our computer, which seemed suspicious and not really convincing to install the Mac maintenance product.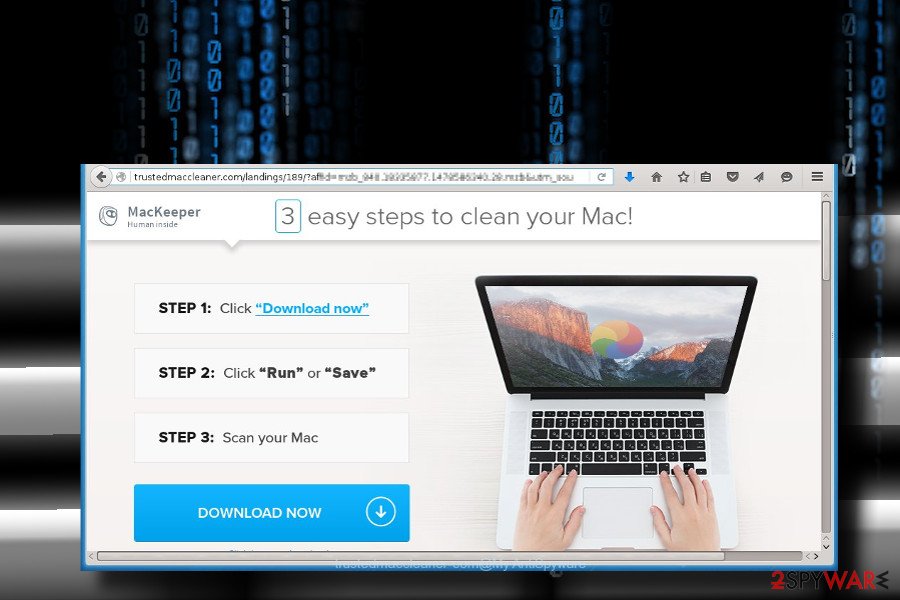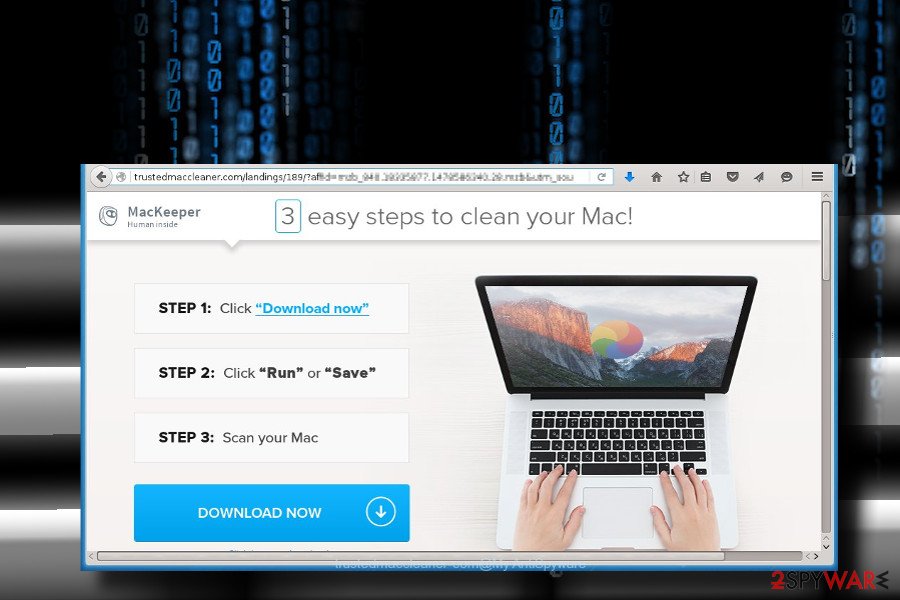 We hope that such advertising techniques will be replaced with different ones soon – in our opinion, it isn't the best way to advertise a software when trying to earn users' trust. While writing this article, we have downloaded the installer of the said program and uploaded it to VirusTotal file-scanning engine.
The results showed that 8 out of 58 computer scanners identify this file differently – some of them recognize it as a potentially unwanted program, while others mark it as riskware. However, the rest of scanners identify it as clean file, and we believe that if the new owners of the software continue to update the product, the detection ratio will drop to zero. In case you no longer want to keep the described program, you can find easy MacKeeper removal guidelines below the article.
The old version of MacKeeper: reasons why users didn't like it
Mac users who have been tricked into installing the older version of this program didn't seem to be too happy about it. Although the previous MacKeeper version was also presented as an optimization program that can improve computer's performance, many people reported it for not initiating significant changes that would boost Mac's performance.
The most annoying thing, according to users, is that it displays ads and keeps opening Chrome automatically. Despite the fact that some people may consider such activities malicious, MacKeeper advertising campaigns are more intrusive than destructive.
In many cases, MacKeeper optimizer appears not to be guilty for the ads that people receive. The culprit may be related to the adware-type programs that people may install bundled with freeware, so checking the system for ad-supported applications is a must before judging a particular program that is advertised via the pop-ups.
In a nutshell, MacKeeper is not a virus. The latest version of the software presented by Kromtech can turn out to be extremely useful for improving Mac's performance.
The security experts used to rank the previous version as a potentially unwanted program (PUP)[5] and recommended users to remove MacKeeper from their computers without a doubt.
That cannot be said about the new version, however, if you feel that it does not meet your expectations, you can easily uninstall it the way regular computer programs are uninstalled (via Control Panel).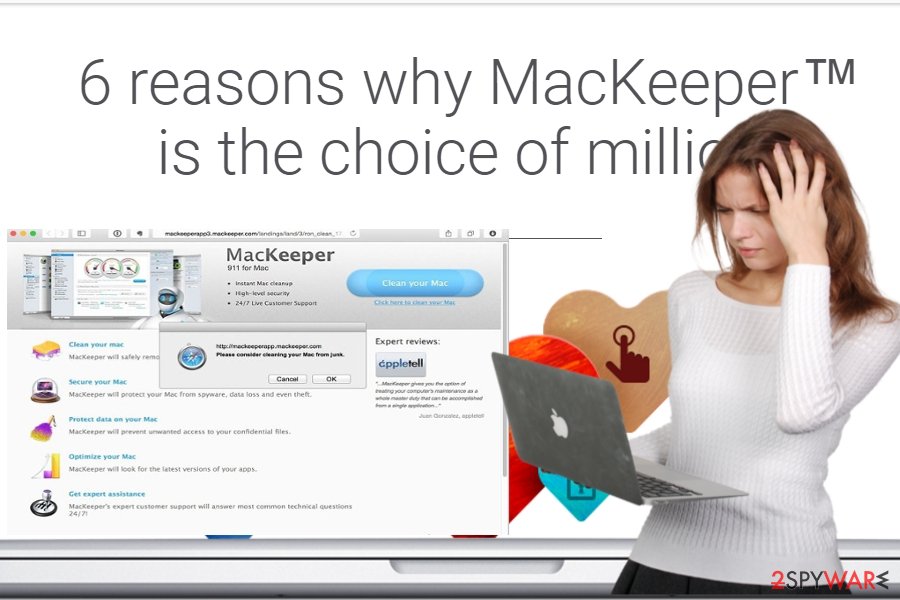 MacKeeper is presented as a highly popular product. Nevertheless, we do not recommend using this questionable tool.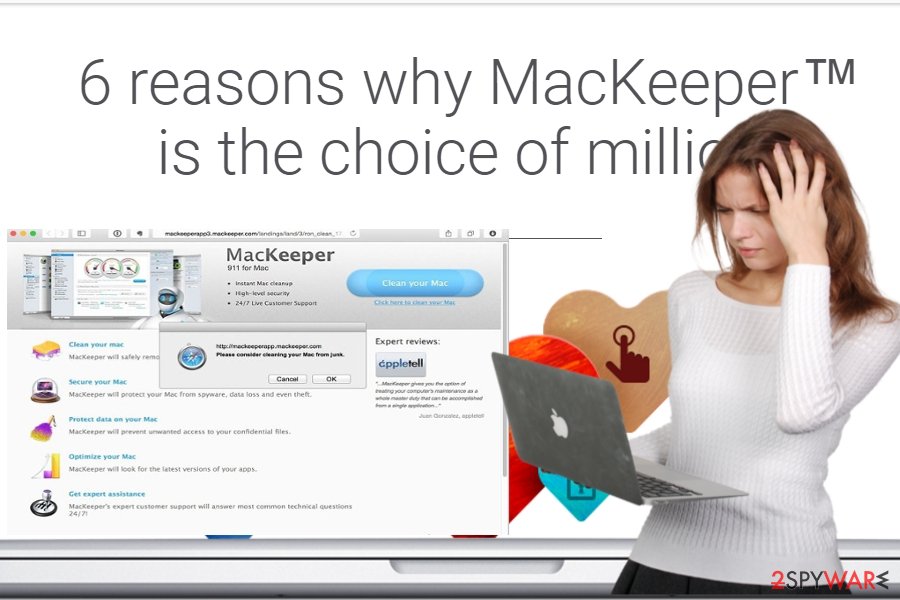 MacKeeper is presented as a highly popular product. Nevertheless, we do not recommend using this questionable tool.
Beware of fake software versions and untrustworthy download sources
The only place to download the current and legitimate version of MacKeeper is its official website and verified distributors' webpages. You should never attempt to download it from suspicious file sharing sites or, even worse, attempt to obtain its full version illegally.
We must remind you that attempts to install the paid license versions for free using software cracks or keygens can not only result in accusations of copyright infringement but a serious malware infection as well. You must know that cracks are often filled with malicious software such as Trojans that can spy on your activity. Even though MacKeeper is mainly associated with potentially unwanted programs, symptoms resembling adware or hijackers, you need to take malware infiltration possibility into consideration.
You may encounter advertisements in places that typically do not have any commercial content or redirects to additional sites with different offers, deals, software promotions. These are common unwanted programs symptoms, so you should take care of these installations that happen behind your back. You need to remove MacKeeper if it managed to install itself without your knowledge.
Tips to keep your computer spyware-free
If you are looking for a Mac maintenance program, you might consider using a highly-promoted application. Various tools may offer to help you to improve your computer's performance, but make sure that you use the legitimate copy of it. In addition, we recommend following the tip provided by NoVirus.uk[6] to keep your Mac spyware-free.
Today, macOS can be affected by adware in the same way as Windows. It means that your Mac may get infected with adware right after installing another freeware. Apple products are not immune to malware.
Therefore, we highly recommend you to be careful when installing software from the Internet. Besides, you should start checking freeware before downloading them on your computer. In order to make sure if your selected program is filled with "optional downloads", you should select the "Advanced" or "Custom" installation option and carefully check every checkbox.
The most important thing that you have to do is to find the list of 'optional downloads' and unmark all additional programs. In case annoying pop-ups started bothering you, you may need to check your system for adware programs.
Remove MacKeeper easily using the automatic method
If you decided that MacKeeper does not meet your expectations and you would like to remove it, you can use simple guidelines prepared by our team. In fact, the same instructions can be used for the removal of any other legitimate Mac app. Simply be careful when removing it, and it won't bother you again.
MacKeeper virus is not the correct term, but intrusive and annoying features create many questions, so you should find out is the extensions harmful or not. You can do that by running the anti-malware tool that determines particular files, applications, or tools that are potentially dangerous.
Once that is done and you can see what are the risks, you can rely on the same AV tool or different program and perform the automatic MacKeeper removal if needed. Another method is to uninstall the program, clean cache, downloads, trash, update to the newer software. Some of these steps can fix those issues with intrusive pop-ups and commercial material.
You may remove virus damage with a help of Reimage Reimage Cleaner Intego. SpyHunter 5Combo Cleaner and Malwarebytes are recommended to detect potentially unwanted programs and viruses with all their files and registry entries that are related to them.