Lucky Leap is an adware that decreases the speed of the PC and web browsers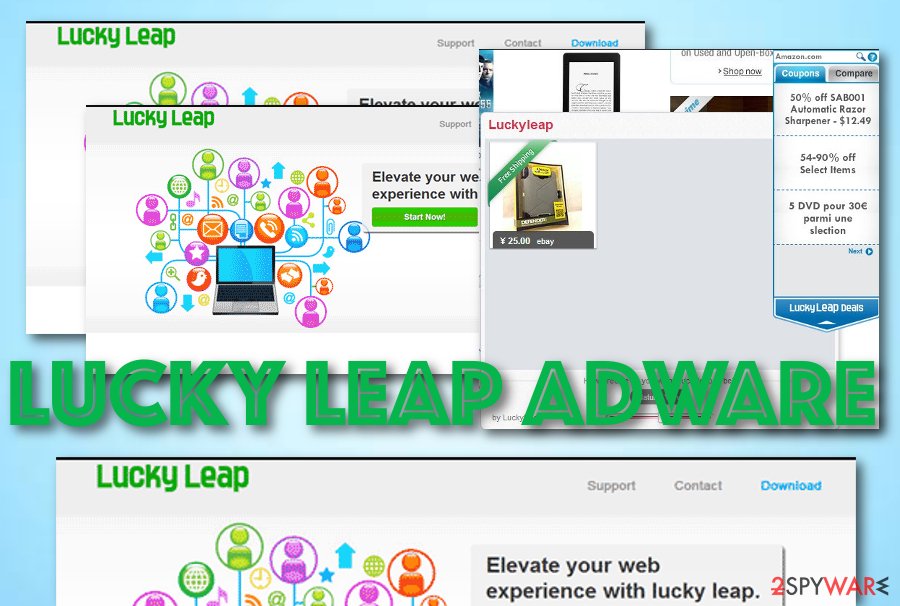 Lucky Leap is an adware virus that can bring other adware, browser hijackers, scareware to the affected computer system
Lucky Leap, also known as Adware.Yontoo, is a PUP that can be distributed by other third-party software such as Superfish, Yontoo, FBPhotoZoom, and 1ClickDownloader. Also, it appears that this product has some similarities with another adware[1] program named WebCake. Lucky Leap adware aims to load intrusive pop-ups and pop-unders on popular shopping websites such as eBay, Amazon, AliExpress, and others. Once the ads appear on your computer screen, you will easily recognize them as they are likely to come marked as "Ads by Lucky Leap", "Brough to you by Lucky Leap", "Lucky Leap ads", "Powered by Lucky Leap", "Advertisements by Lucky Leap", "Promoted by Lucky Leap", etc.
Name
Lucky Leap
Type
Adware app/potentially unwanted program
Target
This suspicious product mostly appears on Windows computer systems but can occur on macOS devices also. Web browsers that can get infected with this adware are apps such as Google Chrome, Mozilla Firefox, Internet Explorer, Microsoft Edge, and Safari
Distribution
The adware is known to get distributed by other third-party apps such as Yontoo, Superfish, FBPhotoZoom, and 1ClickDownload. Also, you can download such an application from secondary downloading sources such as cnet.com, download., softonic.com, soft32.com and can be delivered via a deceptive technique known as "software bundling"
Ads
The main goal of this PUP is to display advertisements while the user is visiting online shopping networks such as eBay, AliExpress, and Amazon. The provided ads are often marked as "Ads by Lucky Leap", "Brough to you by Lucky Leap", "Lucky Leap ads", "Powered by Lucky Leap", "Advertisements by Lucky Leap", "Promoted by Lucky Leap", etc.
Removal
If you have been dealing with this adware lately, you can get rid of it by purchasing relying antimalware software or by carrying out the step-by-step guide that has been added to the end of this article
Fix tool
If the adware has brought other PUPs to your system that performed some compromisation, try fixing the affected areas with a tool such as

Reimage

Reimage Cleaner
Lucky Leap virus mostly appears on Windows computer systems. When this happens, the adware tends to add rogue processes to the Windows Task Manager that allows the app to boot up whenever the computer is started. Also, the PUP might include bogus content in other directories such as C:\Program Files\ or C:\ProgramData.
According to a computer user, Lucky Leap has made his machine sluggish and also slowed down the Internet.[2] This can happen due to the program's ability to initiate multiple tasks at one time. If you are receiving an excessive load of adverts while browsing, it is very likely that the ads will slow down your Internet web browser and the computer itself.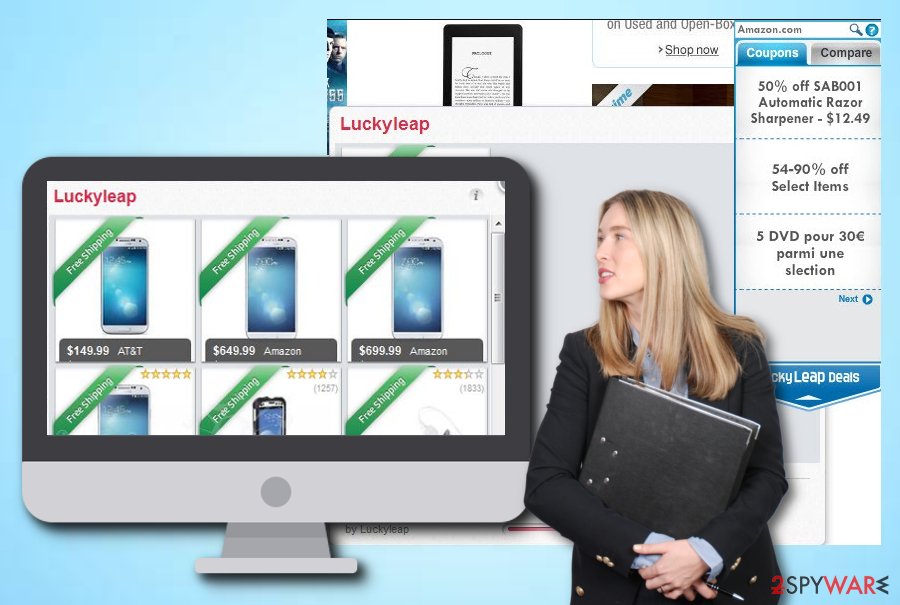 Lucky Leap is an ad-supported application that is similar to another adware program named WebCake
Lucky Leap ads can cause a lot of discomfort if not eliminated on time. These components can come in forms of pop-ups, pop-unders, banners, coupons, and in-text ads. You might be forced to receive bogus-looking offers that promote rogue security utilities, useless services, and various other questionable products just for receiving income.
However, the main income source of Lucky Leap is pay-per-click advertising.[3] The adware will try to load you with a big number of ads to collect as many clicks as possible. Remember, every ad that you step on and get interested in brings income to the developers. Do not let these people benefit from such unfair techniques.
Continuously, Lucky Leap might provide you with various fake reward claims and questionnaires that require entering your personal information or credentials. Do not type any sensitive data as your details can get easily exposed on the Internet and also, do not provide any banking data as you can get assigned to useless services.
In addition, Lucky Leap is likely to get you involved in redirecting sessions. The mean of this activity is to take you to developer-sponsored websites and push more deals to your computer screen. However, in some cases, you might be taken t a malware-laden website and infected with a dangerous parasite.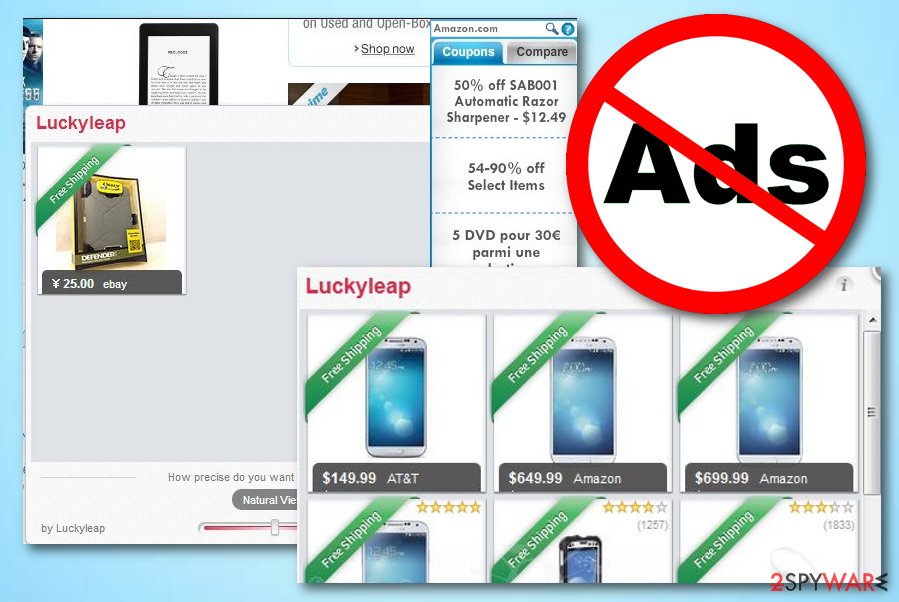 To continue, Lucky Leap might be interested in collecting your browsing details about your web browser, online history, and surfing experience. The adware might track information such as recently clicked hyperlinks, saved bookmarks, entered websites, your IP for providing more income to the developers or getting you involved in targeted advertising.
Lucky Leap removal is a way to solve this type of issue. You can use reliable antimalware products to get rid of the potentially unwanted program and all the additional components that it might have brought to your computer system. Also, if you find any compromised areas, try using Reimage Reimage Cleaner for the fixing process.
Also, you can remove Lucky Leap from your operating system and web browsers by using the manual step-by-step guidelines that have been added to the end of this article. Be aware to clean all affected locations, otherwise, the adware might be able to return within the next computer or browser boot process.
The appearance process of adware products
You are most likely to get potentially unwanted products from websites such as cnet.com, softonic.com, soft32.com, and download.com and from a deceptive technique known as "software bundling". This happens when the adware or another PUP is included in an entire package of freeware or shareware. Regarding this fact, you should always read the License Agreement, Privacy Policy and similar information of the freeware before downloading it.
After that, you should opt-out of unknown additions, such as toolbars, add-ons, extensions, and similar things when downloading freeware/shareware to your computer. For that, you should always select Custom or Advanced installation of the freeware and then try to find all suspicious checkmarks that claim that you want to install this potentially unwanted program. Also, avoid all modes that are marked as Recommended and Quick.
Continuously, you should avoid browsing on unsecured third-party websites as these pages can come filled with infectious content such as questionable advertisements, hyperlinks, scams, fake software updates, etc. If you ever enter a suspicious-looking website, you should close the web browser window and never return. Also, run a full malware scan with your antimalware product to check if your computer system is still fully secured.
Lucky Leap removal instructions
Lucky Leap removal involves getting rid of the adware and all other potentially unwanted products that it might have brought to the computer system. Be aware that the ad-supported application might have hidden bogus files and processes all over the computer system that also need to be eliminated in order for a proper elimination process.
There are two techniques that can help you to remove Lucky Leap from your computer system. The first one is known as the automatical method that involves downloading and installing a reliable antimalware program. This type of software is capable of discovering all the suspicious products in the system and eliminating them within minutes.
According to cybersecurity experts from ZonderVirus.nl,[4] you can eliminate adware such as Lucky Leap virus with the help of manual guiding steps. Note that this process includes cleaning and refreshing both your operating system and web browser applications such as Google Chrome, Mozilla Firefox, Internet Explorer, Microsoft Edge, and Safari.
You may remove virus damage with a help of Reimage Reimage Cleaner . SpyHunter 5Combo Cleaner and Malwarebytes are recommended to detect potentially unwanted programs and viruses with all their files and registry entries that are related to them.