Kerumal is a misleading adware-related website that may continuously appear on a web browser as a new tab window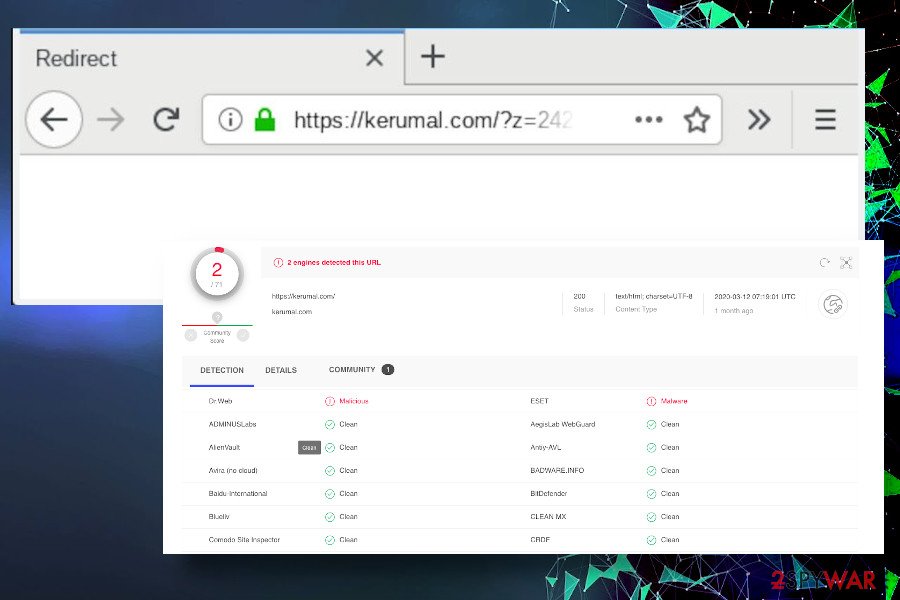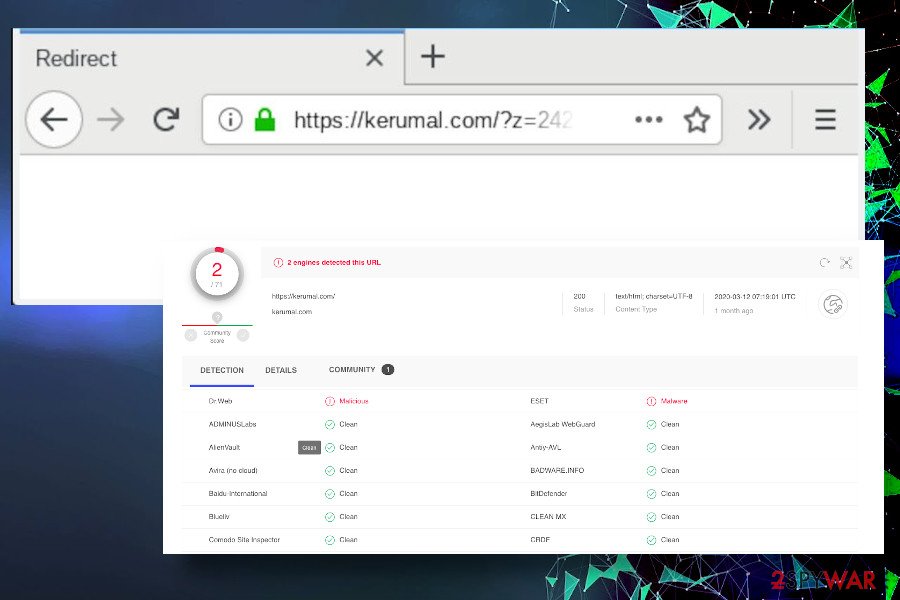 Kerumal is a highly suspicious domain that has been blacklisted in various cybersecurity-related forums for malware. Many people reported that Mozilla Firefox and Google Chrome keeps redirecting to this website every 15 minutes. Note that web browser's redirects to Kerumal and related domains, including break.tv, remark.net, rdtk.io, the-major-news.com, and others are not normal, as all these domains are actively involved in advertising campaigns, and the sole reason of abnormal web browser's behavior is adware[1] infection.
The website kerumal.com cannot be visited by simply typing its name to the address bar. Google Chrome, Mozilla Firefox, Safari, or any other web browser may start redirecting to kerumal.com on a particular schedule due to the potentially unwanted program (PUP), known as adware. Typically, this application settles down among the web browser's plug-in list without being notices, since it is distributed in disguise with freeware[2] and shareware as an "optional" component. However, it can hardly be opted out because its installer is preselected and hidden under the Quick installation method.
Title
Kerumal
Classification
Adware, browser redirects
Installation technique
Kerumal PUP spreads chained with freeware and shareware. It's one of the pre-selected freeware components, which is installed on a target system by default unless the user chooses the Advanced installation technique and removes a checkmark.
Post-installation symptoms
When installed, the adware initiates scheduled redirects to kerumal and affiliate domains. In addition, it generates intrusive Kerumal ads, popups, banners, and other advertising content. Web browser's performance diminishes, common freezes occur.
Removal options
Just like any other adware-type program, it may be eliminated both manually and automatically. If you have a professional antivirus program, set it to perform a full system scan. If antivirus does not detect this malware, open the list of installed apps and carefully check for unknown programs.
Fixing malware damage
Freeware bundles may initiate multiple changes on the system. For example, they may change multiple registry entries, create duplicate files, corrupt web browser's settings, and similar. To fix such and similar damage, we recommend using

Reimage

Reimage Cleaner

Intego utility.
The so-called Kerumal virus is not a malicious computer infection. Based on the website information online, the domain itself is not malicious. It's a relatively new domain, i.e., one year and three-month-old, though it has been estimated that it attracts more than 9,000 visitors daily. However, one of the AV engines detect this URL as malicious, VirusTotal[3] reveals. Moreover, more than one forums related to cybersecurity claim that their web browser is continuously redirecting to the kerumal website and its affiliate domains. Finally, AVAST and MBAM are giving warnings saying:
Threat Blocked. We've safely aborted a connection on Kerumal.com because it was infected with URL: Blacklist.
Kerumal adware may cause other web browser-related side effects, such as multiple ads on random websites, pop-ups, banners, interstitial ads, excessive hyperlinks, web browser freezes, and similar. In other words, Kerumal virus is a type of malware that triggers various inconveniences while browsing the web. It's main task – display advertising content and boosts traffic to misleading third-party websites.
The adware-type browser's plug-in is a misleading app on its nature. Developers apple deceptive distribution techniques to trick less IT-savvy people into installing and put effort into keeping it unrecognized for as long as possible. PUPs like Kerumal adware are used for monetization purposes, i.e., generate third-party ads, pop-ups and create forced traffic to potentially dangerous web domains. Having this in mind, people experiencing uncontrollable redirects to kerumal.com should check the system for the Kerumal virus without delay.
Many reputable download websites have been negatively assessed because of PUP distribution. Freeware distributors get monetized for each additional application installed, and there's nothing wrong about that. The biggest problem is, so-called, bundling distribution is that download websites tend not to regulate the activities of the additional applications. The latter was seldom checked for implementation of intrusive activities, such as a web browser's hijack, ads, redirects, and similar. Currently, a significant improvement regarding freeware download websites is noticed, though people still have to be cautious when installing freeware since apps like Kerumal virus tend to pass malware checks.
Keep in mind that Kerumal adware may turn web browsing activities in a hazardous practice. Even though it cannot harm the system directly, it's a type of browser plug-in that may display a vast amount of third-party ads and pop-ups that disguise links to potentially dangerous domains. Most of the Kerumal ads contain advertising material and may be linked to unpopular online markets. However, some of the pop-ups may report about bogus malware infection, offer to try a free virus scanner online, which eventually informs multiple malware infections and trick people into downloading scareware or another intrusive app.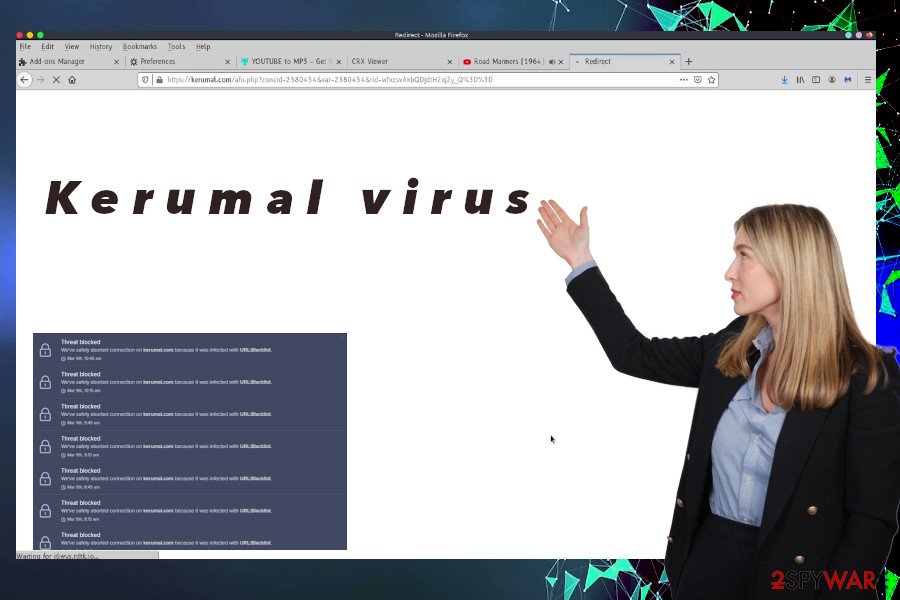 Kerumal virus is a suspicious plug-in designed for advertising purposes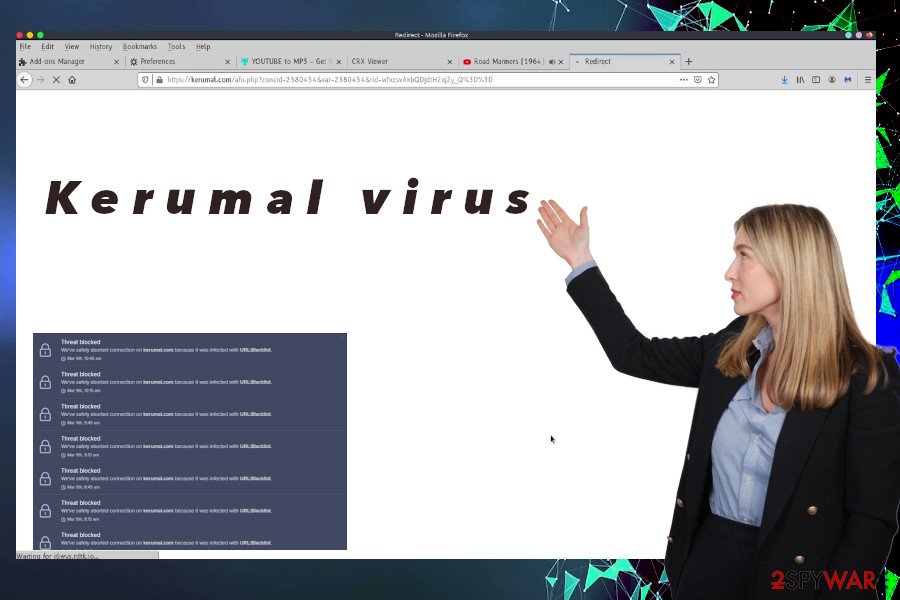 Kerumal virus is a suspicious plug-in designed for advertising purposes
This particular plug-in is also accused of a chain consolidation with other potentially dangerous websites. It is set to initiate redirects every 15 minutes of web browsing and, therefore, the user will keep seeing a forced new tab window kerumal.com. An attempt to close the tab or get back to the previous website will generate forced visits to break.tv, remark.net, rdtk.io, the-major-news.com, or similar domains that do not feature reliable content either. That's the main reason why so many people are looking for an easy way to remove Kerumal virus from Firefox.
Luckily, it's not difficult to uninstall Kerumal from OS or Windows. As soon as questionable activities are noticed, you should carefully check the list of installed apps. You are very likely to obtain more than one unknown application if the Apps folder, so make sure to uninstall each of them and then run a scan with an application that is capable of fixing malware damage. We recommend using Reimage Reimage Cleaner Intego. In case you cannot find any suspicious programs on the system manually, perform Kerumal removal with a reliable antivirus program, such as SpyHunter 5Combo Cleaner or Malwarebytes.
Tips on how to avoid potentially unwanted programs
Potentially unwanted programs, such as adware or browser hijackers, do not feature malicious train in comparison to ransomware, spyware, or other highly dangerous infections. As they are not built on the grounds of malicious codes, they tend to bypass malware checks easily, which is why it is possible to run into adware or another potentially dangerous application on the official websites or even Google store. In this case, it is very helpful to make a brief analysis of the app by reading its reviews and comments on the Internet. Besides, download and install a reliable anti-malware software, which will inform you about hidden installers.
However, reputable download websites are nothing in comparison to third-party download sites that contain typically paid programs for free. Such websites attract visitors due to a variety of legitimate and never-seen-before apps, although downloading them poses a high risk of malware intrusion or even virus attacks. In general, cybersecurity experts recommend people not to download freeware just for fun. Deliberately consider whether you need a new app and have a clear ground why you need it. Then initiate research on the selected application and, if it has a spotless reputation, download it from a reliable source[4].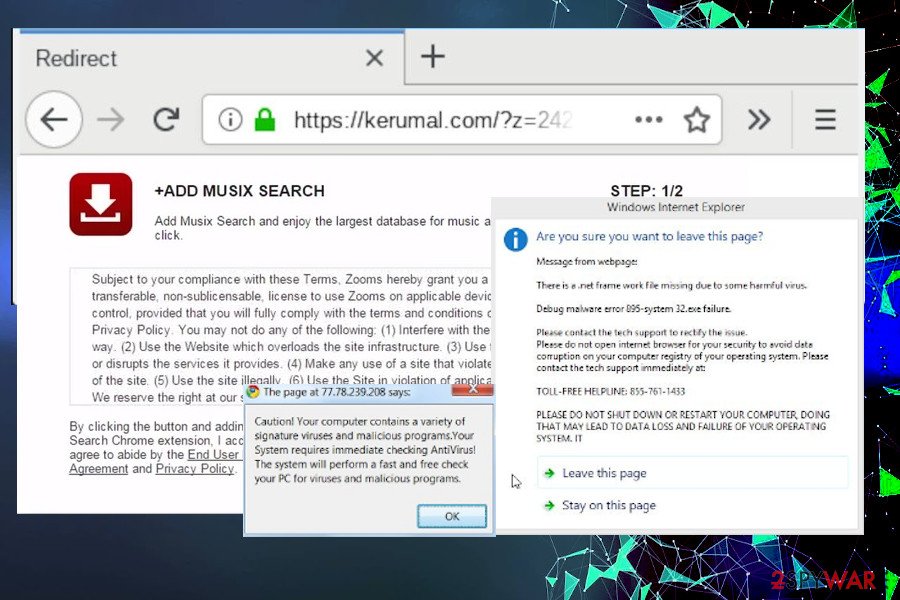 Kerumal malware may be responsible for multiple intrusive ads on your web browser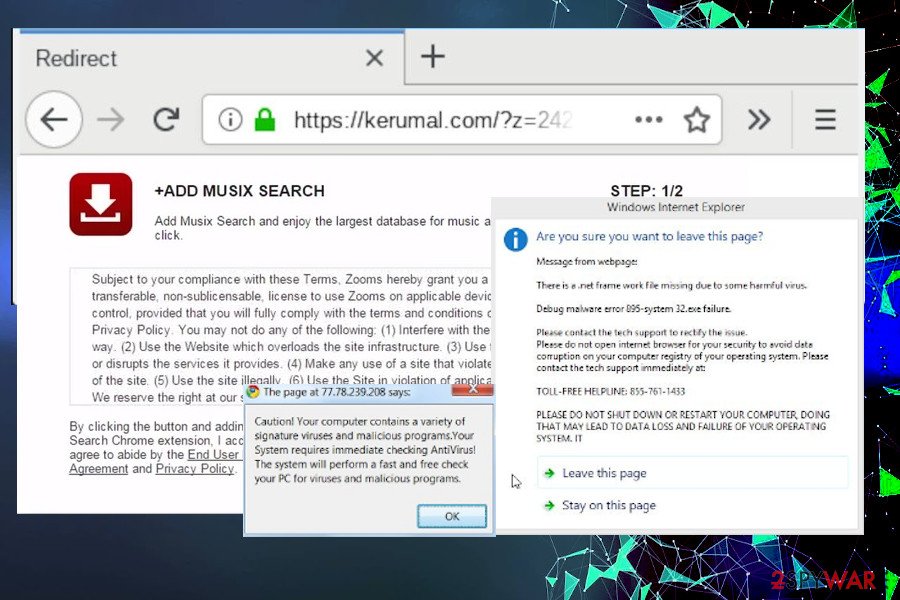 Kerumal malware may be responsible for multiple intrusive ads on your web browser
Finally, the ultimate way to the malware-free system is to pay enough attention to freeware's installation process. No to Quick or Basic installation options. These are a straight way to installation of adware or browser hijackers. Always select an expanded installation method (Advanced, Custom) as at discloses the bundle and enables users to deselect the preselected items. Typically, preselected programs are represented as plug-ins and add-ons that are supposed to improve the web browsing experience, but these are bogus claims, so don't get tricked.
A guide on how to remove Kerumal adware
To sum up, all the information listed above, the term Kerumal virus, is not very precise since the website does not directly impact the system or its performance. Nevertheless, redirects to the kerumal.com domain start of nowhere and may force you to visit sites that exhibit potentially dangerous content. Therefore, the only solution to stop unwanted redirects is to remove Kerumal from the system.
Some adware-type programs are incredibly persistent, which is why it may not appear on Apps list or other places where trustful apps are typically installed. Adware can be disguised under various diverse names and may be chained to other third-party apps. Therefore, automatic Kerumal removal is the most reliable way to get rid of adware from the system once and for all.
To make Kerumal removal more manageable for you, our experts have submitted a step-by-step tutorial, which explains how to eliminate the adware from the system and how to get rid of its add-on from Chrome, Firefox, IE, Safari, and others. Upon adware removal, we recommend scanning the system with a repair utility bReimage Reimage Cleaner Intego to ensure that the changes it might have caused were successfully reverted.
You may remove virus damage with a help of Reimage Reimage Cleaner Intego. SpyHunter 5Combo Cleaner and Malwarebytes are recommended to detect potentially unwanted programs and viruses with all their files and registry entries that are related to them.