Hot Deals – an ad-supported application that makes online shopping a tiring process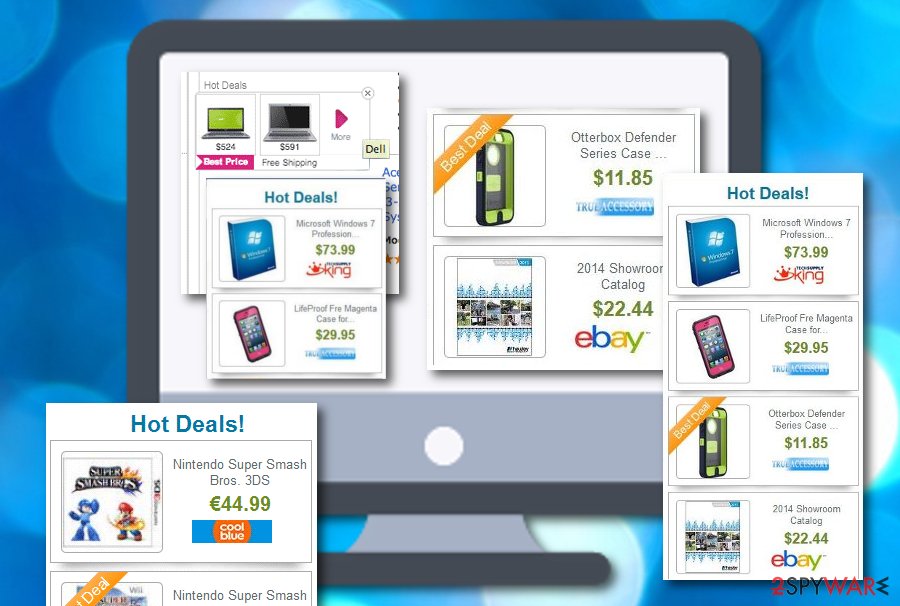 Hot Deals is a PUP that can modify web browser settings such as the homepage and new tab URL zone
Hot Deals ads are the sign of an adware program lurking somewhere on your computer. Users have already reported to experience trouble due to the appearance of these unwanted advertisements. The adware seems to drop intrusive notifications while visiting e-shopping websites such as eBay, Amazon, and Walmart.[1] It also appears that Hot Deals virus does not diminish itself after resetting web browsers only and an advanced removal process is required here. Continuously, others claim to have found rogue extensions such as "funshopper" and "fastncheap" inserted in the infected web browser app.[2] Even customers of eBay have reported this adware in the community forum stating that the potentially unwanted program completely messes up the Internet shopping process that becomes hard to maintain full quality.[3]
Hot Deals is an intrusive PUP that can be promoted by other adware[4] programs such as Topic Torch by SuperWeb LLC. Also, security researchers have discovered that this app was also distributed via KingBrowse adware in the past. Nevertheless, this suspicious product might not come alone and bring other unknown applications to the system. It is known that Hot Deals can get bundled with another third-party app such as WebCake that is also categorized as adware.
Name
Hot Deals
Category
Adware/potentially unwanted program
Promoted by
It is known that the suspicious product was promoted by another adware called KingBrowser in the past. Also, this app can be sponsored by another PUP known as Topic Torch that is developed by SuperWeb LLC
Bundled with
Research shows that potentially unwanted programs often come with additional products to the targeted computer system. This adware might get bundled with other of its kind, for example, WebCake
Appearance
Users have already been complaining that the ad-supported application shows intrusive pop-up ads on various e-shopping platforms such as eBay, Amazon, and Walmart. Also, the adware can make unwanted changes to your web browser apps such as Google Chrome, Mozilla Firefox, Internet Explorer, Microsoft Edge, and Safari
Related extensions
Once the PUP settles on the affected computer system, you can also find your web browsers filled with questionable extensions such as "funshopper" and "fastncheap"
Termination
You can get rid of the potentially unwanted program by opting for reliable antimalware software or using the manual step-by-step guidelines that have been added to the end of this page
Repair tool
If you have encountered any suspicious modifications or compromisation on your computer system after the adware attack, you can try repairing the corrupted areas with the help of an automatical repair tool such as

Reimage

Reimage Cleaner
"Hot Deals" pop-up ads is likely the first thing you will notice when infected with this adware program. The unwanted notifications will not leave you alone unless you get rid of the PUP permanently. Otherwise, these pop-ups can appear on any type of web browser, including Google Chrome, Mozilla Firefox, Internet Explorer, Microsoft Edge, Safari and interrupt your browsing work.
Nevertheless, Hot Deals can make it harder for you to perform e-shopping sessions as this adware tends to load intrusive notifications whenever the user is browsing via shopping platforms on the Internet. You might find your computer screen loaded with attractive-looking coupons, promo codes, and various deals. The intensity of such activity can relate to a sluggish browsing process and significantly affect the quality of the process.
Continuously, you should not fall for "Hot Deals!" pop-up ads even though they might look useful to you. The third-party developers might provide you with bogus offers and deals that require paying a big amount of money when you do not even receive the final product as promised. Also, be careful with clicks on the provided ads as you can accidentally get redirected to unknown directories on the web.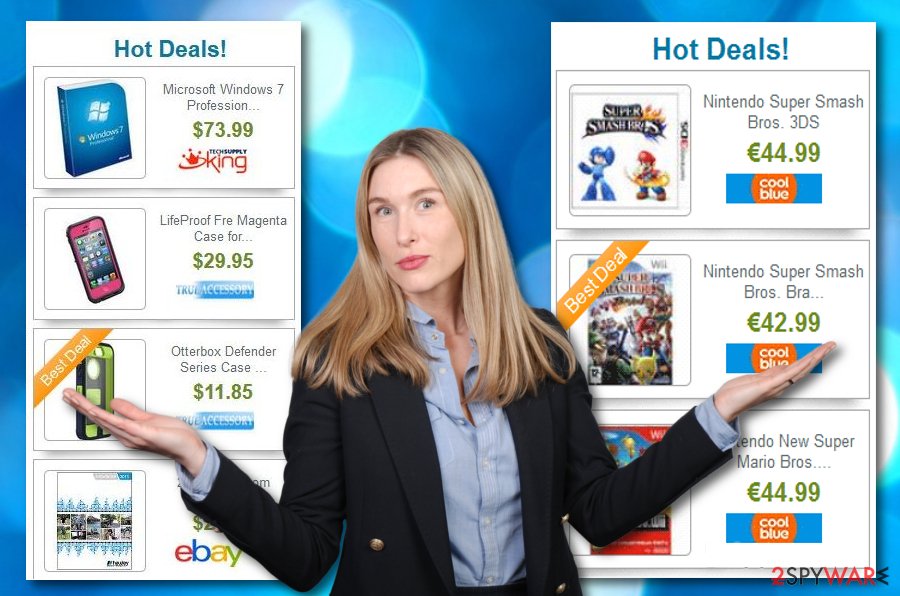 Hot Deals – adware that drops unwanted pop-ups while users are browsing on e-shopping websites such as eBay, Walmart, and Amazon
Hot Deals might take you to places that are also filled with sponsored offers and aim to gain benefits from the users. However, the worst thing about these redirects is that you might be forced to land on an infected domain that holds dangerous malware infections such as trojans or ransomware. This way your computer can get badly attacked and experience severe damage.
Furthermore, Hot Deals can start collecting information related to the user's browsing experience and habits. The developers might inject tracking objects such as cookies, pixels, or beacons for this purpose. Non-personal data such as recently visited websites, clicked links, saved bookmarks, the user's IP address, geographic location, and other details are gathered for sharing them with other parties for income or developing targeted advertising campaigns.
Hot Deals removal is the best way to deal with this adware program as if you do not remove the potentially unwanted app itself, you will not be able to stop the intrusive advertising, redirecting activities, and diminish the unwanted changes that the adware might have performed on your web browsers. Also, for repairing any compromised entries on your computer system, try employing software such as Reimage Reimage Cleaner .
In fact, you can successfully remove Hot Deals by using both automatical or manual techniques. However, the second one required more of the user's effort and time. Also, you will be prompted to clean web browsers from unexpected extensions and other objects. Continuously, you should reverse the modifications that might have been performed on your browser's homepage and new tab URL sections.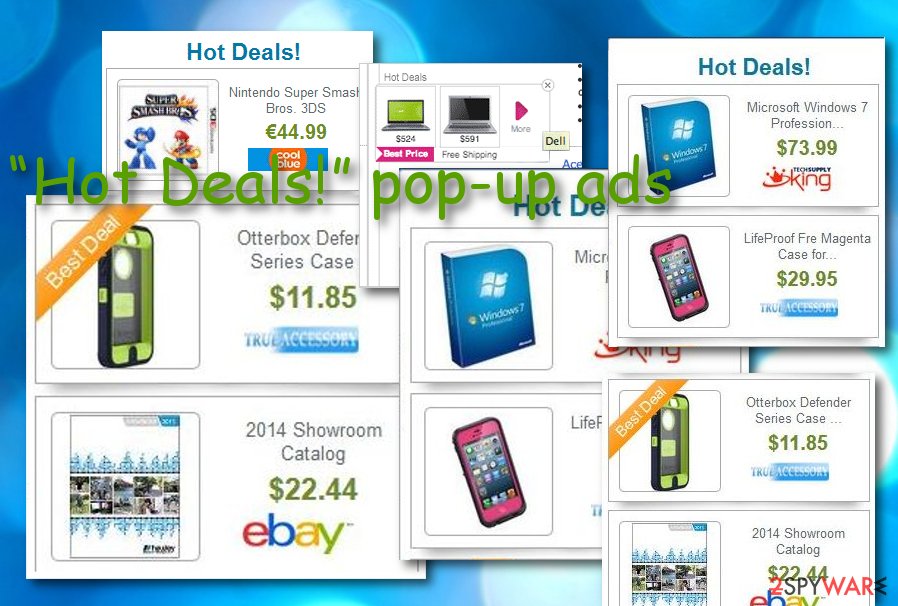 Adware can get delivered by other PUPs of its kind
In most cases, adware is added to the system without direct people's permission with the help of freeware, shareware, and other third-party programs. This distribution method is called bundling. Users are rarely checking what sort of program they are installing and what is attached to it. If you are trying to install a program you are not familiar with, do not rush its installation process by clicking next…next…next.
You should select the "advanced" or "custom" installation method in order to follow the entire installation process and then deselect all unwanted extensions/plug-ins/toolbars/add-ons you do not want to install. According to Virusai.lt experts,[5] you should be aware of various configuration that is marked as "recommended" or "quick" as these are the modes that allow various potentially unwanted products to appear on the computer unknown.
However, adware and similar PUPs often have more than one distribution source. These suspicious products often come together with other third-party apps such as adware, browser hijackers, scareware, etc. So, if you already have a potentially unwanted program messing with your computer system, do not be surprised to find additional products that might have been bundled with the primary program.
Removing Hot Deals virus from the affected computer and cleaning browsers
If "Hot Deals!" pop-up ads are bothering you, you should waste no time and scan your computer with updated anti-spyware that will check for adware lurking on your machine and find all sources that might have been affected by the PUP.
Afterward, you should initiate the Hot Deals removal process, otherwise, you will not be able to prevent the annoying incoming advertisements. For this task, you can also employ automatical software or use manual step-by-step instructions such as the ones that are provided at the end of this article.
Below you will be shown how to remover Hot Deals not only from your operating system but also from web browser applications such as Google Chrome, Mozilla Firefox, Internet Explorer, Microsoft Edge, and Safari as these apps can also end up filled with questionable-looking extensions, plug-ins, and other components.
You may remove virus damage with a help of Reimage Reimage Cleaner . SpyHunter 5Combo Cleaner and Malwarebytes are recommended to detect potentially unwanted programs and viruses with all their files and registry entries that are related to them.