Hide My History virus is the browser hijacker that manipulates browser settings to affect browsing sessions and inject search results with ads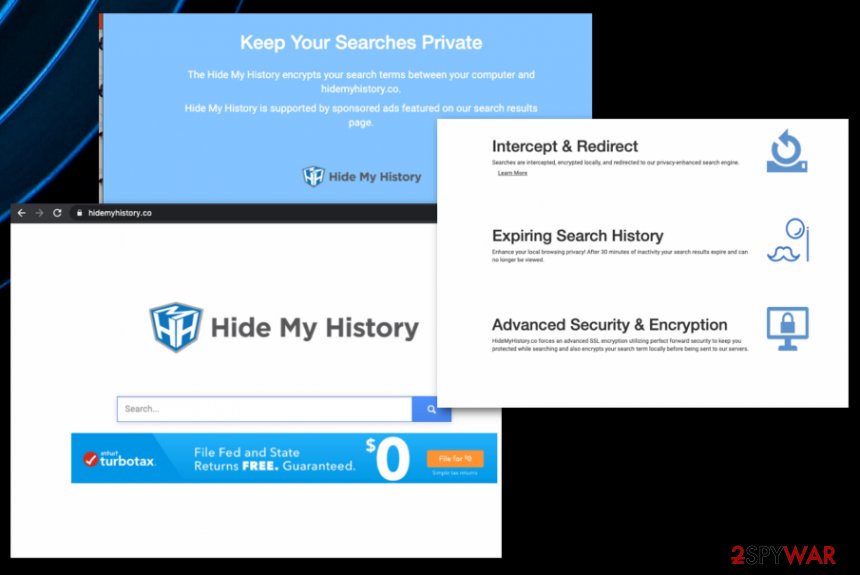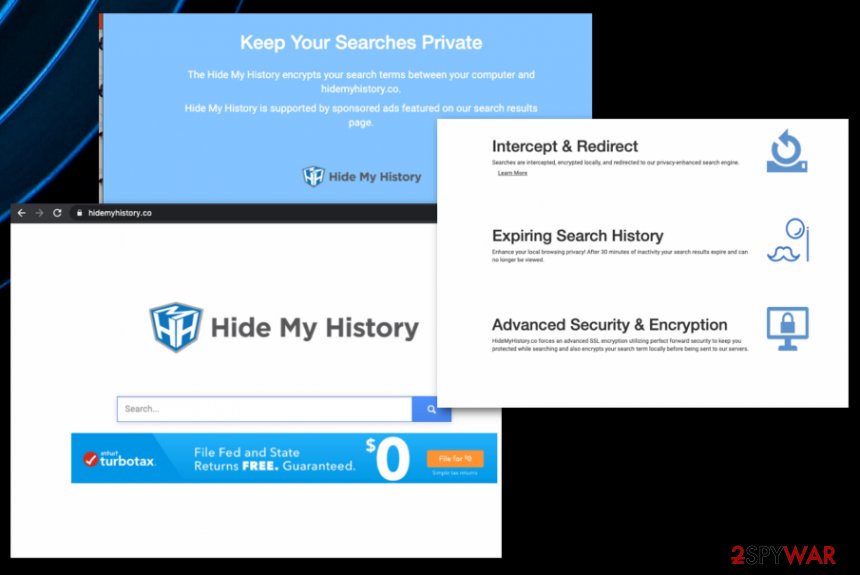 Hide My History virus is the potentially unwanted program that controls where the user is searching and browsing, so needed pages can get views and visits. This is the application that alters particular settings and preferences of the Google Chrome, Mozilla Firefox, Internet Explorer and other web browsing tools. Once these changes get made, time online is significantly diminished, and it becomes barely possible to access wanted pages and content online.
Malicious actors who develop these potentially unwanted programs like Hide My History virus, in most cases, focus on creating applications that can affect the machine and change preferences. Features like homepage, default search engine, new tab, and other settings get changed because the aim of browser hijacker is controlling what you see the most often.
Hide My History search is the hijacker that makes hidemyhistory.co domain the default search engine, so when you attempt to search for anything online, you get redirected straight through this site or a related engine Hide My Searches that is developed by the same company – Eightpoint Technologies Ltd. This relation may indicate that other programs can get possibly installed alongside the hijacker that affects your browsing sessions already. PUPs, in general, are known for installing additional intruders, so you should be aware and make sure to fully clean the system.
Name
Hide My History virus
Type
Browser hijacker[1]
Developers
Eightpoint Technologies – company related to other hijackers, adware, and PUPs, and involved with questionable software creators Polarities Technologies Ltd.
Domain
hidemyhistory.co
Damage
Potentially unwanted programs and the advertisers whose content hijacker promotes and delivers can access, track, and collect data regarding your browsing history, habits while browsing online, details on most viewed pages, and searched items. Also, since you get redirected to various online pages, you get exposed to possibly harmful material that can deliver malware directly on your system
Distribution
Insecure sites that deliver freeware and promote other programs can distribute software within bundles[2] that include PUPs too. Also, other threats can install hijackers or adware without any permissions or users knowledge in the first place
Elimination
Remove Hide My History virus with the help of a professional anti-malware tool that can find all associated programs and get rid of any potential risks
Repair
If the potentially unwanted program had enough time on your machine it may manage to affect crucial parts of the system folders and functions, so run a proper repair tool like

Reimage

Reimage Cleaner

that might find and fix these damaged files for you
Hide My History is the potentially unwanted program that is designed to affect the speed and performance of the machine significantly, even though the tool is promoted as the search engine with a particular privacy feature that encrypting search terms between your computer and the search domain. Besides those shady claims, developers also note that the search engine is sponsored by advertisers, so the commercial content is not surprising for users.
However, Hide My History virus victims are not fully informed what those third-party advertisements mean regarding the privacy and security of the computer that is affected by the PUP itself. Each pop-up, banner, blinking box, and in-text link can trigger redirects or even direct downloads of different programs, browser-based tools.
You should remember about those additional installations when you decide to perform Hide My History virus removal. Since this is not a program that can be easily found on the machine and removed manually from your device, you need proper anti-malware tools that can do the cleaning for you.
By choosing the automatic program for this process of deleting the Hide My History virus, you get all the benefits of this full system check because antivirus software checks various parts where malware and parts of the PUP can get hidden. When the program suggests to remove any programs – do so.
Then, you should manually go through browsers that got affected by the intruder and search for any Hide My History virus content, reset settings to default, and remove extensions, toolbars added without permission. You can find more in-depth instructions for this below. Also, more options for security tools and utilities needed for system repair like Reimage Reimage Cleaner .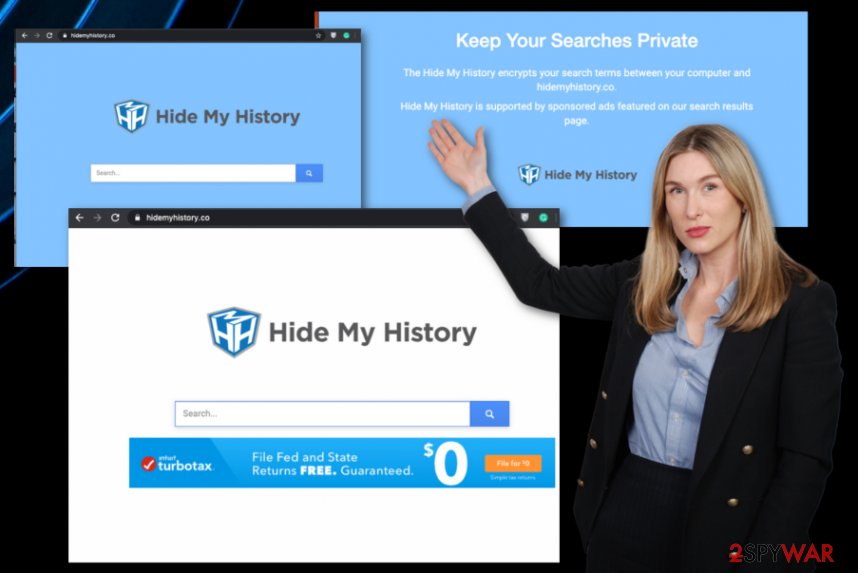 Hide My History virus is the hijacker that supposedly keeps your search private and improves results, but this is a PUP.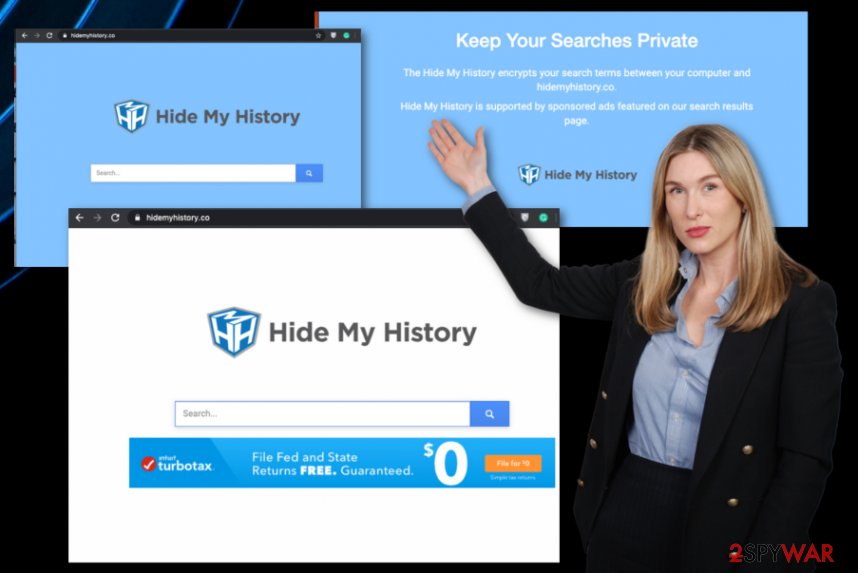 Hide My History virus is the hijacker that supposedly keeps your search private and improves results, but this is a PUP.
Hide My History browser extension is the additional method allowing the PUP to control your most visited sites and online traffic in general, so don't get surprised when you find browser extension, plugins, applications or add-ons installed without agreeing to any of this yourself. These programs as the browser hijacker itself are not requiring your permission or knowledge.
Hide My History virus is developed by the company based in California, so their privacy and security preferences and terms listed in the Site Privacy section on the site are all based on state laws. However, this is a potentially unwanted program, so there are many issues that may not be fully disclosed there or in general. Nevertheless, this is what hijacker developers claim about collected data:
In some circumstances, we may append an affiliate code to certain sites linked to our Hide My History product, either directly or through search results delivered to you. In doing so, we may collect a small commission in connection with your activity, but do not pass any of your personally identifiable information to any such third party sites. We do not utilize any third party to assist us with appending such affiliate code and we do not work with any third party site that collects personally identifiable information in connection with our participation in such affiliate programs.
These affiliated programs and third-party involvement should raise some questions and encourage you to remove Hide My History virus as soon as possible because there are no guarantees that your personally identifiable data is not accessed by malicious actors. If that happens, you may end up as a victim of targeted scams or more direct malvertising campaigns.[3]
This data tracking that potentially unwanted programs, associated advertisers, and the Hide My History hijacker itself are involved can lead to issues with your privacy, identity theft problems. You need to consider these possibilities when you encounter any of the potentially unwanted applications, so you can take care of the intruder and avoid permanent damage or additional issues.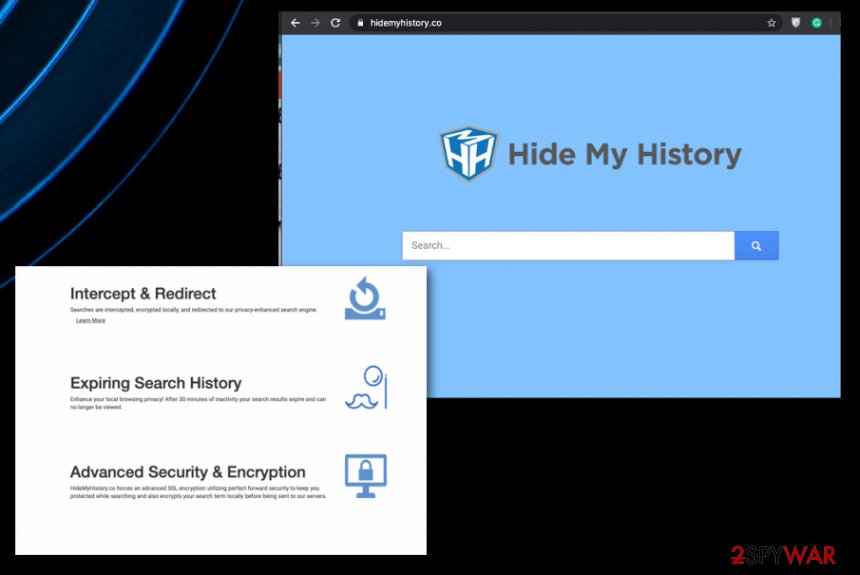 Hide My History hijacker is the search engine that is promoted as a valuable and useful online tool, but this is considered to be an intrusive cyber application.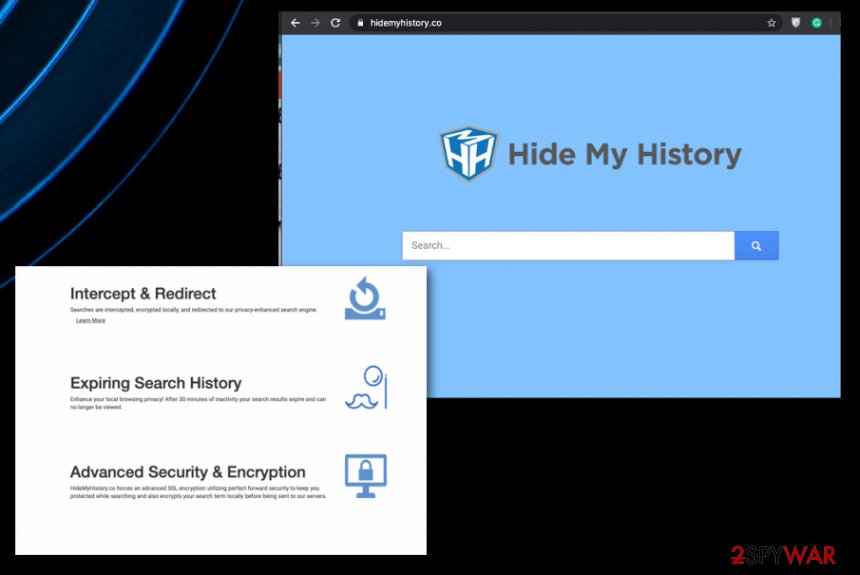 Hide My History hijacker is the search engine that is promoted as a valuable and useful online tool, but this is considered to be an intrusive cyber application.
Freeware installers deliver PUPs
When offers that suggest installing or update various software come to your screen, you should pay close attention to sources or ignore these alerts in the first place. Any automatic downloads can trigger the installation of pre-bundled programs, so many rogue applications at once. You cannot control such processes yourself, so anything can get added.
However, it is possible to avoid these PUP infections if you choose proper installation options. Automatic downloads happen when you select recommended or quick options and allow all included programs to get installed this way. Bundling is a common issue, so you need to choose Advanced or Custom installations every time you download anything.
By doing so, you unpack the bundle and can see all included applications, files, tools, and so on. Also, this feature allows you to deselect unwanted programs and add only those apps that you truly need. If you go for official providers and reliable sources, you can forget about such risk entirely.
Clean the system and change browser setting back to normal after the proper Hide My History termination
When the hijacker takes over your browser and controls every search attempt, you should go straight to Hide My History virus removal because the sooner you terminate the intruder the better, and your machine can get cleaned without much effort this way. Potentially unwanted programs can affect more crucial parts of the system before they deliver intrusive symptoms on your browsing tools.
Unfortunately, you cannot remove Hide My History virus manually, because the site that appears on the screen and extensions that get installed are not the initial intruders that control all the symptoms and affects the performance of your computer. You need to find all PUP-related files to get rid of the infection fully.
You may remove virus damage with a help of Reimage Reimage Cleaner . SpyHunter 5Combo Cleaner and Malwarebytes are recommended to detect potentially unwanted programs and viruses with all their files and registry entries that are related to them.