Handy Tab is a browser extension that seeks to gain revenue by displaying commercial content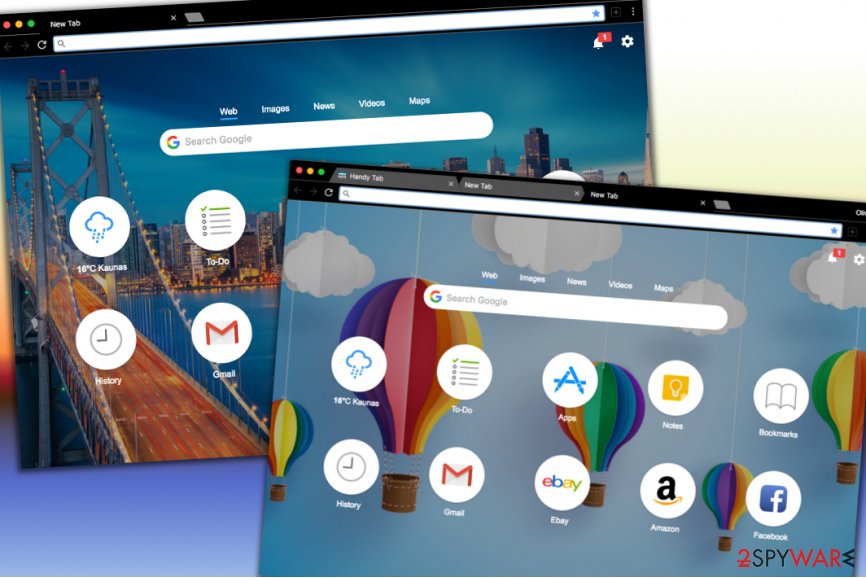 Handy-Tab.com is a browser hijacker that modifies browser settings of Google Chrome, Internet Explorer, Mozilla Firefox or Safari settings without users' permission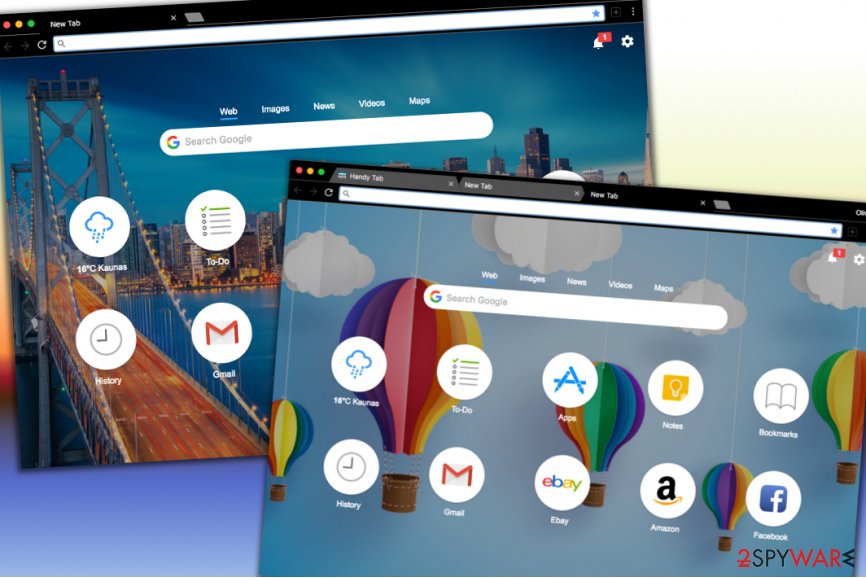 Handy-Tab.com is a browser hijacker that modifies browser settings of Google Chrome, Internet Explorer, Mozilla Firefox or Safari settings without users' permission
Handy Tab is an add-on that can be downloaded and installed from the Google Chrome store. However, this application usually attaches to the browser when users download third-party applications without paying much attention to the installation process. As soon as the potentially unwanted program gets into the PC, it alters browser settings[1] and sets the homepage, search engine, and new tab URL to search.handy-tab.com. Handy Tab tries to look as much useful as possible by providing a big variety of features that the users would be able to employ after downloading the extension to their browsers.
The bogus app offers to check the weather forecast, create to-do lists, write down notes, access bookmarks simply, and open various applications at a faster speed. You might get quickly attracted to Handy Tab extension, however, you should be aware that it can bring negative consequences such as altered search query results, redirects to affiliate domains filled with sponsored adverts, the constant delivery of commercial content, collecting your non-personal information and sharing it with other parties, installing additional potentially unwanted programs to the system, etc.
SUMMARY
Name
Handy-Tab.com
Type
Browser hijacker, PUP
Extension
When the browser hijacker infects web browsers such as Google Chrome, Mozilla Firefox, Internet Explorer, Microsoft Edge, or Safari, it adds the Handy Tab extension to them
Distribution
The bogus product can be downloaded from its official website and even the Google Chrome web store. However, it is more likely that you will receive the app together with bundled freeware or shareware
Symptoms
If you are infected with this browser hijacker, it will change the new tab page, homepage, and search engine of your hijacked web browser. Furthermore, you are likely to find the Handy Tab extension installed in your browser settings. Other signs might include frequent redirecting and advertising
Main dangers
Beware that the browser hijacker can bring other programs to the computer system, including malicious ones. This can happen if the PUP is used as an intermediary for malware distribution or if you have landed on a malware-laden location during a redirecting session
Elimination
Terminate the potentially unwanted program with the help of automatical antivirus software or use the manual instructions that have been included to the end of this article. If you have encountered any system damage, try repairing it with

Reimage

Reimage Cleaner
As soon as Handy Tab infiltrates the system and changes Windows Registry, as well as browser settings, it starts redirecting users' searches to sponsored domains. Most of the time, such locations will appear filled with questionable offers and deals. However, there also is a chance of landing on an infected website where malware is delivered.
Online advertising is also a common practice of browser hijackers such as Handy-Tab.com virus. However, aggressive ads and their redirects can not only disturb daily browsing sessions but also lead to malware infection. Additionally, fake surveys and tech support scams[2] can be encountered as well. Do not provide any sensitive information if you are unexpectedly asked by some type of fake reward claim or questionnaire.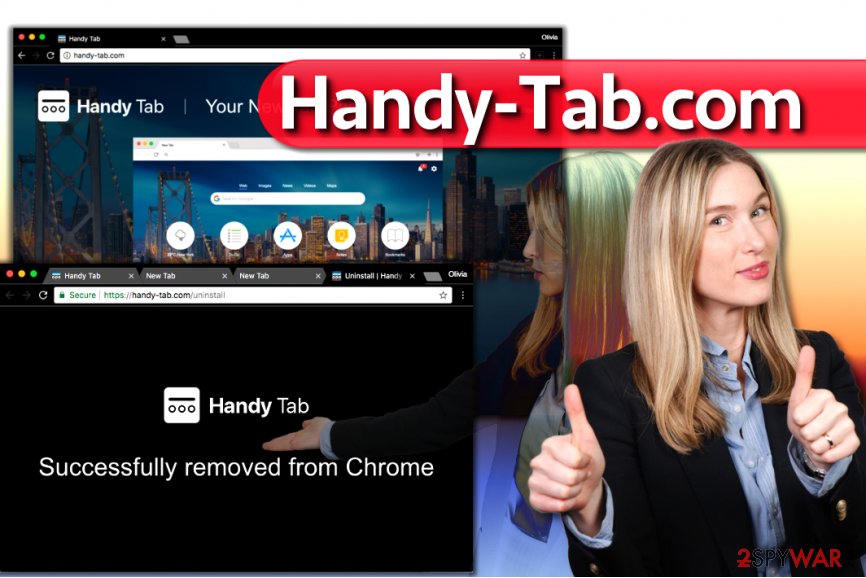 Handy-Tab.com is a potentially unwanted program that can be removed either by security software or by using manual removal guide below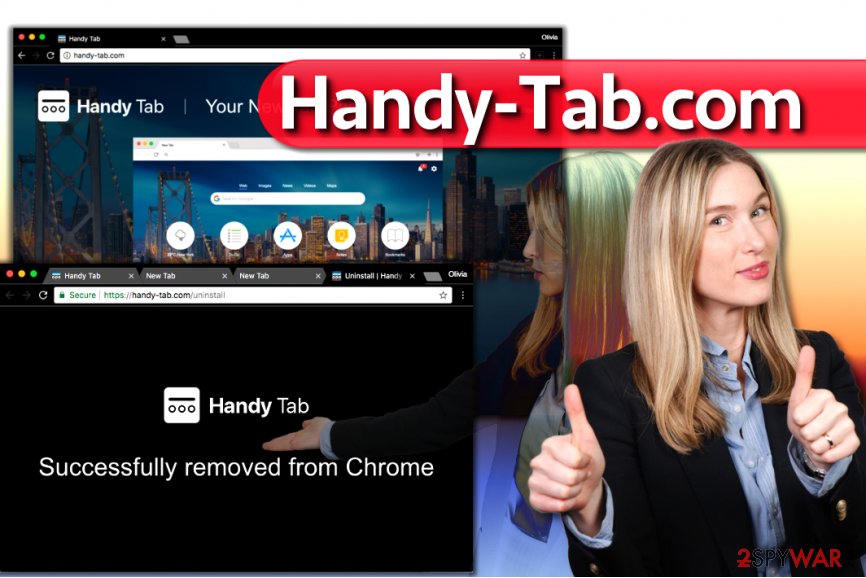 Handy-Tab.com is a potentially unwanted program that can be removed either by security software or by using manual removal guide below
Furthermore, Handy Tab virus might try to earn income from displaying targeted advertising posts. The developers deliver as many attractive-looking pop-ups as possible to collect clicks on the ads. Besides being very annoying and providing fake deals and offers, the incoming advertisements might increase into such a big number that can interrupt your browsing process. This can cause browser and system slowdowns[3].
Handy-Tab.com is also interested in tracking users' non-personal information. Browser hijacker authors use several data-gathering technologies (cookies, beacons, JavaScript, etc.) to harvest information, such as:
Search queries
IP address
Geolocation
Bookmarks added
Sites visited
Technical information, etc.
While this data is considered to be anonymous, certain personal details can be acquired by Handy Tab while asking users to fill in surveys and participating in various questionnaires. This type of information can also include contact details which you should avoid to reveal as you might not even notice how your email box or mobile phone will get spammed with rogue-looking offers.
Handy-Tab.com developers have made a statement in their Privacy Policy that personal information can be shared if it comes to investigation purposes or something else that is related to the law:
We may also share your personal information if we believe it is necessary in order to investigate, prevent, or take action regarding illegal activities, suspected fraud, situations involving potential threats to the physical safety of any person, violations of Handy Tab's or such Handy Tab Extension's terms of use, or as otherwise required by law.
Be careful while revealing certain information for questionable apps such as Handy-Tab.com as you cannot know where your data might end up. Some developers are interested in sharing collected details with other parties for monetary income.
Bypassing questionable search engines becomes a necessity if you are trying to keep your computer secure. To remove Handy-Tab.com from your web browsers such as Google Chrome, Mozilla Firefox, Internet Explorer, Microsoft Edge, and Safari, you need to follow instructions prepared by our security experts (you will find the guidelines below the article).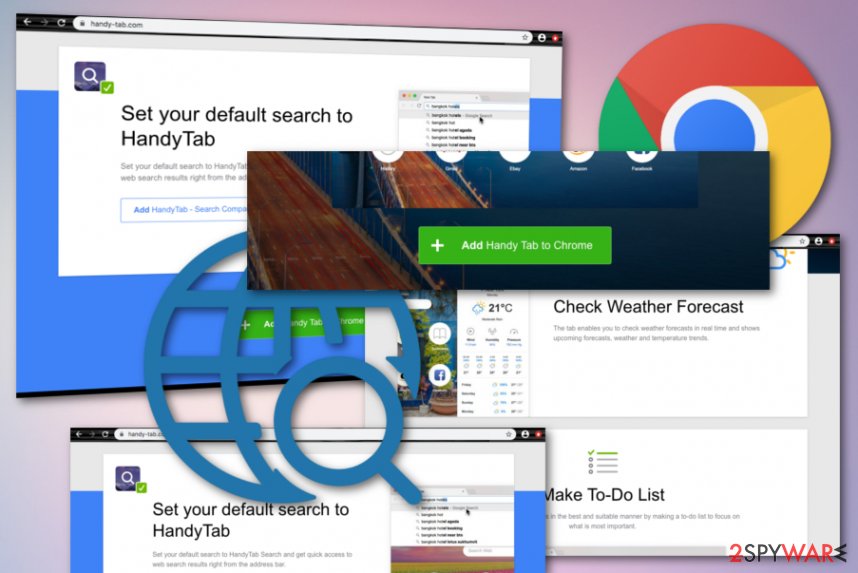 Handy Tab is a web browser extension presented as a very handy product in order to collect a bigger number of downloads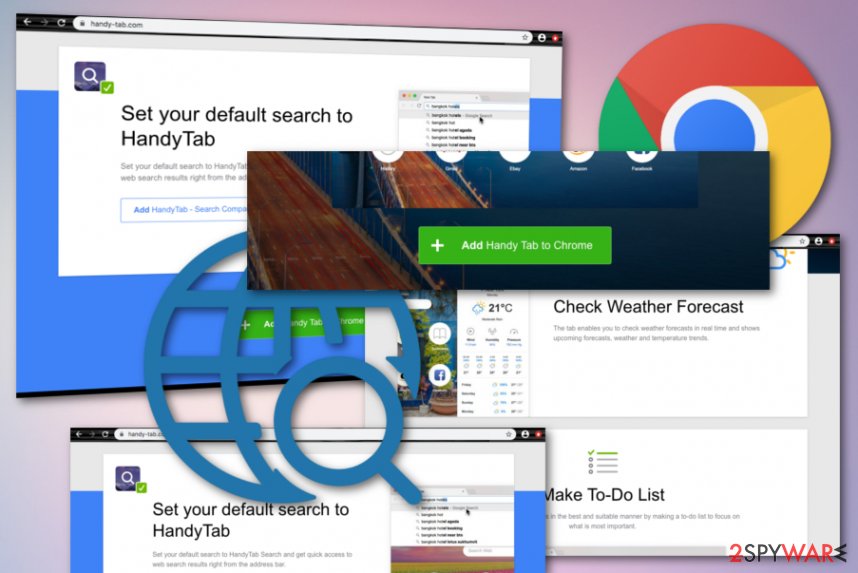 Handy Tab is a web browser extension presented as a very handy product in order to collect a bigger number of downloads
In case you find the Handy-Tab.com removal process confusing, you can always uninstall the hijacker automatically. We suggest that you use reputable security software that can detect hijackers and other PUPs, and then use Reimage Reimage Cleaner to bring all altered system settings to normal. Even though there is no 100% guarantee that this software will work, it is still worth giving a try.
Another reason to hurry up with the Handy Tab elimination process is that the browser hijacker might let other potentially unwanted programs to get placed on your computer system. This includes various adware apps, other browser hijackers, etc. Nevertheless, some developers might find the browser hijacker as an intermediary for malware delivery and try to include virus installation in its operation module.
Beware of Recommended settings during freeware installation
The main trick that PUP developers use for the promotion of questionable software is software bundling,[4] which helps to distribute a couple of programs together. It is a must to install free software carefully; otherwise, you can end up with several unexpected programs on your computer. These tips were provided by UdenVirus.dk team[5] – we find them extremely useful when trying to keep your computer at its peak performance.
To prevent the unexpected installation of potentially unwanted software, always read what every single line provided in the software installation wizard. Follow each step carefully and make a little stop on the installation settings stage.
Here, you need to configure the installation settings in order to install ONLY the program that you want. We strongly recommend choosing Custom or Advanced mode to install your download.
After selecting one or another option, you will get access to the list of "recommended" or "suggested" programs bundled with your download.
Deselect the checkmarks next to statements stating that you agree with the installation of a specific additional program.
Additionally, you can also take other precautionary steps to be sure that no browser hijacker ever appears on your computer system. For this purpose, avoid visiting websites that are marked as unsafe to proceed with, do not click on unknown content that can appear in such places. Finally, make sure that you have installed reputable antivirus protection that will always protect and save you if something goes wrong.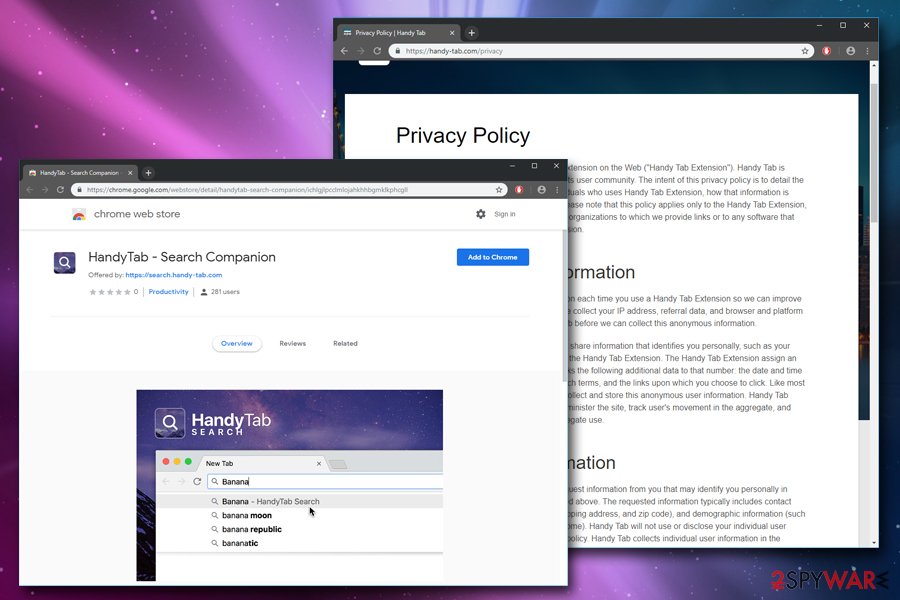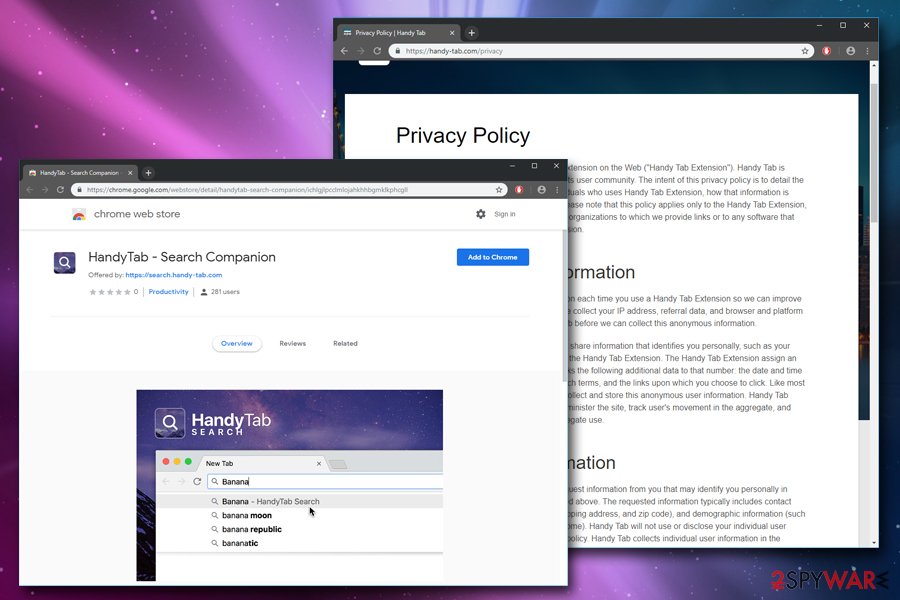 Get rid of Handy Tab with only one click
A quick and efficient Handy-Tab.com removal procedure requires using anti-malware software. Besides, you should make sure that the program is updated to its latest version to show you the best result in virus elimination. However, it is not the only way of deleting the unwanted browser hijacker from your computer. You can also rely on instructions prepared by our experts that are included at the end of this informative article.
If you are willing to delete the virus manually, follow each step of the provided guide and you will completely remove Handy-Tab.com virus from your machine without using anti-spyware or a computer technician's help. However, you should know that getting rid of the app from your operating system is not enough, you should also clean and refresh the infected web browser apps such as Google Chrome, Mozilla Firefox, Internet Explorer, Microsoft Edge, and Safari.
You may remove virus damage with a help of Reimage Reimage Cleaner . SpyHunter 5Combo Cleaner and Malwarebytes are recommended to detect potentially unwanted programs and viruses with all their files and registry entries that are related to them.