Flash Player Update virus is a scam seeking to trick users into downloading malware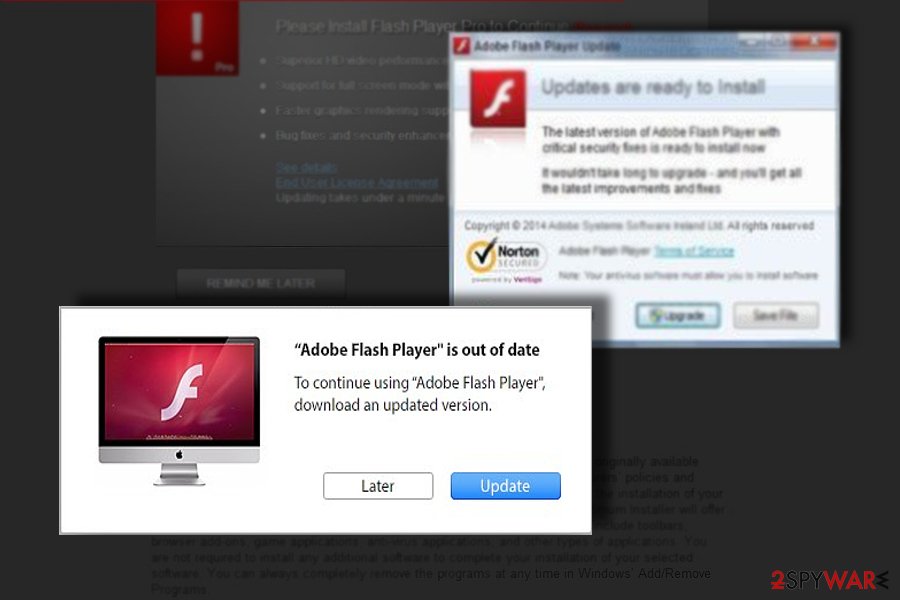 Flash Player update virus is a type of scam seeking to infect victims with malware. It can appear on either phishing or legitimate website and urge the victim to update the allegedly outdated Adobe Flash Player software.[1] However, it is just an online scam,[2] a deceptive alert which is seeking to install malicious software on the computer, such as ransomware, cryptominers, banking trojans, and similar threats. Recently, security experts warned victims that the pop-up is spreading XMRig miner.
Please, ignore the scam if you run into it while browsing the web. Also, to get rid of Adobe Flash Player Update virus, double-check the system with an updated anti-virus. It is highly recommended if you clicked on the fake alert on your browser.
SUMMARY
Name
Flash Player Update virus
Type
Fake update/deceptive pop-up/scam
Related viruses
Numerous threats can be related, including adware, malware, trojans
Infiltration
To infiltrate the system, the virus is using software bundling, insecure and corrupted websites
Symptoms
Bogus pop-up messages urging to update Adobe Flash player, ads claiming that Flash Player is out of date
Main dangers
Infiltration of dangerous viruses, such as ransomware, miners or trojans, the loss of personal information
Elimination
Ignore Flash Player Update. If you clicked the update button, use our guide below to eliminate infected components. If fake Flash Player update ads keep appearing, reset your web browsers and run a full system scan with anti-virus software
Optimization
We recommend using

Reimage

Reimage Cleaner

for fixing virus damage, e.g. corrupted files
Let us warn you not to recklessly install the update without proof-checking its reliability. Installation of such programs is usually followed by unwanted Adobe Flash Player Update ads, redirections to unknown domains. Here are the main tips how you can distinguish a fake update from the genuine one:
alerts suggesting to install the new update might appear on a completely unrelated website, e.g. movie streaming website
check the URL name of the source before installing the update. Install only from the official distributor. The website should provide you safe "http" connection
before you run the executable file check whether UAC message indicates the official publisher
Therefore, some vigilant users might suspect that there is malware behind these notifications and attempt to remove Flash Player Update virus.
Frequently, the adware disturbs users' browsing sessions, and there is no difference which web browser, Internet Explorer, Google Chrome, Mozilla Firefox, or Safari, is employed. It can show up on all Internet browsers that are installed on the system and ask to update the flash player to its latest version.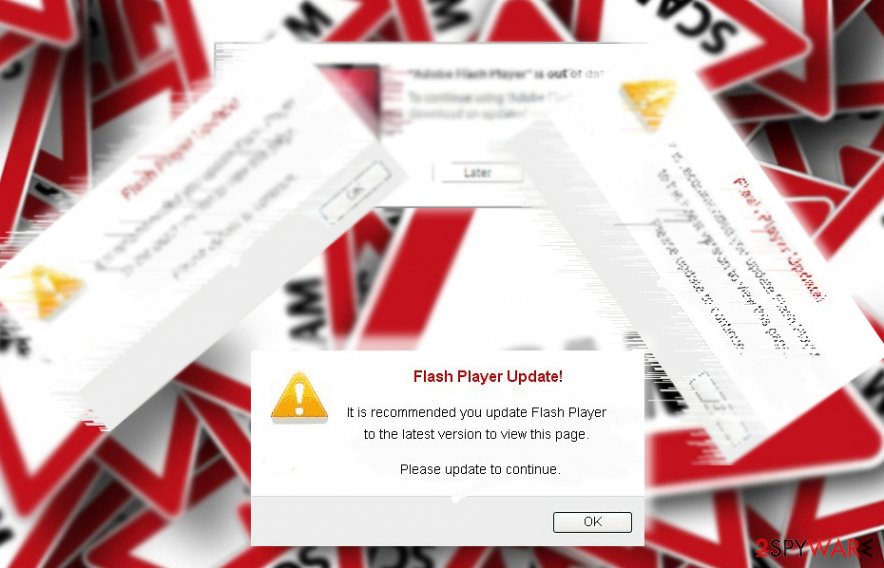 Flash Player Update! is a fake alert that works as a way to install more dangerous threats
It has been revealed that there is also the fake update scam versions spreading on MacOS.[3] If you have already started seeing such alerts on your browser, move on to Flash Player Update removal. For that, you will have to eliminate the adware that is inside your machine. You can use security tools like Reimage Reimage Cleaner or SpyHunter 5Combo Cleaner.
You may ask so how you can differentiate between real and fake Flash Player Update notifications. Enter the official website of the program and check whether your computer needs an update. The pop-up messages caused by adware usually emerge while you are browsing. Moreover, an attentive user might notice that the design of the fake update slightly differs from the original one. Take a look at these messages promoted by the adware:
New Flash Player is required to view this page
•100% FREE update
•Watch HD Movies online
•Supports FLV/Flash
•Beautiful HD video, faster graphics rendering, and high performance
Download will only takes a couple of minutes

Flash Player Update!
It is recommended you update Flash Player to the latest version to view this page.
Please update to continue.
You should not keep this adware for long because you may encounter unpleasant consequences caused by Flash Player Update redirect. In short, you may download the malicious update, or you may be redirected to other websites which offer to purchase other products. Their effectiveness might be questionable.
Versions of Flash Player Update virus
Adobe Flash Player is out of date
Similarly to the original version, Adobe Flash Player is out of date pop-up is a scam that once again abuses the popular name to inject unwanted software onto users' computers. While in some cases users will be prompted to downloaded bloatware (such as optimization tools, media players, driver updaters, rogue anti-malware, etc.), others might face malware and inject their computers with such treats like banking trojans, ransomware or keyloggers.
Users can encounter fake updates at any time during browsing. Therefore, you should never click "Update" and close down the tab. However, if you encounter bogus messages like Adobe Flash Player is out of date regularly, it is time to scan your machine for potentially unwanted programs.
Adobe Flash Player Was Not Found
Adobe Flash Player Was Not Found is a scam engineered by cybercriminals to install dangerous software on their computers or making them disclose their sensitive data. The fake pop-up ad claims that the correct version of "Flash Player was not found" on the system, so the installation of such software is needed to display the alleged content.
What makes this social engineering attack more believable is that it displays credentials which include manufacturer, currently installed version, and the latest version of the Adobe Flash Player. Once "Download and Update" is clicked, users will be redirected to suspicious websites in order to make them download promoted software. Never proceed with such offers as it is a scam, and you may end up with malware on your machine.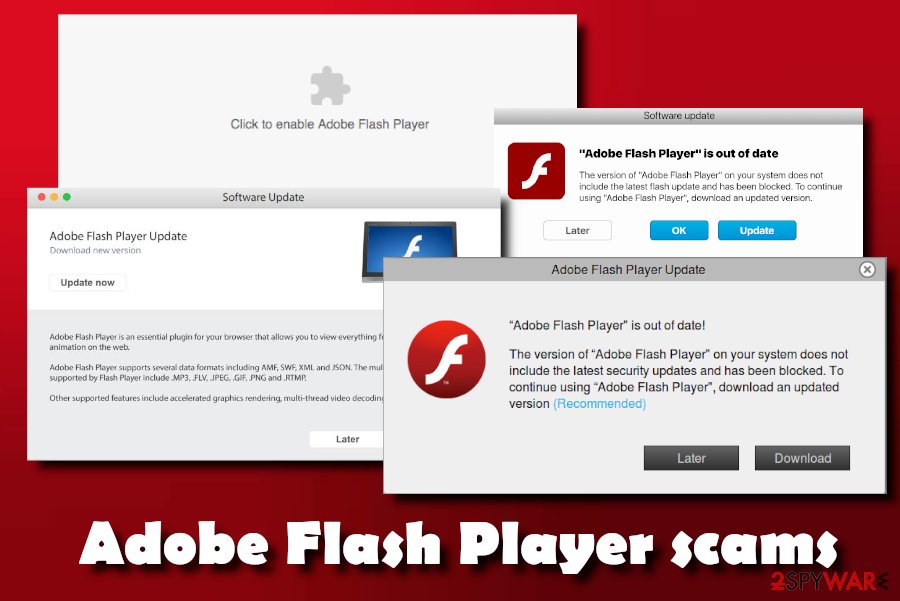 The fake Flash Player update warning is a malicious alert seeking to scare victims into downloading cryptominers and other malware
Flash Player is needed
Flash Player is needed is another fake pop-up that prompts users to download the alleged Flash Player. The goal of such a fraudulent message remains the same: to make users download and install potentially harmful software or make them disclose personal information. As usual, users should not pay attention to such claims and merely close down their browsers.
To completely remove Flash Player is needed pop-ups, users will have to eliminate the associated adware from their computers. The easiest way to do that is by employing security software, although manual elimination is also an option. The instructions provided cover the PUP elimination procedure.
A Flash Player Update is Required to View this Content
A Flash Player Update is Required to View this Content is a scam created to trick users into downloading a bogus software and bring profits to its authors. While Adobe Flash has been one of the most downloaded programs on the planet, its functionality is diminishing and soon will be eradicated completely, as new technologies are set in place.
Many browsers, such as Google Chrome or Mozilla Firefox, have Flash already embedded into their code. Thus, downloading the application is not needed anymore, unless you want to play kid's flash games. Therefore, if you really need to obtain Adobe Flash, go to the official website and download it from there. Never trust notifications coming from a site because it is a hoax.
Infiltration techniques
The adware might have exploited the chance to infiltrate your computer via the recently installed application. Unfortunately, it is a common mistake not to look through the installation wizards. As a result, the Flash Player Update hijack happens.
If you are willing to escape this PUP again, make sure you choose "Custom" or "Advanced" the next time you are about to install a new program. Afterward, remove all checkmarks placed on the unnecessary add-ons.
Otherwise, you may start noticing alerts that are usually displayed for collecting sales, increasing web traffic or simply redirecting people to suspicious websites. Lastly, you should be aware that this malware may deceive you in installing such dangerous programs as Nation Zoom, Conduit, DoSearches and similar adware that have already initiated serious problems for PC users.
Get rid of a fraudulent Flash Player Update virus
If you have been bothered by Flash Player Update virus, it is high time you uninstalled it. There are two ways how you can do that. The first option includes manual elimination. Find the instructions below. Bear in mind that attention and precision are required in order to ensure complete Flash Player Update removal and eliminate all related adware and similar viruses.
Alternatively, we recommend installing an anti-spyware program. The software is specifically designed for eliminating such pests. It will remove Flash Player Update virus shortly and check whether there are other risks in the device. British netizens[4] should be more vigilant dealing with the fake application.
You may remove virus damage with a help of Reimage Reimage Cleaner . SpyHunter 5Combo Cleaner and Malwarebytes are recommended to detect potentially unwanted programs and viruses with all their files and registry entries that are related to them.