FileViewPro is a dubious application that is bundled with other potentially unwanted programs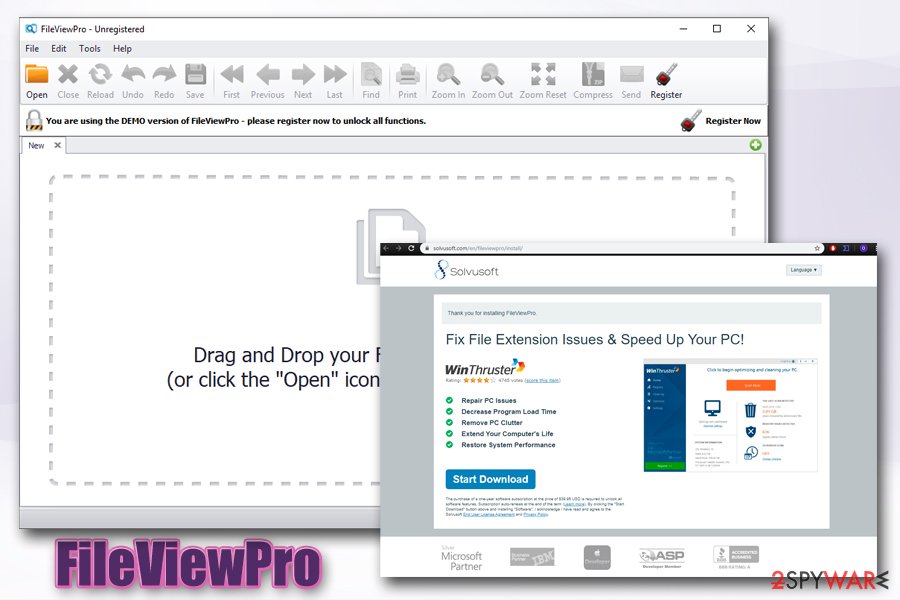 FileViewPro is an application with questionable functionality – none of its functions are working until users agree to pay licence of $39.95/year
FileViewPro is an app that allows users access, edit, and share various video, music, photo, and other files – at least that is how it is described by Solvusoft, its developer. Allegedly, the program includes all the necessary elements that would allow users to open file types that Windows would otherwise now. However, FileViewPro is detected by 33 anti-virus engines on VirusTotal as potentially unwanted software.
The suspicious activity of FileViewPro starts with its installer – users can download it from the developer's website, although it is widely distributed on dozens of other file-sharing sites. The app is often bundled with other potentially unwanted programs,[1] such as WinThruster or Ask Toolbar, which are unnecessary and even potentially dangerous additions to any users' computers. Finally, none of the FileViewPro functions are accessible until users purchase its license for $39.95/year.
Note, problems with opening various file types are rarely encountered by users nowadays, as the browsers, along with operating systems are now designed to work without any additional "codecs" or similar tools. Thus, applications like FileViewPro are not only deceptive but also quite useful for users who employ a modern operating system.
Name
FileViewPro
Type
Potentially unwanted program
Distribution
Software bundles (often bundled with rogue program WinThruster), third-party websites
Developer
Solvusoft
Functionality
The app claims to allow users to edit, view, and share various files. However, none of the functionality is unlocked until users pay the yearly subscription of $39.95
Potential risks
During the installation of FileViewPro, users might install other potentially unwanted programs or even malware on their machines. Additionally, they might be tricked into buying a full license and losing money
Termination
Get rid of potentially unwanted programs via the Control Panel or by employing reputable anti-malware program
Recovery
There are hundreds of applications that can allow users to edit pictures and videos – they are either free or posses much better functionality altogether. The app, however, might corrupt some of the system files, which might result in Windows malfunction. If you happen to come across errors or crashes after uninstallation of FileViewPro, scan your computer with

Reimage

Reimage Cleaner

to fix virus damage
While it is evident that potentially unwanted programs are not as dangerous as malware, they often use deceptive techniques to show the functionality as "useful" or "needed." In reality, apps like FileViewPro are designed for novice users who are unaware of many computer functionality-related functions. The goal of the PUP is to make users believe that the app is worth spending the money on. In reality, it is not.
Due to tho these reasons, many anti-virus engines detect the app as potentially unwanted or even malicious. Nevertheless, some users might even refer to it as "FileViewPro malware" or "FileViewPro virus" due to its unexpected arrival on the computer or prompts that ask them to upgrade to the Pro version.
Multiple AV vendors detect the app on Virus Total as follows:[2]
Malicious (high Confidence)
PUA.FileViewPro
Solvusoft StaticBuild Installer (PUA)
Win32/Solvusoft.B Potentially Unwanted
ADWARE/Solvusoft.Gen
W32/Fareit.A
ApplicUnwnt@#2ro2zrmidmza4
PUA:Win32/Solvusoft, etc.
We highly advise you to remove FileViewPro from your machine and instead choose reputable file editing software. Depending on your needs, you can opt for the built-in Paint or the multi-functional Photoshop – it all depends on what type of file editing you are interested in. Additionally, be warned that downloading "FileViewPro crack" or "FileViewPro keygen" might result in malware infection, such as Trojan, rootkit, or even ransomware.

FileViewPro is a potentially unwanted application developed by Solvusoft – a known PUP distributor
FileViewPro removal can be performed manually as per our instructions below or eliminate with anti-virus software that detects the threat. Note that the app (along with other PUPs that might have been installed together) might harm your computer system files. To avoid computer crashes, registry errors, and similar issues, we recommend using Reimage Reimage Cleaner .
The infiltration of PUPs can be a direct result of careless freeware installation
Many people enjoy having and using apps for free – there are also thousands of websites that offer freeware/shareware. However, users do not take into consideration that app developers also want/need to monetize. This is when other features come into play – users are offered optional components during the installation (which are often deliberately hidden from sight) of the desired program, the hidden functionality becomes evident only after the installation, unwanted advertisements start flowing users' web browsers, etc.
Therefore, choosing appropriate applications is very important, as some of the adware apps might compromise users' security by exposing them to online threats, show intrusive ads, or trick into paying for services/programs they never wanted in the first place.
Therefore, only rely on apps that do not engage in dubious behavior and are clear and transparent about what app does, what it does not to, is it free with ads/paid, etc. All these elements are important and give the ability for users to choose based on their preferences. The best way to avoid PUPs is to download apps from official sources and avoid third-party sites.
If you want to download an app that is only available from a third-party file-hosting site, security experts[3] recommend taking the following into consideration:
Check online reviews before installing anything
Make sure the installer is signed
During the installation, opt for Advanced/Custom settings
Get rid of all pre-ticked boxes
Watch out for deceptive deals/offers
Make sure the necessary documents are provided (ToS/Privacy Policy)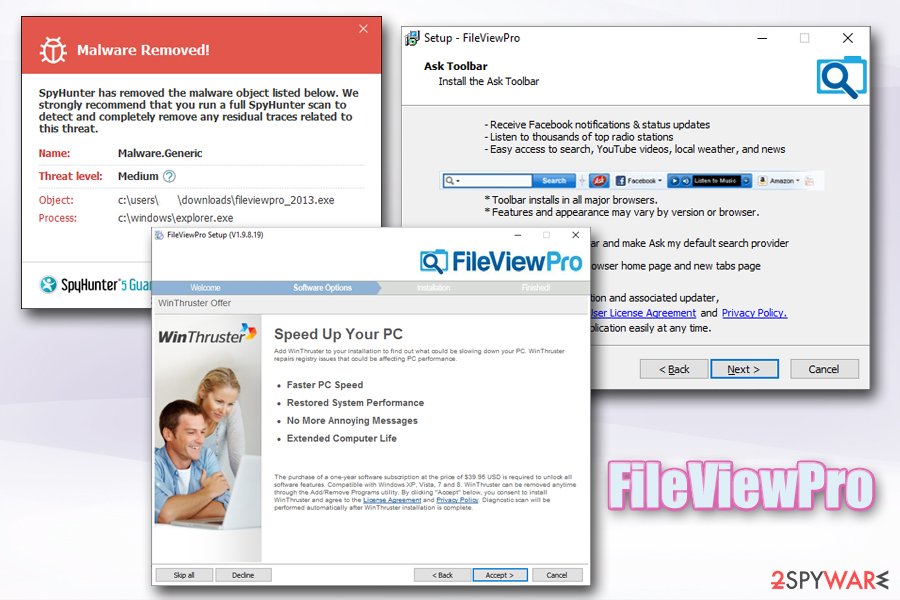 FileViewPro installer is filled with pre-ticked boxes that offer other PUPs
Get rid of FileViewPro either manually or automatically
There should not be any problems with FileViewPro removal – simply access the installed program list on your computer and uninstall the entry in question (we provide detailed instructions below). However, the problems might start arising if multiple PUPs reside on your computer – some of them might not be present on the list or lack the uninstaller executable.
Thus, you can use powerful anti-malware software to remove FileViewPro, along with all the other unwanted programs and malware that might be installed on your computer without your approval. Simply download the security program of your choice and perform a full system scan. Additionally, if other potentially unwanted programs were detected on your device, we also recommend resetting all the installed browsers, such as Google Chrome, Internet Explorer, MS Edge, Mozilla Firefox, etc.
You may remove virus damage with a help of Reimage Reimage Cleaner . SpyHunter 5Combo Cleaner and Malwarebytes are recommended to detect potentially unwanted programs and viruses with all their files and registry entries that are related to them.