Ffshrine virus – a dangerous Trojan related to a popular Final Fantasy Shrine Forum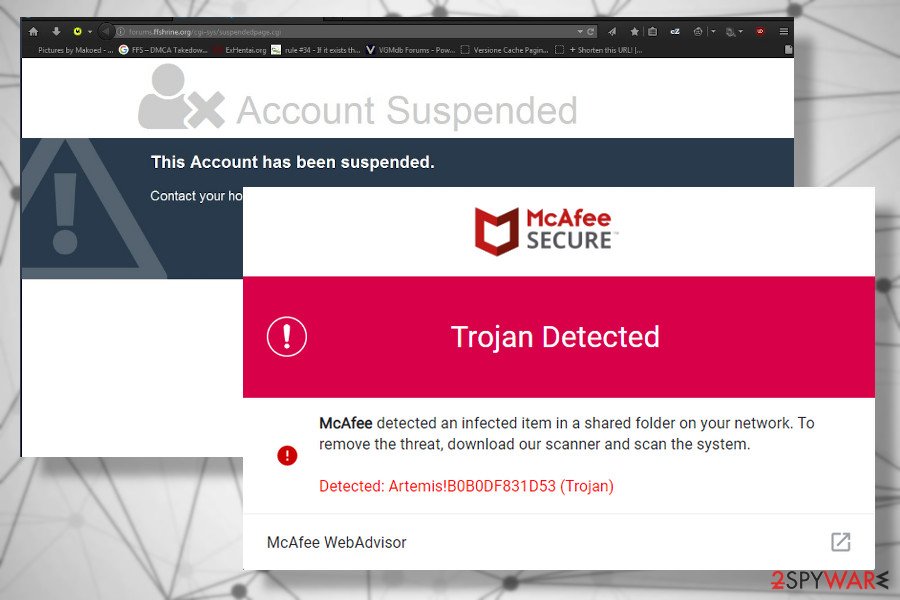 Ffshrine Trojan horse spreads via infected websites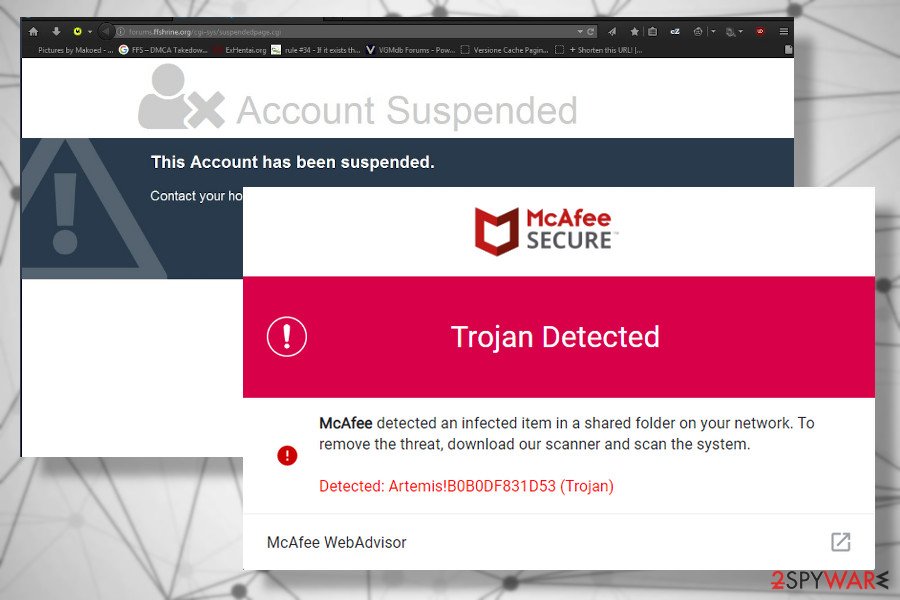 Ffshrine Trojan horse spreads via infected websites
Ffshrine virus is a malicious Trojan horse[1] infection that might have been injected into Ffshrine ("Final Fantasy Shrine Forum") domain. Initially, registered forum users started reporting about unusual Norton AV alerts Web Attack: Formjacking Website 2 showing up when browsing the forum. The detection was flagged as High Risk and initially considered as a false positive detection, though later it has been revealed that the URL of the domains FFshrine.net and Ffshrine.org has been hacked and misused for Ffshrine Trojan distribution.
Ffshrine virus on the infected domains typically manifests in the form of fake AV security software alerts that urge people to download software to eliminate the infection. According to cybersecurity researches, criminals misuse many famous names of AV tools, including Norton, McAfee, Windows Defender, and others. One of the malicious pop-up imitating McAfee design warns about Trojan detection Artemis!B0B0DF831D53 found in a shared folder of the network. It's essential to draw attention to the fact that such notifications show up for people who are not using McAfee. Thus, clicking on a download link may lead to the infiltration of a dangerous Trojan, Spyware, key logger, or activate ransomware payload.
Name
Ffshrine
Type
Trojan horse
Distribution means
Hacked websites, fake AV alerts, backdoor access, exploit kits, rootkits, Trojan downloaders, Trojan droppers
Precautions
Keep a powerful antivirus installed. Never click on online pop-ups warning about virus infection and urging to download a scanner for free.
Symptoms
System crashes, high CPU usage, malicious processes running in the background, questionable programs installed on the system, terminated AV tools.
Removal and repair
Viruses like Ffshrine trojan can be terminated with a reputable antivirus program, for example SpyHunter 5Combo Cleaner or Malwarebytes. Nevertheless, we strongly recommend eliminating the system's damage with a

Reimage

Reimage Cleaner

Intego repair tool.
Yet another misleading pop-up Web Attack: Formjacking Website 2 detection by Norton raises more questions about its authenticity. As Norton explains, Formjacking[2] is a type of website hack when criminals inject malicious JavaScript codes, which may result in a disclosure of information, such as credit card details, logins, and similar. Several Norton users reported such alerts of security forums and assured red that the Formjacking Website 2 detection pop-up indicates the IP address from which the attack has been initiated. Therefore, the warning delivered by Norton can hardly be treated as a false negative. However, it can only be genuine if the PC runs the Norton security suite. Otherwise, clicking on possibly fake AV download pop-up may result in a Ffshrine virus infiltration.
Forum.ffshrine, which has had a considerable number of registered users before the closedown, has been represented as a forum where people can discuss the Final Fantasy series of Japanese Role-Playing Games. However, only the minority of the users were aware of such a game at all. The primary service of this questionable, though very popular, forum was to share original soundtrack albums from media like animes, games, and movies in archived .zip, .rar, .tar, and other forms. Such activity has been approved by most of the registered users who seek free services, but at the same time disapproved by opponents of illegal free file-sharing services. Keep in mind that domains that initiate free file-sharing activities are a great target for hackers and other cybercriminals who may seek to cause the website's crash or distribute malicious components via downloadable database.
If the Ffshrine Trojan virus is launched on the system, it may perform a multitude of malicious activities on the network. Trojans are used by hackers to gain access to people's data, analyze keystrokes, or gain backdoor access to the system. Such and similar cyber infections can:
Remove pieces of information stored on the system;
Block access to particular data and files;
Modify the system's registry entries and compromise other crucial components;
Copy data and transmit it to remote servers;
Diminish PCs performance and disrupt network connections;
Block AV tools and self-replicate after inappropriate removal;
Open backdoor access to ransomware and other viruses.
Ffshrine virus and similar may be difficult to detect, and as they tend not to disclose their presence directly. A Trojan may reside silently and keep modifying the system's registry entries and weakening its core. The presence of the virus may manifest as software crashes, BSODs[3], questionable processes running on the background, high CPU usage, and similar. While the slow system and its malfunctioning may be irritating, the most significant risk Trojans like Ffshrine virus pose is a ransomware or spyware download. These infections may encrypt documents and demand a ransom in exchange for decryption software. At the same time, spyware may capture keystrokes and take screenshots to steal banking information, ID card numbers, and other most sensitive details.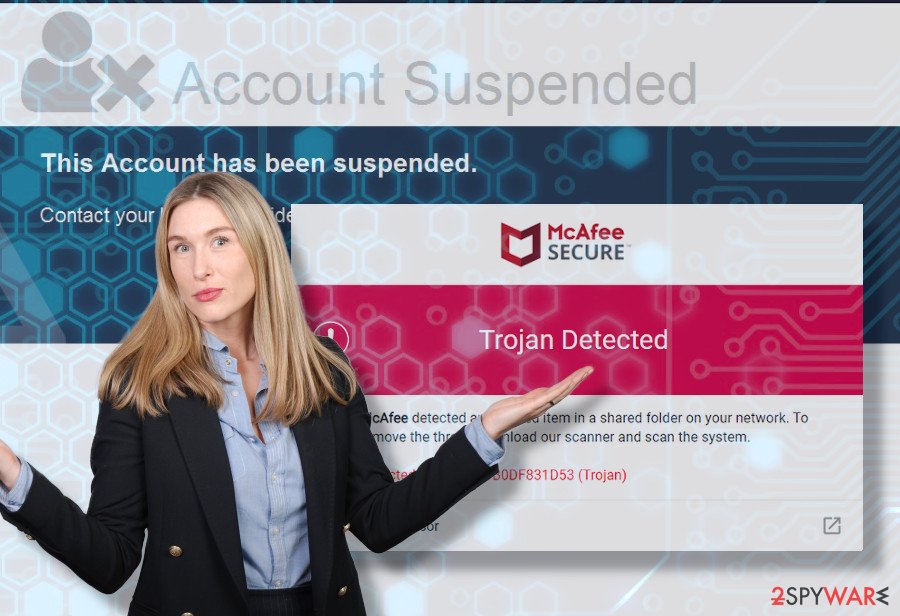 Ffshrine Trojan displays fake pop-ups urging to download AV software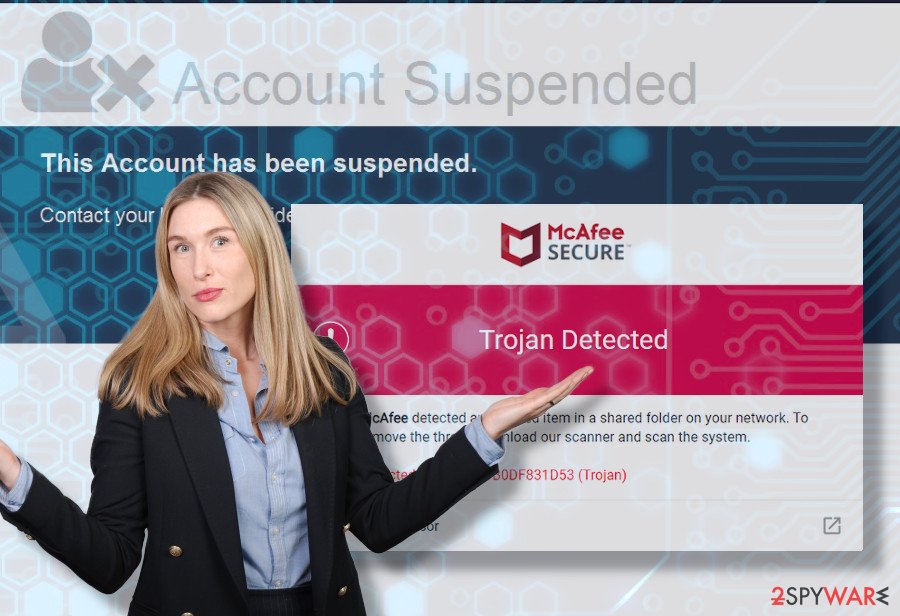 Ffshrine Trojan displays fake pop-ups urging to download AV software
For those who have any suspicions that the Ffshrine virus may have entered the system, we highly recommend rebooting the system into Safe Mode with Networking and initiating a full system scan. Unfortunately, there's no way to remove FFshrine or other Trojans of its type manually. The longer the dangerous program keeps active on the system, the higher is the risk of damage.
Fake online pop-ups used to spread Trojans actively
A Trojan related to the Ffshrine domain is a dangerous infection, which may cause the system's crashes and initiate data leakage. According to experts, it is distributed via fake pop-ups imitating trustful AV security tools. Perfectly emulating the design and other features, these pop-ups might have tricked thousands of users and lure them into cybercriminals' hands.
The forum that has been found spreading the virus is currently down. As soon as a malicious JavaScrip was optioned, the widespread discussion and music streaming domains were closed entirely and are not reachable up-till-now. Nevertheless, this fact does not guarantee that the Ffshrine or its clones are not circulating on the Internet via other popular hacked domains.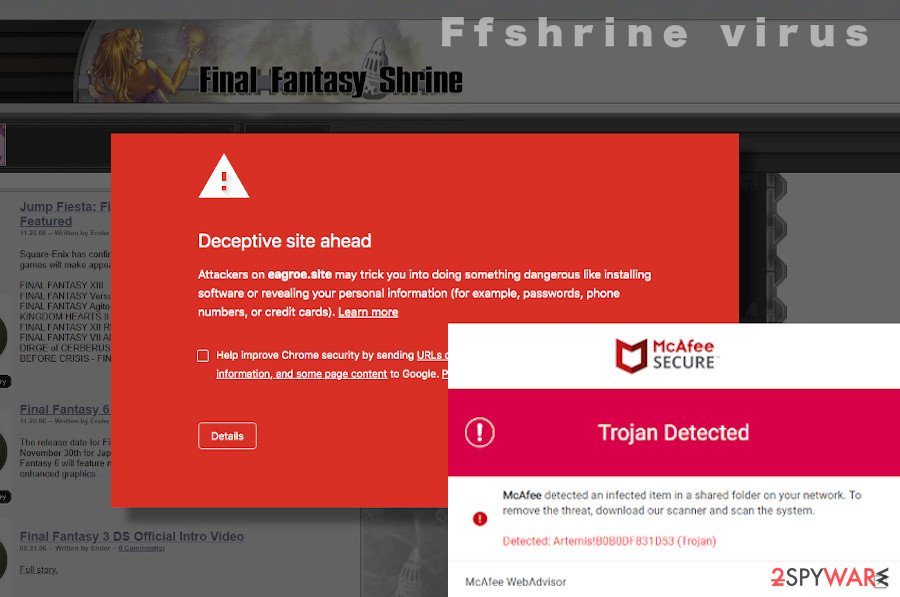 Ffshrine is a dangerous Trojan that has been spreading by a hacked Final Fantasy Shrine Forum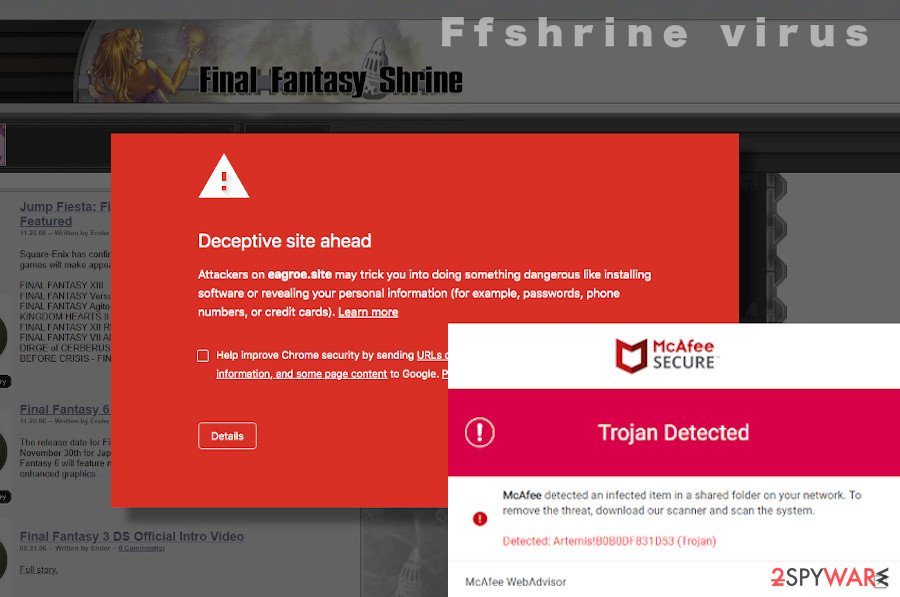 Ffshrine is a dangerous Trojan that has been spreading by a hacked Final Fantasy Shrine Forum
In addition to infected domains, such and similar cyber infections can get inside PCs via backdoor access, exploit kits, rootkits, Trojan downloaders, Trojan droppers, and similar highly suspicious means. Therefore, it's essential to ensure the full system's protection. First of all, rely on a comprehensive AV security tool, which has a powerful virus detection engine and make sure to download required updates regularly. Moreover, do not access suspicious websites and ignore misleading pop-ups, banners, hyperlinks, and other content that can initiate redirects to unknown domains. Last, but not least recommendation is to pay close attention to freeware and be careful with torrent websites since they tend to have security vulnerabilities making them easily accessible to criminals. The system's security with a pack of reliable programs and your awareness about dangers online should be sufficient to maintain your safety.
Guide for FFshrine virus removal
If you consider your PC infected with a Trojan, there's only one way to get rid of it, i.e., a full system scan with a professional AV tool. If you have already tried, but Ffshrine removal failed without even getting started, the virus may be running the command to block the antivirus program. To make it run, please restart the system into Safe Mode with Networking, as explained below. In case you don't have reliable antivirus software, we recommend using one of these programs: SpyHunter 5Combo Cleaner or Malwarebytes.
However, Ffshrine removal should also be followed by a careful system's repair. As we have pointed out earlier, Trojan infections contaminate a multitude of entries on the Registries, corrupt running processes, delete libraries, and cause similar damage. Since antivirus programs do not perform optimization tasks, we recommend fixing virus damage with Reimage Reimage Cleaner Intego.
This entry was posted on 2020-04-10 at 08:44 and is filed under Trojans, Viruses.