FastDataX is the application that injects advertisements into web browsers and shows commercial content where such material is not found commonly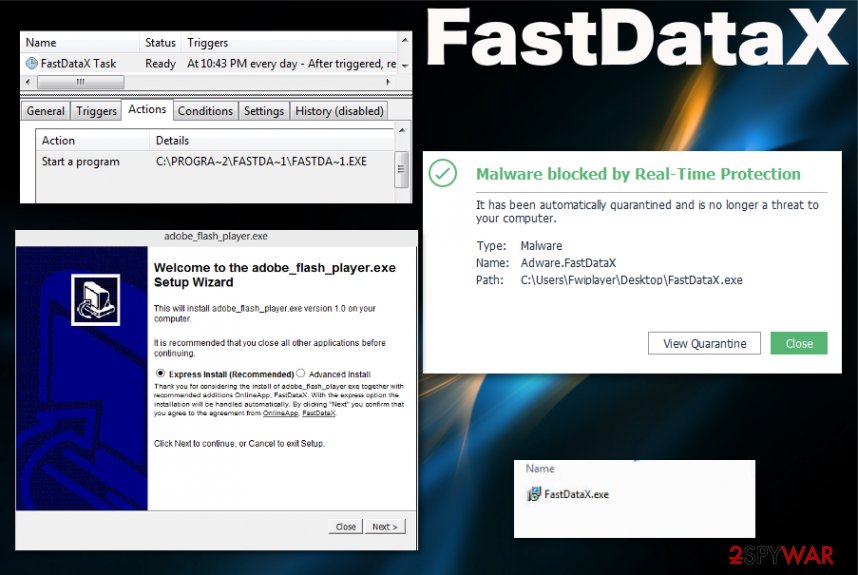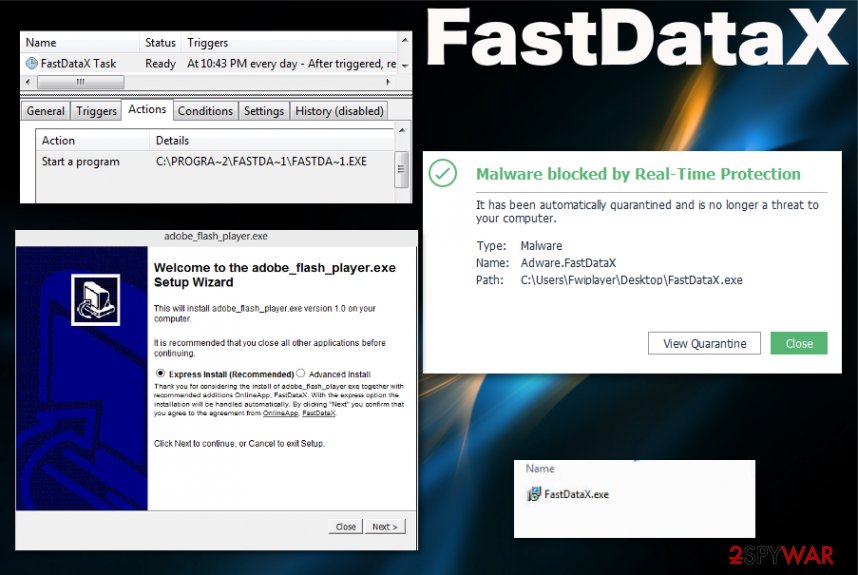 FastdataX – the potentially unwanted program that falls into the category of adware due to advertisements in various forms that get injected on the websites you constantly visit. Commercial material related to this program comes in various forms like banners, pop-ups, boxes, blinking windows, and even in-text links. Such coupons, deals, and promotional content lead to other similar sites that contain questionable material also related to advertisers or redirects. This is one of many similar adware-type programs designed to collect data, transmit that information to remote sites, and expose the user to sponsored material.[1]
People online[2] ask about the suspicious intruder or the heuristic detection name Adware.FastDataX, that appears out of nowhere and cause particular speed and performance issues. In most cases, it causes those suspicions because PUP shows up out of nowhere and cannot be easily found on the system or removed. Even the experts who reported this suspicious detection claim that it gets injected into web browsers or other software and further affects the performance with advertisements.
Name
FastDataX
Type
Adware
Symptoms
The program displays advertisements, coupons, offers, promotional material and other content related to advertisers, online services. It shows ads whether you want them or not and redirects browsing sessions to questionable pages filled with possibly malicious content
Distribution
Insecure freeware installations during which bundling method is employed leads to infiltrations of such potentially unwanted programs that cause suspicious symptoms while running in the background of the machine. Other deceptive pages and shady services like freeware also rely on PUP distribution methods like this
Heuristic name
Adware.FastDataX is one of the many possible detection names that this particular adware or related program can get indicated. This is the PUP that Av tools can find as suspicious or potentially dangerous. If that happens, delete the program as the tool suggests
Damage
You should note that any potentially unwanted programs, especially adware and other applications related to advertisers, ad-supported sites can track, record, and collect information about users' online browsing preferences and similar activities. Such behavior can easily lead to privacy issues or even identity theft when personal data gets into the hands of third-party actors with malicious goals
Elimination
FastDataX removal process can be difficult due to additional programs and files installed behind you back, so get a professional anti-malware program and run it on the system to fully detect all the PUP-related files and applications
Repair
For those registry alterations and affected system settings, get a system optimizer or PC repair tool, or a cleaner like

Reimage

Reimage Cleaner

, and fix virus damage automatically without causing more issues
FastdataX, as any other infection that falls into the same PUP category, can collect personally identifiable information about the infected computers' user and any other people who visit the sponsored and affiliated sites. Information valuable for these PUP creators includes geographic location, browsing habits-related data, and other details about searches and preferences regarding the time on the internet.
This collected data is useful for targeted advertising campaigns or can even be sold to third-party companies and threat actors besides the FastDataX virus creators. This data tracking[3] is probably the most intrusive and frustrating feature that is not noticeable, besides the initial infiltration.
FastdataX creates an entry within the Microsoft Task Scheduler, so some people may find that their device is affected by the PUP by noticing this suspicious task. It is created to ensure the persistence and run needed processes in the background all the time to make the adware active after each reboot of the PC.
This way Adware.FastDataX can inject advertisements on any wanted page and affect the traffic, display pop-ups, pop-unders, and other types of commercial material. You should take this into consideration, and don't forget about proper system cleaning when you try to get rid of the PUP.
Even when you terminate the adware suing automatic AV tools, get a proper system optimization program and run the full check, so affected files get repaired. Reimage Reimage Cleaner may indicate such issues and fix those damaged registry files for you. And when you are sure that you have successfully performed FastDataX removal, you can go through the web browsers and eliminate any suspicious toolbars, extensions, and applications that may cause additional speed problems. You may reset Google Chrome, Mozilla Firefox, Safari, Internet Explorer, and other browsers to default fully, to reverse any unwantedly made changes.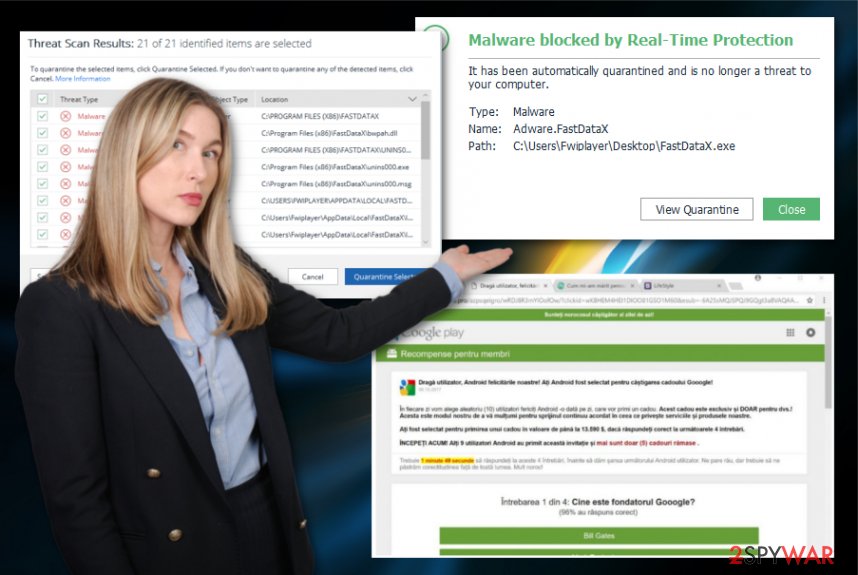 Adware.FastDataX is the heuristic name of the detection when this PUP is considered malicious by AV tools.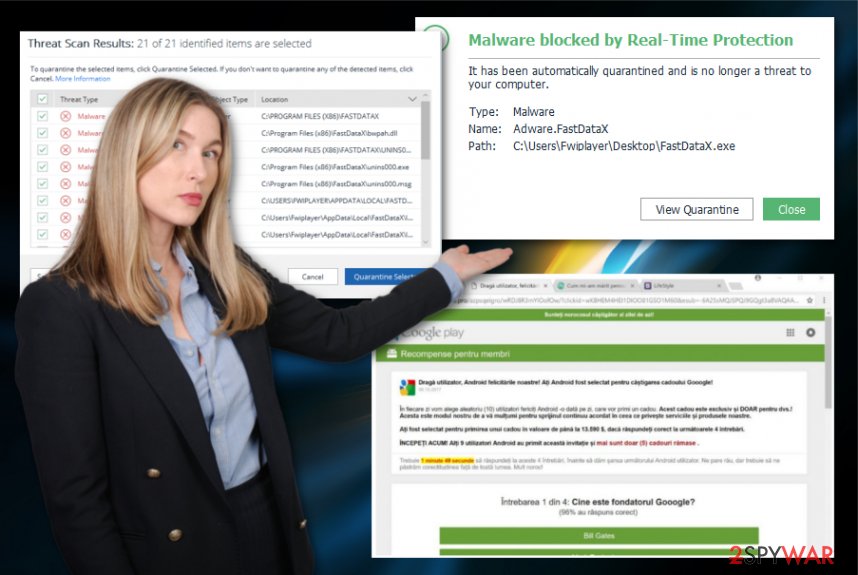 Adware.FastDataX is the heuristic name of the detection when this PUP is considered malicious by AV tools.
Advertising service FastDataX can place advertisements on any site and display push notifications, banners, pop-ups straight on the desktop too. This behavior significantly diminishes your time on the web browser and the machine in general, so you cannot use the computer as normal when PUP is on the system.
You should remove FastdataX as soon as you notice any symptoms because PUPs are known for delivering other toolbars, applications, optimizers, and software without asking for permissions or agreements. This way your device is fully controlled by the adware.
When Adware.FastDataX has the opportunity to run on the machine; it can:
change search engine or homepage settings;
affect the speed of the browser and PC itself;
install programs or even malware on the device;
show promotional ads;
suggest updates and installations of other apps.
The advertising material related directly to this FastDataX adware gets marked using: "Powered by FastDataX, "Advertisements by FastDataX, "Brought to you by FastDataX, "Ads by FastDataX" or "Ads powered by FastDataX. " So when you notice any pop-ups, redirects, or banners marked with one of these, you can be sure that PUP is the one causing all the issues with speed and performance of the computer.
Don't panic when you encounter those AV engine pop-ups and alerts about possible infections. Even though FastDataX virus is not the proper term for the adware it still can lead to malware infections and more dangerous infiltrations when you are not paying enough attention to symptoms and stay away from cleaning the system fully.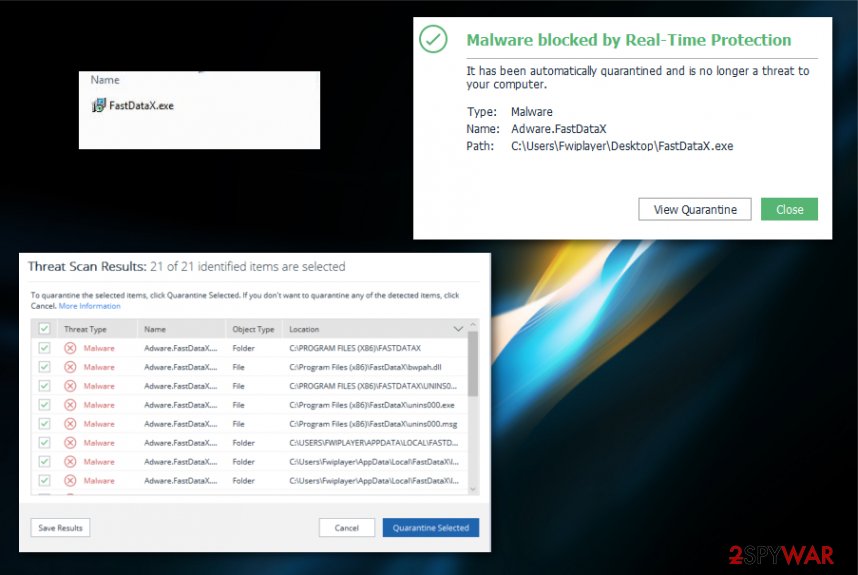 FastDataX is the potentially unwanted program that gets installed during other PUP infiltrations due to the bundling method.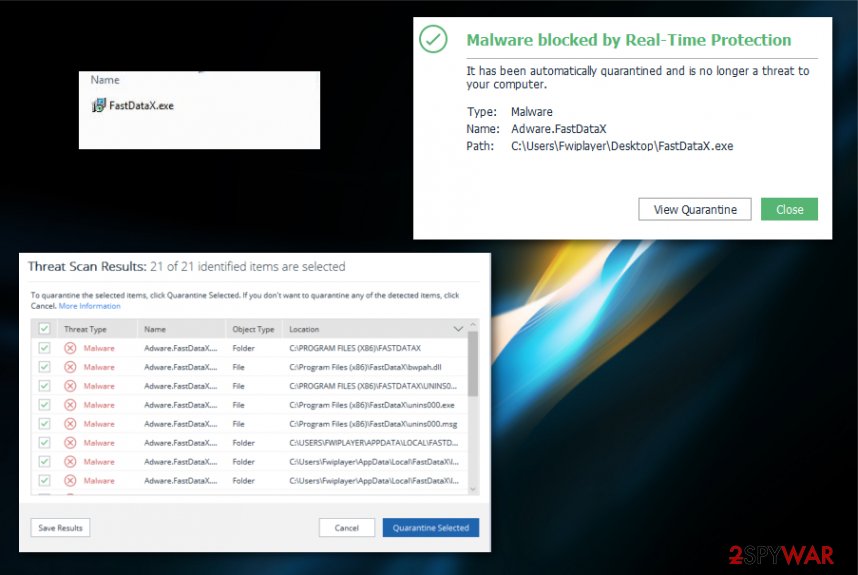 FastDataX is the potentially unwanted program that gets installed during other PUP infiltrations due to the bundling method.
Free program installation setups not disclosing all additional programs properly
Such advertising services, adware, and similar PUPs get bundled alongside other free programs, and this bundling method is not disclosed properly, especially when you get the software from unreliable sources like torrent sites, deceptive application promotions. Relying on official sources or initial freeware developers could help to avoid this, but users tend to skip through steps and trust the free online content more often.
It is important to pay close attention to these details and freeware installations. Choose Advanced or Custom options during the freeware downloads and choose the programs that you know and can trust, instead of allowing all the applications to get installed. Recommended or Quick installations mean that you agree to get everything that PUP developers and freeware providers included in the said package.
Read license agreements, installation options, pay attention to included programs, and cancel any suspicious programs. Build this routine and rely on Advanced options during every installation, to keep the machine PUP-free and clean.
Fight all the shady programs related to this Adware.FastdataX
FastDataX virus may be the more used term by users who got affected by the shady program, but this a potentially unwanted program that gets more and more annoying over time but is not malicious or dangerous as other more severe malware programs. Unfortunately, that does mean that malware can end up on the machine if you don't clean the cyber infection as soon as you can.
To remove FastdataX once and for all, we recommend getting a proper anti-malware tool that could check the system, various places on the device to find all associated files and applications, and remove them all during one system cleaning process. It is important because PUPs are, in most cases, dropped on the computer with other apps in the same bundle. When that happens all intruders help running the same activities.
During the automatic FastdataX removal process, you can get rid of all the tools and apps that run on the machine without permission. However, you still may need to alter settings on web browsers manually. For that, check the guide below.
You may remove virus damage with a help of Reimage Reimage Cleaner . SpyHunter 5Combo Cleaner and Malwarebytes are recommended to detect potentially unwanted programs and viruses with all their files and registry entries that are related to them.