Eztv.io is a torrent website that might result in malware infection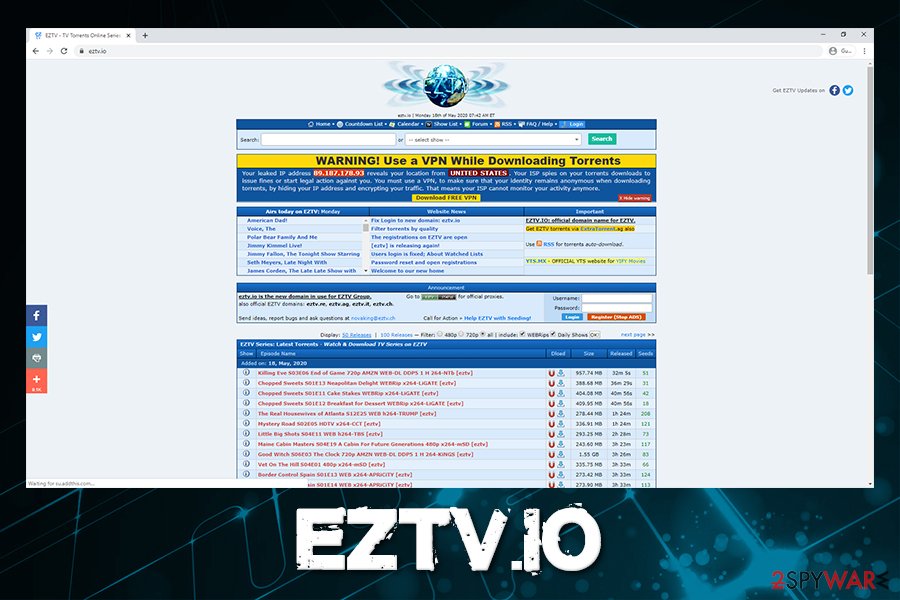 Eztv.io is insecure site that might result in various malware infections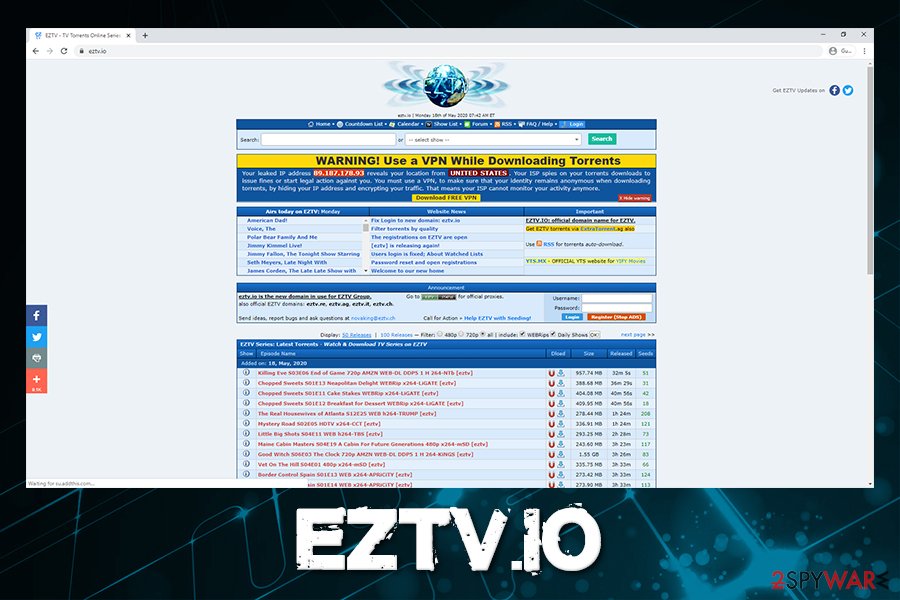 Eztv.io is insecure site that might result in various malware infections
Eztv.io is a website that offers users to download TV shows, music, applications, and other files for free via the peer-to-peer network. While some users might access the site on purpose when looking for free download service, some might get redirected from another place on the internet, making the visit unexpected. Even though torrenting itself is not illegal, much of the content hosted on such sites typically are, so users should instead head to official websites to view the newest TV shows they like so much.
Besides hosting illegal content, Eztv.io ads are something that users will become accustomed to as soon as they access the site. As it is typical to torrent sites, advertising networks that are used are not secure at all. While some might direct users to legitimate sites, some ads might be boobytrapped with malware, which can be triggered by a background script once clicked on (in some cases, even a click is not necessary).
Finally, files downloaded from the Eztv.io might be malicious and include such infections like ransomware, Trojans, cryptoviruses, and much more. Find out how to protect your computer from dangers that lie within the shady peer-to-peer scheme.
Name
Eztv.io ads
Type
Torrent site, peer-to-peer service
Infiltration
Ads might be embedded directly on the site, although desktop ads are caused by notification prompt that can be encountered on the website. Also, potentially unwanted programs and malicious apps might be downloaded directly via the peer-to-peer client
Risks

Embedded ads might be programmed to abuse software vulnerabilities and install malware automatically
Desktop ads might display malicious links
User data might be stolen and disclosed to unknown parties or even cybercriminals
Most of the hosted content is illegal to download as it is copyrighted
Various applications, especially software cracks, downloaded from the site can be malicious

Elimination
To eliminate notifications on the desktop, you should access web browser settings and eliminate the site from the "Allowed" list. To delete malicious applications, you should scan the machine with reputable anti-malware software. We advise not to engage with any Eztv.io ads due to the risk of malware infection
System fix
If you found malware on your system, it might not work the same way as prior to the infection, even after it is terminated. If you see lag, crashes, and your machine suffers from other stability issues, scan it with repair program

Reimage

Reimage Cleaner

Intego
While most of the Eztv.io ads come from the website itself, some users might see a notification prompt that asks them to allow notifications to be shown. This is a very commonly used tactic that allows threat actors to display advertisements directly on users' desktops instead of the browsers. Since, in many cases, users allow notifications by accident, they do not know how to remove Eztv.io ads.
Without a doubt, such Eztv.io notifications should not be clicked, as the site may serve links to malware-laden, scam, and similar websites. Once there, users might be tricked into providing personal information, exposing credit card numbers or social security numbers. In other cases, users might be tricked into subscribing to a service that is useless, and then they will be charged every month until the service is canceled manually.
The problem is that many users do not check their online banking accounts, and it typically takes some time before they realize that the funds are leaving their accounts on a regular basis. Besides, Eztv.io ads are not the only place where users can encounter scam sites, so regularly checking online banking and not registering for any shady services is advisable.
The embedded Eztv.io ads might not be secure not because of the owners, but rather suspicious advertising networks that they employ. Poor quality ads are often shown on torrent sites, and cybercriminals are also often happy to buy the ad space. As a result, those who visit the site might get infected with malware automatically if no ad-block is used. Nonetheless, automatic malware installation is only possible if you have vulnerable software[1] on your device. This is why patching is so important.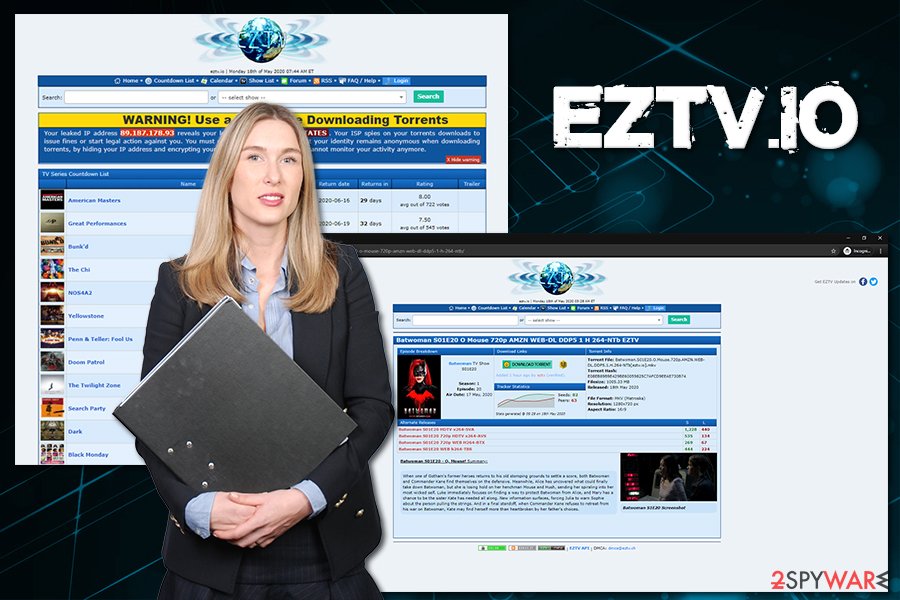 Eztv.io is a peer-to-peer website that is often used to download illegal items, such as software cracks or licensed TV shows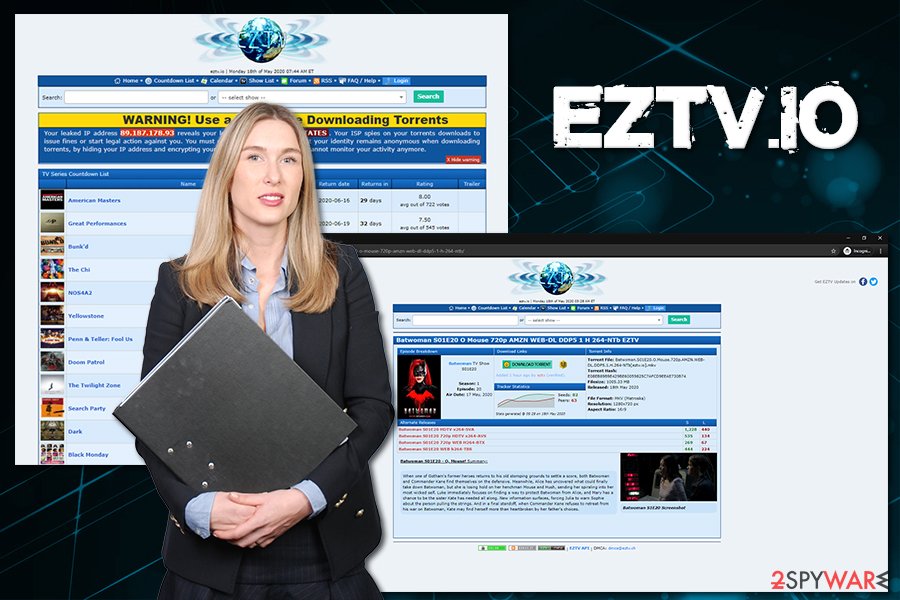 Eztv.io is a peer-to-peer website that is often used to download illegal items, such as software cracks or licensed TV shows
Eztv.io ads are not the only issue that users can encounter, as the biggest danger lies within the site downloads. In many cases, malicious files can be disguised as useful ones, and users will be unaware that they are allowing malicious payloads into their machines. Here are a few examples:
software cracks are often used to proliferate malware,[2] and these tools can often be found on sites like Eztv.io;
the fake codecs, language packs and other files included with a video torrent might be malicious;
downloaded files might be disguised as legitimate ones. For example, a file named "TV show S5E2.mkv.exe" is most certainly malicious, as it is an executable – something that a video should never be.
All in all, the installed Eztv.io malware in one way or another might be anything – from annoying ad-spamming bots to full-blown ransomware. The later is extremely dangerous as it can steal sensitive files found from the system, encrypt the rest, and then the attackers might publish the data on the dark web for everybody to see/take.
If you were unlucky and managed to get infected, you should perform Eztv.io virus removal as soon as possible. To do that, we recommend employing a powerful anti-malware tool, such as SpyHunter 5Combo Cleaner or Malwarebytes. In case malware is interfering with security software, you should access Safe Mode with Networking and performing the scan from there – we provide the instructions below. Also, if your computer struggles to work as before after the infection, we recommend employing a PC repair tool Reimage Reimage Cleaner Intego.
Avoid peer-to-peer sites
The overall security rating of torrent sites is relatively low, despite its visitor count. Since the service is not considered to be legal mostly, (multiple popular torrent sites were shut down previously due to copyright infringement), the website authors do not want to miss an opportunity to monetize as much as possible. Shady ad networks pay much money, hence the ads displayed on the site are not always of best of quality, and often even malicious. Besides, downloading files from torrent sites can directly result in malware infection.
Therefore, the best way to go around this is not to use torrent sites altogether – there are so many ways to get infected, and the service is often considered to be illegal. Nonetheless, if you still insist of using peer-to-peer network, take these precautionary steps in order to avoid malware infection and personal data compromise:
Install comprehensive security software and keep it up to date;
Backup your files regularly on an external drive or a virtual storage;
Employ ad-block to prevent malicious scripts from being executed;
Disable Adobe Flash and Java function and turn them to "click-to-run" setting;
Never download software cracks/keygens/loaders – these executables are often embedded with malicious code (Djvu ransomware uses cracks as its primary distribution method, and infects hundreds of users daily);
Watch out for copycat sites that look identical to the original site – these are often malicious or ask money for usage;
before downloading a torrent file, read the comment section (users often hint that it is malware and that others should avoid it at all times);
Before opening executable, scan it with anti-malware or tools like Virus Total.
Get rid of Eztv.io virus to protect your personal data
Malware that can be associated with the Eztv.io virus varies, meaning that users might get infected with ransomware, remote access trojans,[3] info-stealers, backdoors, rootkits, and other parasites. Each of these types is designed to perform different functions; for example, backdoors are often used to inclusion of the machine into a botnet and proliferating other malware. In the meantime, keyloggers are there to capture keyboard and mouse inputs and sending it off directly to the attackers.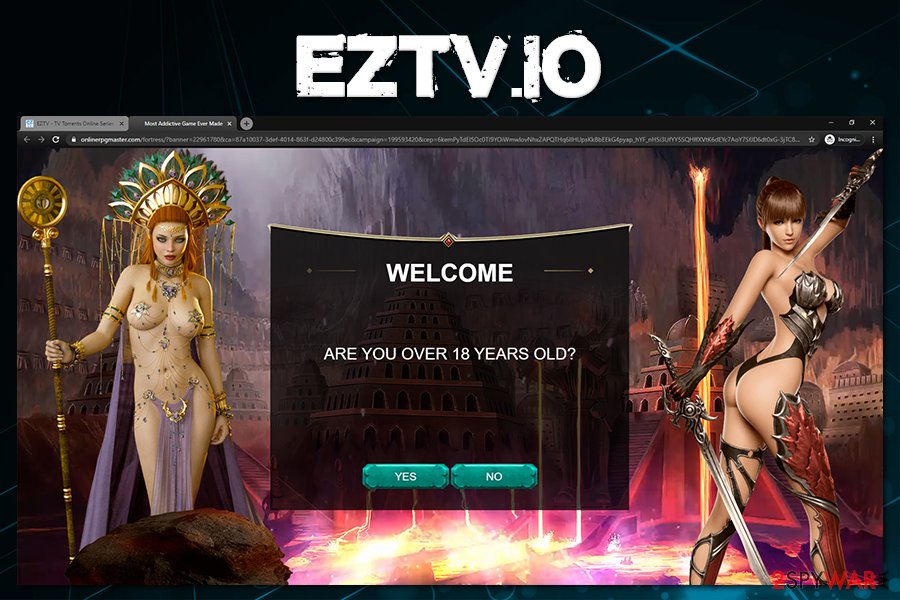 Eztv.io ads might redirect to inappropriate and even malicious websites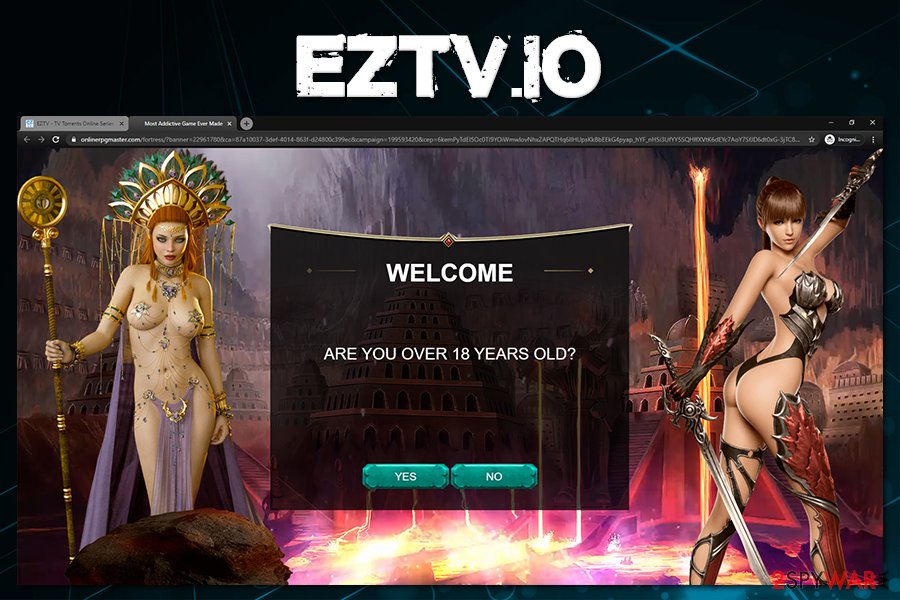 Eztv.io ads might redirect to inappropriate and even malicious websites
Therefore, Eztv.io removal will depend on which type of malware your machine got infected with. Nonetheless, even if you did download and used a crack or other high-risk file, it does not mean that you are infected with malware, either. The best way to find out is to perform a full system scan with a powerful security application – we recommend using SpyHunter 5Combo Cleaner or Malwarebytes, although other reputable tools can also be used.
Then, in case Eztv.io was related to data-stealing, you should change passwords of your accounts and monitor your online banking closely.
Finally, if you want to remove Eztv.io ads from your desktop, follow these steps:
Google Chrome
Select Menu > Settings
Go to Advanced
Under Privacy and security, pick Site Settings > Notifications
Under Allow section, find Eztv.io
Click More Actions and then choose Block
Mozilla Firefox
Go to Menu > Options
Click on Privacy & Security > Notifications
Choose Settings – you should see Eztv.io entry
Click on the the drop-down menu and select Block
Save Changes
MS Edge
Click on thee horizontal dots and select Settings
Go to Site permissions > Notifications
Click on More actions next to Notifications and select Block