Encryptedsearch.org – a privacy-offering engine that can easily be replaced by a legitimate search provider such as Google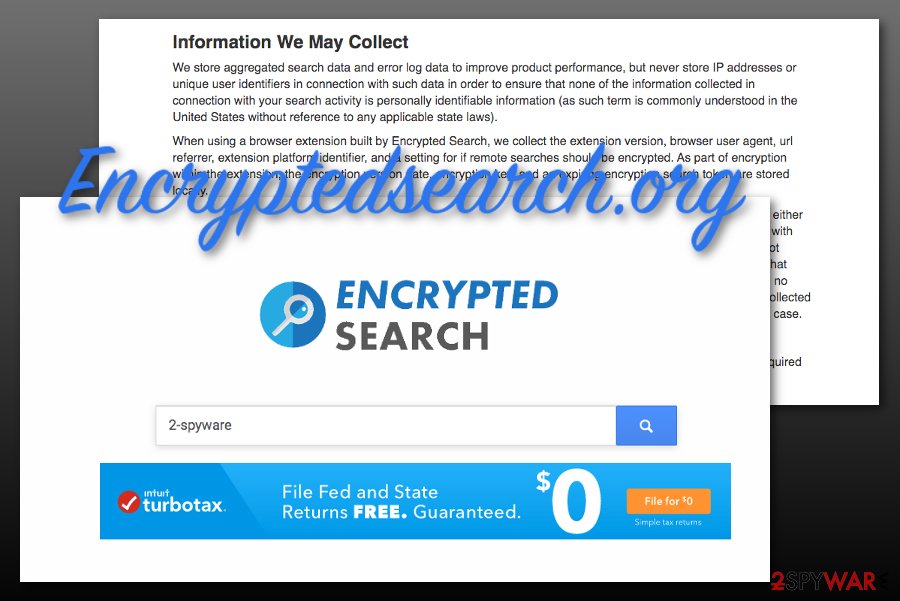 Encryptedsearch.org – a potentially unwanted program that can redirect the user to an affiliate source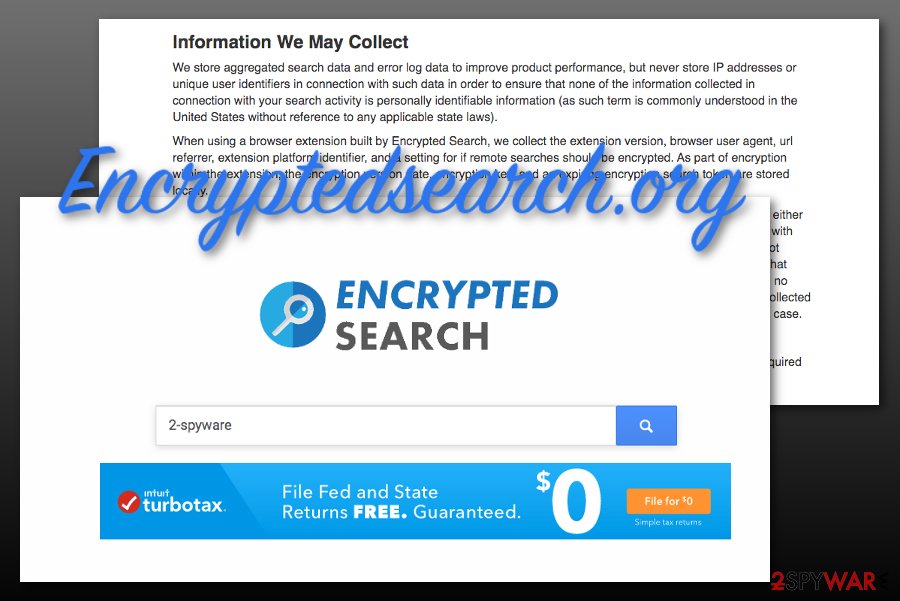 Encryptedsearch.org – a potentially unwanted program that can redirect the user to an affiliate source
Encryptedsearch.org is marked as a browser hijacker[1] that offers to browse the web in a safer way. Even though the app claims to encrypt search results and delete browsing history after 30-minute sessions, you can also successfully employ a legitimate web browser such as Google and search privately via the Incognito mode. However, some users quickly get attracted to the offered features and install Encrypted Search extension on their web browsers such as Google Chrome, Mozilla Firefox, Internet Explorer, Microsoft Edge, or Safari.
Encryptedsearch.org is available on the official Google Chrome web store,[2] however, this does not add a better reputation as the product is still mostly bundled with other packages of software from secondary downloading pages such as softonic.com, download.com, and cnet.com. When the PUP ends up on the targeted web browser, it starts modifying the default search provider, homepage, and new tab URL to its own. Afterward, users are forced to use Encrypted Search services unless they get rid of the browser hijacker as soon as they spot that their search engine has turned to https://www.encryptedsearch.org/.
Name
Encryptedsearch.org
Type
Browser hijacker/potentially unwanted program
Danger level
Low. Does not act as dangerous malware but still can cause indirect damage by rerouting the user to a potentially malicious website or swindling some money/personal information through ads that include various questionable offers
Feature
The developers of this browser hijacker claim to offer a completely private search engine by encrypting search query results and deleting web browsing experience after 30 minutes of online activity. However, this type of feature is provided as a way to attract a bigger number of users
Target(s)
You can receive the Encrypted Search extension and experience search engine, homepage, and new tab URL changes on any type of web browser app such as Google Chrome, Mozilla Firefox, Internet Explorer, Safari, and Microsoft Edge
Activities
The suspicious app will perform unwanted changes on your web browser's search engine, homepage, and new tab URL. Additionally, you can start receiving intrusive redirects to affiliate domains and start experiencing intense advertising during browser sessions, get your browsing-related information collected, receive other potentially unwanted programs on your PC
Spreading
This questionable product can be downloaded from the Google Chrome web store, however, it is the most possible that you will receive such an app through bundled products that come from secondary websites such as cnet.com, download.com, and softonic.com
Elimination
If you have been dealing with this browser hijacker lately, you should get rid of it from your computer system and web browsers. For proper elimination, we recommend employing reliable antimalware software or using the manual step-by-step guidelines that have been added to the end of this article
Fix software
If you have discovered any compromisation in the computer system after the browser hijacker attack, you can try recovering all of the affected areas with the help of a tool such as

Reimage

Reimage Cleaner
Encryptedsearch.org virus claims that it does not collect any personally-identifiable information about the user, including the IP address. However, the browser hijacker can still spy on data such as search queries made, hyperlinks and adverts accessed, the most popular offers searched, and so on. The developers might not admit this fact but they can end up sharing the gathered data with other parties. However, the Privacy Policy claims that some information regarding the Encrypted Search extension is stored by the app:
When using a browser extension built by Encrypted Search, we collect the extension version, browser user agent, url referrer, extension platform identifier, and a setting for if remote searches should be encrypted. As part of encryption within the extension, the encryption version date, encryption key, and an expiring encryption search token are stored locally
Encryptedsearch.org can engage in advertising activities also. The app can start loading various sales offers and deals straight on your search page in order to catch your eye. You might also be provided with suggestions to subscribe to some types of monthly services, win non-existing prizes, and participate in surveys. Whatever you do, do not provide complete strangers with your financial information or personal details, including contacts as you can get yourself in big trouble.
If some hackers decide to abuse Encryptedsearch.org and its functionality, your personally-identifiable information can fall in the hands of complete criminals. This way you can get money swindled straight from your bank account, experience identity theft, etc. If you reveal your email address, mobile phone number, or other contact information, you might start receiving unwanted offers and deals straight in your email box or find rogue numbers dialing you constantly.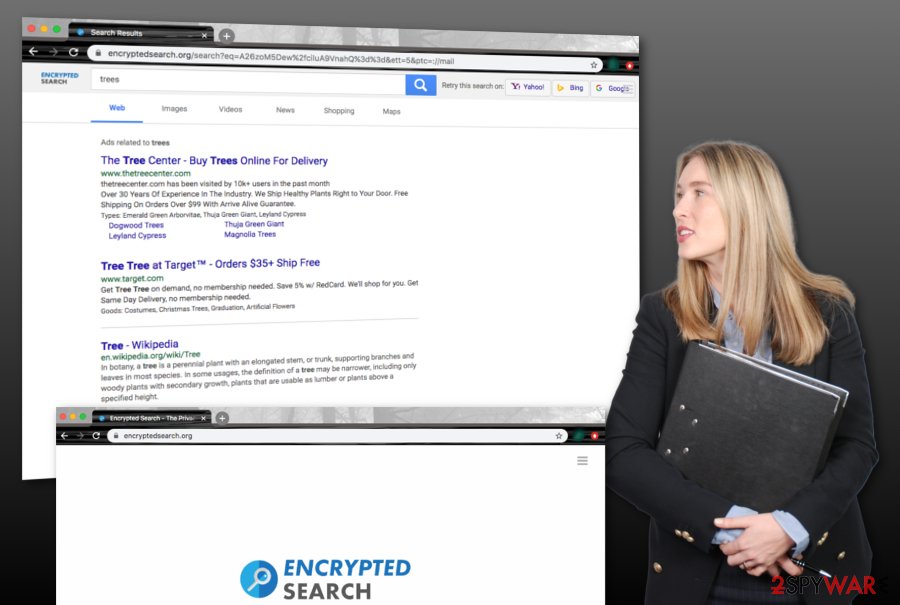 Encryptedsearch.org is a potentially unwanted program that modifies the default search engine and can start providing misleading search query results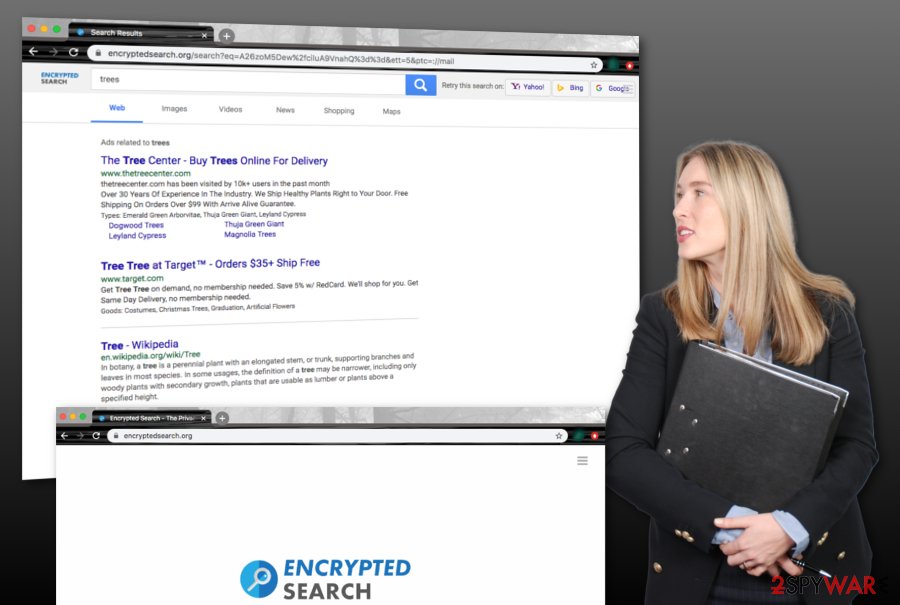 Encryptedsearch.org is a potentially unwanted program that modifies the default search engine and can start providing misleading search query results
Furthermore, Encrypted Search can initiate redirecting activities to affiliate domains. The browser hijacker can start rerouting you to developer-sponsored places that are filled with more annoying ads. However, here comes a big risk of catching a dangerous malware infection if you land on a potentially malicious website. Your computer system can easily get infected with a ransomware virus, Trojan horse, spyware and suffer from severe unrepairable machine damage.
Even though Encryptedsearch.org is not a dangerous malware form such as ransomware or a Trojan virus, it still can bring indirect damage to the computer system and its components and redirecting is only one way how the browser hijacker does it. Furthermore, some cybercriminals can find PUPs as handy intermediaries when wanting to install a piece of malware to a computer system. This way you can receive a malicious infection completely unexpectedly.
However, browser hijackers can even bring other potentially unwanted programs to the computer system, so you might see more than one suspicious process running in the Windows Task Manager section. If you have been bothered by a lot of intrusive activities lately, you have to remove Encryptedsearch.org together with all of the questionable components that have been causing misunderstandings lately. For compromisation cleaning, try using Reimage Reimage Cleaner .
If you want to speed up the Encryptedsearch.org removal and make sure that every suspicious product has been successfully terminated from your computer system, you should get rid of the browser hijacker with the help of antimalware software. However, if you do not mind spending some time reviewing instructions and cleaning both your OS and web browser, you can check out the manual step-by-step guidelines that have been added to the end of this article.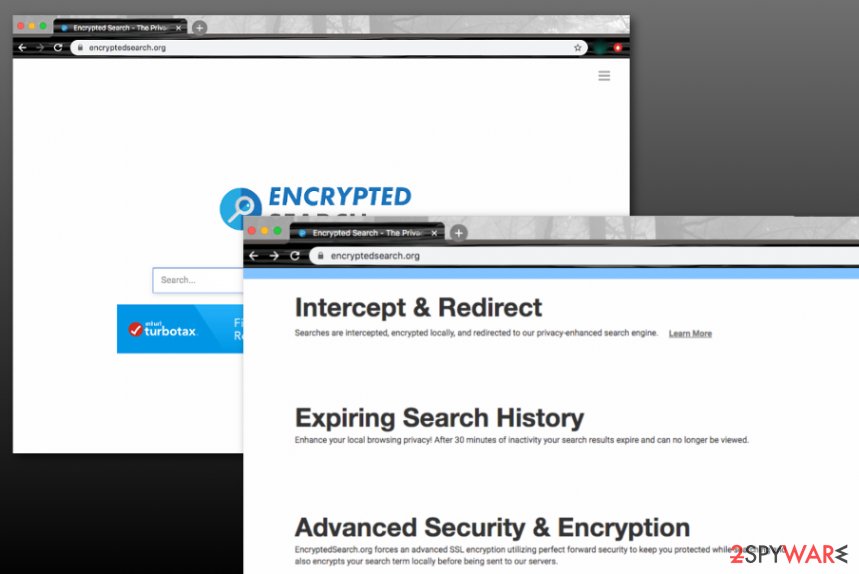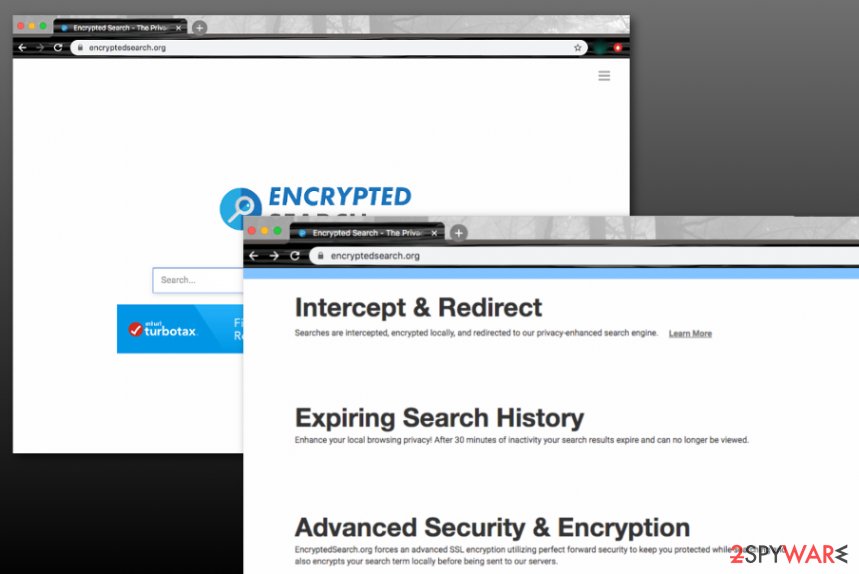 Browser hijackers get delivered by bundled software
Even though a lot of third-party products have their own downloading sources or can even be received from official e-shopping platforms such as Google Chrome web store, AppStore, and similar places, PUPs are most likely to appear on the user's computer system by employing deceptive techniques and taking advantage of the software bundling technique that includes bringing the suspicious product into the computer system as an additional component.
Most of the time, you can download bundled software[3] from third-party downloading websites such as cnet.com, softonic.com, or download.com. The browser hijacker or another type of PUP usually settles on computer systems that have the Recommended or Quick installation settings opted as default. If you also have the same configuration, you have to change it to the Custom or Advanced option that allows deselecting all the unwanted objects to prevent them from downloading on the computer.
However, browser hijackers are capable of distributing by employing other methods also. For example, the potentially unwanted program can come injected into an unsecured hyperlink or advertisement, pretend to be a fake software update, etc. According to Virusai.lt specialists,[4] if the user clicks on such content while browsing the Internet, there is a big chance that he will execute the downloading process of the browser-hijacking application.
If you want to keep yourself protected from such cyber threats, you should avoid entering websites that are marked as deceptive or unsafe to proceed with. Furthermore, if you have been provided with a prompt to update your Flash Player or another program, do not upgrade your software before checking the official update releases. Also, you should purchase a strong antimalware product that includes the safe browsing function.
Accomplish Encryptedsearch.org removal within a few steps
There are two ways in which you can remove Encryptedsearch.org from your Windows or Mac computer system. First of all, you have to measure your own skills and capabilities to know if you are able to remove Encryptedsearch.org on your own. If you find yourself an advanced user, you can definitely continue with the manual elimination option that we have provided at the end of this article and is displayed to help you to clean both your operating system and web browser apps.
However, if you think that you will be struggling with the Encryptedsearch.org removal process, you should employ reliable antimalware software that will help you to get rid of the cyber threat within a few clicks. Download such type of product and save some time by letting it accomplish the task for you. However, do not forget to refresh your web browsers such as Chrome, Firefox, Explorer, Safari, and Edge as they are likely filled with rogue components too.
You may remove virus damage with a help of Reimage Reimage Cleaner . SpyHunter 5Combo Cleaner and Malwarebytes are recommended to detect potentially unwanted programs and viruses with all their files and registry entries that are related to them.