eFax email virus is the spam email campaign that spreads trojans and RAT malware via phishing attachments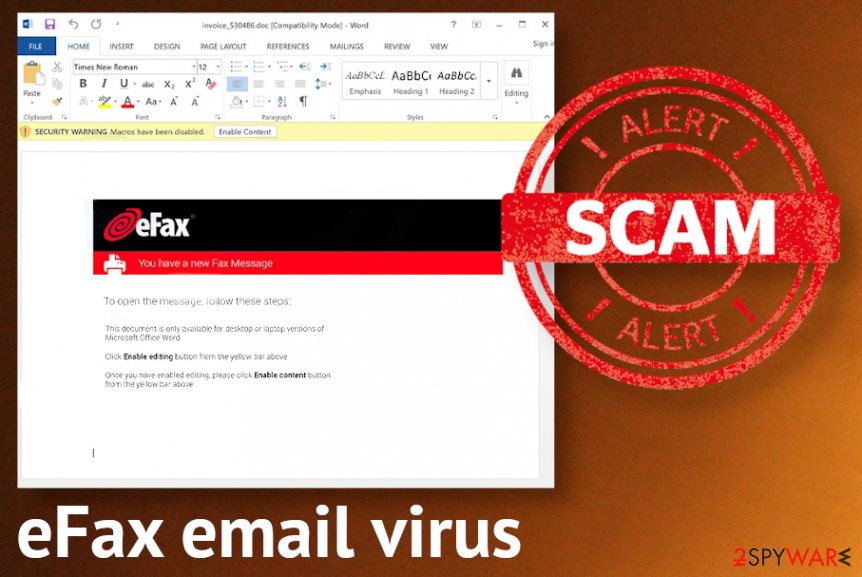 eFax email virus is the campaign that spreads trojans and info-stealing malware around by posing as a legitimate faxing service.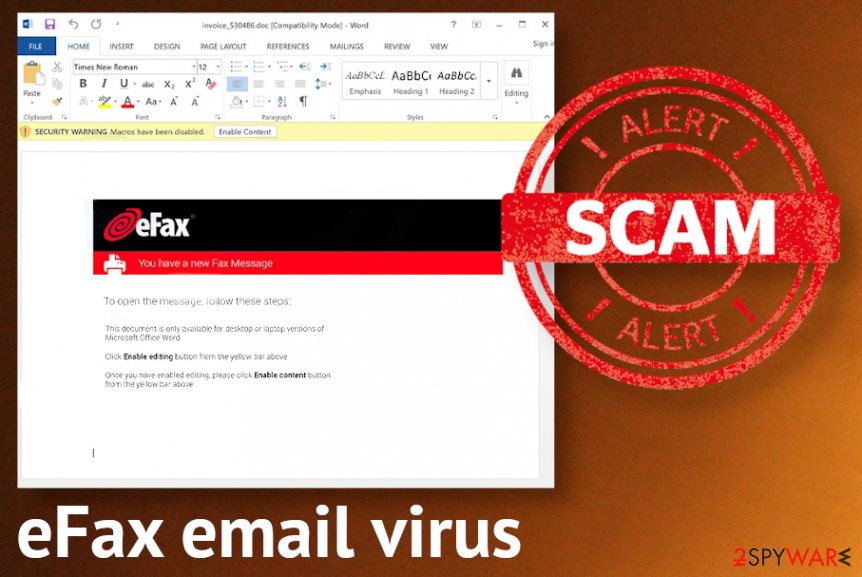 eFax email virus is the campaign that spreads trojans and info-stealing malware around by posing as a legitimate faxing service.
eFax email virus is the phishing campaign that has been reported a few times for delivering cocktails of malware and particular threats. This deceptive notification contains the message with statements about fax pages and includes links to malicious documents or sites that trigger the drop pf trojan script or additional download of the malware. This scam campaign relies on the legitimate eFax company name that us faxing service widely used all over the world. Impersonating other companies and services is a common technique used by malicious actors, so this variant of spam is pretty traditional. Users who use fax machines and such services, receive fax pages across email and mobile devices on a daily basis. So customers can fall for such trick easily due to the fact that such messages are commonly received.
eFax scams, in particular, include file attachments that contain Microsoft Excel spreadsheets or ZIP files, Word documents. Victims need to enable malicious macros on such documents, and that is easily done with misleading text and buttons encouraging to allow the content and prompt the information that is supposedly important. Executable files and other triggers automatically download the Dridex trojan or Remote Manipulator System Remote Access Tool, as some news reports state.[1] There are tons of possible outcomes when the user loads the malicious file on the computer because malware creators can design the virus to steal information, spread additional malware, or gather other types of data.
This eFax spam campaign tricks users into opening the email and link or the directly attached file by stating that there is a number of unopened fax messages. To access them, people need to visit the site via the provided link and download the MS Office document that supposedly contains important files. Any random file name can be used on these documents or spreadsheets, so the user may not even expect anything suspicious, especially when these are many legitimate companies listed on the email, and the sender resembles the eFax platform.
Name
eFax email virus
Type
Malware spreading campaign
Purpose
The misleading email notifications try to trick people into enabling additional content and loading malware on the machine, so the virus can run designed processes not he infected computer
Spreads
Trojans, password-stealing malware, banking malware,[2] spyware, and remote access trojans
Tactics
The notification supposedly informal people about pending pages from an unknown sender and encourages users to click on the link that should reveal the documents and fax pages with alleged messages and important files
Danger
There are tons of dangerous types of malware that email campaigns like this can spread around and features of stealthily intruders can differ from malware droppers to credential-stealers
Elimination
eFax email virus removal cannot be easy because you need to terminate all the programs that may end up on the computer and all the files that can possibly affect the performance. ANti-malware tools need to be used, so all the parts of the machine get checked for anything suspicious or malicious
Repair
System repair tools like

Reimage

Reimage Cleaner

Intego or PC optimizing applications are needed for virus damage and any affected or possibly corrupted files that can significantly diminish your time on the computer in the future
eFax email virus is the brandjacking scam that includes email fraud with the exploitation of a well-known brand name. The legitimate name and common type of notification help to convince people into opening files or links provided on the email. The recipient is informed that there are pages he or she forgot to check. Then the link leading to the phishing page is shown that encourages you to click on the button that should open the document directly.
Once the victim of the eFax email virus follows the suggested process, the page carries forged eFax branding as the email and other messages. The user is required to enter the login credentials that can be gathered this way, and people behind the scam can easily misuse data for identity theft or different campaigns.
eFax scams were noticed on different occasions, and none of them have the same email addresses, so those are formed randomly to resemble the company. In most cases, the eFax comes in from, and random characters or numbers follow. Even when the email includes a legitimate contact information window the only working part is the hyperlink leading to a phishing page and the initial email address.
eFax spam campaigns adopt several features to trick people:
branding;
logo;
official contact spreadsheet;
trademarked content;
reference number;
eFax website.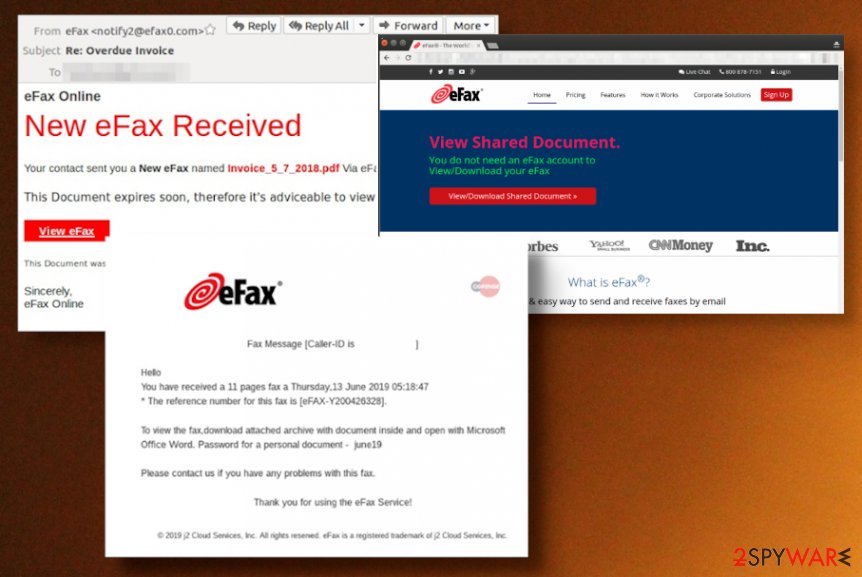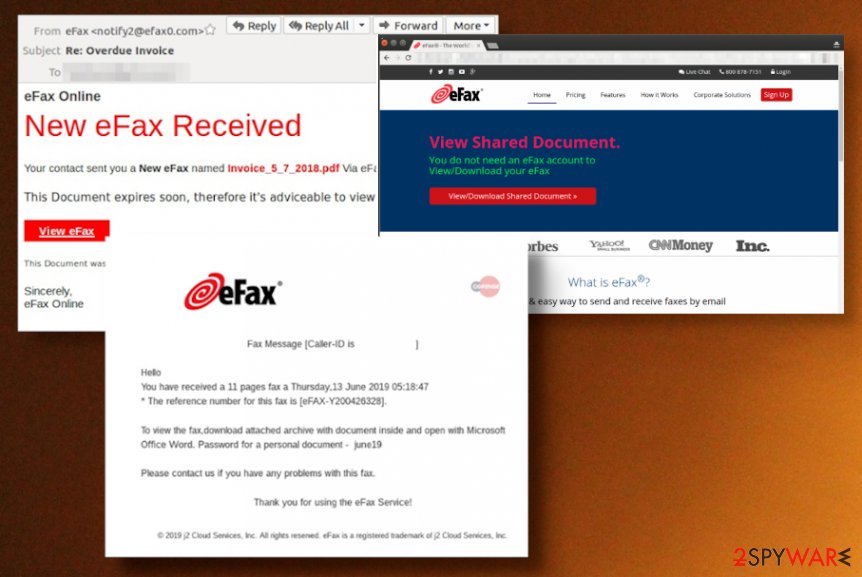 eFax email virus is only one of many brand-impersonation scams since these types of campaigns became more popular. Criminals try to use the hard work of others, so the popularity of a company allows them to target customers of known brands. Recipient of the spam email more likely has a relationship with the service and falls for the trick without any suspicions. It works instantly in favor of a malicious actor.
These malicious emails are always different, but experts[3] note that they may look like these examples:
Subject: eFax
You have an unread 4 page(s) fax.
Your fax can be viewed online, on our website, by visiting: hxxps://www.efax.com/
For additional assistance, please visit our help center at hxxps://www.efax.com/efax-help-center
Thank you for choosing eFax
Subject: efax
Fax Message[Caller-ID: 1-543-276-0865]
You have received a 1 page fax
*The reference number for this fax is at did-1400166434-31309133229-154.
Please download and view Microsoft Word attachment
Please visit www.eFax.com/en/efax/twa/page/help if you have any questions regarding this message or your service
Subject: You have a new fax from eFax!
Faxing Simplified
You have a new fax from eFax! Click attachment to view.
Thank you for choosing eFax!
Sincerely,
The eFax Team
P.S. Too busy to answer all your business calls? Let eVoice answer, manage and route your phone calls 24/7. Try a Free 30-Day Trial Today!
eFax spam focuses on companies that use the software and can get this scammy email. There are tons of possible innocent recipients who can get the email and fall for the malicious campaign without even noticing the red flags. This is the worst thing because there are many scenarios that can happen after the execution of a malicious file from the phishing site or a document.
You need to remove eFax email virus as soon as possible because criminals behind the scam can spread password-stealing malware, trojans or even ransomware, spyware, and banking credentials-targeting threats. Criminals continue to register email addresses and domains with napes of government departments and companies, so people receive backdoor trojans and other dangerous threats unsuspected.
eFax email virus can include chain infections that trigger one malicious script after the other and once you allow the malicious macros and execute data-stealing malware or a spying tool, you may at the same time receive the cryptocurrency mining virus or ransomware. Any intruder compromises the security of the machine and can lead to serious privacy issues and result in financial loss.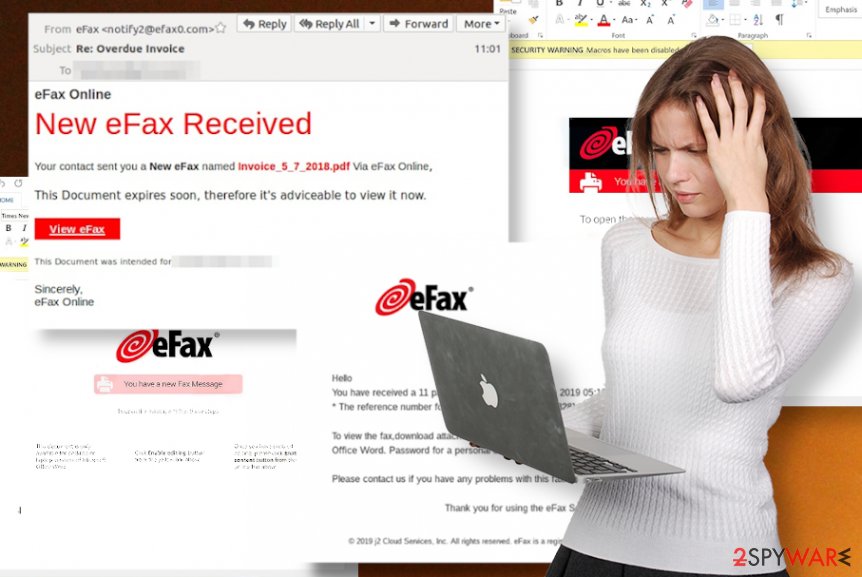 eFax email virus is the phishing email that scams people into downloading malicious files from malware-laced sites and enabling malicious macros from MS Office files.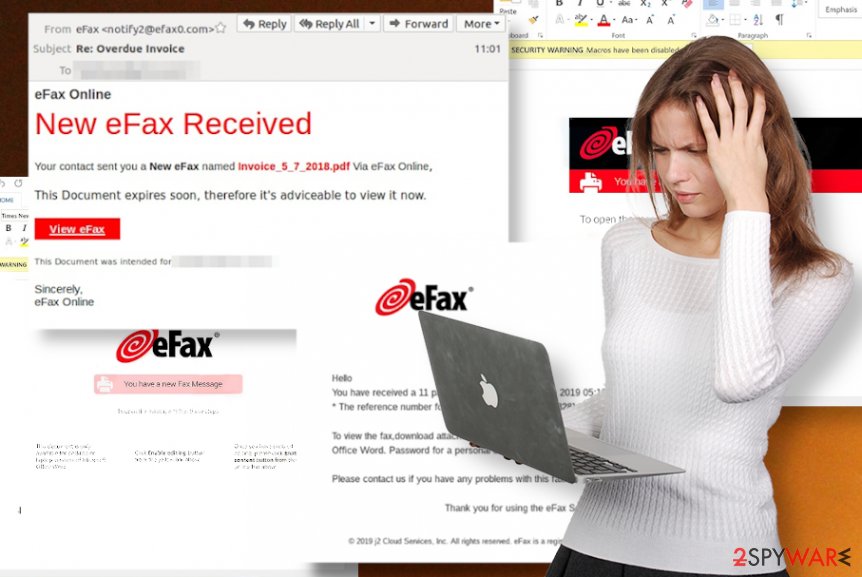 eFax email virus is the phishing email that scams people into downloading malicious files from malware-laced sites and enabling malicious macros from MS Office files.
eFax scams resemble Brexit email virus, Sendinc email virus, FedEx tracking email scam, Deloitte email virus, JPMorgan Chase email virus, Bank of America email virus. In most cases of such scams, the customer is not the only one that faces the risk because wide-spreading emails affect the number of people that are linked with huge companies. When the network of service gets infected the damage is exponentially bigger.
eFax spam can lead to huge businesses that enable employees to check their personal emails on work computers, suffer from cyber attacks. There is an important issue to have a multi-layered strategy to ensure the security of the company and personal data. Significantly reduced risks of malware infections can help protect the network.
Otherwise, you will face the difficulty of eFax email virus removal process. Even though this is an email campaign, the malware that is distributed can run in the background and affect various processes of the computer, so the full system scan is mandatory. You cannot get rid of all the malicious programs and files without employing a proper anti-malware tool. So rely on anti-malware application and run the software on your device, so all the parts of the virus can get terminated.
Unfortunately, you may not be sure when this eFax email virus ended up on your machine and for how long the malware may already be running. This fact also means that your device can get affected and significantly damaged behind your back and without you noticing. When the virus damage is left behind, infection may repeat itself, or your device may still work poorly even after the virus termination. Check the computer using Reimage Reimage Cleaner Intego or similar PC repair tools for affected files or system corruption and make sure to double-check to be sure.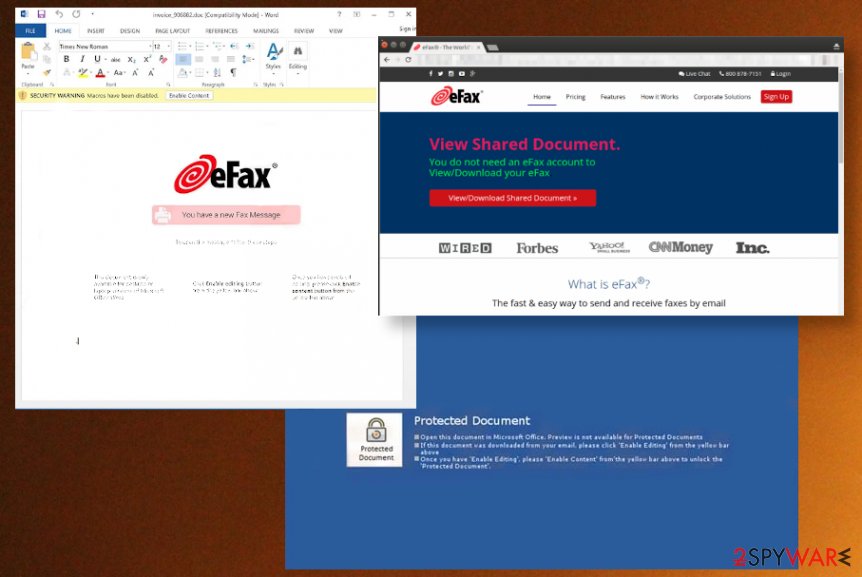 eFax email scam is the form of malware-spreading because once the malicious file is loaded on the PC, information from the device can be stolen or malware payload executed.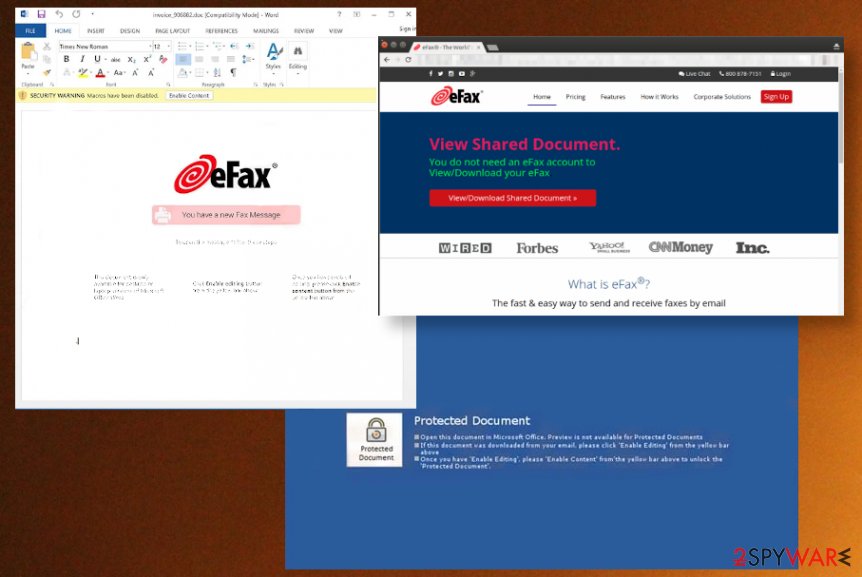 eFax email scam is the form of malware-spreading because once the malicious file is loaded on the PC, information from the device can be stolen or malware payload executed.
Do not click on any links or files when you are not sure about the email
There are tons of variants of such email campaigns and different scams that use decent logos, text, contact information, and other features that resemble legitimate companies and services. Scammers want you to click on zip files, Dropbox account links, open other websites, and download attachments. Some AV engines can detect suspicious files or links and indicate that the email is not safe, but you should run such applications on the machine more often and check particular notifications.
If you are familiar with the company or the service, you may not even consider the notification as a scam and open the message immediately. You need to pay attention to details all the time and consider any email a possible threat since these scams are more and more popular. Delete the email if it is suspicious in the first place, and you are not expecting to get any financial documents from the service.
Do not click on links or reply to any messages that are not expected. Try to look out for red flags and suspicious features like typos, grammar mistakes, and incorrect company emails. When receiving documents, look for a message that is specific – don't just open files shared with the generic message from the document sharing application or service.
Clean the machine from my traces of the eFax scam campaign
eFax email trojan can be one of the malware types that this scam distributes, so you need to find the intruder to get rid of it. There is no other way to delete a virus if you cannot see it as a program running on the computer. Trojans, spyware, and other malware are not PUPs or tools that can show up on the screen and indicate that there is something wrong.
To remove eFax email virus, you need a proper security tool like SpyHunter 5Combo Cleaner or Malwarebytes, an anti-malware application that can check various places of the machine and find malicious or even possibly dangerous programs, files, and scripts. You are left with a few options after the full system scan because AV engines show you the results and offer to delete or quarantine malware yourself.
When the process of eFax email virus removal becomes difficult, you can be sure that trojan is affecting particular processes and features of the system, so it is persistent. For that reason, you can reboot PC in Safe Mode and then run the anti-malware program. Also, for the damage that the virus leaves behind, try Reimage Reimage Cleaner Intego. Repair anything corrupted to a smooth working machine.
This entry was posted on 2020-04-21 at 05:39 and is filed under Malware, Viruses.