Ecp.yusercontent.com is a Yahoo related website flagged by reputable AV engines as phishing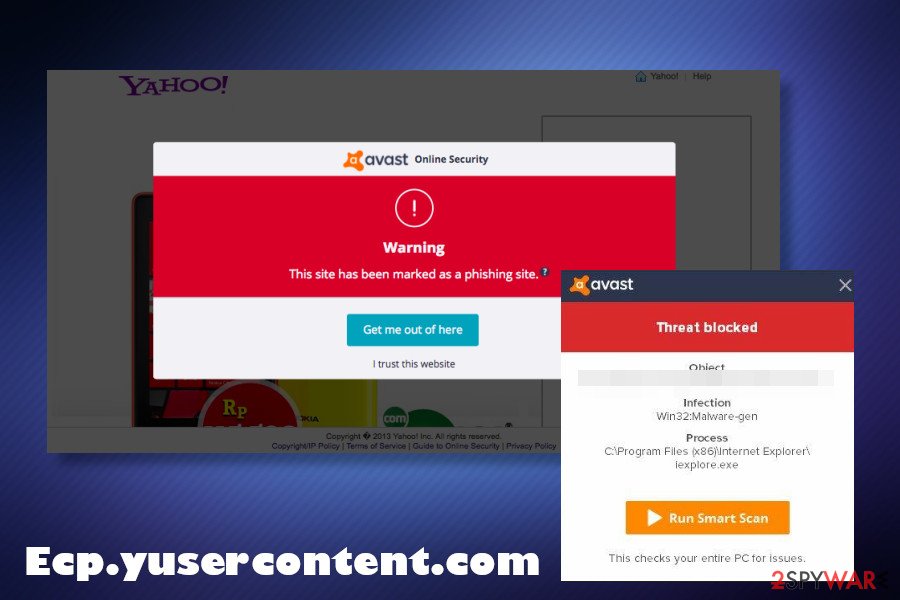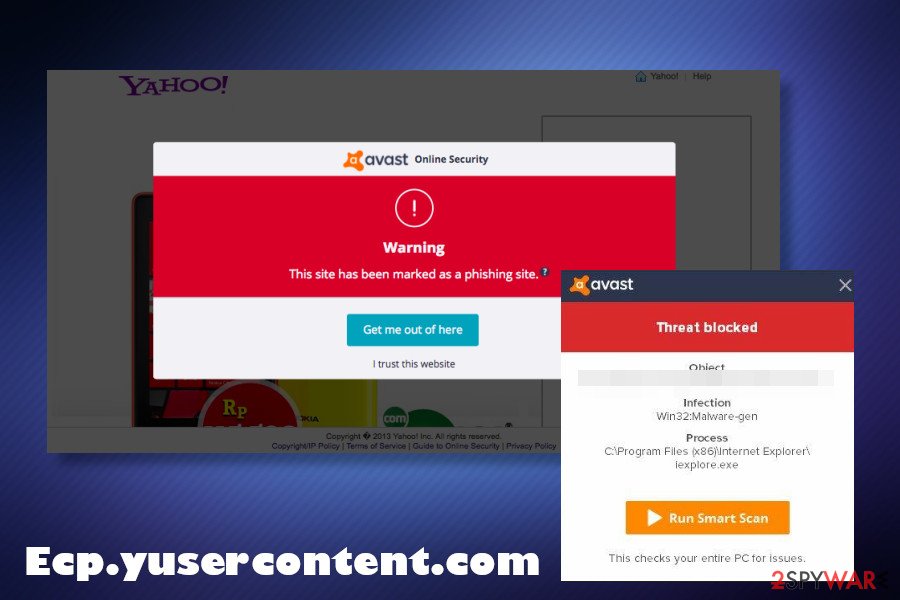 Ecp.yusercontent.com is a Yahoo-based website that has bee blacklisted for malicious phishing attacks. The issue that started in spring 2019 triggered a massive wave of dissatisfaction among the Yahoo mail community since they have started receiving a notification saying "Aborted Connection on ecp.yusercontent.com — Infected with URL: Phishing." Thorough research uncovered that people using Windows 7 and 10 OS face the ecp.yusercontent.com virus when trying to open Yahoo on both Mozilla Firefox and Google Chrome web browsers.
Currently, it is difficult to outline what is ecp.yusercontent.com domain about since it is not available or at least unavailable directly. An attempt to access the website by entering its URL address to the address bar, no matter which OS or web browser people use returns the same result, i.e. a Yahoo-related domain that reports "Yahoo! Will be right back… Thank you for your patience. Our engineers are working quickly to resolve this issue." However, there are two explanations of this questionable situation:
"Aborted Connection on ecp.yusercontent.com — Infected with URL: Phishing" is a false positive AV detection[1] that may be related to the latest virus definition update.
Ecp.yusercontent.com phishing website has been blocked by an AV engine purposely after recognizing malicious phishing[2] activities.
Our research team has initiated a thorough investigation of various perspectives on the issue. Despite the possibility that this AV-flagged website may be involved in phishing activities, the evidence shows that the alert ecp.yusercontent.com avast engine delivers has been triggered by the latest virus definition updates. Thousands of people were not allowed to check their Yahoo emails[3] without seeing false positive ecp.yusercontent.com Avast or AVG alert due to the 190405-0/4 update, which has been released in April 2019. Note that Avast and avg are both running on the same engine, which is why Ecp.yusercontent.com phishing alert may be shown by both programs.
Name
Ecp.yusercontent.com
Classification
Malware, phishing website, but can also be a false positive AV detection
Related websites
Ecp.yusercontent.com is a Yahoo-related domain
Symptoms
AV engines (AVAST and AVG) may block access to Yahoo mail due to the detected phishing activities on this website. People may also experience web browser's redirects to this domain
Related
"Aborted Connection on ecp.yusercontent.com — Infected with URL: Phishing" alert
Solution
In case your AV engine delivers a false positive detection, you can disable AV protection temporarily. However, if you are continuously redirected to this domain, it may indicate a malware infection, which can be terminated by running a full scan with SpyHunter 5Combo Cleaner tool or eliminated manually with the help of a guide given below.
Fix malware damage
Malware can cause multiple system's modifications. To fix any malware damage, use

Reimage

Reimage Cleaner

Intego software utility.
The company officially declared the issue to be the bug in the latest virus definition updates of Avast and recommended people who cannot open Yahoo content, see pictures or otherwise operate Yahoo email's content to disable the software temporarily. To disable the Avast or AVG engine, people should right-click on the AVG icon at the bottom right corner of the System Tray and set the slider to the "Disable Protection" option.
Even though the bug in av virus definition updates has been fixed almost a year ago, many people are still looking for an answer is the Ecp.yusercontent.com domain malicious. Although the website is said to be temporarily unavailable, bad actors tend to misuse such mistakes of the reputable security vendors, which is why we consider the domain as potentially dangerous due to a possible post-bug hacker attack.
If that is true, Yahoo-related website that we assume to be unavailable at the moment may be, in fact, fake. Attackers may be attempting to swindle people's login information by showing a fake Yahoo sign-in page. Submitted the user name, password, and clicking sign-in does not open the content of the account. The collected information may be transmitted to criminals, thus giving them immediate access to the private account information. Therefore, people who have encountered the message that reports Ecp.yusercontent.com virus or Ecp.yusercontent.com phishing should better not disable AV engines. That may be an attempt to personal accounts and further initiate crimes, such as identity theft, the lockout of the account, charge credit cards, and similar.
While the domain name suggests that the Ecp.yusercontent.com may be a browser hijacker, there is no evidence to claim that it can take over the web browser's start page, search engine or compromise web browser's settings in any other way. In fact, if you noticed redirects via Chrome, Firefox or another browser to the aforementioned website, the reason for that may be an adware infection. Such and similar programs inject potentially unwanted add-ons on a default web browser so that it would display advertising content on every website that the user is viewing.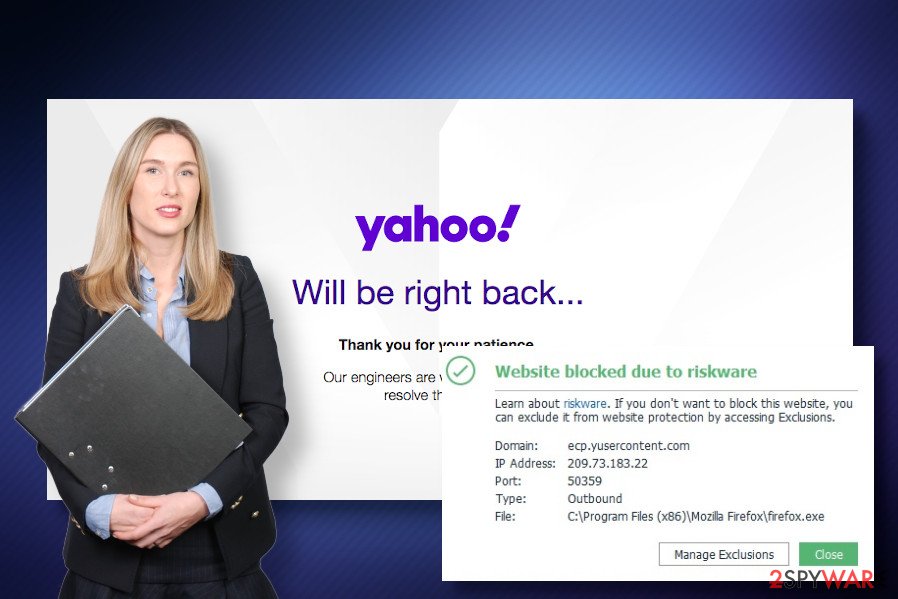 Ecp.yusercontent.com may be flagged by AV engines as a phishing domain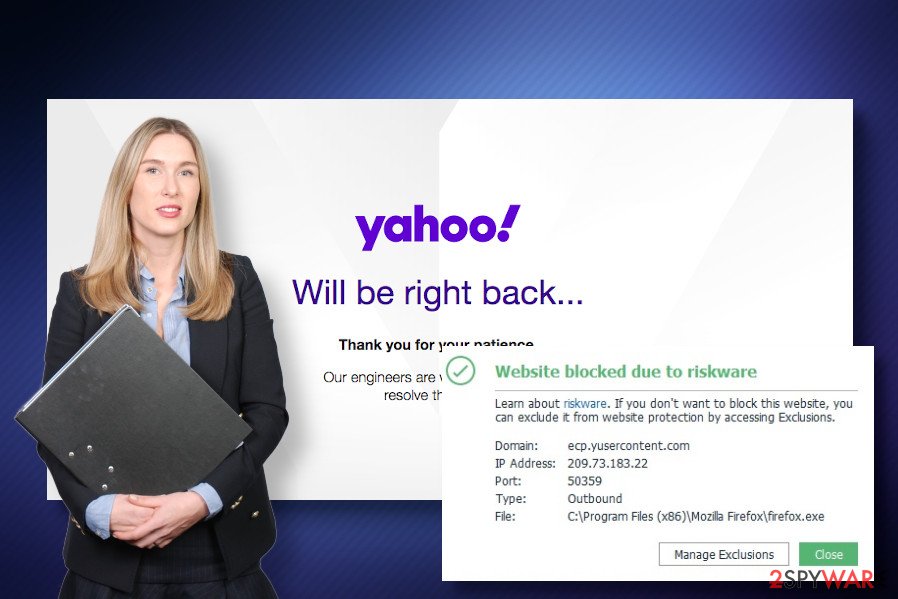 Ecp.yusercontent.com may be flagged by AV engines as a phishing domain
However, even though adware-type programs cannot be marked as malicious because they do not exhibit such traits, some of them may be involved in shady activities, such as redirects to phishing pages. If you are currently experiencing Ecp.yusercontent.com redirects or get alerts that the website is blocked, we strongly recommend you to run a scan with a professional anti-malware tool. If there is adware on the system, tools like SpyHunter 5Combo Cleaner or Malwarebytes will help you to eliminate malware immediately.
If misleading redirects ti phishing domain happen when people attempt to access legitimate Yahoo-related sites, it's important to let the company know about that. However, if Ecp.yusercontent.com ads come from adware infection, you should check for malware on the system and get rid of it to protect yourself from phishing attacks and other problems. Potentially unwanted programs (PUPs) like adware may also display intrusive ads and popups while browsing the net, as well as turning text into hyperlinks, or even giving fake software updates that may contain other malware behind. Therefore, you should remove Ecp.yusercontent.com virus from the system without hesitation.
Ecp.yusercontent.com removal can be initiated in two ways, .i.e. either scan the system with a professional antivirus or manually check the list of installed apps and eliminate the ones that you are not familiar with.
Deceptive material triggers shady installations
Landing on a phishing website does not require an additional program. Hackers can inject malicious codes into URLs that are poorly connected. Therefore, you may be tricked into visiting the credential-stealing domain simply when web browsing on the Internet.
However, the well-secured system will block phishing pages, as well as protect users from downloading malware. The situation slightly differs when the system is infected by an adware program. Adware is a misleading application that is typically distributed alongside free software as a "bonus." It may be represented as a useful utility that improves web browsing experience in various ways.
Since many people are still not paying enough attention to the freeware installation process and initiate it in a hurry, adware has a huge success in accessing host machines without being noticed. Upon infiltration, web browser's settings are modified, an excessive amount of ads appear, as well as redirects to potentially dangerous or phishing websites begin. Therefore, you have to be extremely cautious and install freeware without additional components. For that, select the Advanced installation option and remove checkmarks claiming that you agree with the installation of add-ons, plug-ins or toolbars.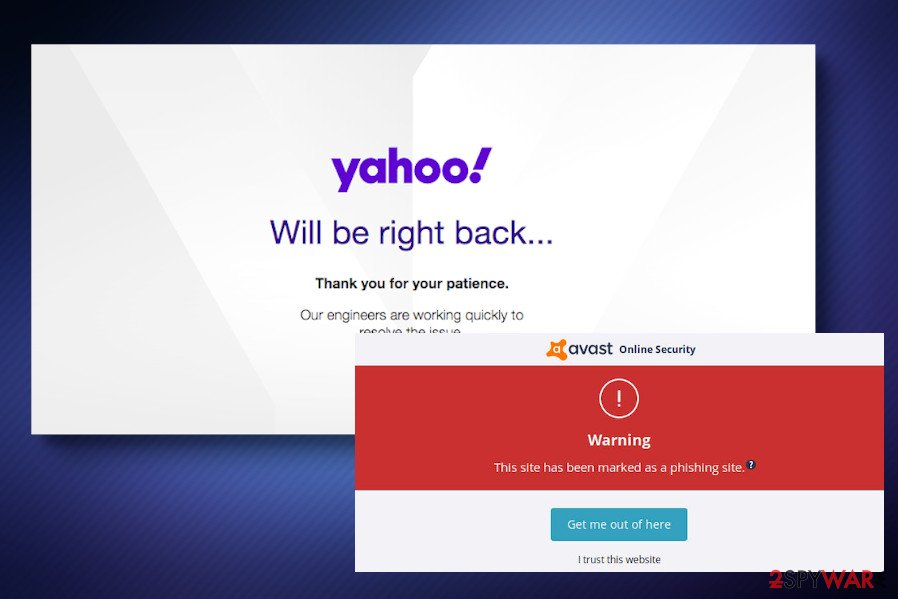 Ecp.yusercontent.com is a misleading domain that may try to swindle people's login credentials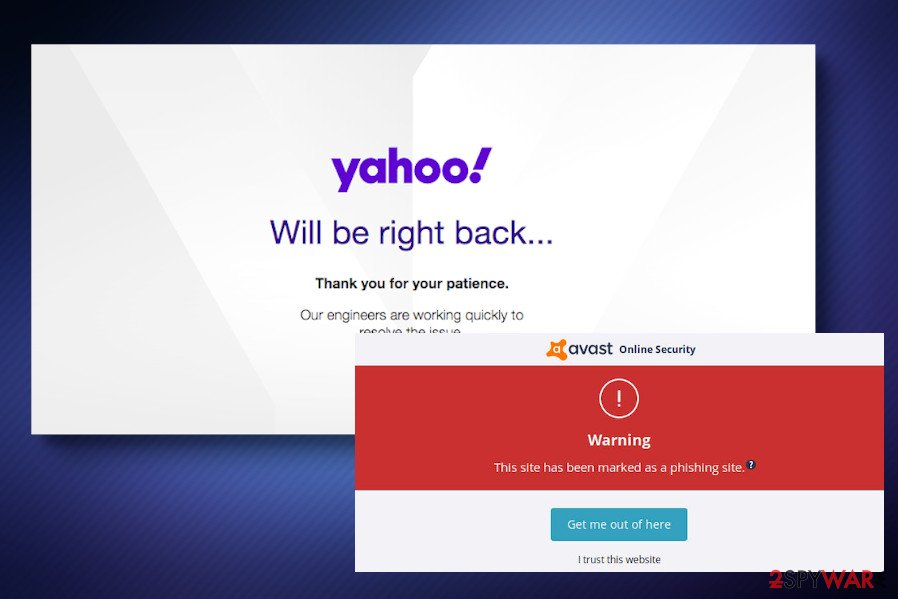 Ecp.yusercontent.com is a misleading domain that may try to swindle people's login credentials
Terminate Ecp.yusercontent.com redirects by cleaning the system from malware
Although the discussed domain can be legitimate, there is a fairground to believe that it may be misused by hackers for phishing attacks. Having this in mind, it's very important to remove Ecp.yusercontent.com virus from the system without a delay.
When the application like Ecp.yusercontent.com virus enters the system, it may initiate multiple system's changes in the background and turn a web browser into an advertising platform. Typically adware manifests by an excessive amount of popups and ads, but it may also initiate browser's redirects to potentially dangerous or even phishing websites like Ecp.yusercontent.com.
Ecp.yusercontent.com removal can be implemented manually. For that, you have to delete all suspicious programs from the system and then reset the affected web browser's settings as explained in the guide below. If, however, you cannot find a related application, you may need the help of a professional antivirus. Run a full system scan and remove Ecp.yusercontent.com malware completely.
You may remove virus damage with a help of Reimage Reimage Cleaner Intego. SpyHunter 5Combo Cleaner and Malwarebytes are recommended to detect potentially unwanted programs and viruses with all their files and registry entries that are related to them.