Bongacams virus – an adware infection that shows inappropriate ads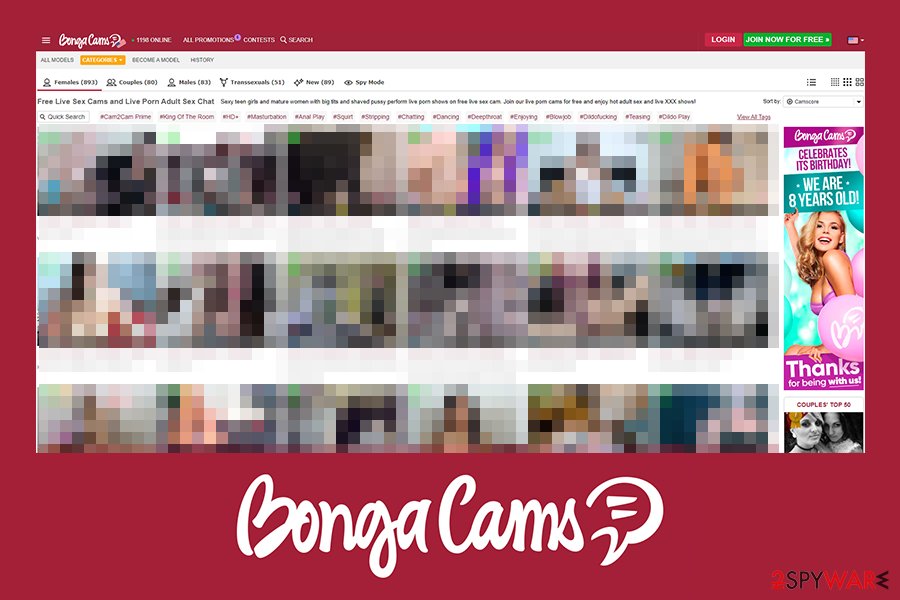 Bongacams virus is a term used to describe adware and malware that is related to this adult-oriented site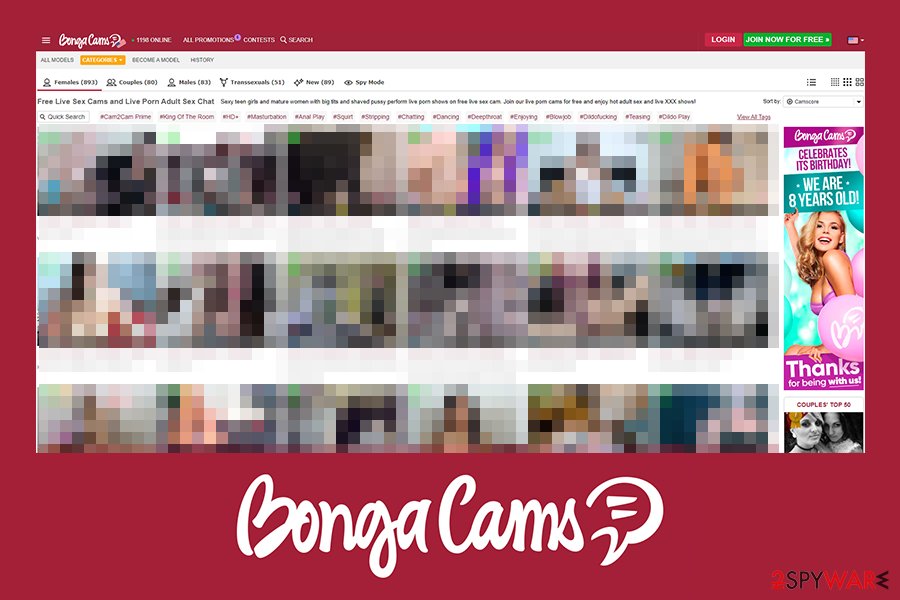 Bongacams virus is a term used to describe adware and malware that is related to this adult-oriented site
Bongacams, or Bongacams.com, is an adult-oriented website that hosts X-rated content users might visit if they choose so. However, some users reported that their Google Chrome, Mozilla Firefox, MS Edge, Safari, or another web browser sometimes brings them to the site without their intention. As a result, some might view content that is not considered appropriate. In most cases, Bongacams redirects are caused by adware infection, although users may visit the website unintentionally after clicking a link somewhere else.
As if Bongacam ads and redirects would not be enough, there is also another threat that users should be aware of. According to research, there are several fake copies of the site that look identical but can be much more dangerous and host malicious ads, abuse software vulnerabilities, show phishing messages, and so on. Whether you are constantly encountering the real Bongacams.com or you visited a fake, check out this article to find out what to do next.
Name
Bongacams virus
Type
Adware, redirect virus
Infiltration
In most cases, adware gets into machines along with freeware installers (software bundling) or via fake updates. In other cases, users might install the PUP themselves without knowing malicious aspects of it
Symptoms
Intrusive ads shown on all visited websites, redirects bring to Bongacams.com and other inappropriate or dangerous sites, web browser settings altered, etc.
Dangers
Installation of other potentially unwanted application or malware, financial losses due to encountered scams, personal information disclosure to malicious parties, identity theft
Removal
If you visited the fake version of the site, you should immediately scan your machine with anti-malware such as SpyHunter 5Combo Cleaner or Malwarebytes. On the other hand, you can terminate adware manually and also reset browser settings to ensure full elimination
System fix
If you visited the fake version of the site, you might have infected your machine with a Trojan. In such a case, system files could also get damaged. Thus, scan your computer with

Reimage

Reimage Cleaner

Intego to fix virus damage
Let's make it clear: Bongacams is a legitimate website that is aimed for an adult audience – it also uses a safe HTTPs protocol to protect users from cyberattacks.[1] In other words, the website itself is not malicious, although ads and redirects that are injected into users' web browsers are. In some cases, users might see the following URL bad showing the following indicators:
Transferring to Bongacams.com
Redirecting to Bongacams.com
Waiting for Bongacams.com
Connected to Bongacams.com
As mentioned above, these redirects are caused by adware infection that most did not install intentionally. In most cases, Bongacams adware is distributed via software bundle packages, or fake update prompts, so it gains access to the computer stealthily.
However, the affected users can quickly see the effects of such infection, as the web browsers start acting erratically – they start seeing an extensive amount of ads, observe homepage and new, and search engine changes, etc. As one of the side-effects, users can also encounter redirects to Bongacam and similar websites – that is where the "Bongacams virus" term came from.
However, Bongacams is not the only website that users might be directed to. Adware infected are often show phishing messages and redirected to all type scam sites. For example, Bongacams virus-related activities might show users fake alerts that claim malware infections and that they need to download an alleged anti-virus tool to get rid of it. As a result, users will end up with more potentially unwanted programs and malware on their machines, lose money, disclose personal data, or even suffer identity theft. This is why Bongacams virus removal is so critical.
Another Bongacams virus threat if you visit a fake version of the site. Just as many similar less-secure websites (such as torrents, free video streaming, free gaming, etc.), porn websites are often mimicked by threat actors in order to make users believe that they landed on the original site.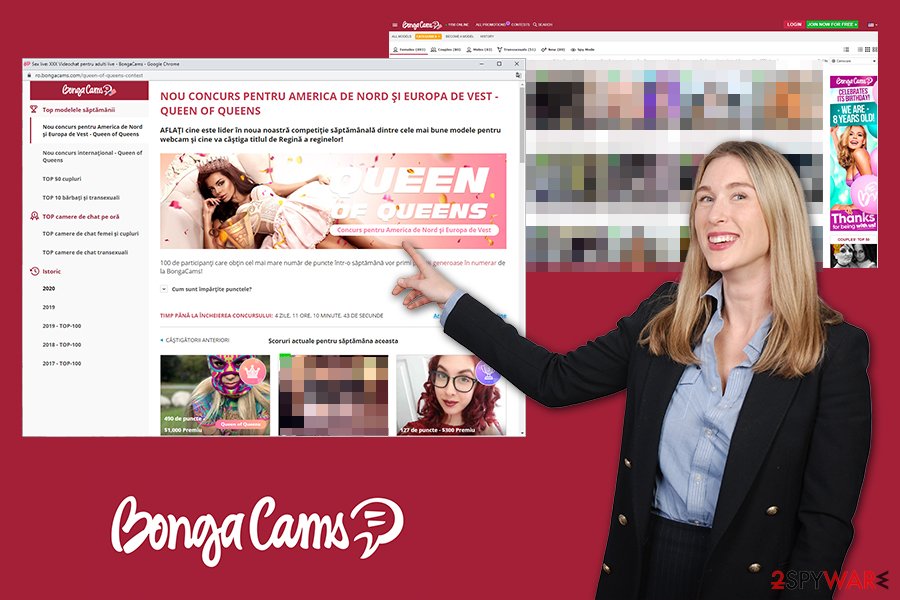 Bongacams is an X-rated website that users infected with adware are constantly being redirected to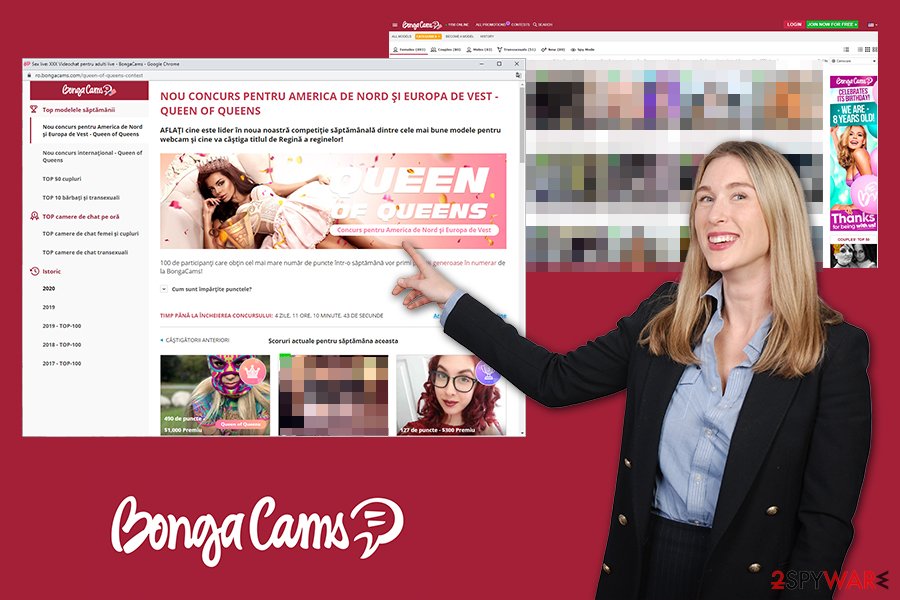 Bongacams is an X-rated website that users infected with adware are constantly being redirected to
Fake Bongacam phishing sites are extremely dangerous, as they often use various techniques to make users spend money, provide sensitive information (such as credit card details) or download malware in the background. In the case of the latter, the automatic malware infection is possible when software vulnerabilities[2] are present on the machine – this is another reason to ensure that all apps, including the operating system, are updated as soon as patches are released.
While you can remove Bongacams adware easily manually, malware termination should be performed automatically. For that, you should employ a reputable anti-malware tool. After that, we also suggest resetting all the installed web browsers and removing virus damage with the help of tools like Reimage Reimage Cleaner Intego.
Avoid adware by following these useful tips
Adware and other potentially unwanted programs are very common – third-party websites are filled with them. Unfortunately, with the help of clever marketing, users are prompted to install apps that are less than secure without realizing that themselves. Therefore, it is important to do some research before installing any type of new applications on your system – read reviews, blogs, check user reviews, etc.
However, even if you are sure that the app you are about to install has no suspicious indicators such as broad information tracking or extensive ad display, you can still get infected with adware if you do not pay close attention to the installation process of the new app. Software bundling is prevalent on third-parties and is relatively rare on the official sources (bundling software is no illegal, but some methods are far more deceptive than the others – users should be clearly notified about the optional install, which they not always do). Here are some tips from experts[3] what you should watch out for:
When prompted, always pick Advanced/Custom settings instead of Recommended ones;
Watch out for pre-ticked boxes – remove ticks as soon as you see some next to add-ons, system optimizers, video players, file converters, etc.;
Do not forget to read the fine print – important information is often hidden there;
Keep an eye out for deceptive deals/offers and misleading button placements;
Install anti-malware software that would warn you about PUPs.
Get rid of Bongacams virus
Bongacams removal can differ, depending on what your specific issue is. Therefore, let's start with adware. If you are constantly being redirected to suspicious websites, you should first check for potentially unwanted programs installed on your machine without your knowledge. You can do it manually by checking our instructions below, and then resetting all the installed web browsers in order to get rid of adware-related components and prevent repeated activities.
Nevertheless, if you accessed a fake website, you should remove Bongacams virus with the help of anti-malware software, as you can have infected your computer with malware. Simply download one of the reputable security tools, bring it up to date, and perform a full system scan (note that this can also eliminate some adware infections as well). If the program finds anything suspicious, you should also take extra precautions and change all your passwords immediately.
You may remove virus damage with a help of Reimage Reimage Cleaner Intego. SpyHunter 5Combo Cleaner and Malwarebytes are recommended to detect potentially unwanted programs and viruses with all their files and registry entries that are related to them.