E.tre456_worm is a fake trojan virus that intends to scare both Windows and Mac computer users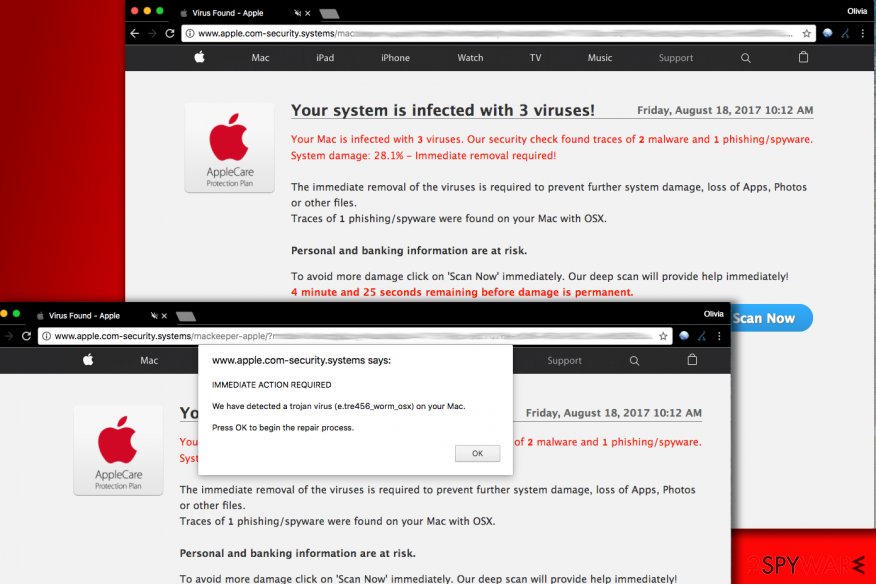 E.tre456_worm_osx (or E.tre456_worm_Windows) virus is an invented computer threat which might appear as a fake warning message out of a sudden. Usually, victims get redirected to sites that display "IMMEDIATE ACTION REQUIRED, E.tre456_worm_osx detected", We have detected a Trojan virus or similar notification after clicking on a malicious link or a fake online ad. However, this message can also show up because of the adware-type program hiding inside the system. Make sure you double-check it right after this hoax stars appearing on Chrome, Firefox or another web browser.
Alternatively known as We have detected a trojan virus scam, this fake error message urges people to click the OK button. To convince them into doing so, it can also display a deceptive Your system is infected with 3 viruses! message. If the victim is tricked into clicking OK, he or she is lead into installing rogue security software on the system. So, if you received the suspicious tre456_worm virus alert on your Mac or Windows computer, refrain yourself from following its commands because you will get scammed.
The success of the invented trojan virus (e.tre456_worm_osx) message lies in its trustworthy looks and claims that a "security check" detected traces of 2 malware and 1 phishing/spyware[1]. System damage is 29.1%, so an immediate removal is required, the message says. Luckily, that is simply a scam, and you should remove the virus immediately as soon as you receive one of the following messages on your screen:
Immediate action required!
We have detected a trojan virus (e.tre456_worm_osx) on your Mac.

Press OK to begin the repair process.
Immediate action required!
We have detected a trojan virus (e.tre456_worm_osx) on your Mac.
This process is completed.
To finish, click ok.
There is no need to remove E.tre456_worm_osx virus because it is not even on your Mac or Windows. If you clicked the "Scan Now" or OK button, the web page would imitate a computer scan (there is no scan going on; it is yet another bluff to trick you into installing a rogue system optimization tool). However, you should definitely take care of adware, browser hijackers and similar PUP removal from your computer because this is the only way to prevent these fake ads from reappearing.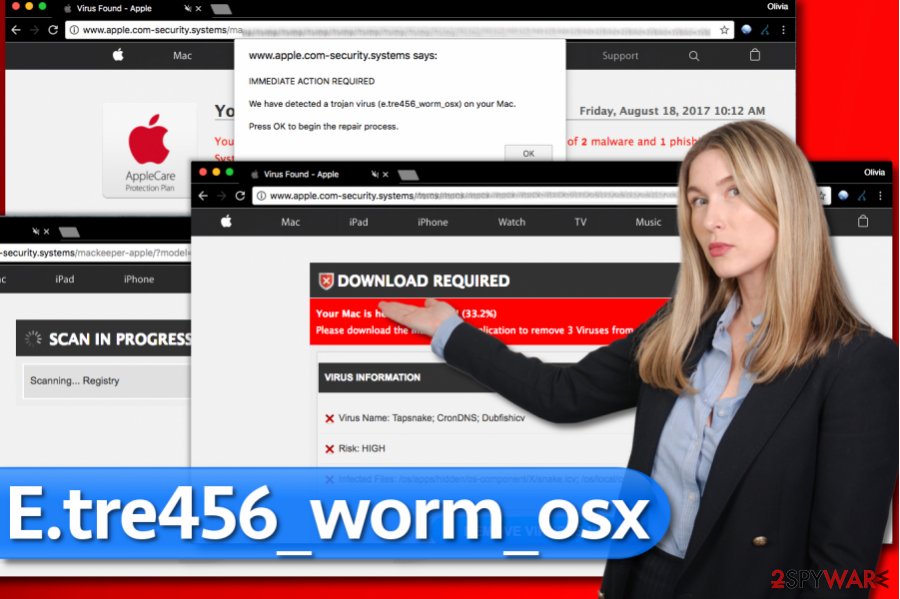 E.tre456_worm_osx is a fake virus name that is used to scare computer users and trick them into installing a vague system security tool.
Malicious actors behind the fake E.tre456_worm alert can also "detect" these viruses:
Clicking on "Remove viruses now" button will download a suspicious system cleaner to your computer, so make sure you stay away from this button. The program doesn't have the best reputation, so we do not recommend using it. Especially for E.tre456_worm_osx removal, because the name of this virus is a clear sign of a scam.
Alerts that include Trojan virus e.tre456_worm_osx name are deceptive, and, if you happen to notice that your browser repeatedly redirects you to such suspicious websites, you should check your computer with a trustworthy security software instead. It goes without saying that you shouldn't rely on a program that suggests your computer is infected without actually checking it.
It is a known marketing technique to scare[2] the computer user and convince him/her to install a suspicious security product. If you have any suspicions about your computer, consider running a full system scan with your anti-virus. Additionally, use Reimage Reimage Cleaner to clean your PC further by eliminating virus damage.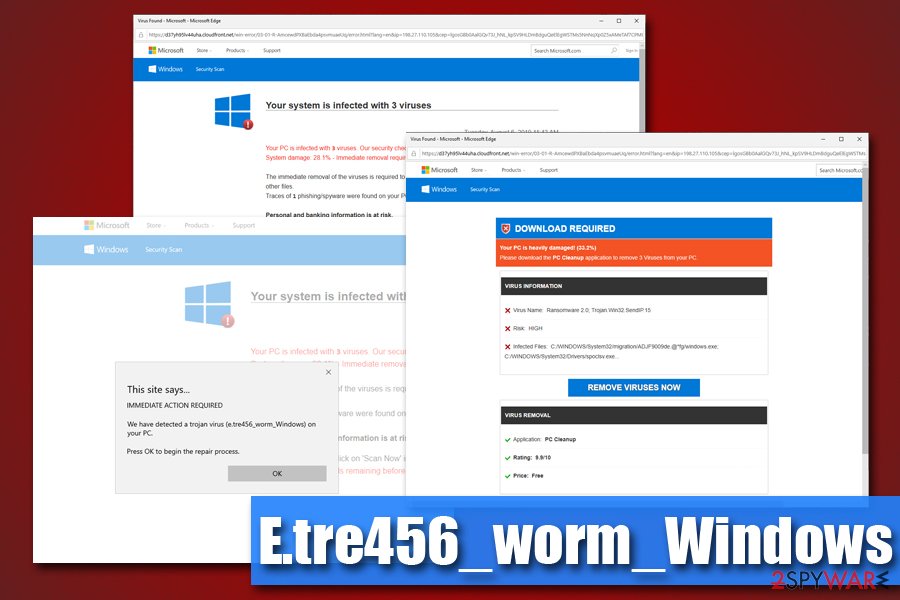 E.tre456_worm detection can be shown for both, Windows and Mac users. Nevertheless, the ending of the alleged virus changes based on what OS the victim is using.
Avoid installing spyware on your Mac
Macs are vulnerable to spyware and malware, but it seems that creators of severe computer threats aren't that interested in this market yet. That, however, cannot be said about spyware developers.
DieViren.de[3] points out that the number of Mac spyware increased significantly. Therefore, if you started experiencing redirects to suspicious domains, we recommend checking your Mac for ad-supported programs and removing them ASAP.
Spyware-type programs (adware, browser hijackers) tend to sneak into computers alongside popular free apps. Therefore, if you have downloaded a new app from the Internet and not from Apple Store, it is very likely that it will contain some unwanted attachments.
To decompose software bundle, consider using Custom/Advanced installation settings. These will allow you to see all of the files and extra programs added to your download and allow you to drop them.
Remove E.tre456_worm_osx virus alert from your Mac
When looking for a method to remove E.tre456_worm_osx, do NOT fall for the "Your Mac is infected with 3 viruses" scam and do NOT install the program promoted with its help. In reality, such a virus doesn't even exist. However, the fact that you were redirected to such a suspicious website gives you a hint that your Mac OS isn't protected and certain adware might be lurking on it.
To make sure that your system is not infected with computer worms, trojan horses and similar malware, you should scan it with one of these programs that are listed below. They could also help you with the E.tre456_worm_osx removal as well. However, at the moment there is no information that this virus does even exist. Be careful with scams because their number has been increasing rapidly.
You may remove virus damage with a help of Reimage Reimage Cleaner . SpyHunter 5Combo Cleaner and Malwarebytes are recommended to detect potentially unwanted programs and viruses with all their files and registry entries that are related to them.