Dongtaiwang.com is a news site that tries to push a VPN app Freegate to Chinese-speaking users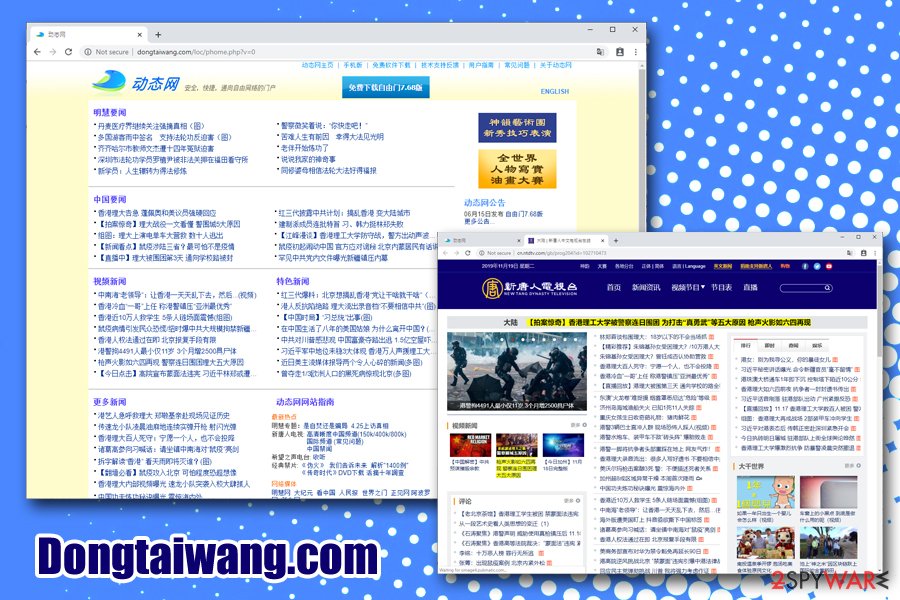 Dongtaiwang.com is a site that pushes a potentially unwanted program – Freegate VPN – to Chinese users
Dongtaiwang.com is a Chinese website that specializes in various news stories and promotes the Freegate VPN service app. Due to heavy censoring policies practiced by the Chinese government, people cannot access the world wide web as most of the others. Instead, they are presented with a Chinese version of social networks, Google, and other services most are used to in the West.
For that reason, many Chinese citizens resort to using a VPN service that modifies DNS[1] settings in order to bypass restrictions set in China. Dongtaiwang.com is one of the websites that offers a solution and prompts users to download Freegate VPN by Dynamic Internet Technology, Inc. However, the service is simply not as trustworthy, as it is known to hijack Google Chrome, Internet Explorer, Mozilla Firefox, MS Edge, Safari, or another browser, redirect users to Dongtaiwang.com and other websites, as well as make users visit phishing, scam or otherwise-dangerous sites.
Those who try to access Dongtaiwang.com directly will be simply presented with an automatic download "phome.gz," which is an archive file of unknown contents – do not open the file as it might install malware like rootkit or ransomware on your device.
Name
Dongtaiwang.com
Type
Browser hijacker, potentially unwanted program (the offered Freegate VPN is more of an adware app)
Associated download
Upon entering the site, users might encounter an automatic download prompt "phome.gz" – do not open it as it might be infected with malware
Other files
fgp.zip, fg768p.zip, Freegate.exe, FreegateX.exe, DynaPass.exe
Installation
Users might install browser hijackers willingly or unintentionally when installing freeware from third-party sites. Additionally, they might get tricked by fake updates
Associated risks
Installation of other potentially unwanted programs or malware, sensitive data leak to unknown parties or cybercriminals, monetary loss due to exposure to scam sites, etc.
Termination
To uninstall the browser hijacker, follow our manual removal guide below. Alternatively, you can also scan your computer with anti-malware software
Recovery
After you get rid of the hijacker, various system settings might still be altered or certain system files damaged. To fix any issues that might arise after a computer infection, scan it with

Reimage

Reimage Cleaner
If you installed the app offered by Dongtaiwang.com, you might start experiencing intrusive web browser behavior, and your web browsing sessions will be traced by the implanted cookies and other tracking technologies. The following data is typically traced by browser hijackers:
Websites visited;
Links clicked;
Bookmarks added;
IP address;
ISP;
Technical data of the device (OS version, installed browsers and apps, etc.).
This information is usually collected by the Dongtaiwang.com virus in order to present you with targeted advertisements.[2] The served ads are then more likely to lure you into clicking on commercial content, and each click provides the developer's profits. However, keep in mind that these links and ads might not be secure and bring you to scam sites where you might be tricked into installing malicious software or entering your personal information that might be stolen by cybercriminals.
To remove Dongtaiwang.com redirects, ads, pop-ups, deals, banners, offers, and other unwanted activity, you will have to uninstall Freegate VPN application from your computer. Besides, it is also worth noting that you should reset all the installed browsers and scan your machine with Reimage Reimage Cleaner for best results, as it can fix virus damage done and restore normal computer functions without you having to reinstall your operating system after the infection.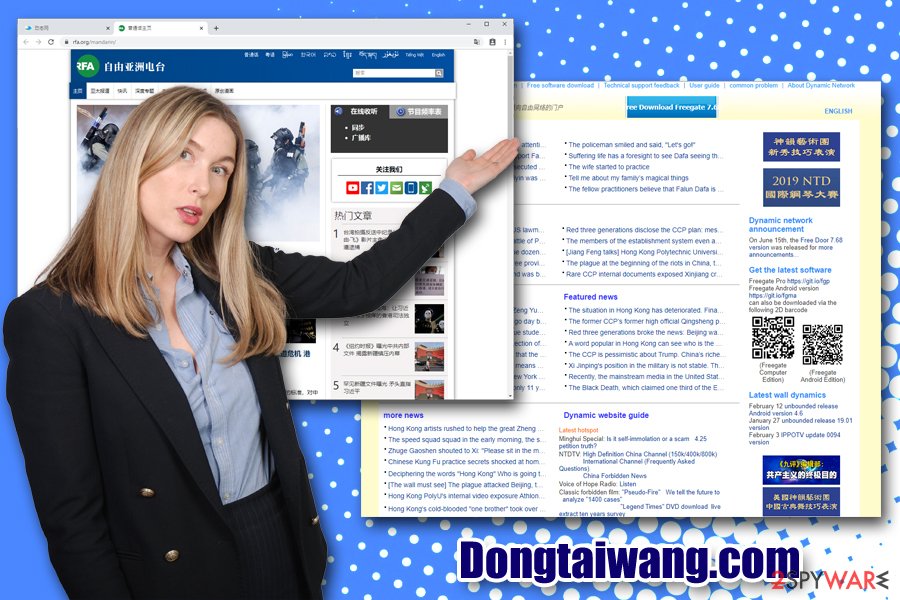 Dongtaiwang.com is a browser hijacker that might deliver intrusive advertisements and change web browser settings without permission
Freedom of speech and the ability to view various websites online should be a right. Unfortunately, Chinese people are not provided these rights, and there is no wonder that many turns to services like VPN that change the proxy and DNS settings to bypass the restrictions set by the government. However, Dongtaiwang.com-offered application is not the right choice, as it might be used to track users instead of helping them. Besides, the annoying commercial content, as well as intrusive ads, will not let users perform regular web browsing activities.
Dongtaiwang.com removal should also be performed because it is known that the site might be offering a corrupted version of the VPN, which can bring Tearspear and Rapidstealer Trojans on your device. These malware apps can steal personal and sensitive information from your machine and expose it to cybercriminals.
Stay away from unsafe applications by being attentive when browsing the internet
In some cases, users are offered applications that might seem useful: video converters, system optimizers, file converters, video players, etc. While some of these programs might be great additions to users' computers and help them perform tasks they want to achieve easier, others might not only fail to provide what was promised but also expose users to intrusive commercial content, change web browser settings without permission, and even install other unwanted apps without permission. What makes matters worse is that there are millions of apps offered on various sites. So, how do you determine is the app is good or bad?
There are many factors that users should be paying attention to. Security experts[3] provide the following guidelines:
If possible, download programs from official websites (Chrome store, Amazon, etc.);
Before downloading an app from an external source, read up on it online (forums, blog posts, etc.);
During the installation, always opt for Advanced/Custom settings instead of Recommended/Quick ones;
Make sure the app provides vital documents like Terms of Service and Privacy Policy;
Beware of software bundling tricks: pre-ticked boxes, fine print text, misleading button placements, deceptive deals/offers, etc.;
Install reputable anti-malware that will most likely stop most of the potentially dangerous apps before they manage to get in.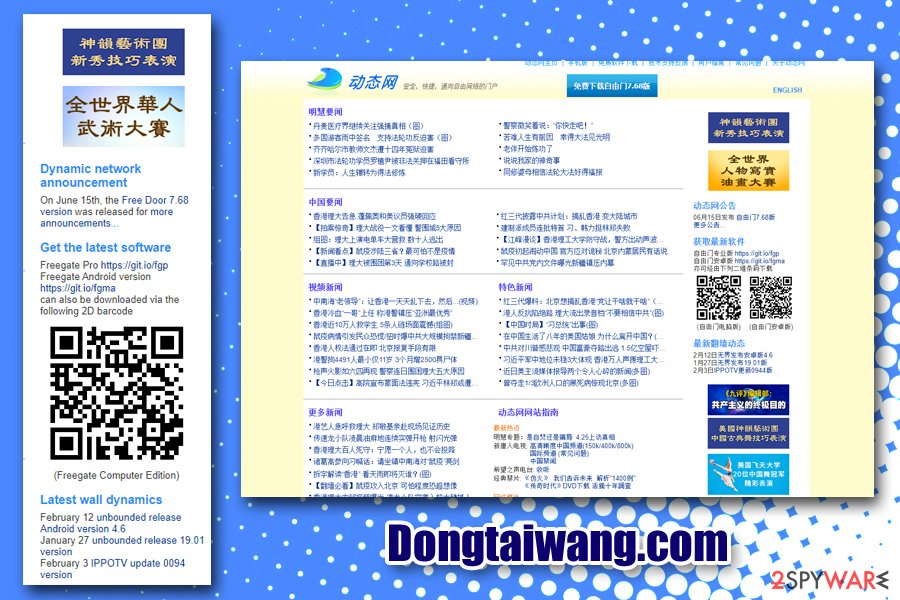 Dongtaiwang.com advertises the VPN as a tool that can help fight Chinese government censorship. However, the app is unsafe, as it is used to show users intrusive ads and the installer might be infected with a Trojan
Get rid of Dongtaiwang.com ads by uninstalling Freegate VPN from your computer
You can either remove Dongtaiwang.com hijack either manually or automatically. Manual elimination should usually not be too complicated – all you have to do is access the list of the installed programs and uninstall the Freegate VPN app. However, as we previously mentioned, Dongtaiwang.com might promote a malicious version of the program. Therefore, the machine might also be infected with Trojans that secretly record sensitive information and send it to remote servers controlled by malicious actors.
For that reason, automatic Dongtaiwang.com removal is recommended – simply download and install a reputable anti-malware program and run a full system scan. This way, you will be able to eliminate not only browser hijackers/potentially unwanted programs but also more sinister infections like Trojans. Finally, a full browser reset is recommended – you can also find all the details about the process below.
You may remove virus damage with a help of Reimage Reimage Cleaner . SpyHunter 5Combo Cleaner and Malwarebytes are recommended to detect potentially unwanted programs and viruses with all their files and registry entries that are related to them.