DNS Unlocker – a dubious application that claims to unlock blocked internet content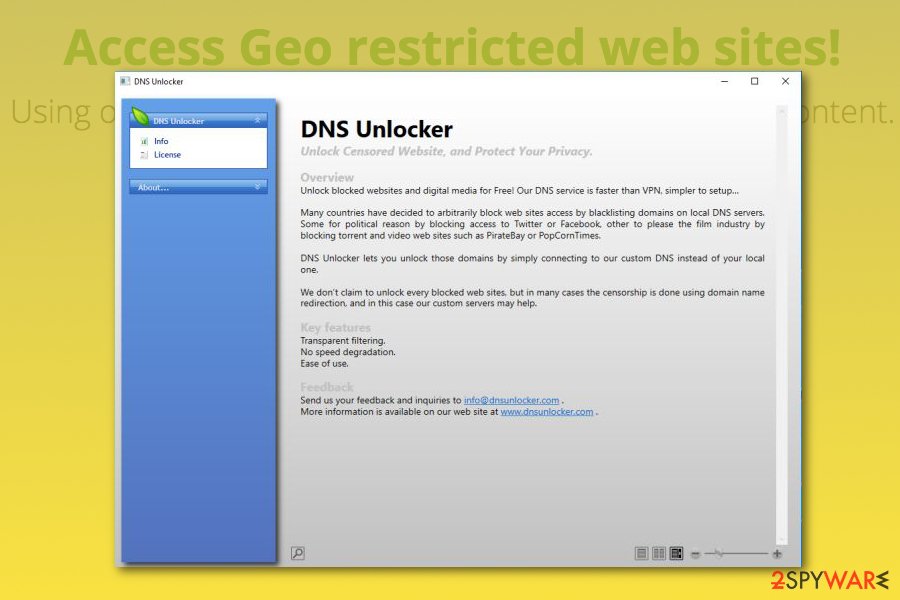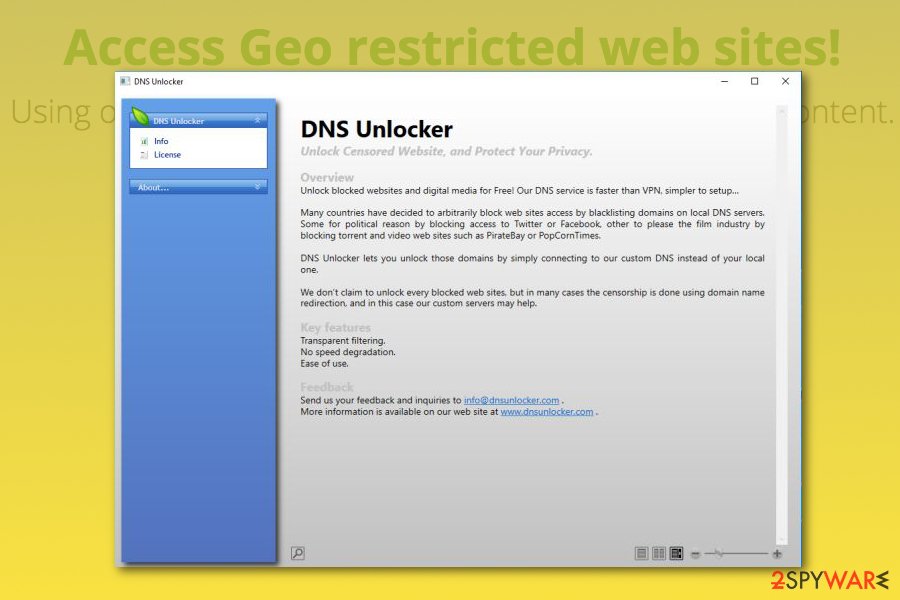 DNS Unlocker is an unwanted application that claims to give access to various geo-restricted websites and allows users to connect to such streaming services like Netflix, BBC iPlayer, Hulu, and similar. To do that, the program modifies DNS and browser settings of Google Chrome, Internet Explorer, Mozilla Firefox, Safari, etc. The app is compatible with various platforms (Windows, Mac OS X, iOS and Android operating systems), so there are numerous users who find it useful. Unfortunately, DNS Unlocker is nothing but adware in disguise, as users who got tricked into installing it can soon notice an excessive amount of ads and redirects plaguing their web browsers. Additionally, several security applications have been recognizing it as adware.dnsunlocker and marked it as potentially dangerous.
Summary
Name
DNS Unlocker, DNS-Unlocker
Detection
adware.dnsunlocker
Type
Ad-supported software
Affected OS
Windows, Mac OS X, iOS, Android
Affected web browsers
Google Chrome, Mozilla Firefox, Internet Explorer, Safari, Microsoft Edge
Distribution
Bundling and the official download website
Symptoms of the infection
An increased amount of pop-ups, banners, and other types of online ads
DNS unlocker removal tool
To remove DNS Unlocker, install

Reimage

Reimage Cleaner

Intego and run a full system scan
DNS Unlocker can be downloaded on its official website. However, that is not the way this application is usually installed onto users' computers, as software bundling is widely used to distribute it. This deceptive marketing campaign allows freeware authors to include PUPs inside their installers and hide them beneath Advanced installation mode, which most people choose not to select to deal with the process faster.
This way, DNS Unlocker ends up installed with PDF creators, system optimization tools, media players, free games and similar software. Users can easily avoid such consequences if they would not pick the Recommended or Quick installation mode.
Without knowing that the installation of the unwanted program has been completed, users can start seeing pop-ups, deals, pop-unders, banners, coupons, deals and similar sponsored content that is labeled as "RocketTab powered by DNS Unlocker" or similar.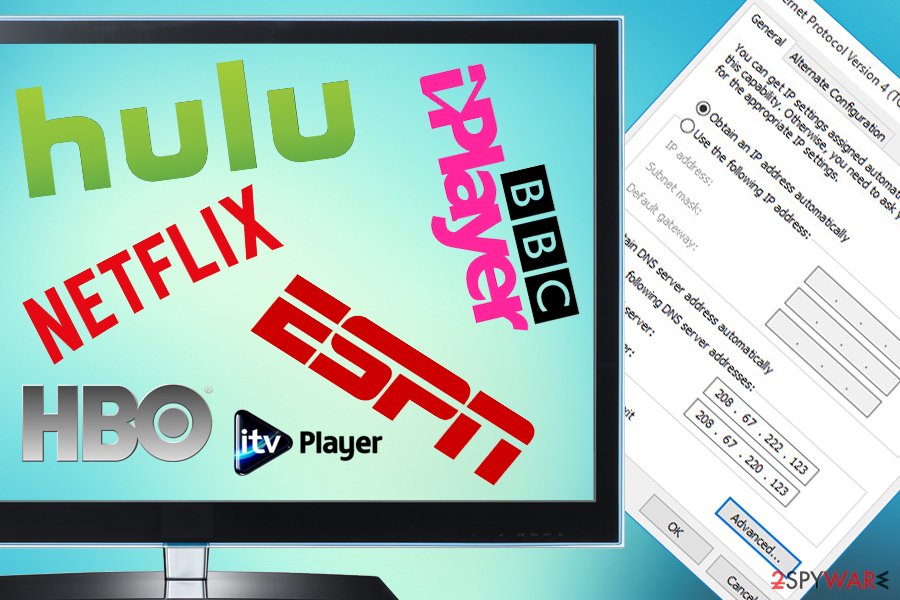 DNS unlocker promises users to bypass geo-restrictions and allow them access such services as Netflix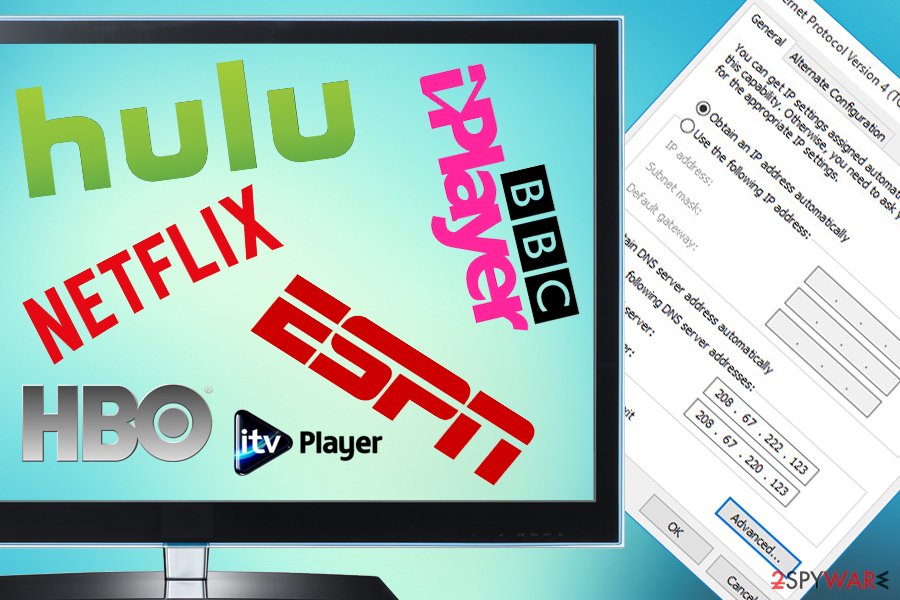 DNS unlocker promises users to bypass geo-restrictions and allow them access such services as Netflix
Those who look for a way to bypass geo-restrictions on the internet might end up on the official website of DNS Unlocker. Here, developers of the program point out about the benefits of this software. In some locations around the world, services like Netflix, Spotify, CBC, HBO, Crackle, ESPN, BBC iPlayer, and iTV are not available, and users would gladly install an app that would help them view these video streaming sites. Additionally, the list of the services is promised to increase in the future. Undoubtedly, its functionality might seem useful for those who are living in other regions outside of the U.S.
Unlike VPN or traditional Proxy services, our DNS allows us to only proxy the portion of data which validate the Geographic location of our users. This data is very small, which mean that in most of the cases the streaming and the main part of the web browsing doesn't go through our servers. [Source: The official website]
However, security experts from Viruset.no[1] claim that it is not the best tool to obtain. It belongs to the group of ad-supported applications, such as RocketTab, DNSChanger, and other ones that bothers computer users for years.[2] That is why users start looking for quick DNS Unlocker removal methods.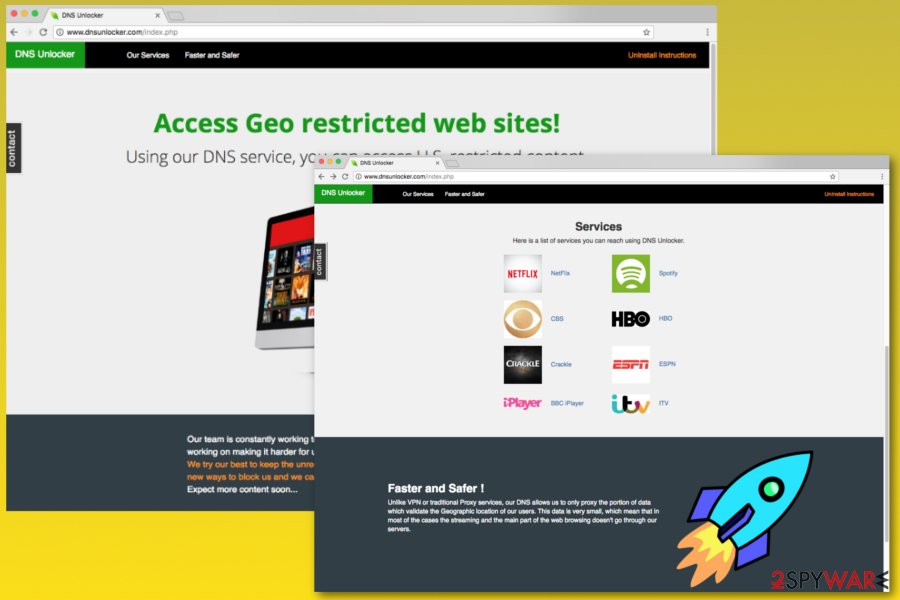 DNS unlocker example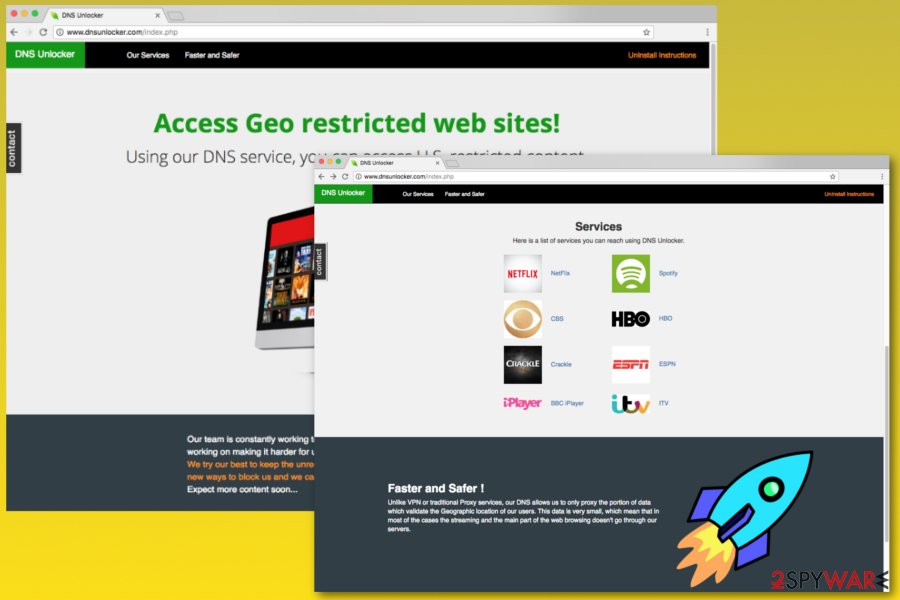 DNS unlocker example
When users find this program installed without their consent, they often refer to it as DNS Unlocker virus. However, it's not an accurate term to describe it. As we have mentioned before, it's a potentially unwanted program, so it cannot harm the system or cause other direct damage. Though, it can perform these concerning activities:
hijacking Google Chrome, Mozilla Firefox, Internet Explorer, Safari and Microsoft Edge browsers;
delivering aggressive pop-ups, in-text ads, banners, and other types of online ads;
promoting technical support scams;
distributing PC repair and clean-up software;
tracking various personal information about users.
The main purpose of the DNS Unlocker is to hijack web browsers on the computer and launch marketing campaigns to generate advertising revenue. Data tracking activities help to deliver appealing ads. However, you should stay away from them because they might be misleading and redirect to predetermined websites which, unfortunately, can be unsafe.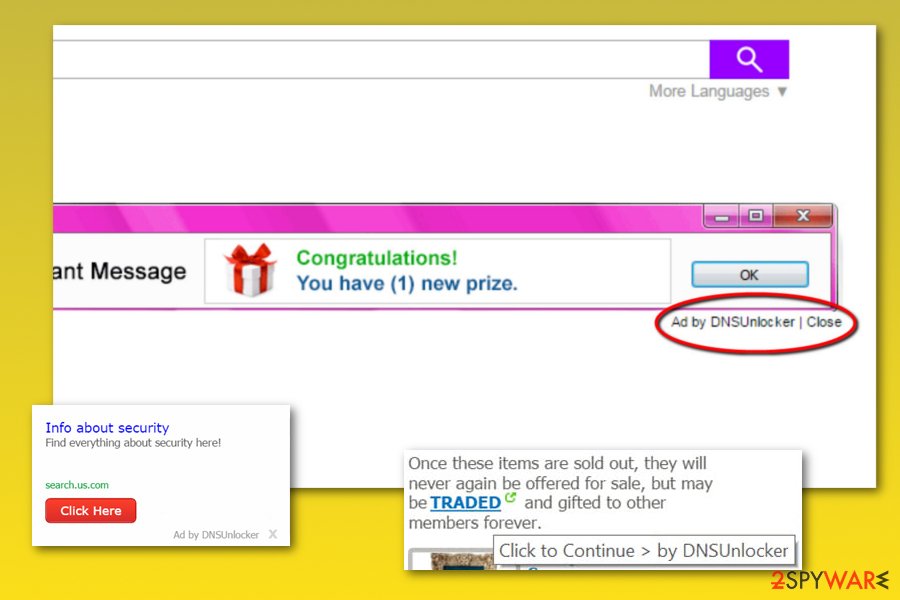 These ads you can be when infected with DNS Unlocker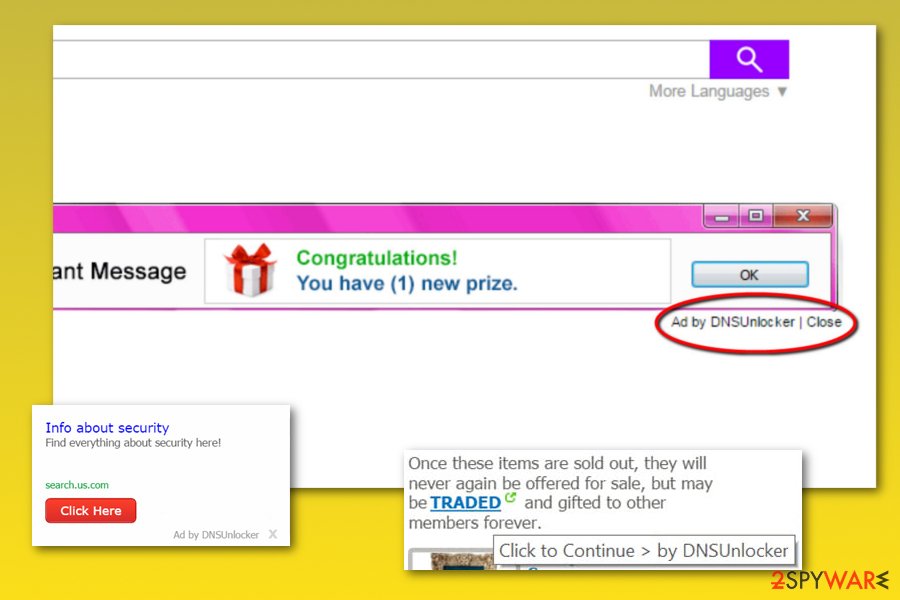 These ads you can be when infected with DNS Unlocker
Additionally, the privacy policy of DNS Unlocker reveals some alarming information when it comes to collected data sharing:
Anonymous information may be shared with other third parties (including retailers, ad networks, advertising companies, service providers, media and other interested parties) in any of the above circumstances, as well as for the purpose of developing or delivering advertising
Although anonymous information can not identify you personally, everything about your hobbies, preferences in shopping and your general habits are shared with multiple unknown third-parties. Therefore, you should think twice before enabling DNS Unlocker,
In order to protect your computer and privacy, you have to remove DNS Unlocker. Manual PUP removal is rather complicated because some variants of adware are designed to hide malicious components deeply in the system. Thus, it can easily reinstall itself if you leave some entries.
For this reason, we recommend opting for automatic DNS Unlocker removal which requires scanning the system with a trustworthy anti-spyware, such as Reimage Reimage Cleaner Intego or Malwarebytes. However, if you use another legitimate security software, it should still detect this PUP.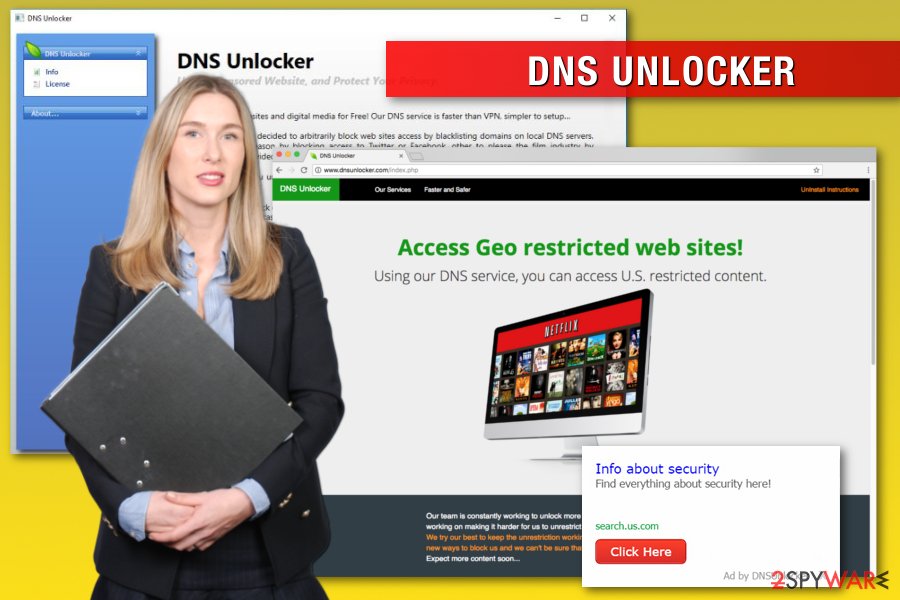 DNS Unlocker adware online ads ('Ads by DNSUnlocker' or 'Ads by DNS-Unlocker')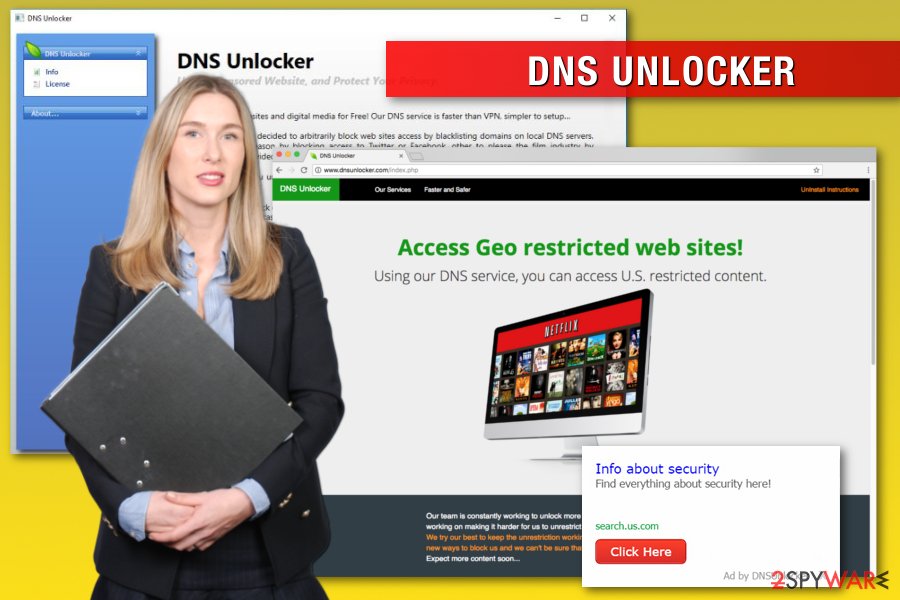 DNS Unlocker adware online ads ('Ads by DNSUnlocker' or 'Ads by DNS-Unlocker')
Redirects to tech support scam websites appear soon after the installation of DNSUnlocker
This shady program has been used for the digital ad fraud [3] causing "support scam ads" or "technical support scam popups." Usually, such ads are caused for scaring PC users into thinking that their computers are in danger and that they need to update one of their programs. Typically, this update is offered for free for trying to collect as many clicks as possible.
Tech support scams can also include a telephone number urging people to use it for reaching "advanced Microsoft experts." After falling for one of such DNS Unlocker ads, you can either infect your computer with malware or connect to scammers who are willing to make you pay for "malware removal services". Such fee varies from $100 to $500. Besides, the most of such calls are paid, so you can be terrified after receiving your next telephone bill.
DNS Unlocker promotes fake PC Clean-up and Repair Tool
The picture given below illustrates one of the ads by DNS Unlocker. As you can see, now this malware tries to convince the victim that his/her computer is full of Windows errors that are capable of affecting its performance. Before you fall for such "highly recommended" notification, make sure you double check the Internet for the Windows PC Clean-up and Repair Tool. There are no mentions about this program.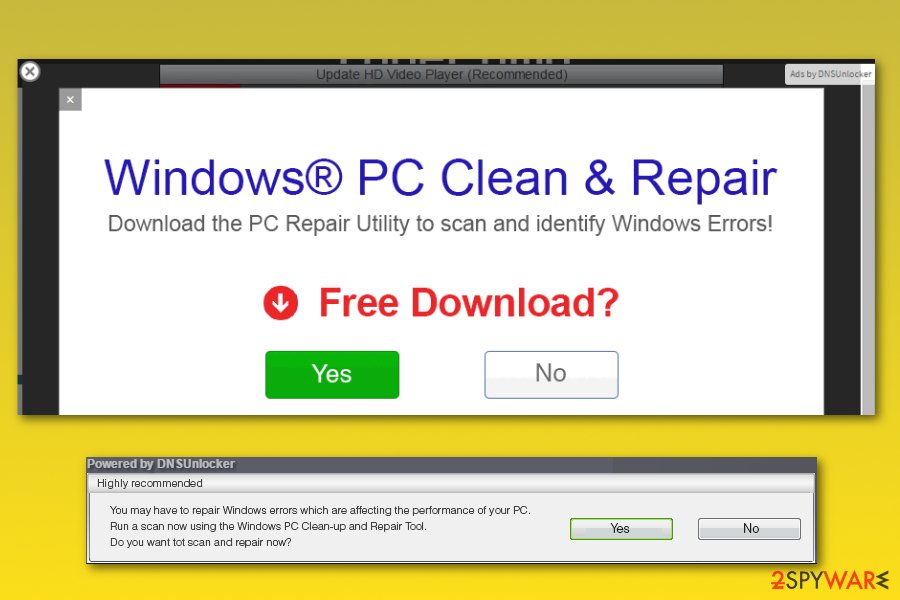 Another Ad example for Ads by DNSUnlocker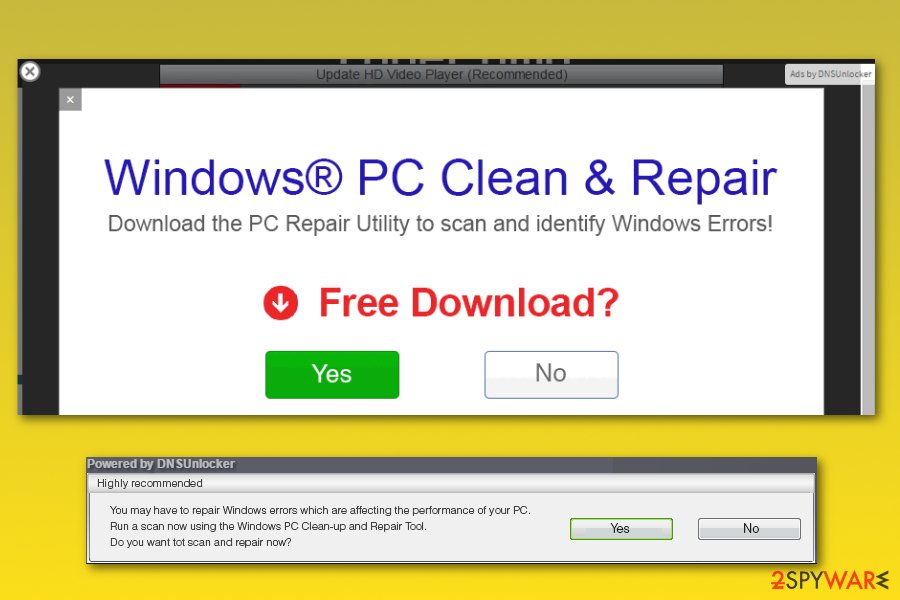 Another Ad example for Ads by DNSUnlocker
It seems that scammers who are working behind "powered by DNSUnlocker" ads are trying to mislead PC users into thinking that the software they promote is this Free Windows Cleanup Tool. Don't be so naive! If you really need this tool, go to its official website and download it.
You should never click on questionable ads having spelling and/or grammar mistakes that interrupt you while browsing the Internet. Besides, think twice before installing optimization software on your computer because security experts have serious doubts about their effectiveness[4]. After testing the fake ad and installing the software by clicking "yes" button, we found that DNS Unlocker promotes an app that belongs to malware or rogue anti-spyware category.
The program was available to download on the official app stores
At the end of 2016, security experts detected a version of this adware which is compatible with new operating systems. This time, DNS Unlocker ads can be seen on iPhones, Mac computers, and Android devices. The principle of the infiltration process stays the same – the PUP infiltrates the device via other software.
However, it is not the third-party software but malicious apps that can be found in Apple's App Store and Google Play Store. As the number of the infected apps found in these stores continues growing[5], the risk of getting infected with this adware increases. When infected, your device starts interrupting you with fake ads during each of your search sessions. We highly recommend ignoring these messages because they can infect your device with serious malware posing the risk to your personal information.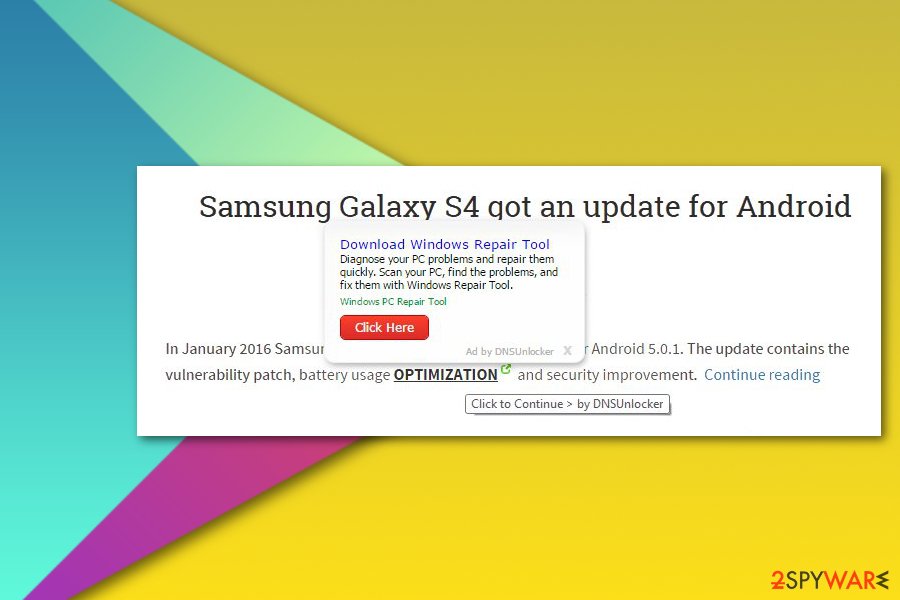 DNS Unlocker Ad example on Android system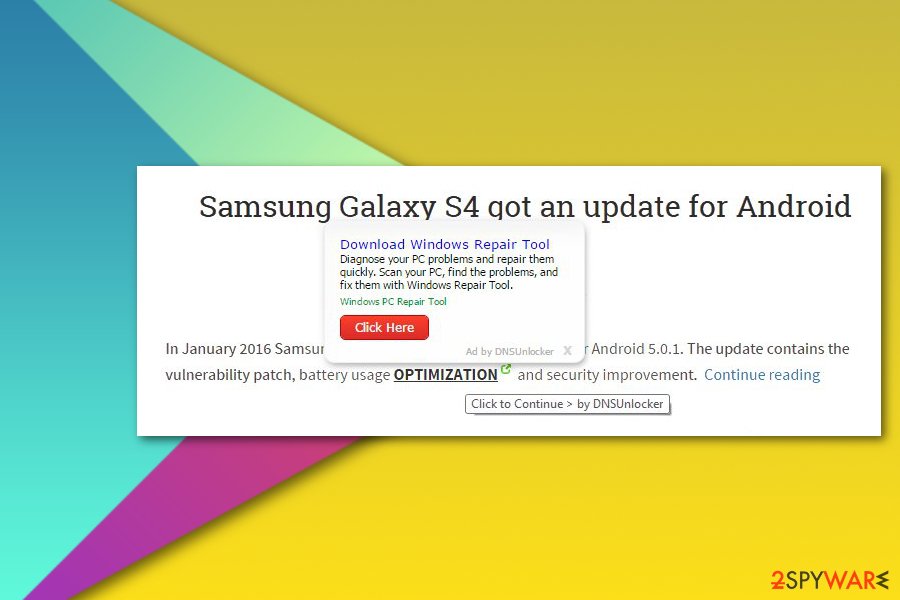 DNS Unlocker Ad example on Android system
The list of DNS Unlocker versions
DNS Unlocker Version 1.3: This type of DNS Unlocker is just the same as its ancestor. It claims to be able to allow connection to a diverse DNS server, what, as a consequence, should provide people with the access to blocked domains. However, just like its mother version, it is an ad-supported application, which actively seeks to generate income from advertising in the first place.
Besides, it can track its victims and collect personal data. Typically, this program enters PCs via software packages as an optional component. After doing so, it starts displaying sponsored pop-ups, causes browser's redirects. It can also install cookies, collect/share data, misuse PC's resources, corrupt browser's settings, block attempts to remove it and other unsaid activities.
DNS Unlocker Version 1.4: another update of the virus emerged at the end of 2015. Despite some updates regarding technical side, the principle of this app is just the same – to hijack web browsers and show sponsored advertisements. It is programmed in a way to generate web traffic to sponsored websites and increase the rank of third-party domains.
Not to mention, it is also set to collect personally non-identifiable information without requiring the permission and can negatively affect web browser's performance.
DNSMystic virus. DNSMystic adware executes and installs dnsmystic.exe file, and assigns itself to Windows Startup programs' list. The program runs automatically each time the victim boots the computer and initiates its shady activities silently.
First of all, the program watches what web pages the victim visits, what ads attract the user to click on them, and what search queries the victim makes. Based on collected data, DNSMystic extracts main keywords and according to them selects targeted ads from third-party networks. These ads are typically displayed via main Internet browsers via pop-up, pop-under, hover-over text ads, banners, and so on. These ads typically contain links to shady third-party sites that can expose user's computer to various cyber risks.
As you can see, the adware hides under different names and sometimes it causes ads that can easily trick you into thinking that you are dealing with another PUP. If you have been suffering from commercial notifications labeled as "Powered by DNS", "brought to you by DNSUnlocker", "powered by DNS Unlocker", and similar ones, you are dealing with the same virus. In this case, you should follow a step-by-step guide given below and fix your computer. Beware that this threat is considered the aggressive one, so our team recommends opting for automatic removal option.
Distribution of the ad-supported program usually relies on software bundling technique
Distribution of the adware relies on deceptive software marketing method called bundling. Such software bundles are usually promoted on download.com, soft32.com, softonoc.com, cnet.com, and similar download sites. To detect DNS Unlocker adware attachment during freeware's installation, it's a must to pay close attention to each of installation steps because this tool tends to be disclosed in a very misleading manner.
Be careful because software bundles usually consist of more than two programs, so it's very likely that the program is accompanied by other PUPs, for instance, Linkey virus, CinemaPlusPro adware, CrossBrowser, Iminent Toolbar and other adware and browser hijacker hybrids. If you want to prevent installing such and similar software packages, you should better start installing free programs more carefully.
Always remember to opt for Advanced or Custom installation option, which is expanded in comparison with Quick or Basic. This way, you will get the ability to see and deselect each of optional downloads. For that, you should go through the entire installation process step-by-step and unmark ticks that have already been pre-checked for you.
The first DNS Unlocker removal step is fixing DNS settings
This adware can mess up your computer's DNS settings [6]. Thus, to remove DNS Unlocker completely, you have to perform removal steps that are given at the end of this post AND restore DNS settings on your computer. For that, you should follow this guide:
Open Control Panel on your computer and go to Network and Internet -> Network and Sharing Center -> Change Adapter Settings. You should see your active Internet connection.
Right-click it, select Properties and find Internet Protocol Version 4 (TCP/IPv4). Check it and click on Properties again.
When in Properties window, make sure that Obtain an IP address automatically and Obtain DNS server address automatically are selected! As we have already warned you, DNS Unlocker malware can try to change these settings to prevent its removal!
Select OK to save changes.
Adware-related files might be hidden in the system: learn how to find and delete them all
It is known that this adware-type application has already been updated for several times. According to the latest news, it hides its files on your computer hoping that they will remain unnoticed. If you have already used an updated anti-spyware to scan your computer for malicious files or followed our manual removal guide and failed with its elimination, follow these steps after that:
Open Control Panel and go to Appearance and Personalization -> Folder Options
Go to View tab and select Show hidden files, folders and drives and uncheck Hide extensions for known file types. Click Apply to save these changes.
Now click Windows Key and R at the same time to launch Run and enter %temp%. After hitting Enter button, you should find yourself in a new directory.
Select each of temporary files that can be seen here and delete them.
You should also check your Program Files and Program Data Folders for suspicious files that could belong to DNS Unlocker virus. Make sure that you inspect both of your drives, C: and D:. Finally, if ads do not stop from showing up on your web browser, you should go to "Appdata" folder and delete your profile for this web browser.
Use Windows Registry Editor for complete DNS Unlocker removal
If previous methods did not help to delete DNS Unlocker, you should kill adware's processes and delete its entries with the help of Registry Editor. For that, follow these steps:
Press ctrl + shift + esc at the same time and go to Processes Tab.
Here, find all processes that could be related to DNS Unlocker, such as Iminent-related entries, Linkey, CrossBrowser, CinemaPlus-related processes and DNS Unlocker itself. Right click on each of them and choose Open File Location.
Open the folder and end the malicious processes one by one. You should also remove directories you opened.
For eliminating the program with Registry Editor, do as it is said below:
In the windows search field, type in Regedit and hit Enter.
To find DNS Unlocker-related entries, click Ctrl and F at the same time. You should also search for "Iminent", "Linkey", "CrossBrowse", and "CinemaPlus". Right click on the malicious entries and remove them. If you can't find anything, go to these directories:
HKEY_CURRENT_USER > Software
HKEY_CURRENT_USER > Software > Microsoft > Windows > CurrentVersion > Uninstall
Then continue with the removal steps that are given below.
Virus elimination guidance for users is also displayed via video
DNS Unlocker adware is a responsible process to complete if you want to clean your computer system and web browser applications from suspicious content entirely. However, achieving such goal might not be that easy for less-experienced users. In spite of this fact, we have created a video clip which includes all adware elimination steps. Check it below:
You may remove virus damage with a help of Reimage Reimage Cleaner Intego. SpyHunter 5Combo Cleaner and Malwarebytes are recommended to detect potentially unwanted programs and viruses with all their files and registry entries that are related to them.