DiskFixer – a fake system optimizer that is detected by multiple AV vendors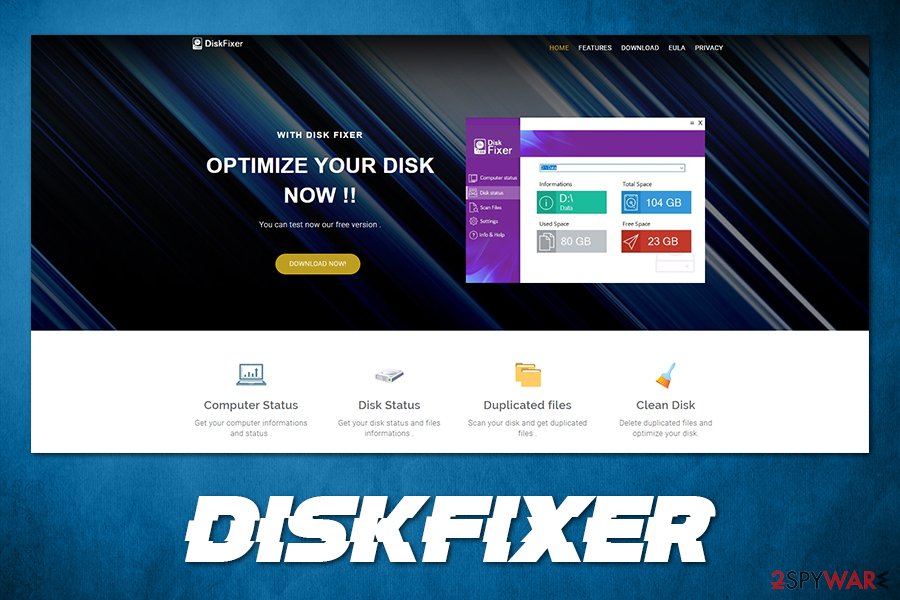 DiskFixer is a potentially unwanted program that claims to improve PC performance but fails to deliver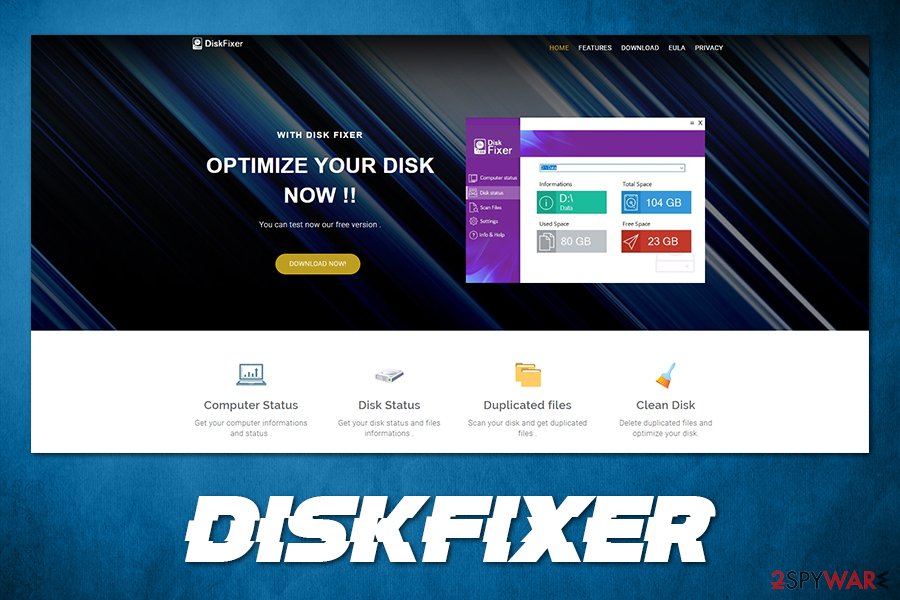 DiskFixer is a potentially unwanted program that claims to improve PC performance but fails to deliver
DiskFixer is a poorly designed application that can allegedly help users to optimize their Windows computers by the disk cleaning process and duplicated file removal. While such features may seem useful at first glance, it is important to note that the app typically gets installed without users' consent, displays false positives, and actively urges users to purchase a full version of the program, often showing DiskFixer ads an pop-ups.
Besides using dubious distribution and operation techniques, DiskFixer might not only fail to deliver what it promises but also compromise the computer by deleting necessary files on the system. This can significantly diminish computer performance instead of enhancing it, so security experts[1] highly recommend to remove DiskFixer from the machine as soon as possible and never purchase a full version of the app.
Name
DiskFixer
Type
Potentially unwanted program, adware
Developer
Myappsland SARL
Operating system
Windows
Infiltration
While the app is available from its official website, most users install it unintentionally when downloading freeware from third-party sites or after they see an attractive advertisement
Alleged functionality
The app can allegedly display disk and file-related information, delete duplicates and optimize system performance
Dangers
Unreliable PC optimization tools can actually compromise its functions, resulting in a total reinstallation of Windows. Additionally, those who opt to purchase the app will suffer financial losses as the app does not benefit a computer in any way
Removal
To uninstall potentially unwanted programs, you can follow out manual guide below or employ anti-malware software to eliminate it for you
Recovery
Unreliable tools like DiskFixer could destroy files that are valuable to the operating system, compromising its performance. If you having troubles with Windows stability, repair it with

Reimage

Reimage Cleaner

Intego
While DiskFixer can be downloaded from the official website, users rarely install the app purposely. Just as many other potentially unwanted programs, it is distributed via software bundle packages. These typically include a freeware app and multiple optional components that are cleverly hidden within the installer. With the help of various deceptive methods, users are unable to spot the DiskFixer virus during the process, which results in the unsolicited installation of the app.
Developed by Myappsland SARL, DiskFixer is just one of many insecure applications that claim they can fix and optimize Windows computers. In reality, most of them use unfair distribution tactics, display fake results in order to make users purchase a full version of the app, show malicious ads, and simply scam users in various ways. Some of the best examples include:
While DiskFixer is advertised as a tool with different functions, none of them are actually available before users purchase a full license of the software, although even after spending money on this useless app, users will still not gain any benefit. Besides, it is unknown what protection DiskFixer developers or its partners are using in order to protect the financial information entered during the purchase.
In the meantime, those who will keep DiskFixer installed on the system will be constantly nagged about a full version. Additionally, users might also see an increased amount of pop-ups, deals, offers, banners, coupons, in-text links, and other types of advertisements on Google Chrome, Mozilla Firefox, Internet Explorer, MS Edge, or another web browsers. DiskFixer ads might also be unsafe, so we highly discourage clicking on them.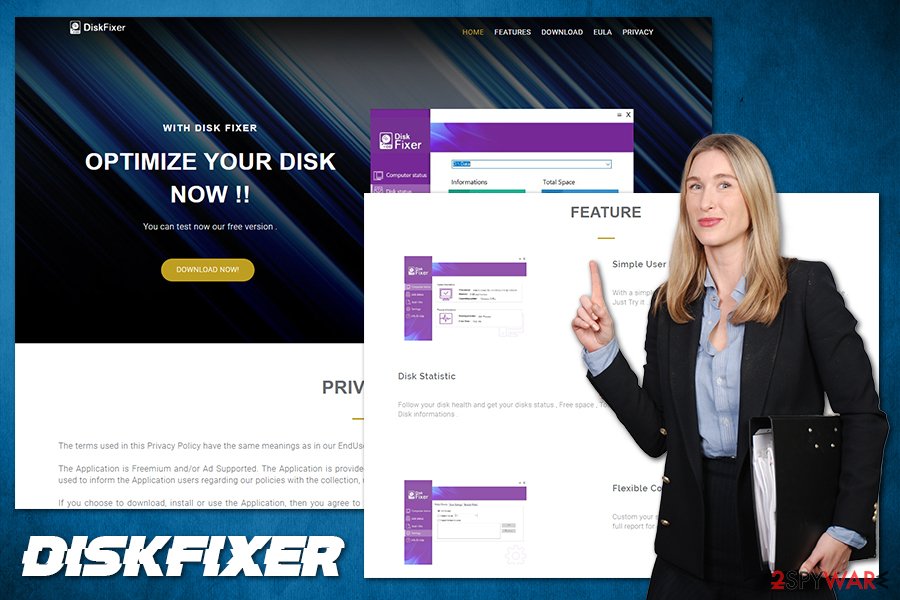 DiskFixer is a fake system optimizer that is typically spread via software bundle packages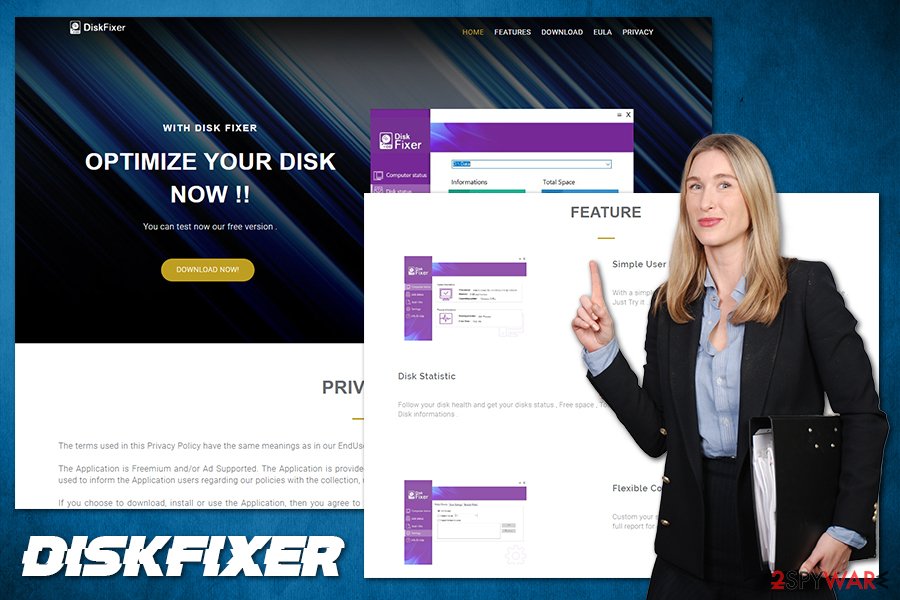 DiskFixer is a fake system optimizer that is typically spread via software bundle packages
Possibly the most dangerous trait of DiskFixer is actually within its functionality. In case you stumble upon a version that "works," it might delete necessary files on your system. As a result, you might have to reinstall Windows altogether. In case that happened to you, use Reimage Reimage Cleaner Intego to repaid damage done to the OS.
Another reason for DiskFixer removal is its surveillance practices that should not be performed by system optimization tools in the first place. As explained in Privacy Policy of the app, various data is collected when users interact with it in one or another:
Whenever you download, install or use the Application or related or offered services. Myappsland SARL collects data and information (through third party products) called Tracking Data. These data may include information such as your device Internet Protocol ("IP") address, device name, operating system version, the configuration of the Application, the time and date of your use of the Application or related or offered service, and other statistics.
Besides generic data, DiskFixer may also ask users to provide personal information for registration processes – it not only sores it on its servers but also shares it with certain third-parties.
Avoid getting tricked by fake system optimizers
As previously mentioned, all fake system optimization tools work in a very similar way. In fact, the scheme does not differ much from online scams, apart from the fact that users have a potentially malicious app installed on their computers. Usually, deceptive tools are marketed on a variety of websites and are often bundled with other software on third-party sites. As a result, users either do not notice the entry of the app or are tricked with promises of a faster and better PC.
Nonetheless, a very few of such programs deliver the promised functionality: they often flag harmless files like certain registry entries or Google's cookies and classify these items as a high threat to the PC, while in reality, these are legitimate files that are supposed to stay on the system in the first place. Removing them will not speed up a computer in any way. Likewise, the entries are often presented in a way that would make users alert – the red color is often used to associate the detection with danger or instability.
Due to a lack of IT skills, many users who are tricked into installing a deceptive app, start believing that they need to repair their machines, despite it being in good condition. Those who want to "fix" the found issues are redirected to a payment page, where they are asked to spend a substantial amount of money for the full license of the app. This is why fake optimizers are often called scareware/scamware[2] and have been extremely prevalent for many years now.
To avoid such scenarios, you should opt for official sources for your downloads. If that is not possible for you, you should pay close attention during the installation process of software, decline all the deals/offers, and always opt for Advanced/Custom installation settings. Also, make sure that the app is not shady after check its functions via blog posts, user reviews, articles, and similar methods.
DiskFixer uninstallation process
DiskFixer removal should not be too complicated for most of the users. Nonetheless, those who do not uninstall programs often might have difficulties. Therefore, we provided comprehensive instructions on how to manually uninstall the app via the Control Panel on Windows systems – check the instructions below. Additionally, because the DiskFixer virus might have placed cookies on your web browsers in order to track you, you might want to reset all the installed web browsers, although this is completely optional.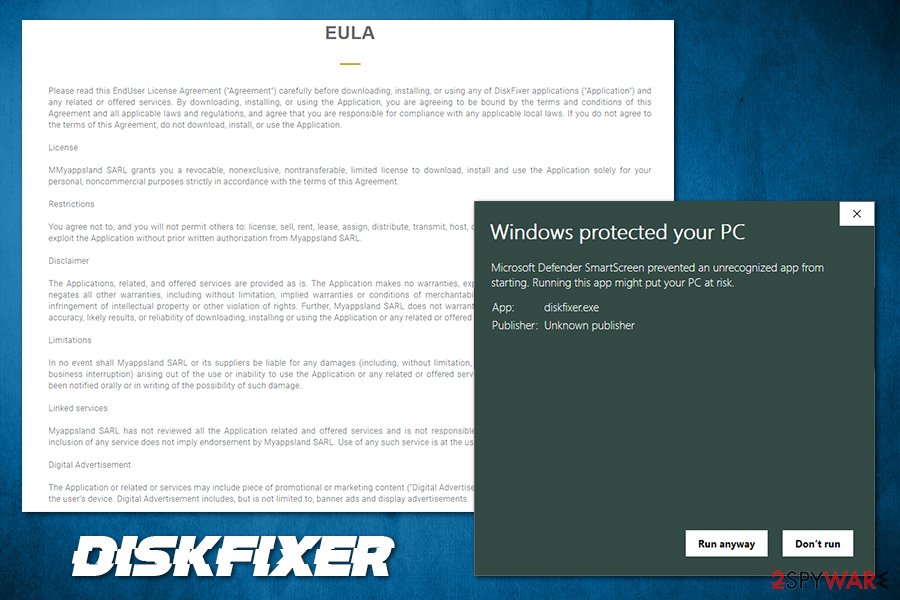 DiskFixer is detected by multiple AV vendors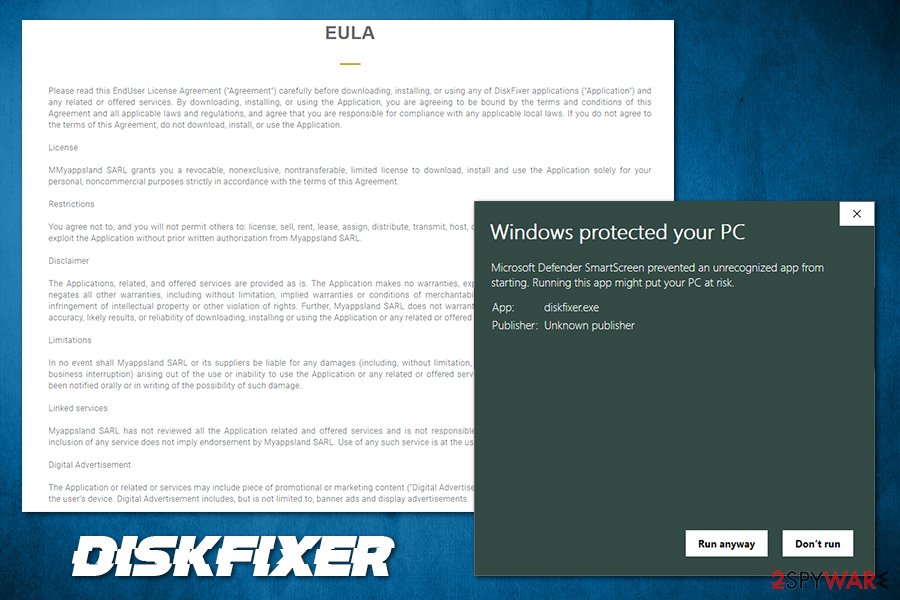 DiskFixer is detected by multiple AV vendors
You can also attempt to remove DiskFixer with the help of a reputable anti-malware software that detects the app as a PUP. Simply download a security app on your PC, update it to the latest version, and perform a full system scan. Currently, there are several AVs that detect the app under the following names:[3]
PUP.Optional.DiskFixer
PUA:Win32/Presenoker
BehavesLike.Win32.AdwareFileTour.gc
W32.Adware.Gen
Malicious.070bf2, etc.
You may remove virus damage with a help of Reimage Reimage Cleaner Intego. SpyHunter 5Combo Cleaner and Malwarebytes are recommended to detect potentially unwanted programs and viruses with all their files and registry entries that are related to them.