Delta-homes.com – a well-known browser hijacker that infected millions of users over the years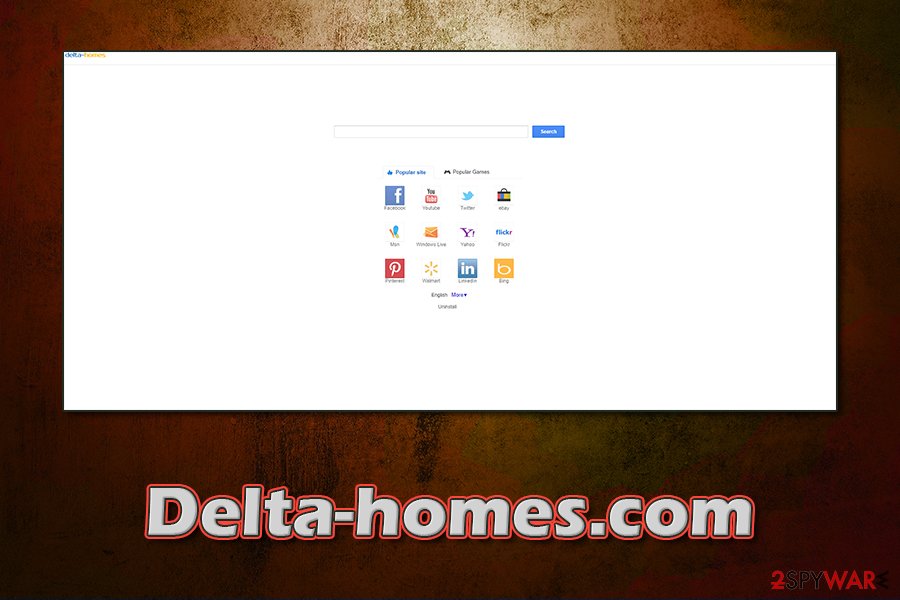 Delta-Homes.com is a potentially unwanted program that usually arrives to users' systems without permission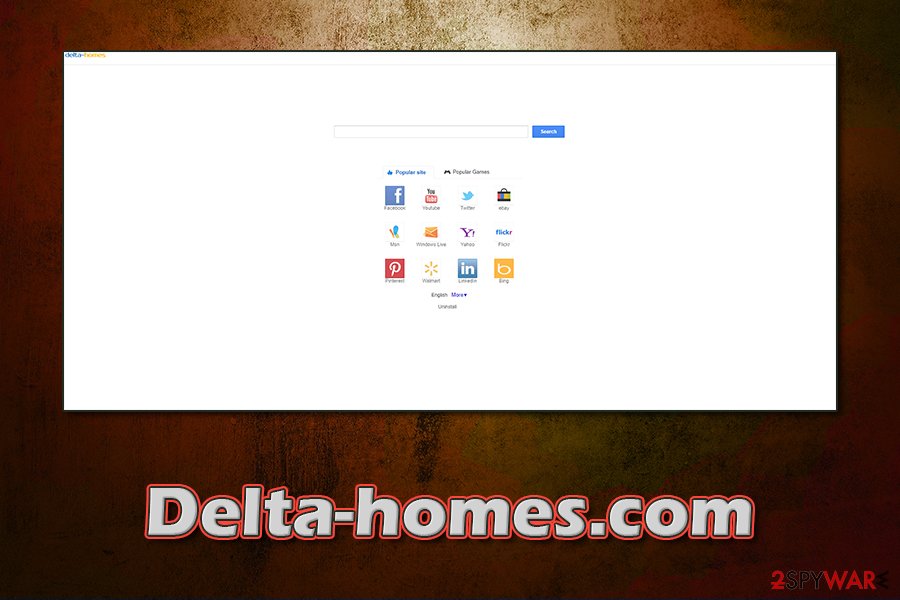 Delta-Homes.com is a potentially unwanted program that usually arrives to users' systems without permission
Delta-Homes.com is a browser hijacker[1] that is capable of infecting Windows operating systems[2]. It compromises shortcuts of Google Chrome, Mozilla Firefox, Internet Explorer or other browsers and adds other components to change users' settings. Once established, the unwanted app forces them to use the Delta Homes search engine and serves ads on most visited websites, such as pop-ups, deals, offers, banners, in-text links, etc.
The suspicious activity of Delta-Homes.com does not end there: the app is often spread with the help of software bundling, which results in users installing it without permission. Additionally, the potentially unwanted program is set to collect information about users' web browsing activities, as well as prevent them from removing Delta-Homes.com using various persistence techniques. Indeed, this browser hijacker should not be welcomed on any users' browser, so check out full elimination instructions and FAQ below.
Name
Delta-Homes.com
Type
Browser hijacker, potentially unwanted program
Infiltration
In most cases, users install browser hijackers and other PUPs unintentionally – during the installation of freeware apps from third-party sources, or after being tricked by fake updates
Launch date
2013
Related extensions
PortaldoSites Toolbar, BrowserProtect, Yontoo, Proxy Tool, SearchProtect, etc.
Symptoms

Unknown extensions installed on the web browser
New tab URL, search engine and the homepage changed
Search results are filled with sponsored links
Web browser fails to load certain pages or is slow
Increased amount of advertisements on all sites, etc.

Dangers
Malware infections, installation of other potentially unwanted programs, monetary loss due to encountered scams, the difficulty of finding relevant information, etc.
Termination
Depending on the version of the PUP you are infected with, its termination varies. For example, removing extensions might be enough, while in order cases, a full browser reset and scan with anti-malware are required. Check the instructions at the bottom section of the article for more details
Optimization
For best results, scan your device with optimization software

Reimage

Reimage Cleaner

Intego
Delta-Homes.com virus is a term that has been widespread among users since the early years of the app's existence in 2013, as the PUP used tactics that are not only considered unwanted but also malicious (e.g., changing users' shortcuts without permission). Nevertheless, the web page changed a lot over the years, it dropped the annoying hyperlinks and stopped looking like sweet-page.com, or similar site. Currently, it seems to be pretty plain, but a standard search engine that directs search results to Google.
However, since the Delta-Homes.com search engine is used, these results are not entirely organic – they are filled with ads clicks on which guarantee the developer's profits. Additionally, more savvy users will soon notice that the page is marked as "Not secure" by all modern web browsers since it does not use a secure HTTPS connection[3] (means it can be intercepted by cybercriminals).
The most important thing is that you can hardly know what kind of website it seeks to promote. It can be used for redirecting people to legitimate sites as well as tricking them into visiting really suspicious places that are used just for spreading malware.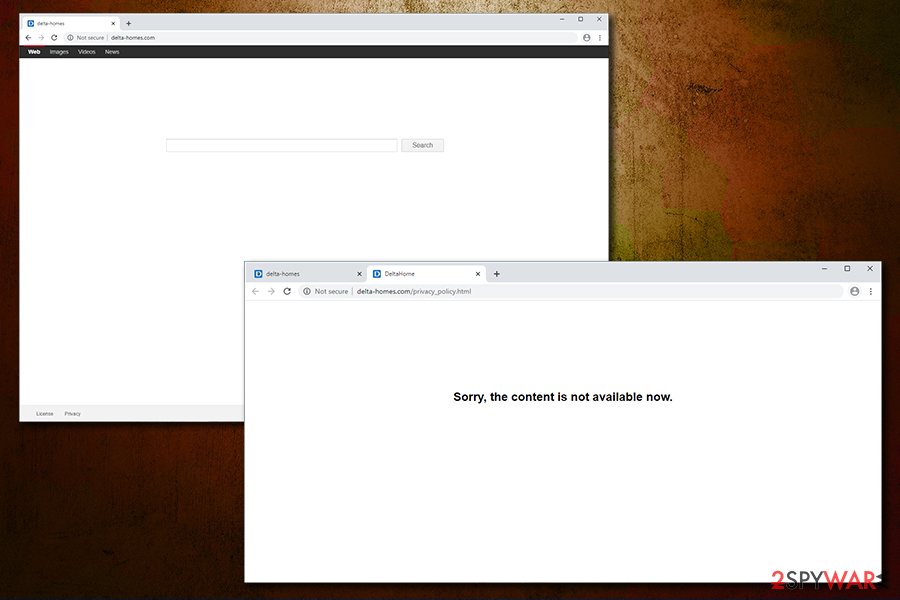 Delta-Homes.com lacks privacy policy and also uses insecure HTTP connection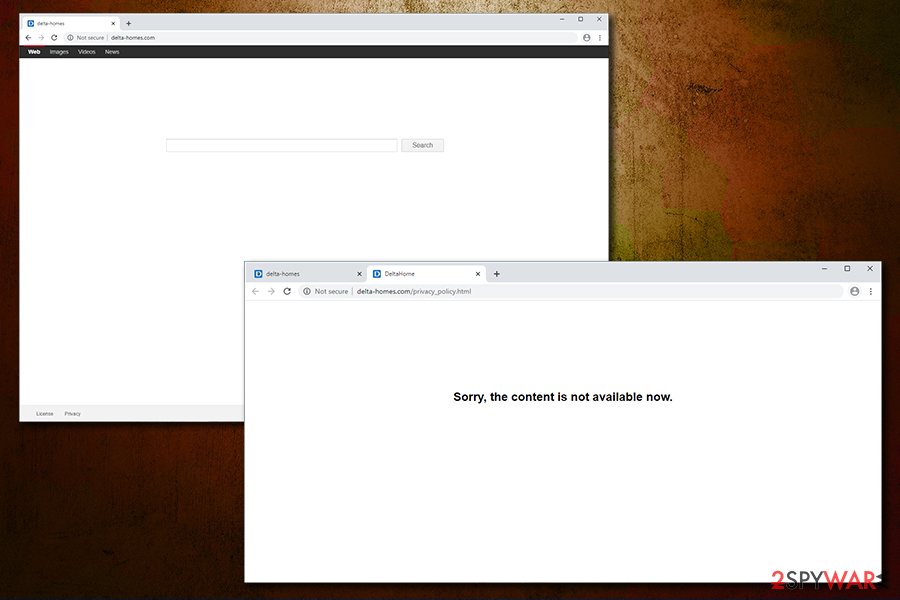 Delta-Homes.com lacks privacy policy and also uses insecure HTTP connection
We have already received hundreds of reports about Delta-Homes.com infections in the USA, Poland[4], UK, France, and other countries. It seems that the activity of this browser-hijacking program increased in summer 2017, especially in July. Nonetheless, users complain bout the Delta-Homes.com hijack even in 2020, as they find it on their browsers seemingly out of nowhere.
However, the most likely appearance of Delta-Homes.com virus is the extensions that may seem like they have nothing to do with it. Here are some of the add-ons that might be the cause of the hijack:
PortaldoSites Toolbar
BrowserProtect
Yontoo
Proxy Tool, etc.
It is highly advisable not to click on the "Gift Box" icon on Delta-homes homepage, because it leads directly to affiliate websites that provide suspicious surveys and offers to install other potentially unwanted programs, such as HD Streaming Movies.
Such offers are frequently composed to look like grab-now-or-never deals. For example, when the user completes the survey, the affiliate website offers to install a program, which ostensibly costs over 60 Euros but for some reason is free for the user who has just filled the survey.
According to the delusive ad, there is only one free program left. If the user clicks on "Click Here to Claim Now" button, gets redirected to a suspicious website asking to sign up. Such websites are highly untrustworthy, and we recommend you to stay away from them!
When infected, Delta page appears instead of your start page and the default search engine on each of your web browsers because it is compatible with Google Chrome, Mozilla Firefox, Internet Explorer and other ones. Reportedly, search results provided by this search tool can make you visit highly suspicious websites.
If you want to avoid browser redirects to vague or dangerous websites, you should remove Delta-homes.com hijacker from your computer. Beware that removing this browser hijacker is not an easy task. One of the hijacker's associates is Search Protect application, which protects altered browser's settings and prevents Delta-Homes.com removal.
That's why the most of security experts recommend using automatic removal method. Besides, the hijacker may alter your browser shortcuts to keep causing redirects to hxxp://delta-homes.com/.
If you have been suffering from redirects to deltahomes search page, it might be that there is one thing that you have missed. If you would try to check what is said in its Privacy Policy, you would see that it can be used for tracking PC users and collecting information about their browsing habits.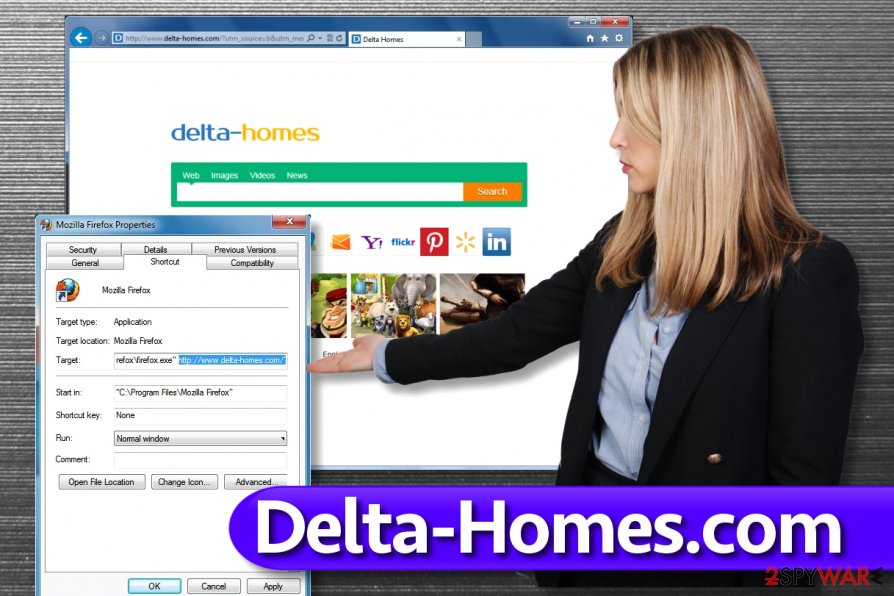 Delta-Homes.com is a browser hijacker that alters browser shortcuts to prevent user from deleting it from the system.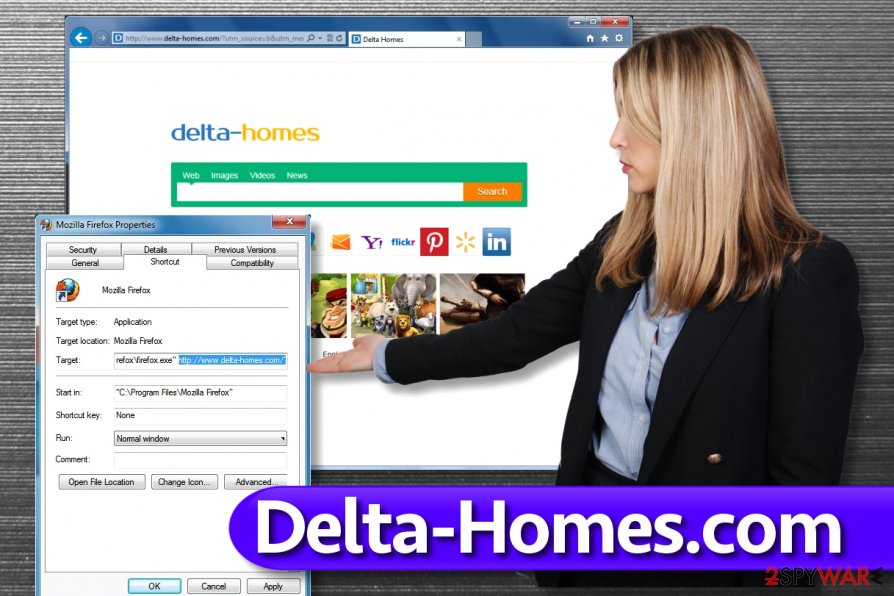 Delta-Homes.com is a browser hijacker that alters browser shortcuts to prevent user from deleting it from the system.
As the developers of this program claim, they are interested in people's personally non-identifiable information. However, you can never know what parties are capable of reaching it. If you don't want to let unknown parties know what your mostly visited websites are, what data you add when visiting them, what your PC's IP address is or what your email address is, you should stay away from Delta-homes.com virus.
As we have already mentioned, we think that automatic removal is the best way to get rid of this browser hijacker because it may reappear on your computer right after updating it. In this particular case, we recommend you to use SpyHunter 5Combo Cleaner that will help you to get rid of this program and other suspicious components, such as Search Protect.
In case you still see side effects of the infection (like system slowdowns, crashes or lag), we suggest you use repair software Reimage Reimage Cleaner Intego – it can fix virus damage along with other issues on the operating system.
Dangerous search engines related to Delta Homes
There are various versions of Delta-Homes that have different names but function in a very similar way. They all change browser's homepage, new tab and default search preferences just to present a certain version of the bogus search engine. The search engine is created to serve numerous ads to the victim in the form of search results.
The developers of these fake search tools generate revenue while the victim has to experience redirects to vague third-party websites that might pose a threat to one's privacy and computer's security. You can consider yourself a victim of a browser hijack if your browser opens one of the following domains automatically:
Search.Delta-Homes.com. This domain is known to be a version of Delta Homes virus. It is responsible for serving modified search results to computer users. Users install it alongside freeware or shareware after choosing Default or Standard software installation settings. If you noticed this URL appearing in your browser, do not hesitate and perform a system check either manually or using an anti-malware program to detect the perpetrator that prevents you from changing browser's settings.
Delta-Search.com
Delta-Search.com. It is one of the most common browser hijackers available today. To remove Delta-Search, users are advised to remove Delta Toolbar, Browser Protect and Browser Defender programs via Control Panel. These programs are distributed via software bundling, and that is the reason why computer users install them unwillingly, yet frequently. After installing one of these programs, victim's browser settings will be altered. Consequently, repetitious redirects to Delta-Search site occur.
Search.delta-search.com
Search.delta-search.com. This search engine is closely associated with low reputation programs available to download online. You should be very careful when installing free programs such as video converters or media players because the majority of them suggests adding search.delta-search.com virus to the system to change your browser's settings.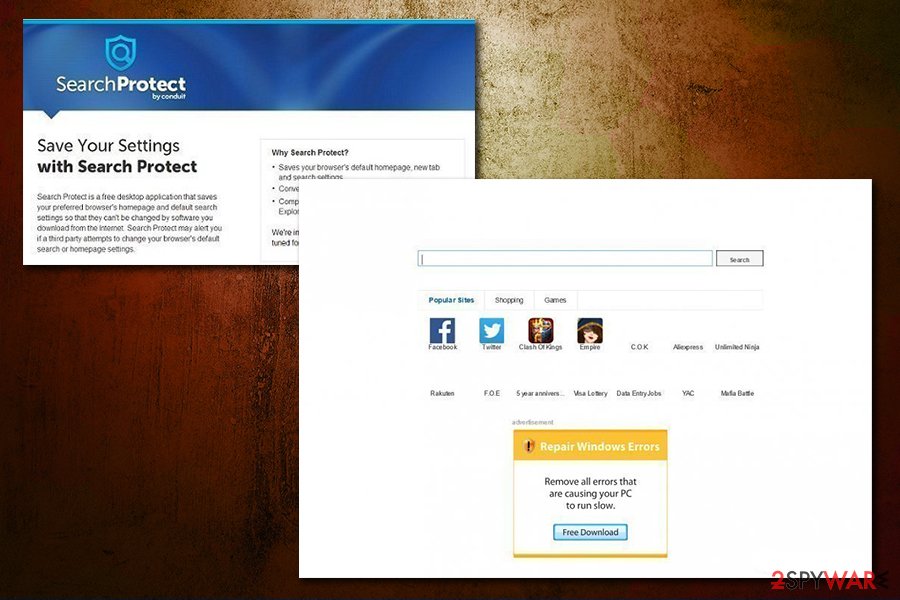 Because Delta-Homes.com can be related to a variety of browser extensions, users struggle to get rid of the hijack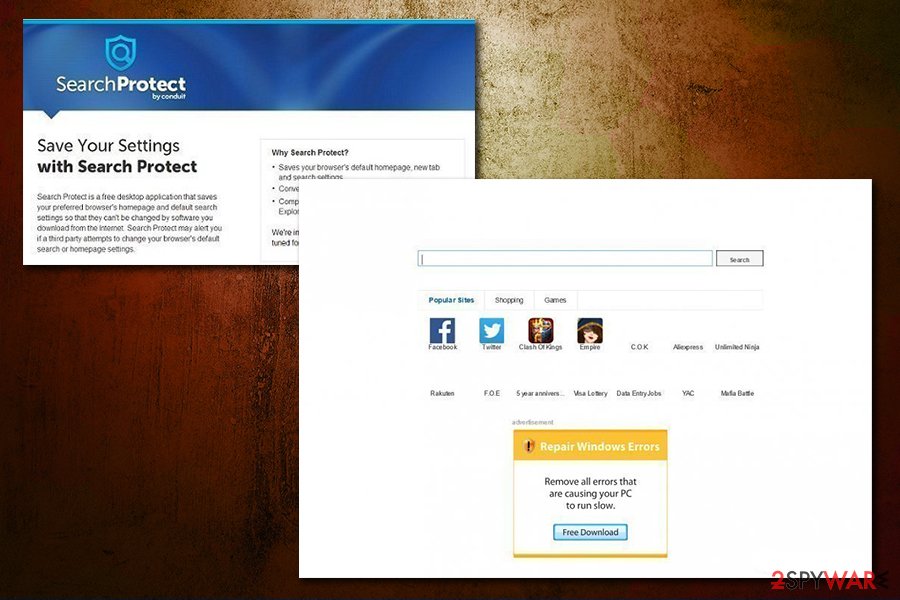 Because Delta-Homes.com can be related to a variety of browser extensions, users struggle to get rid of the hijack
Yhs.delta-search.com
Yhs.delta-search.com. If your browser causes repetitious redirects to this domain, you should check your system for suspicious programs you installed recently. It might be that free program that you recently downloaded. You must visit Control Panel > Programs and Features section to find programs installed on the same day and remove them ASAP. Such sneaky software often compromises browsers by adding optional browser extensions to them, so you need to get rid of those as well.
Mixidj.delta-search.com
Mixidj.delta-search.com. This search site might replace your browser's homepage after installing Mixi DJ Toolbar (also known as Mixi.DJ virus). The suspicious software is also blamed for distribution of Mixidj.claro-search.com hijacker. We suggest you avoid Mixi.DJ at all costs if you do not want to contaminate your computer with strange browser-hijacking programs.
Visualbee.delta-search.com
Visualbee.delta-search.com. This domain might emerge in your browser after installation of VisualBee, a software that promises to automatically design your PowerPoint presentations. However, it also installs Delta Search hijacker, which forces the victim to use a bogus search engine that mainly presents paid search results supplied by untrustworthy third-parties.
Distribution techniques explained
Delta-homes is one of these potentially unwanted programs that are spread using bundling. This distribution technique has been discussed by various security researchers. However, it's still legitimate and allowed. If you want to avoid it, you need to be careful when installing freeware on your computer.
Make sure that you double check installation of Softonic, Babylon Toolbar, uTorrent, Any.Do, BeeLine Reader, Foxit Reader and similar freeware. While people can set this page as their start page and/or the default search engine consciously, in most of the cases they are tricked into installing this program as an optional component of the freeware.
To avoid this and other unplanned downloads (Delta Toolbar, Conduit, www-searching.com, mystartsearch.com, v9.com, sweet-page.com, mystart, websearch.fixsearch.info, genieo.com, etc.), there is one thing that you should remember: you MUST choose Custom/Advanced installation method when installing freeware from questionable developers.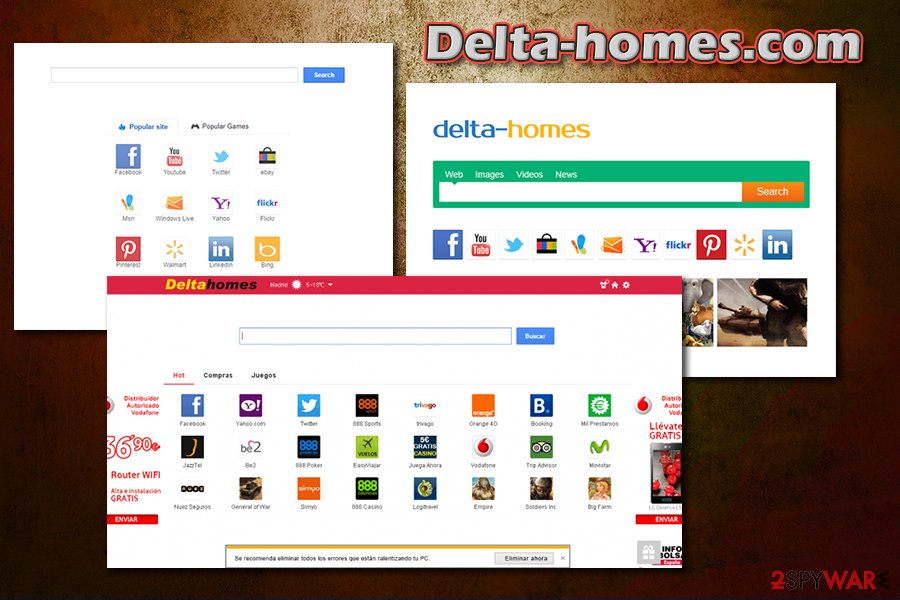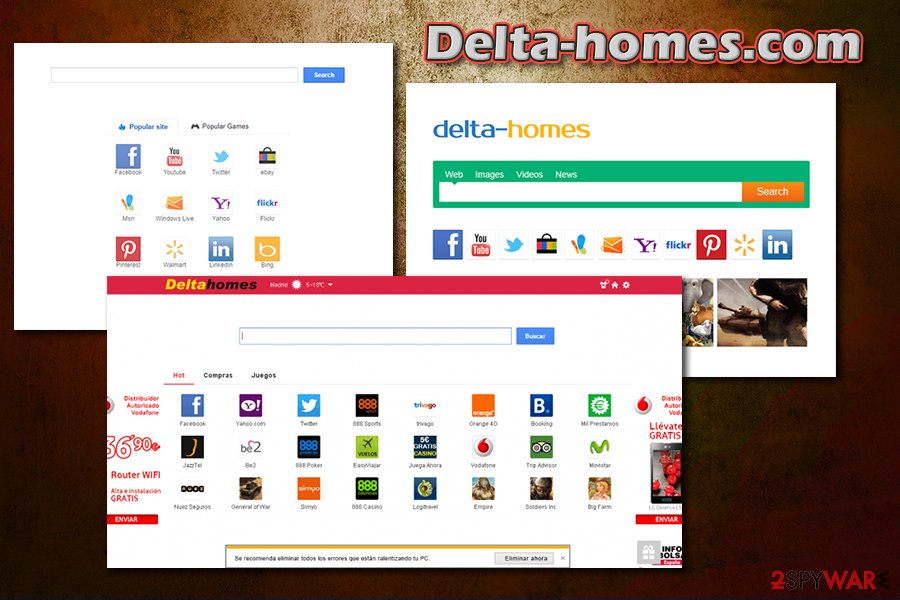 In addition, check what additional components it offers and opt out of unknown search engines, add-ons, extensions, toolbars, etc. If you are looking at a pre-checked sentence that says 'Make X my start page' or 'Make X my default search engine', you should uncheck it. Of course, having a reputable anti-spyware that could warn you about the infiltration of such suspicious programs is also recommended.
Common questions about this browser hijacker
Question. I need assistance removing Delta-homes.com Search from my browser (I use Google Chrome). Could you help me?
Answer. You can get rid of Delta Homes using automatic removal method or manual removal steps. Both of them are given below. Beware that the safest and the most effective way to do that is by running a full system scan with updated anti-spyware. This will help you to avoid reappearance of this browser hijacker in the future.
Question. Help me! I think I am infected with www.delta-homes.com virus. It showed on my computer right after rebooting it…
Answer. No, delta-homes browser hijacker is only a potentially unwanted program, which seeks to hijack all web browsers that are installed on your computer. You most likely downloaded this PUP in a bundle with some free application from the Internet. If you want to delete www.delta-homes.com from your computer completely, you should use steps below.
Question: I am worried because all of my searches are interrupted by delta-homes.com redirection. This page has also appeared as my homepage and default search site. I thought that I fixed my computer because I tried to remove delta homes, delta search, conduit and other extensions from my browsers. Unfortunately, they showed up again right after rebooting my PC… Could you help me? I don't want to see popping up the www.delta-homes.com as my homepage anymore…
Answer: The removal of this search page requires lots of knowledge because it relies on Search Protect feature. This feature protects hijacked system settings and prevents delta-homes elimination from computer. If you need a full removal of this browser hijacker, you should opt for Automatic removal method.
Of course, you can also rely on Manual removal steps that were designed by 2-spyware security experts. However, you should be really careful when performing each of these steps. Make sure you follow them attentively and perform them in right order to prevent additional issues on your computer.
Question. Got infected with www.delta-homes.com search virus and now I am suffering from constant redirects and ads. They are telling me that I should fix my registry errors or repair windows errors. Should I trust them? Also, could you help me with delta-homes.com removal? It seems it's very complicated..
Answer. First of all, you should stay away from these ads because they are misleading. After clicking them, you can easily infect your PC with additional threats, like adwares, browser hijackers, suspicious PC optimizers and similar applications.
In addition, when trying to remove www.delta-homes.com hijacker from the system, you should know that it travels around in a bundle with additional components that can hardly be detected if you are using manual removal option. That's why you should think about updated anti-spyware. Please, check the guide below to get more information about that.
Question. How can I remove www.delta-homes.com completely? It seems that it keeps infecting my computer again and again and again.
Answer. If you want a full delta homes removal guide, you should scroll down and check the guide below. Make sure you are very careful when performing manual removal steps!
Remove Delta-Homes.com redirect virus for good
If you are affected by this potentially unwanted program and you want to get rid of Delta homes, you should rely on these steps that are given in Automatic and Manual removal guides below. No matter that it may seem that both of these methods are equal, you should always keep in mind that you have to be very careful when using manual removal method.
In fact, you should be have some knowledge about computers and their architecture if you want to fix your computer and leave no files related to this browser hijacker. That's why we highly recommend using automatic removal method of delta-homes.com that will help you to detect all hidden files in your computer.
You may remove virus damage with a help of Reimage Reimage Cleaner Intego. SpyHunter 5Combo Cleaner and Malwarebytes are recommended to detect potentially unwanted programs and viruses with all their files and registry entries that are related to them.