CyberGhost – a feature-packed VPN service that helps to prevent tracking
CyberGhost VPN is one of the most reliable and privacy-focused Virtual Private Network services around. Based in Romania and Germany, this VPN client serves more than 10 million people worldwide. It provides a stable connection to more than 5,800 servers across 89 countries and does not slow people down while using it. CyberGhost uses dedicated servers for online activities, such as torrenting or video streaming – this allows users to optimize their experience to the fullest.
When choosing a VPN to use, many are not only looking for reliable connection speed and different locations to pick from but are also very concerned about their privacy. Many providers claim that they are there to ensure users' privacy, yet they gather a variety of personal and non-personal information for marketing purposes, in some cases, even sharing it with third-parties. CyberGhost VPN is nothing like it – it respects peoples' privacy and does not track them.
Besides regular VPN functionality, CyberGhost is also equipped with a variety of privacy-focused perks that would help users to stay not only anonymous but also safe online. Connection features can help to block ads and trackers, prevent users from accessing malicious websites, and ensure that a secure HTTPS version of the site connection is established, preventing cyberattacks.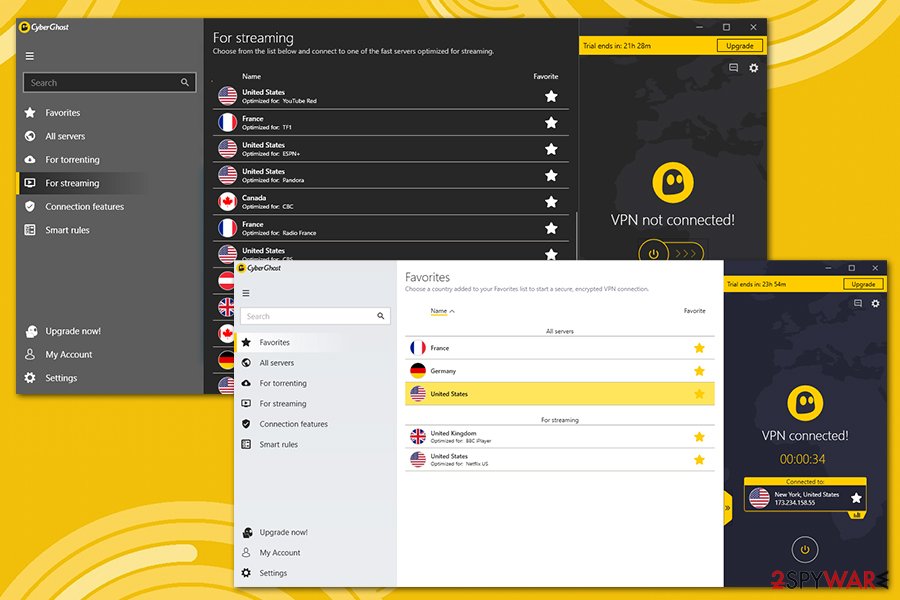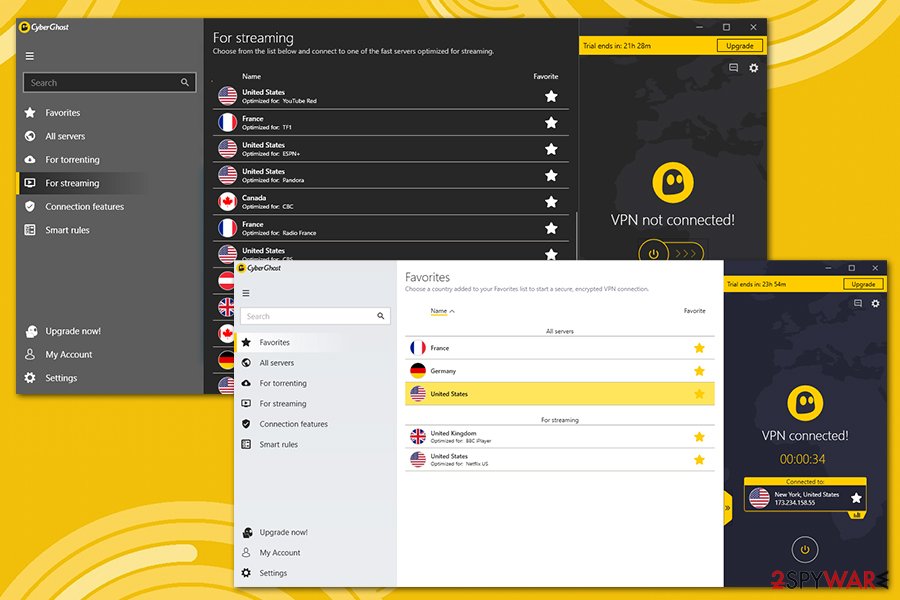 In this CyberGhost review, we will try to disclose the most relevant information and answer most frequently asked questions about this feature-packed VPN that is so easy to use. If you are interested, you should try CyberGhost free trial and see how 15 years of experience in a VPN industry looks like!
Name
CyberGhost
Privacy

Does not track user-related information
Anonymous data collection can be opted-out of
Provides features that allow to prevent online tracking from other sources

Plans
Multiple available: 1 month/$12.99, 6 months/$8.49, 18 months/$3.15, etc.
Protocols
OpenVPN, IKEv2
Platforms
Windows, macOS/Mac OS X, Linux, Android, iOS, FireTV, Chrome, etc.
Simultaneous connections
7
Servers
Almost 6,000 servers across 89 countries
Bonus features
Ad-blocker, malicious site blocker, online tracker blocker, automated HTTPS redirect, data compression, and much more
Try out CyberGhost free for one day
CyberGhost VPN can be used on seven different devices simultaneously, including Windows, macOS, iOS, Android, Linux, and many more, which means that you can use the client safely on your work computer, personal phone, gaming console, and many other gadgets that you employ daily. Besides, most VPNs only provide five simultaneous connections, so you can use CyberGhost on many devices and even share it with your household members. Note that these perks are only available once a full version of the VPN is purchased.
You can download CyberGhost free from its official website and make use of its full functions for 24 hours since registering. Nevertheless, you need to install the client.
The installation process is straightforward, and only takes a few minutes to setup:
Download the CyberGhost VPN and double-click it.
Read through Terms and Conditions if required.
Choose if you want to participate in a limited anonymous data-sharing practice.
Wait for a short period of time for the installation to be complete.
In the account creation screen, enter your email and choose a secure password.
Check your email and verify your account. You are now set to use CyberGhost!
Your 24-hour CyberGhost free trial will start as soon as you create your account and press the "Start Trial" button via the app, so keep that in mind! If you are using an Android device, you can also be eligible for a full 7 day trial period, regardless if you are using the same account you did on Windows. On iOS, you would also get weeks-worth of free CyberGhost VPN, but you have to register through the app in the first place.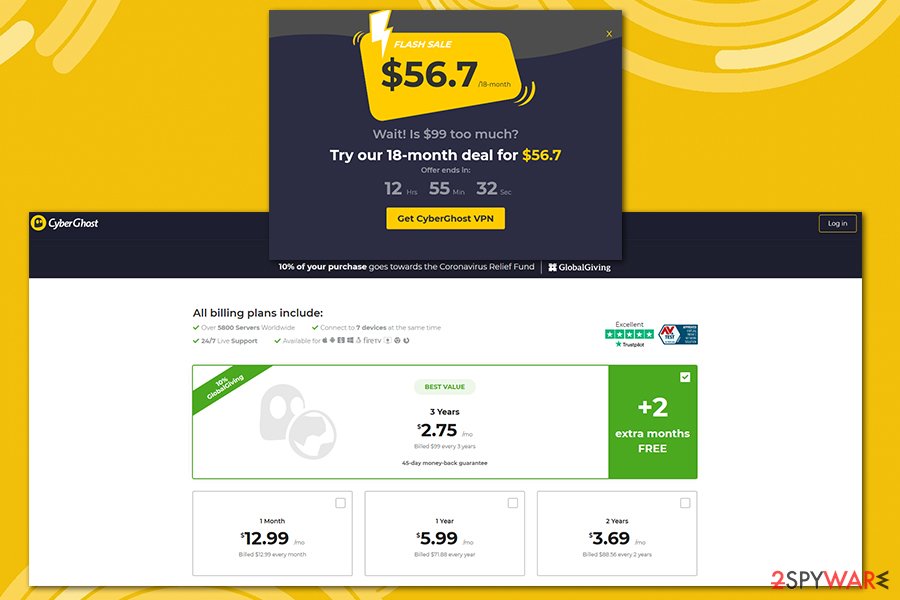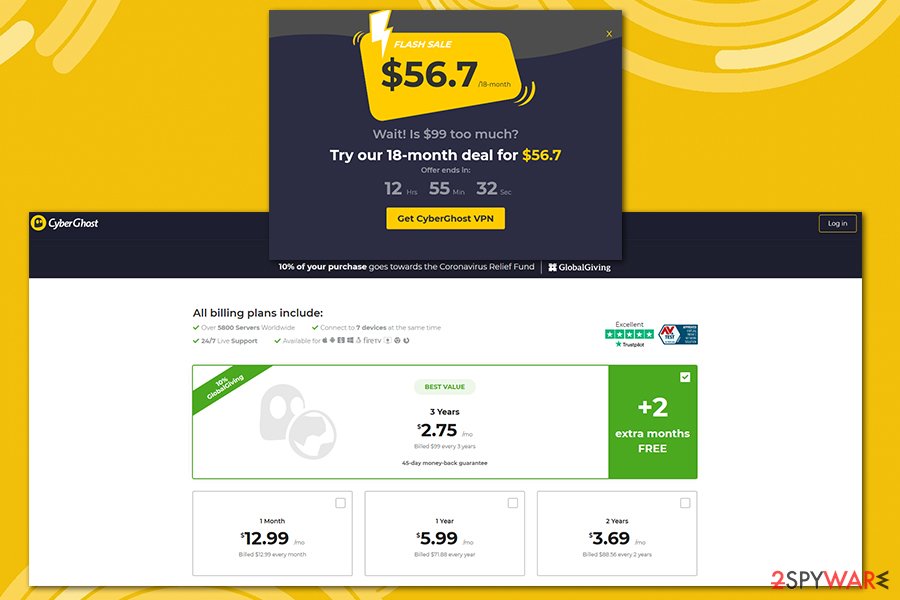 CyberGhost VPN – choose the right plan for you
Just like many other VPN providers, CyberGhost plans vary in prices. Most of the other VPNs can be used for approximately $10-13/month and, if you want it only for one month, it will cost you $12.99. However, the prices drop by a significant margin when you start looking into other plans, although there are several CyberGhost deals and promos you might encounter.
Other plans are offered for different periods of time; for example, users can get CyberGhost for 6 months, 1 year, and also three years – here are also exclusive deals available for 18 months. Keep in mind that each the longer the plan, the cheaper the monthly fee gets. For example, you can get a three-year plan for only $3.15/month. You can pay for the subscription in various ways, such as using the common credit card method, PayPal, Google Play, or even Bitcoin.
CyberGhost VPN also comes with great support available – users can choose an email or chat as the main communication means. Additionally, knowledgebase can also be used to acquire the most relevant information about the client and its usage issues.
After CyberGhost download and the trial finish, users are also provided an especially generous 45 day refund period. Therefore, if you want to uninstall CyberGhost and keep all your money, you can do it within 45 days without any losses.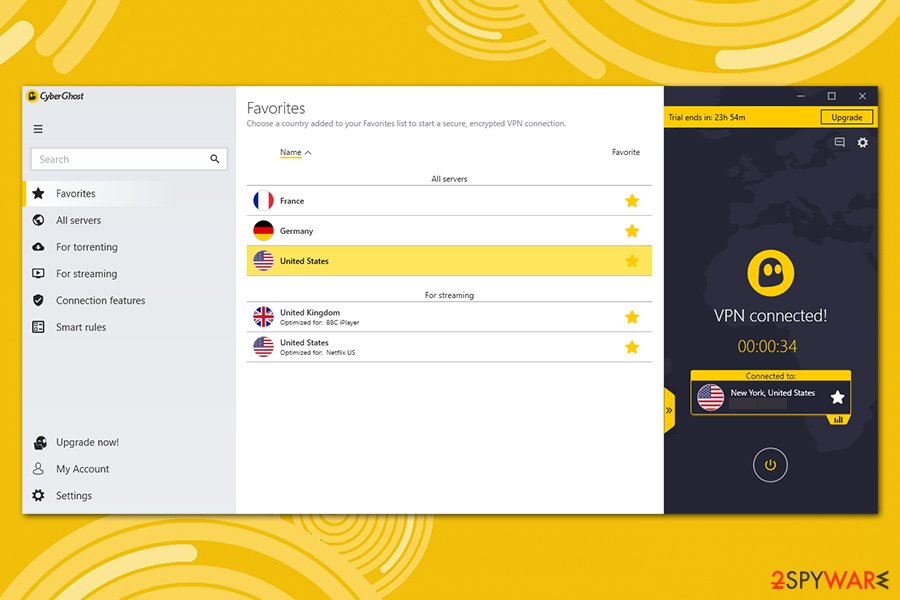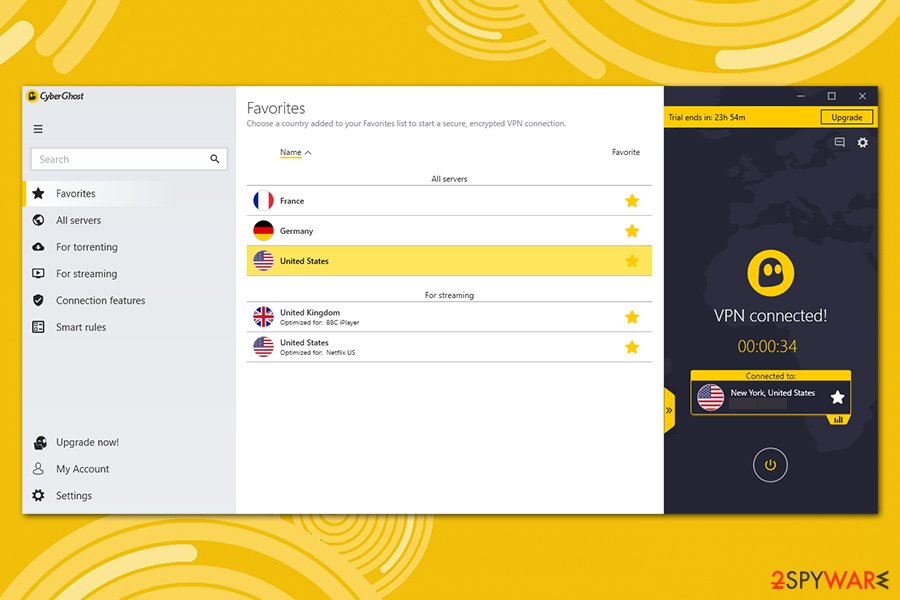 Easy-to-use UI is just one of many beneficial CyberGhost VPN features
Everybody who used CyberGhost at least once will tell you that it is easy to use since its interface is straightforward and includes detailed descriptions about each features' functionality. In fact, most users who never used a VPN before can simply click on a switch that will pick the best server and connect automatically!
From the CyberGhost login panel, you can still choose a specific country that the server is located from – by default, France, Germany, and the United States are listed. Once you press an arrow, you will be presented with a server list where you can add favorites from (these countries will also appear on the main screen's drop-down menu). You can access each country individually and pick the server you like. The distances from each and load of the server are also displayed – this is especially convenient when trying to pick a location closer to you.
Unlock Netflix and BBC iPlayer easily with optimized servers
While some might choose a VPN client to protect their privacy online, others might be seeing to bypass restrictions set to users from various countries. For example, a popular content provider Netflix hosts different shows and other content for US and EU audiences. In order for a person to be able to access EU-only content, they would have to employ a VPN. Additionally, in some countries, such services like Netflix might not be available at all due to strict censoring policies; for example, people from Chine could easily bypass this with the help of CyberGhost.
However, popular video content providers like Netflix and BBC have hundreds of blacklisted servers that belong to VPN services – the policy was established in order to prevent users from bypassing the restrictions. CyberGhost's servers are not restricted, and users can easily enjoy restricted content, including Netflix, Disney+, BBC iPlayer, Hulu, and much more, without limitations.
Simply pick "For streaming" section and will see dedicated servers listed that are optimized for particular services. In most cases, VPN providers do not specify which servers are compatible with video streaming, and users simply have to go through each of the servers themselves to figure that out. Now that's a pain. Luckily, CyberGhost VPN allows you to bypass this process completely and saves you a lot of time.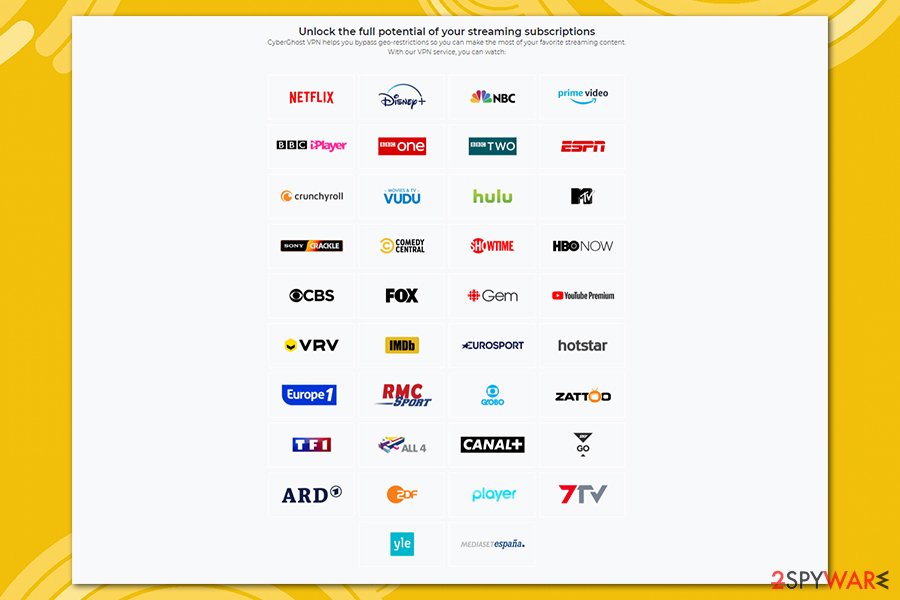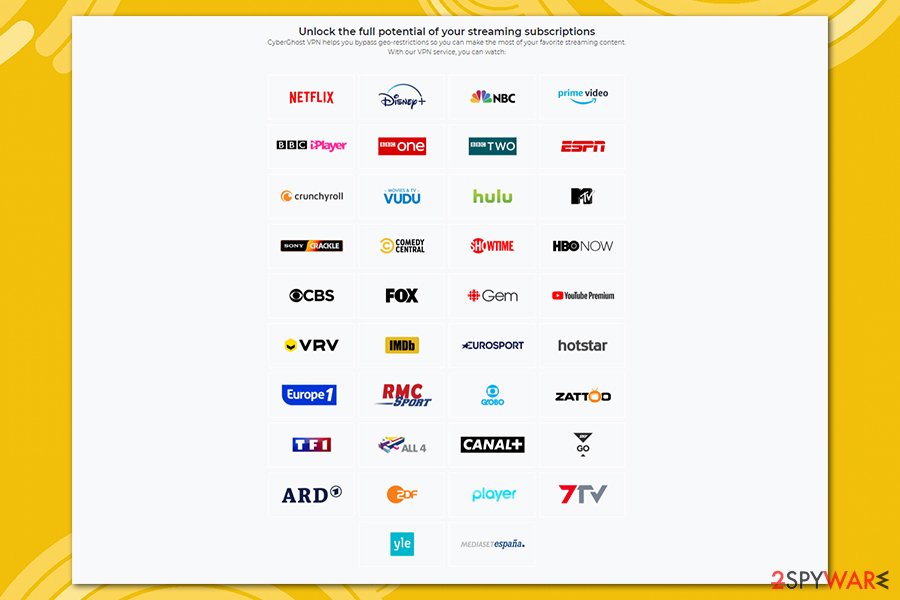 Torrent freely by using dedicated servers
Torrenting is usually controversial due to copyright infringement, as much of the content that is delivered via peer-to-peer sites is pirated. Nevertheless, the technology itself is not illegal, and multiple of the mentioned websites can also be hosting legitimate content, such as open-source software or not copyrighted content. Therefore, there is a reason for many to use torrent sites without breaking the law.
However, due to the mentioned reasons, many such sites might be restricted. By using CyberGhost VPN, you can bypass this ban and access torrent sites freely. In the settings, you can also set up the app to always connect through a secure server as soon as you launch uTorrent or another torrent client – another way to save you time.
Keep in mind that some restrictions might still be present due to a variety of reasons, as CyberGhost explains:
None of the current P2P technologies are illegal per definition, but we have to block P2P protocols on certain servers, either due to strategic (this is traffic that unnecessary slows down other user's traffic) or due to legal reasons in countries where we are forced by providers to block torrent traffic, among them USA, Russia, Singapore, Australia and Hongkong (China).
Nevertheless, if you stick to dedicated servers, you should not be having any troubles when trying to connect to torrent sites.
Bonus: Cyberghost can help you protect from malicious content
CyberGhost VPN free might be a good option when trying the client out, but keep in mind that it only lasts for either seven days or 24 hours if the Windows version is used. Additionally, some particular features (like selecting Streaming-oriented servers, for example) are restricted. All that gets unlocked as soon as you purchase a CyberGhost subscription – you can use the program without limitations.
The full version of CyberGhost allows you to greatly improve your online security, as well. Here are some features you would be able to use:
Ad-block. Stops those pesky pop-ups and other intrusive ads from hindering the content of the site and slowing it down.
Malicious website block. When enabled, this filter allows CyberGhost VPN to stop you from viewing scam, phishing, fake, and other malicious sites.
Online tracker block. Online trackers are exceptionally annoying (cookies, web beacons, and other technologies that can be used to track your online behavior), and it can be blocked across all web browsers and apps by choosing this option.
Automated HTTPS redirect. In cases where a secure connection is available, CyberGhost will force your connection to be executed via the HTTPS instead of the vulnerable HTTP.
Data compression. While this feature has nothing to do with security, it is extremely useful when having a limited bandwidth (for example, on a mobile device) – it will compress images and other data to reduce the overall internet data usage.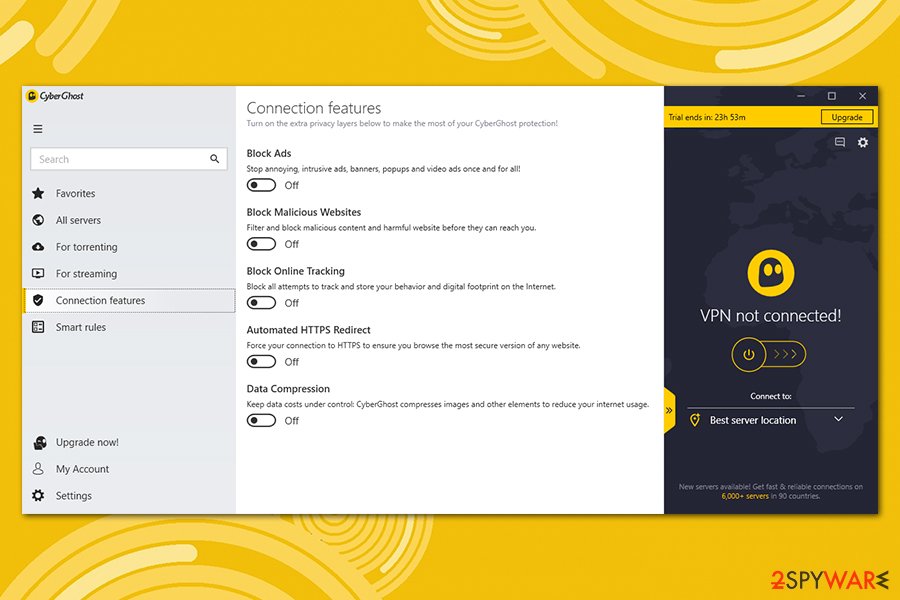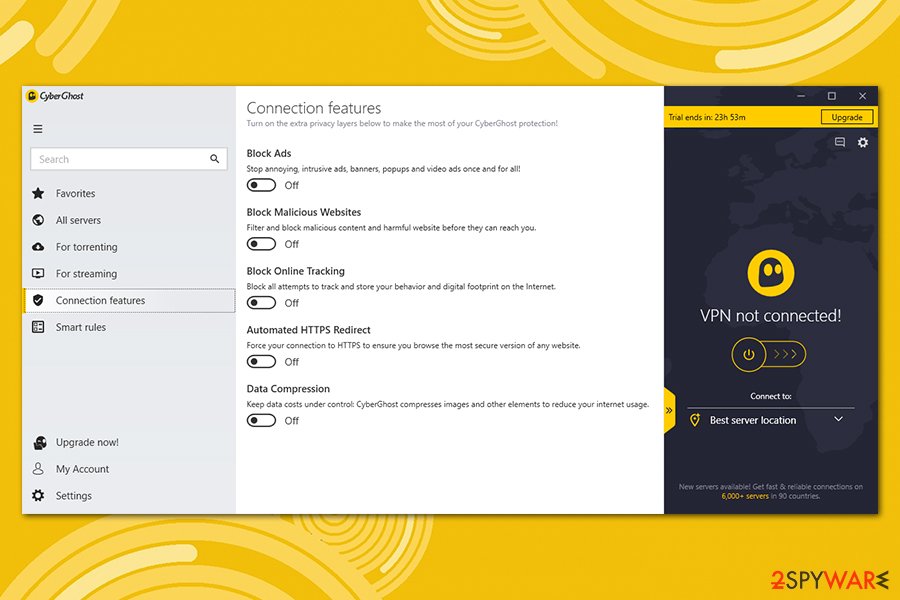 While ad-block has some downfalls (it performs a bit worse when comparing it with dedicated apps/extensions), all the features can, without a doubt, improve one's privacy and security.
Our verdict on CyberGhost VPN
To conclude our CyberGhost VPN review, we would like first to highlight the importance of privacy on this day. Companies are constantly getting breached, lackluster cybersecurity practices lead to malware infections, and all the other issues of the digital era can have a negative impact on many people's lives.
Therefore, employing additional tools like CyberGhost VPN, besides using security software, is very important. In the previous section, we described all the additional features that can be accessible to you as soon as you purchase a subscription for CyberGhost, although this is not the only perk you would be getting.
CyberGhost is a highly privacy-focused VPN with plenty of options and so many ease-of-use features that will help you save your precious time, all while you will be able to customize the client based on your needs. One of the biggest selling points, in our opinion, is the transparency and privacy that the company provides. For an extended CyberGhost trial, we highly suggest downloading iOS or Android version first.