Coupon Chaser – an adware product that provides users with the latest sales offers and is created by Innovative Apps and 215Apps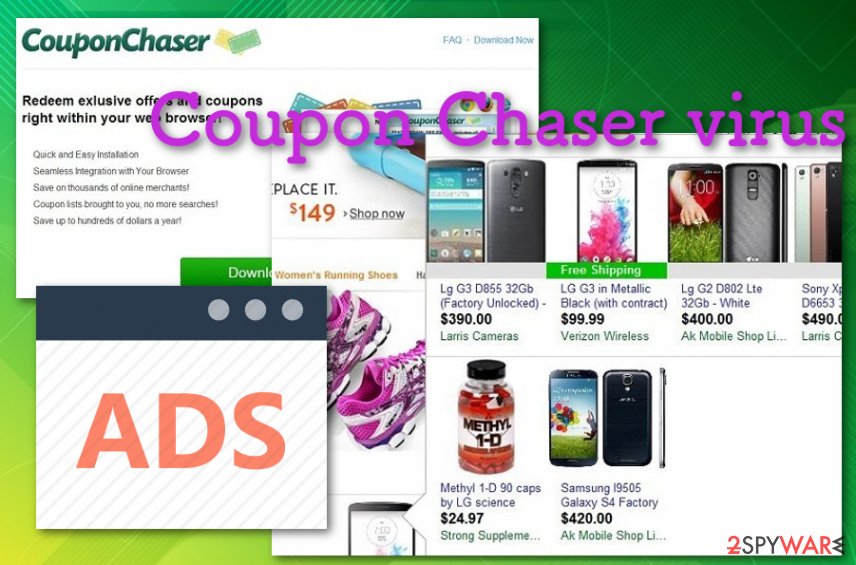 Coupon Chaser – adware that gets bundled with freeware and shareware that comes from third-party downloading websites such as cnet.com, download.com, and softonic.com
Coupon Chaser (also known as Coupon-Chaser or CouponChaser) is a third-party advertising service that has been released by two companies named Innovative Apps and 215Apps. This adware usually comes in a bundle with other potentially unwanted programs such as Yontoo, Superfish, 1ClickDownloader, and FBPhotoZoom. It aims to display advertisements that sponsor the latest sales offers and give advice on how to get some products for a very low price.
Coupon Chaser virus can appear on various social platforms such as Facebook, Instagram, and on e-shopping websites such as Amazon, AliExpress, eBay, Walmart, and inject the "See similar" feature on every product offer. If the user clicks that button, he/she will be provided with Coupon Chaser ads. If you are using a Windows computer, you might find some rogue processes running in the Task Manager and suspicious components hidden in the C:\Program Files\ and C:\ProgramData sections. Also, the adware copies its main file named Coupon Chase-bho.dll to the hard drive of the affected device.
Name
Coupon Chaser
Also known as
Coupon-Chaser, CouponChaser
Developer(S)
Innovative Apps, 215Apps
Bundled with
This app can come in a bundle with other third-party programs such as Superfish, Yontoo, FBPhotoZoom, 1ClickDownload, etc.
Main task
The main goal of this adware program is to provide various sales' offers while visiting popular e-shopping websites or social platforms
Location(s)
Once this adware settles on the computer system, it can fill the Windows Task Manager with questionable processes and include suspicious files in the C:\Program Files\ and C:\ProgramData sections
Elimination
If you have been dealing with this PUP lately, you can try to get rid of it by completing manual step-by-step guidelines or by using automatical software
Fixing tool
Try repairing any system compromisation with

Reimage

Reimage Cleaner
Coupon Chaser is not a trustworthy application that you should leave lurking on your machine. Even though this program is most likely to appear on your Windows computer system, it can still approach you even if you are using a Mac device.
Coupon Chaser adware infiltrates all types of web browser applications such as Google Chrome, Mozilla Firefox, Internet Explorer, Microsoft Edge, and Safari. The PUP fills these apps with questionable extensions, add-ons, and plug-ins that allow the adware to fulfill its functions such as advertising, redirecting, and collecting browsing-based details.
Once you are infected with Coupon Chaser, there is a big chance that you will experience intense advertising while using the web browser where the adware is installed in. This adware aims to load various sales offers and shopping deals that are likely to look very attractive and trick gullible users into spending their money on unneeded products.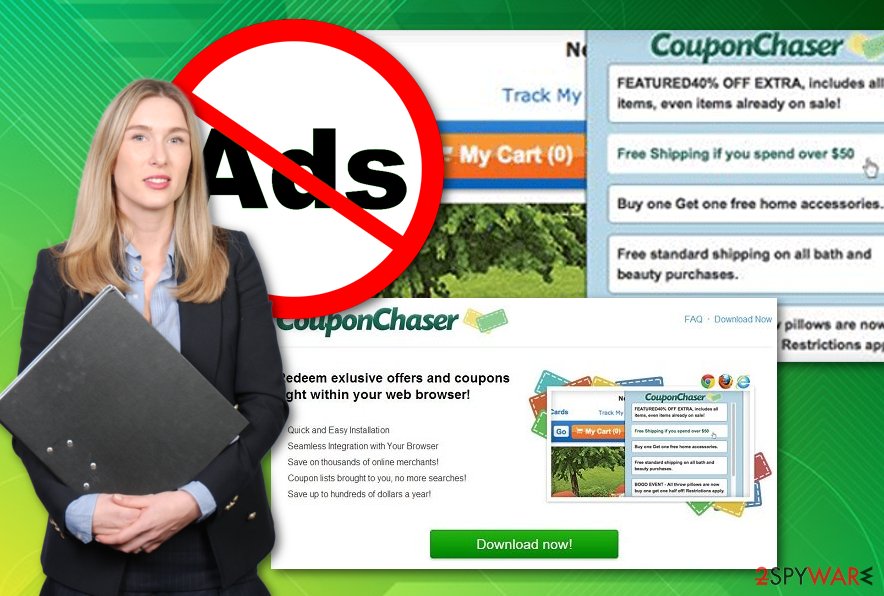 Coupon Chaser is a potentially unwanted program that can redirect the user to a potentially malicious website and infect the person with a virtual parasite
Be careful with Coupon Chaser and its ads. If you are browsing on an e-shopping platform such as Walmart, AliExpress, eBay, or Amazon, you might be provided with such advertisements. However, mostly, they are likely to come specifically marked, so you might be able to recognize the adware from such superscriptions on particular ads:
"Provided to you by Coupon Chaser".
"Coupon Chaser ads".
"Ads by Coupon Chaser".
"Coupon Chaser advertisements".
"Brought to you by Coupon Chaser".
The notifications that come from Coupon Chaser can decrease the speed and quality of your browsing process. Later on, you might find yourself struggling to open certain websites, minimize and maximize windows, close pages. Additionally, this can affect your computer resources such as the CPU and start eating up energy and power.
Furthermore, Coupon Chaser can initiate redirecting sessions to affiliate domains. These places can also be filled with questionable content such as various surveys, scams, fake prize claims. If you receive any type of encouragement to provide personal information or credential data, do not do that as, otherwise, you might experience identity theft or monetary losses.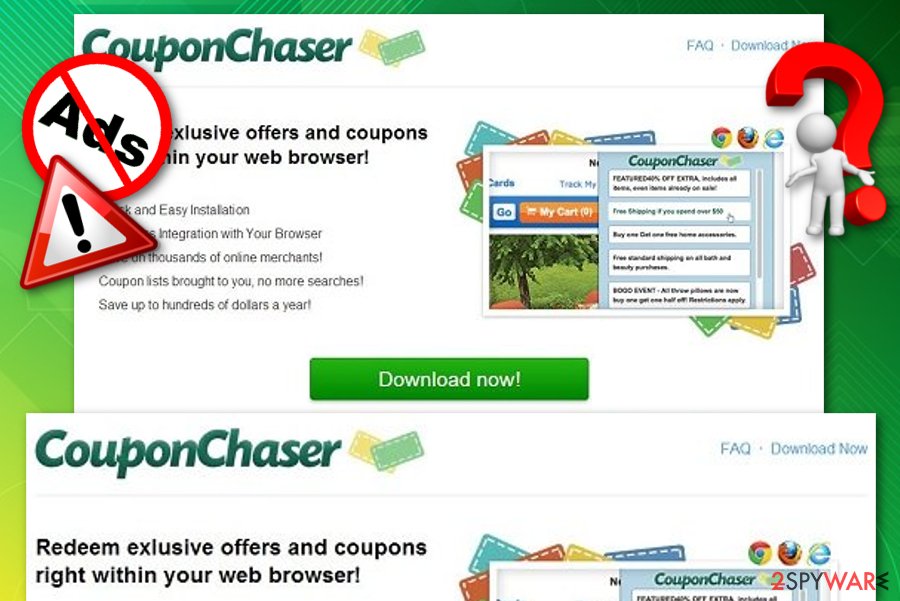 Another bad purpose of Coupon Chaser redirects might be to take you to potentially malicious locations. This way the hackers might be able to inject dangerous malware such as trojans or ransomware into your computer system. Afterward, you are likely to experience severe system/software damage, important data loss, overheated CPU,[1] etc.
Remove Coupon Chaser before you land on such damaging directories. The adware program can be easily terminated with the help of automatical removal tools. You should choose this type of process over the manual possibility if you are a less-experienced user or have been running into some problems related to time limits.
Coupon Chaser can also aim to inject HTTP cookies, beacons, and pixels[2] for tracking your browsing information. The PUP might record data such as pages visited, hyperlinks and ads clicked, saved bookmarks, your IP, geolocation. Then, the details might be passed on to other parties for income or used as a way of developing more advanced targeted advertising.
Since you know all about the annoying adware, this should be enough for you to want to perform Coupon Chaser removal. If you are infected with this PUP and have been looking forward to using manual instructions, you can find some steps at the end of this page. Also, try Reimage Reimage Cleaner for repairing any compromised entries that the adware might have affected on your PC.
Freeware and shareware apps often hide adware in their extra attachments
Adware programs usually travel around as additional attachments of various freeware and shareware. Therefore, it is possible to find such a program on your computer without downloading it. If you want to protect your computer from similar intruders, we can give you a couple of helpful tips on how you can do that.
First of all, avoid downloading unfamiliar programs from download websites such as cnet.com, softonic.com, soft32.com, and download.com. As you can imagine, free programs are usually supported by advertising or such applications have extra attachments by which unwanted products can easily slip into the computer system.
Secondly, if you are installing an unfamiliar freeware,[3] it is recommended to read its end-user license agreement (EULA) part and the Privacy Policy. Thirdly, you should also follow the entire installation process in order to spot unwanted attachments by selecting Custom or Advanced installation of the freeware.
Finally, taking care of automatical protection is also an important thing to think of while seeking to prevent adware programs from entering your machine repeatedly. Choose a reliable antivirus product to purchase from the Internet and download it to your computer system. Afterward, keep the app regularly updated for its proper functionality.
Removing Coupon Chaser virus from your computer
Coupon Chaser virus should be removed after you find the program distracting you and interrupting your computing work. There are specific tools that can help you to deal with this type of process, also known as antimalware software. According to Virusai.lt experts,[4] using antivirus tools is the best way to get rid of all types of cyber threats.
Downloading and running automatical products will make the Coupon Chaser removal process smoother and more efficient. This way you will be sure that you have not missed any suspicious products that were injected by the adware program. Also, the entire task will take no longer than 5-10 minutes and will require almost none of the user's effort.
However, you can also remove Coupon Chaser with the help of manual guiding steps. At the end of this article, we have included improved instructions on the termination process of this adware. Keep in mind that you need to clean not only your OS but also web browser apps such as Chrome, Firefox, Explorer, Edge, and Safari.
You may remove virus damage with a help of Reimage Reimage Cleaner . SpyHunter 5Combo Cleaner and Malwarebytes are recommended to detect potentially unwanted programs and viruses with all their files and registry entries that are related to them.