Chromebook virus is the type of malicious programs that indicates some flaws and vulnerabilities of the allegedly virus-free OS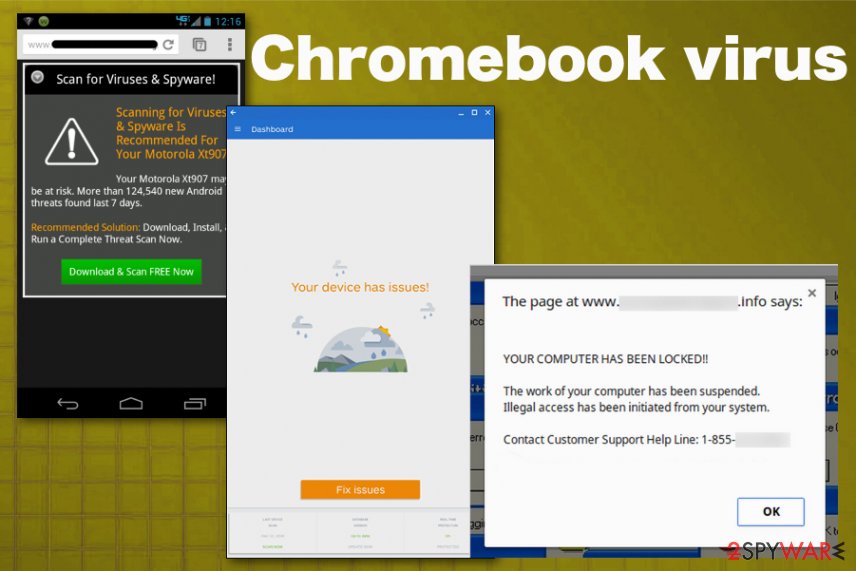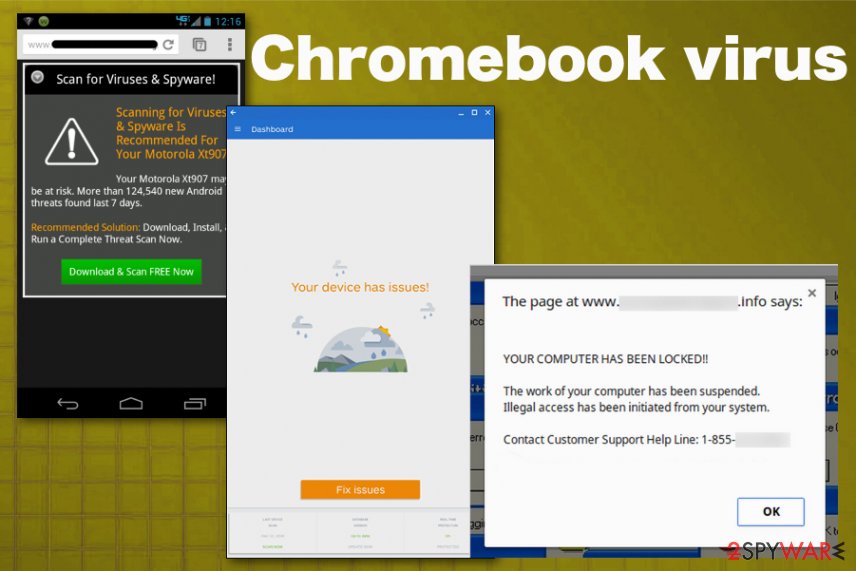 Chromebook virus is a type of malicious software that can infect Chrome OS computers – the allegedly "virus-free" systems. While many users believe that the operating cannot get infected, as it runs by implementing a sandbox environment, and uses such features as a verified boot, data encryption, and the recovery mode. Besides, all the apps run on a cloud environment, so no executables can be installed.
Nevertheless, security experts did see Chromebook viruses affecting it, and, while rare, the infections do occur. The elevated permissions that usually give malware away into Android, iOS, or Windows do not exist in Chrome OS. However, threat actors do not need raised permissions to do malicious deeds like redirecting users to spoofed or phishing sites that claim Zeus virus infection,[1] hijacking the CPU to mine cryptocurrency or stealing personal data.
Besides phishing scams, malware can come directly from Google Play – hackers often implement various features to bypass built-in scanners and make thousands of users download Chromebook virus, while they think the app is legit. One of the best examples are apps that drain CPU power to mine cryptocurrency for cybercriminals – they do not require any special permissions to do so.
Thus, while Chromebook malware cannot be something serious like a trojan, worm, data-stealer, ransomware or a rootkit – malicious actors can still find ways to steal valuable information or make users spend money on useless software. You need to pay attention to installs, third-party stores, and even OS updates. If you hold off on updates some bugs may trigger exploitation of malicious code. The system is safe, but not fully virus-free.
Name
Chromebook virus
Type
Malware
The targeted OS
Chrome OS
Possible versions

malicious browser extension;
malicious applications;
scams

Symptoms
Affected performance or speed, additionally installed content
Distribution
Internet, deceptive sites, infected advertisements, malicious updates[2]
Avoidance/ removal
Keep an extension that block PUPs and malware to avoid infiltrations and remove Chromebook virus
The only possibility to obtain a Chromebook virus is when browsing the internet and performing other activities online. Fortunately, you can get rid of such cyber infections and avoid infiltrations in general with particular anti-malware tools compatible with the OS and web browser. Chromebook developers provide tight security with the built-in Chrome OS that is based on browser only.[3]
Chromebook virus seems to be impossible because the Chromebook operating system stops malware attacks and keeps the systems virus-free with:
Automatic and constant OS updates, so you don't need to download patched;
Sandboxing, when webpages run in confined area so dangerous sites cannot affect programs;
Automatic malware checking with each reboot;
Cloud saving allows encrypting the data, so hacking is nearly impossible;
Recovery option that allows restoring everything to the earlier version.
Although people believe that the Chromebook virus is not real, experts note how important is to pay attention to the content you visit or get exposed to because malicious pages or even deceptive advertisements can lead to money loss or exposed personal data to cybercriminals.
"Chromebooks can't get viruses" myth
For a very long time, Mac users were convinced that the operating system they use could not be affected by malware, as macOS machines used advanced security measures in comparison to Windows.[4] However, Macs not being able to catch viruses is just a myth, and has been debunked several times.[5]
The precisely same thing is happening with Chromebook viruses currently – as soon as the platform will gain more popularity, bad actors will start targeting the Chrome OS more and learn how to bypass the implemented security measures, as was the case with Macs.
Chromebook runs the Chrome OS that resembles Android, and because of that, various Android apps are emulated. However, there are no administrator permissions for this system that makes direct malware installation impossible. Unfortunately, attackers can still obtain users data or passwords with phishing campaigns, scams.
Chromebook virus, in most cases, involves scams and fake malware detections, warnings, alerts about the risk, or even direct damage. This activity can lead to severe issues if the victim falls for scammer campaigns.
You need to remove Chromebook virus messages and avoid clicking on any of those pop-ups or additional alerts that come up on your screen. Exit the window and try not to click on any of the contents because one click can trigger more material with possibly malicious redirects.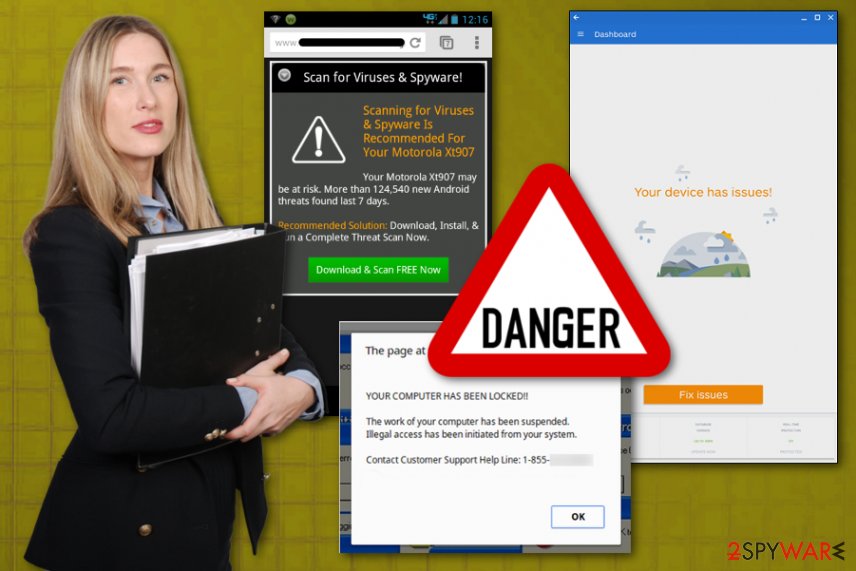 Chromebook virus is the particular malicious threat that comes to the Chrome OS via the Internet and deceptive domains.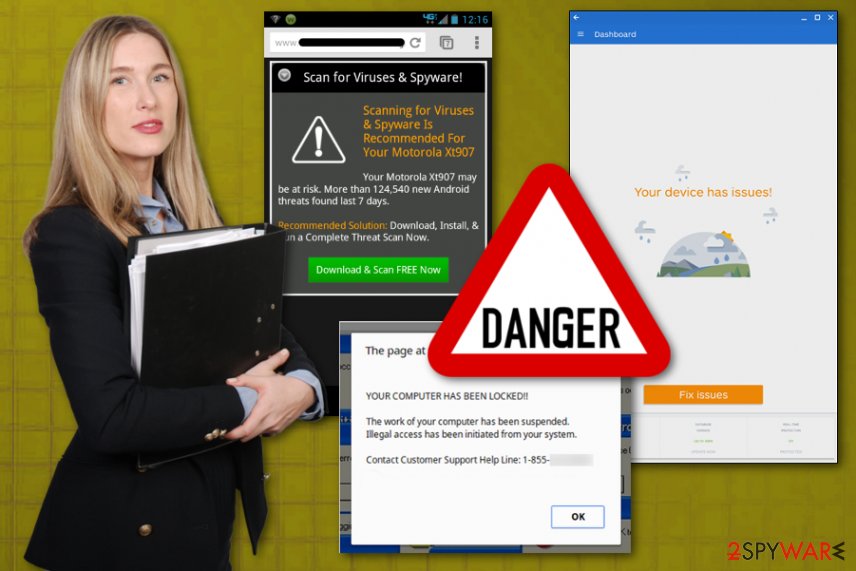 Chromebook virus is the particular malicious threat that comes to the Chrome OS via the Internet and deceptive domains.
Chromebook viruses can be disguised as useful apps on Google Play
Unfortunately, Chrome OS is not 100% immune to malware, and users are completely safe while using it. While these are devices are most likely one of the safest ones on the market when it comes to malware infections, malicious actors might think of new ways to bypass its seemingly unbreakable security features.
These are three main categories of Chromebook virus:
Malicious extensions
Turning the automatic synchronization of extensions helps to avoid intrusive content, but these devices are not entirely safe as it may seem. Malware can even bypass the security layers of Google Chrome and Chromebook operation system Chrome OS. Malicious browser extensions that sneak into Google Play might start redirecting users to technical support scam sites, and users might call the fake numbers.
While in some cases, lack of positive reviews, screenshots, and other things might be an indication of something fishy, it is not always the case. Bad actors can create fake accounts and post bogus reviews. Besides, the malicious deeds the app performs in the background might not be noticeable for many users, so the ratings might be completely not accurate.
Finally, some apps might require specific permissions, such as changing users' data on websites that they visit – this is not common for simple apps like a calculator. With these functions, third-party domains can intercept requests and get to various information about the victim. Thus, users should always be vigilant and check what the extension can do before allowing it to do it.
Malicious apps
Various malicious apps as cryptocurrency wallet applications found on Google a year ago can affect even the seemingly- safe devices like Chromebook.[6] No admin permissions or particular device alerts need to trick users into storing cryptocurrency in the wallet supported by the malicious actor. This campaign can be easily launched, targeting Chromebook users.
Fake antivirus software is also included in such campaigns and scams. Rogue software poses as useful anti-malware when in reality provides no functions of real protection. This method also includes payments for full system scans and so on, so money loss might be inevitable.
Note that the Play Store has a system to clean malware-laden applications, but some of them can still get to the system and be distributed as totally safe apps. The malicious script can sneak through and cause damage when downloaded on the device. You need to keep this in mind and note that Chromebook virus removal is not that easy when you have a few suspicious apps on the device.
Chromebook scams
As we mentioned, there is no permission to install programs or add files like executables on the Chromebook systems, so malware infections are not possible. However, scam campaigns that state about malware infiltration or potential damage due to the virus can scare people and seem legitimate enough to convince users.
Zeus virus scam is one of the phishing scams that can be encountered on the internet quite often, and users might get tricked quite easily. However, in-browser alerts and warnings are fake, as the malware, they notify users about does not exist on Chromebook.
Unfortunately, such campaigns can lead to money losses, as well as sensitive information disclosure to cybercriminals, which can later sell it on the dark web or use it in spam campaigns. Therefore, make sure you do not fall for these scams, Zeus, or similar virus cannot affect the Chromebook.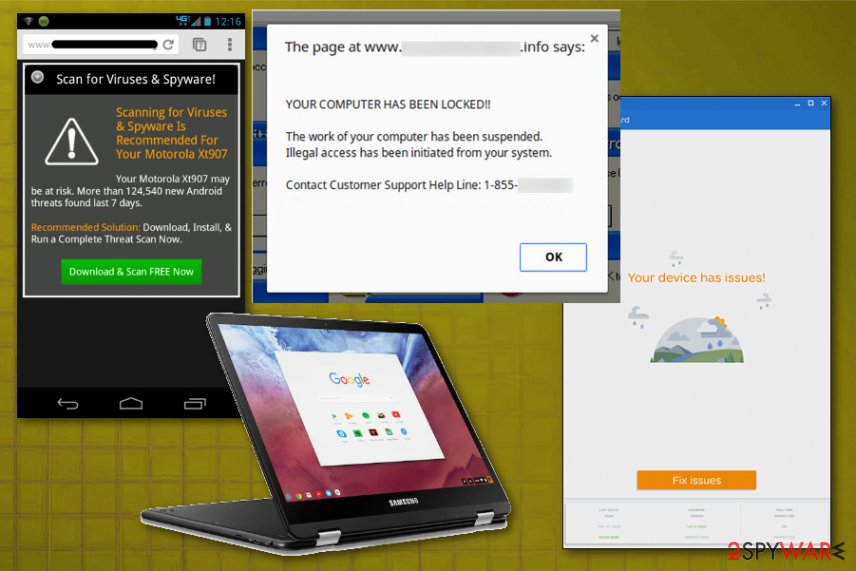 Chromebook virus is one of the terms used to call malware that targets particular Chromebook devices with scams or malicious extensions.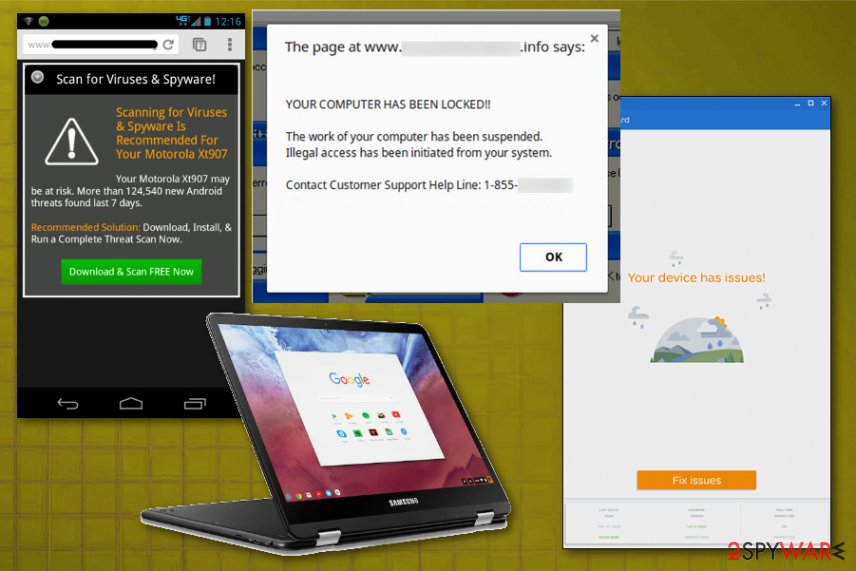 Chromebook virus is one of the terms used to call malware that targets particular Chromebook devices with scams or malicious extensions.
Deceptive advertisements and questionable web pages can contain malicious script and cause more damage than you think
You should always pay attention to all the processes running on the machine, no matter what it is. However, all the activities involving the internet and applications, other content should be monitored extremely close. Even operating systems as such get infected with malicious applications from insecure sources.
Unfortunately, there is no easy step-by-step guide that provides all the instructions for virus removal, but we can recommend a few things that help avoid malware infections:
pay attention to applications you install, even from the Play Store;
keep your Chromebook updated and install all upgrades once the new one comes out.
Clean the device from any parts of Chromebook virus
Chromebook virus is a real threat even though it affects particular parts and stems from web browsing activities. Therefore, if you notice any strange redirects or a high CPU usage on your device, it might be a case of a Chromebook virus.
For Chromebook virus removal, as well as malware avoidance on the Chrome OS, you should install a reputable anti-malware extension that would be able to block phishing and scam sites. One such example comes from Malwarebytes developers. This in-browser tool helps with infectious websites, intruders that can be found on the internet and infiltrate device running on this particular browser-based operating system.
Additionally, to avoid Chromebook virus and any cyber infections, you need to pay close attention to pages you regularly and the hyperlinks you click on. Although Chrome OS doesn't allow installation of software, you can trigger browser tools, extensions, and related content downloads by clicking on malicious pop-ups or banners.
The government has many issues in regards to tracking users' data and spying on citizens, so you should take this into consideration and learn more about shady information gathering practices. Avoid any unwanted government tracking or spying by going totally anonymous on the internet.
You can choose a different location when you go online and access any material you want without particular content restrictions. You can easily enjoy internet connection without any risks of being hacked by using Private Internet Access VPN.
Control the information that can be accessed by government any other unwanted party and surf online without being spied on. Even if you are not involved in illegal activities or trust your selection of services, platforms, be suspicious for your own security and take precautionary measures by using the VPN service.
Computer users can suffer various losses due to cyber infections or their own faulty doings. Software issues created by malware or direct data loss due to encryption can lead to problems with your device or permanent damage. When you have proper up-to-date backups, you can easily recover after such an incident and get back to work.
It is crucial to create updates to your backups after any changes on the device, so you can get back to the point you were working on when malware changes anything or issues with the device causes data or performance corruption. Rely on such behavior and make file backup your daily or weekly habit.
When you have the previous version of every important document or project you can avoid frustration and breakdowns. It comes in handy when malware occurs out of nowhere. Use Data Recovery Pro for the system restoring purpose.
This entry was posted on 2020-07-09 at 01:00 and is filed under Malware, Viruses.