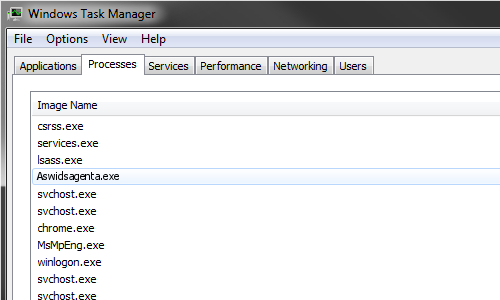 Aswidsagenta.exe is Avast's Behavior Shield component that sometimes can cause high CPU usage
Aswidsagenta.exe is an executable file that users might find running in the background if they open their Task Manager. Executable files are necessary to run Windows and help components to work as intended, so it is normal to see multiple background processes running. Some entries represent Windows tasks responsible for different functions, while others are related to software residing on the computer – Aswidsagenta.exe belongs to the latter category.
Aswidsagenta.exe is a software component of one of the major anti-virus makers – Avast. More precisely, the executable serves as a monitoring process that analyzes program behavior in real-time to stop such threats like viruses, trojans, worms, ransomware,[1] and other malware. The process name of Aswidsagenta.exe is Avast Behavior shield, AVG Software Analyzer, or avast! Identity Protector.
Name
Aswidsagenta.exe
Type
Application file – belongs to security software Avast or AVG
Related processes

Aswidsagenta.exe usually runs under the following process names:

Avast Behavior Shield
AVG Software Analyzer
avast! Identity Protection

Main function
The executable is related to the Behavior Shield component that is responsible for the monitoring of suspicious activity on the system, consequently preventing the intrusion of worms, trojans, ransomware, and other malware
Problems
Users complained that Aswidsagenta.exe caused high CPU/memory usage and cause the system to run slow
Solutions
High CPU usage and other Windows issues can often be fixed automatically with PC repair software

Reimage

Reimage Cleaner

Potential dangers
Every executable running the background can be replaced or mimicked by malware. To ensure that the file is legitimate and comes from Avast/AVG, scan your machine with anti-malware software like SpyHunter 5Combo Cleaner
Verdict
You can disable Behavior Shield component if you wish to do so, although you would lose the advanced computer protection that a running Aswidsagenta.exe process provides
Because the name of the file is slightly confusing, many users were concerned about where the file came from or what it is used for. The confusion is attributed to the fact that the component was launched after one of the software updates, and Avast's name is not present within the Aswidsagenta.exe name. In other cases, users complained about high CPU usage of the process, although the issue might be related to a software bug[2] that can be fixed by repairing Avast anti-virus.
Avast's behavioral shield works by analyzing unusual behavior when it comes to the interactions between users and potentially dangerous online content. As Ondrej Vlcek from Avast explained, it can stop malware payload from being executed when a user interacts with a malicious trigger:[3]
So, if for example, your mail client starts a javascript interpreter connecting to the internet, Behavior Shield will step in, as this isn't normal behavior for a mail client and could lead to a malicious download
Aswidsagenta.exe removal can cause this protection to be disabled, consequently rendering the computer vulnerable to cyber-attacks. That only applies to the legitimate file, however.
Some executables that run in the background might not be safe at all, however. This includes files that are inserted by malware and run in the background pretending to be something that they are not (in this case – Avast or AVG software component). For example, if you do not use Avast or AVG, it is highly likely that Aswidsagenta.exe is a part of malware.
Luckily, in most cases, there are easy ways to determine whether an executable is malicious – scanning the machine with anti-malware or checking the location of the .exe file. Also, legitimate files are always signed by companies to increase integrity. Here's how to check the location of the file:
Press Ctrl + Shift + Esc on your keyboard
Once Task Manager opens, press More details
Right-click on the Aswidsagenta.exe
You should see the location under General tab
You can also check for the certificate in the Details section
To conclude, you should only remove Aswidsagenta.exe if it a part of the malware, which is highly unlikely. If you are facing high CPU or memory usage related to the file, you should try repairing Avast software or reinstalling it.
Prevent unauthorized files from running in the background
Malware developers and distributors are usually sophisticated individuals who choose to apply their intelligence for malicious deeds, unfortunately. They can perform malware distribution using a variety of methods – some of them are more advanced than the others, however. Therefore, users should use comprehensive security solutions as well as practice secure online behavior.
One of the most primitive yet extremely efficient malware distribution methods is spam emails. Hackers often compile a convincing message which urges users to either open an attachment or click on the inserted hyperlink (quite often, they threaten with consequences, as well as create a false sense of urgency). In addition to social engineering tactics, crooks also use real branding and formatting to make emails much more believable.
In most cases, the malicious attachments are MS Office documents with embedded content that is blocked by default. However, users are often tricked into pressing the "Allow content" button, letting the malicious macros to run and deliver malware payload as a result. To protect yourself, practice caution, and do not carelessly open emails from unsolicited sources.
Other malware distribution methods include:
Fake updates
Web injects
Software cracks
Repacked installers
Malicious ads
Exploits, etc.
In most cases, comprehensive security solutions can stop the incoming threats, although users should also not put themselves under unnecessary danger (such as downloading software cracks or failing to update Windows on time).
Do not disable Aswidsagenta.exe if you want comprehensive online protection
Aswidsagenta.exe removal should not be performed unless it is not a legitimate file from Avast or AVG anti-virus vendors. As previously mentioned, such action can render the computer vulnerable to cyberattacks and would significantly diminish its protection level.
In case the executable is indeed related to malware, you should remove Aswidsagenta.exe virus with the help of security software. Note that malware related to any executable can vary in its severity, sophistication, and other factors. In some cases, viruses are set to corrupt Windows system files, cause damage to other local files, or even prevent anti-malware from the operation. In the case of the latter, you should access Safe Mode and run security software from there.
If for some reason, you would like to disable Avast's Behavior Shield, you can do it by going to Menu > Settings > Protection > Core Shields and switching the lever to the left.
Reimage Reimage Cleaner has a free limited scanner. Reimage Reimage Cleaner offers more through scan when you purchase its full version. When free scanner detects issues, you can fix them using free manual repairs or you can decide to purchase the full version in order to fix them automatically.
This entry was posted on 2019-12-13 at 07:46 and is filed under Application files, Files.