The end for Windows 7: the OS will no longer be updated and protected from cyberattacks and vulnerabilities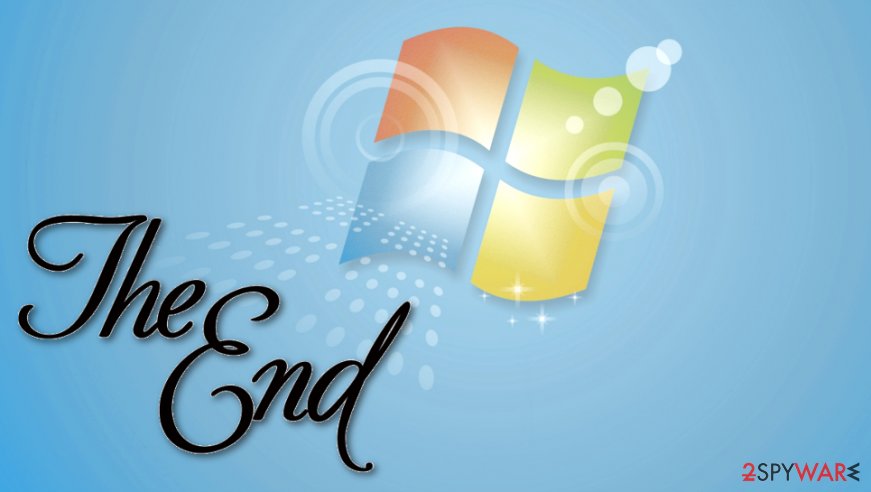 Windows 7 operating system will no longer be supported and there will be no further security patches or updates for devices running this version, Microsoft reveals.[1] Released back on October 22, 2009, Windows 7 reaches its end-of-life what in Microsoft terminology means the end of fixes.[2] Unfortunately, this also means that the company is not releasing any updates that could prevent malware and viruses. According to Microsoft, people should either upgrade to Windows 10 or buy a new computer that already runs a newer version of the operating system and meets all the hardware requirements.
The support for Windows 7 ends on Tuesday, January 14, and it means that millions of people who are still using this version need to take action. Microsoft says that devices that are older than three years should be replaced with newer machines, and more recent devices can be upgraded to Windows 10.[3] These changes should be made as soon as possible because devices without security updates and patches become more prone to malware and cybersecurity attacks.
What happens now?
The end of support for Windows 7 devices means that any bugs or malware issues discovered from now on will never get fixed or patched. The support for this version of the Windows operating system was reducing little at the time for years now. Microsoft ended the mainstream support back in 2015 and stopped adding some features like the validation of warranty claims. Since then, only the necessary patches got released.
When the computer continues to work on Windows 7, it can get stuck and crash since the OS is not patched and updated. Any vulnerability or bug can be used to take over devices, systems, and putting any user at risk. Even though Windows 10 is not perfect, many features offered with the latest version are the thing you are probably missing out for years now.
Devices newer than three years can be upgraded and existing Windows 7 OS replaced by a newer version of Windows 8 or Windows 10. As for the machines older than three years, it is a bit more difficult. You may need some hardware updates since Windows 10 has specific requirements the PC need to meet. If your device cannot meet them, you may need to buy a new computer with a more recent operating system already installed.
Millions of users could get exposed to malware
Many speculations surfaced when Microsoft released the news. Some researchers warn that a nasty bug gets patched on the same day when Windows 7 is reaching the expiration.[4] Potentially, Windows 7 users can be exposed to malware that possibly involves malicious crypt32.dll that controls the certificate and cryptographic messaging functions in the CryptoAPI.
The timing is concerning because the fact that Microsoft is no longer supporting Windows 7 leaves all the users especially vulnerable. Even though Microsoft addressed some of these rumors, it is still questionable. People that keep Windows 7 devices running un-updated can be considered at risk. If you are stuck with Windows 7, make sure to protect the device from any flaws by keeping the AV tool protected or the built-in antivirus of Windows 7 – Microsoft Security Essentials app running.
Even though Microsoft claims that free Windows 10 upgrade is no longer possible, it can be done with Windows Creation Tool. When you select to upgrade there, the only thing needed is the license key, and Windows 10 will start running on the PC for free. Do not forget to backup your data before any upgrading. This is extremely important if you don't want to lose your data entirely.[5]