Advanced Mac Cleaner – is a rogue system optimizer that can get installed via Trojans and start pushing its paid license key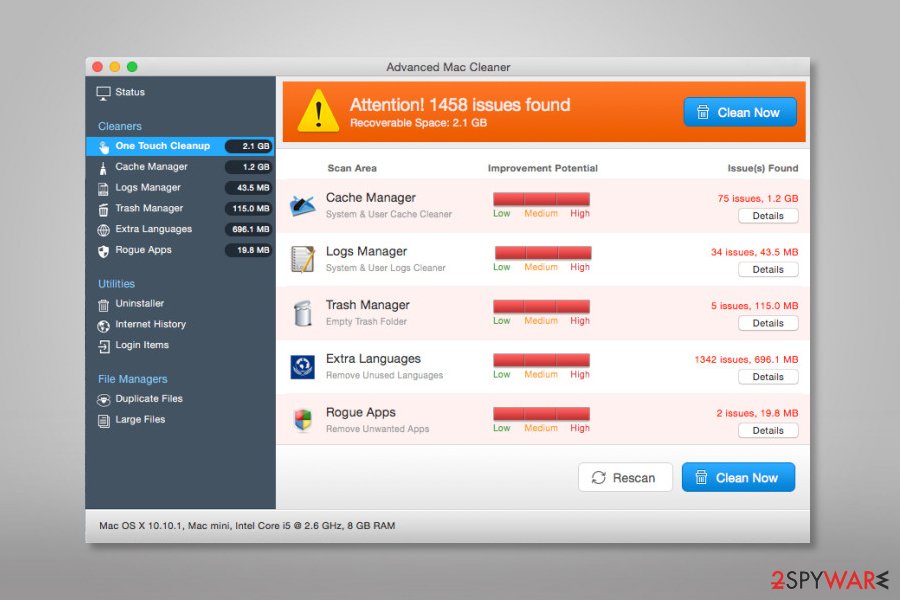 Advanced Mac Cleaner is the intruder that starts scanning the system right after getting inside the system. Its scan results cannot be trusted.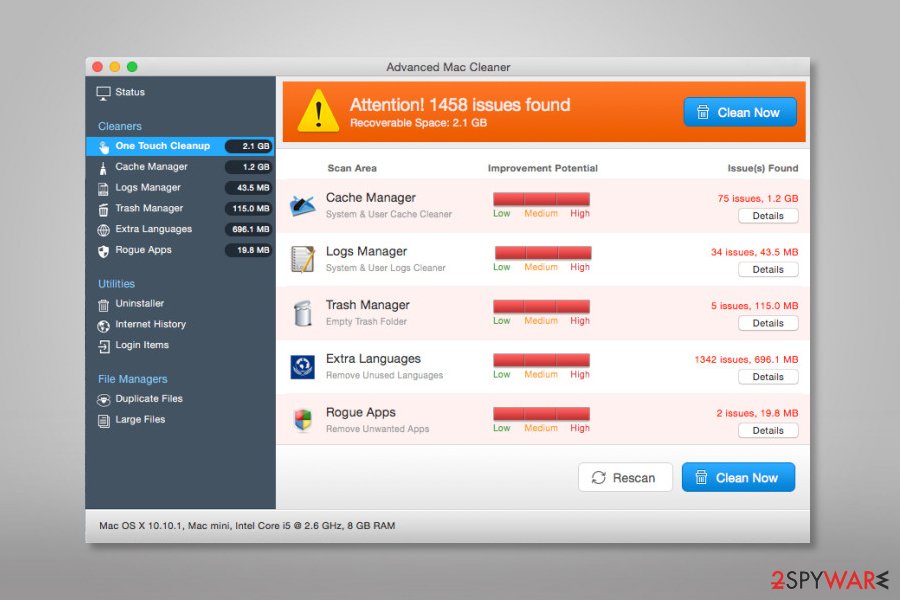 Advanced Mac Cleaner is the intruder that starts scanning the system right after getting inside the system. Its scan results cannot be trusted.
Advanced Mac Cleaner is a potentially unwanted program and a so-called system optimizer which initially was spread via software bundle packages. Once installed, the application initiates a scan that deliberately shows multiple false positives (such as alleged Bankworm malware infection) to make users believe that their macOS or Mac OS X systems are in great danger.
Advanced Mac Cleaner is not only a fake tool that will fail to deliver what it promises, but it might also indicate the presence of something much more malicious – a Trojan. This is because the application was widely used in malware campaigns such as CrescentCore or OSX/Shlayer – these Trojans automatically download and install Advanced Mac Cleaner and other bogus apps without permission, as they gain elevated system privileges.
If that is not enough, Advanced Mac Cleaner virus is notorious for being distributed via fake Adobe Flash updates, MPlayerX, 7 zip installers and is often promoted by technical support scam sites like "Your system is infected with 3 viruses." Thus, if you found this app on your Mac machine all of a sudden, you need to make sure you get rid of it as soon as possible, as it can seriously compromise your security and result in data, as well as money loss.
The app is identical to other fake optimizers like Smart Mac Booster (previously known as Advanced Mac Booster), Mac Adware Cleaner, Mac Ads Cleaner, and many others. All these malicious apps might engage in illegal sensitive information gathering and use it for future scam campaigns or use phone numbers to contact the infected users and claim fake virus infections on the system, asking for payment for the alleged help.
SUMMARY
Name
Advanced Mac Cleaner
Type
Malware
Sub-type
Fake system optimizer/scareware
Related programs
Mac Adware Cleaner, Mac Ads Cleaner, Smart Mac Booster
Operating system
macOS, Mac OS X
Distribution
Software bundling, official website, suspicious ads
Elimination
You can terminate the PUP with the help of anti-malware software or by following the manual guide below
recovery & optimization
If you need a trustworthy tool that can keep your Mac in the best shape, download and install

Reimage

Reimage Cleaner

Intego
If you checked Internet forums, you could see that they are full of users' complaints and concerns about Advanced Mac Cleaner.[1] Indeed, the indicated program acts like a potentially unwanted program (PUP): it enters your system without asking, causes continuous pop-ups, pushes its users into buying the license, and fails to leave the system when being asked. If you checked the Internet, you could see that there are many complaints from users who can't get rid of Mac Cleaner virus.[2] It has also been called a scam[3] and a fake utility that cannot be uninstalled easily.
Nevertheless, finding the main program and moving that file to trash is not enough. This is why Advanced Mac Cleaner is called a virus and is persistent. The application is set to alter startup entries to make sure the tool is launched on the system after each reboot automatically – it then presents users with fake security alerts immediately.
Recently, online forum member reported about a new scam associated with Advanced Mac Cleaner malware. He/she said that, after finding the program on the computer seemingly out of nowhere, a phone call from an individual with an Indian accent came right after.
The person on the phone claimed that the system is infected with malware and that the cost of removing it will be $249. The worst part is that the crook knew the name, phone number, email, and address of the forum user and asked for the credit card details via the phone. Note that you should never provide any details to unknown individuals over the phone, no matter who they claim to be.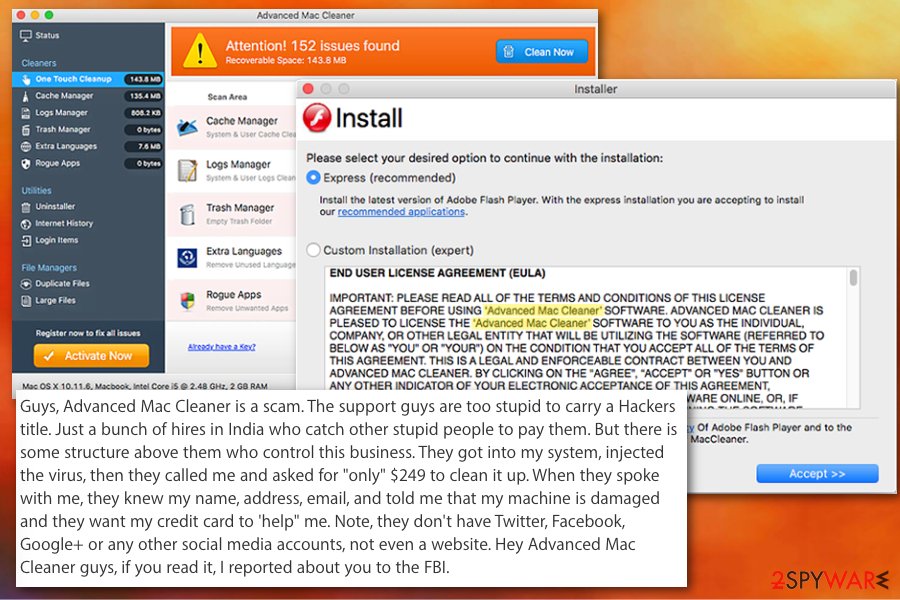 Advanced Mac Cleaner is a technical support scam program that even leads to calls from fake IT specialists who later demand money for their "services".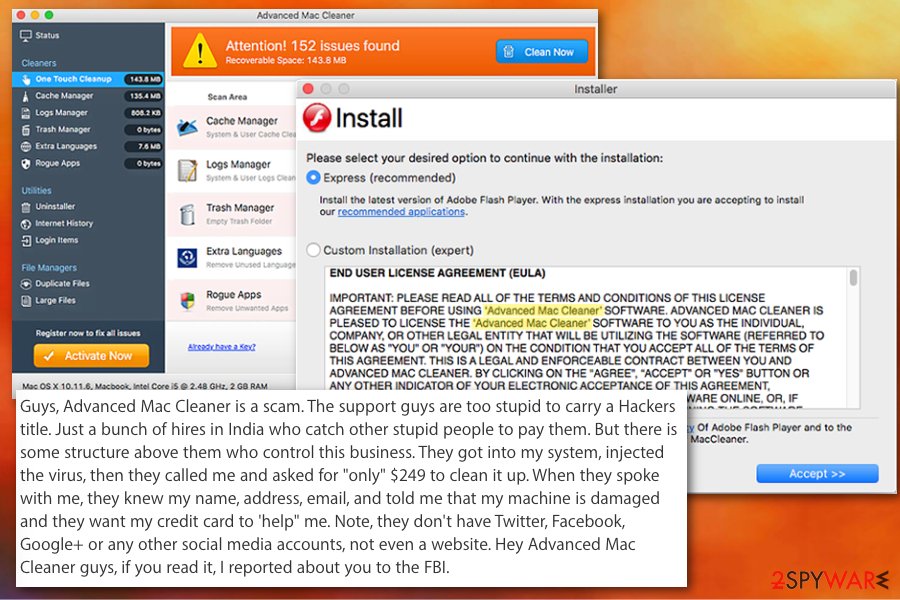 Advanced Mac Cleaner is a technical support scam program that even leads to calls from fake IT specialists who later demand money for their "services".
Initially, Advanced Mac Cleaner may seem harmless, although it is anything but that. Having it installed for a prolonged period of time might result in system damage, stolen credit card or other information, as well as money loss.
Additionally, beware that Advanced Mac Cleaner is closely related to these highly questionable apps that are installed to your device without permission:
The program causes numerous pop-ups that offer these cleaners as another way to improve computer security. In addition, any of these apps can be downloaded in a bundle with this cleaner as it is mentioned in the program's EULA:
The initial term of this Agreement will commence on the date you acquire or download the Software, along with Mac File Opener, which is also a product of Advanced Mac Cleaner. It is downloaded with it.
On the official website, Advance Mac Cleaner is advertised as "a state of the art technology" which was coded by industry experts that have been working on the same projects for over 32 years. The software ostensibly can clean disks, uninstall unwanted apps, and help the user manage files to avoid duplicates and clutter. Of course, such a presentation sounds convincing, but you shouldn't believe it.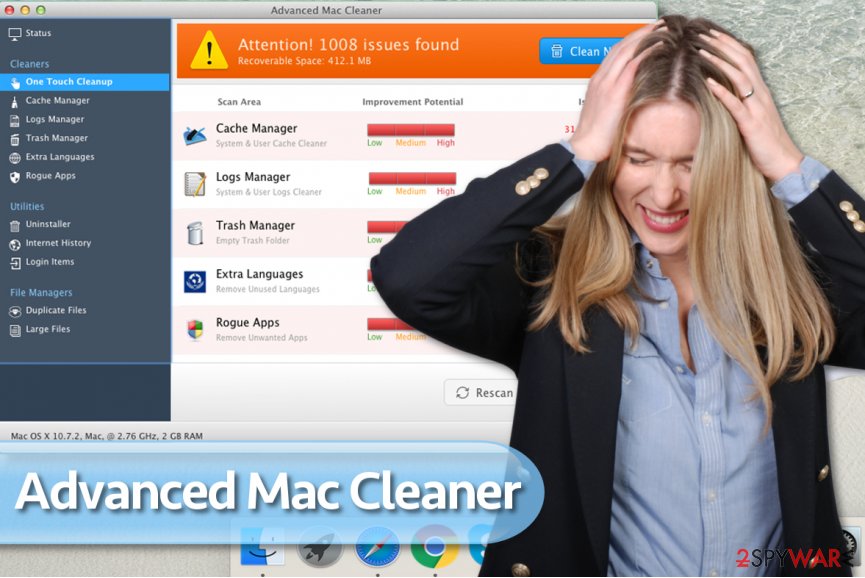 Advanced Mac Cleaner is a PUP that typically states that there is a large number of issues on the system that needs to be solved. You shouldn't rely on this program as its main aim is to trick its users into buying its full version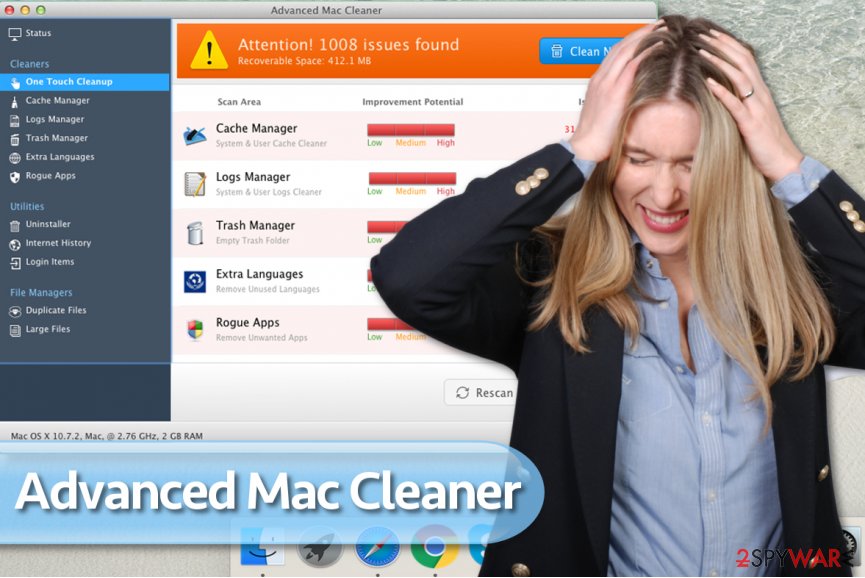 Advanced Mac Cleaner is a PUP that typically states that there is a large number of issues on the system that needs to be solved. You shouldn't rely on this program as its main aim is to trick its users into buying its full version
Once inside the computer, Advanced Mac Cleaner "checks" the system and typically reports thousands of detected errors and security threats. However, you shouldn't rush to fix them. Keep in mind that the vast majority of these errors are just so-called false-positives meant to trick you into purchasing the full version of the program. So, if you have been wondering whether Advanced Mac Cleaner is a scam, the answer is yes. Its free version is distributed to increase sales of the license which is yet another useless app that displays fewer ads than the trial version.
We find such a marketing technique very dishonest, and we don't recommend such a product for you. Advanced Mac Cleaner pop-ups that it wants to charge its users 39.95 Euros for its license and tries to talk the user into buying Sticky Password software and previously-mentioned apps alongside it. Undoubtedly, we do not recommend obtaining the paid version of the program because personal information that you add while trying to buy it can be reached by program's developers, as it is mentioned in its EULA:
You acknowledge that Advanced Mac Cleaner collects certain information regarding the users of the Software, including certain personally identifiable information. You hereby consent to the software for collection and use of such information, and agree that collection and use of such information will be governed by Privacy Policy and that we may revise the same from time to time.
It doesn't matter if you installed the program yourself or if it arrived in a bundle with previously mentioned programs, you should get rid of it right now. We highly recommend completing Advanced Mac Cleaner removal with the help of our recommended tools as there are numerous complaints regarding the complicated removal of this app. Thus, scan your machine with anti-malware software to make sure the PUP is removed. Finally, if you want to get software that can optimize and care for your macOS, use Reimage Reimage Cleaner Intego.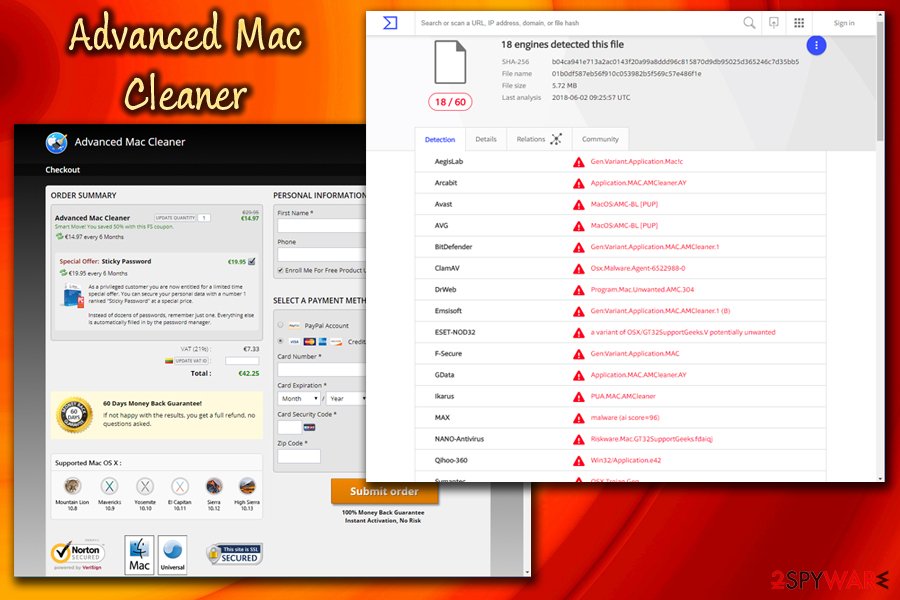 Advanced Mac Cleaner is the tool that has a main installer which is recognized as malicious by multiple AV engines.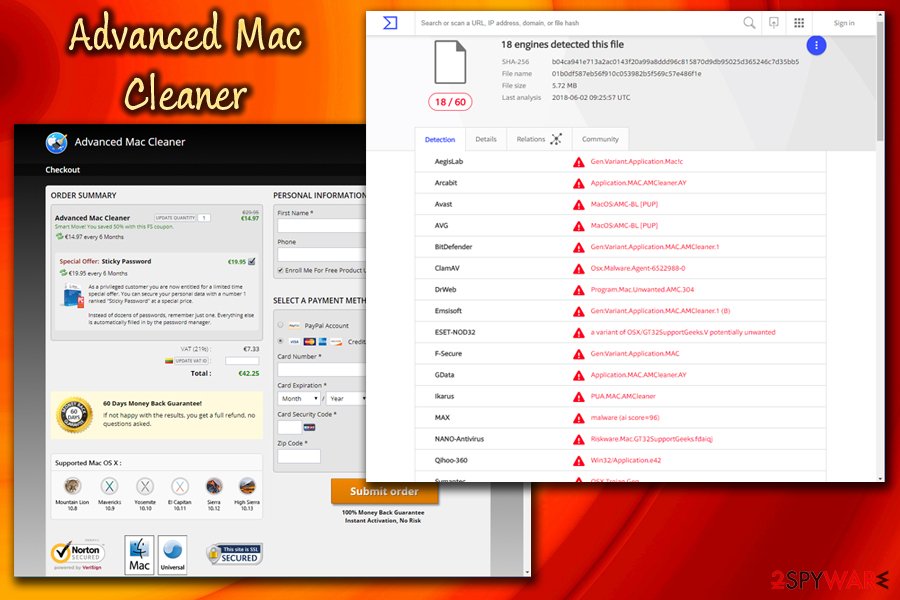 Advanced Mac Cleaner is the tool that has a main installer which is recognized as malicious by multiple AV engines.
However, if you are looking for instructions on how to remove this PUP from MacBook or other mac os device manually, you should scroll down to the end of the article where you can find a detailed and illustrated the step-by-step guide. Make sure you perform every step in exact order just to make sure that you don't eliminate needed system components.
Warning: if you found Advanced Mac Cleaner on your Mac, it might be infected with a Trojan
Security researchers from Intego reported[4] about a cyberthreat that targets all Mac devices which do not have third-party security software installed. The malware dubbed OSX/CrescentCore is a Trojan that is commonly installed via dodgy and copyright-infringing piracy websites that promote free versions of the paid software or even comic books.
Additionally, experts said that the Trojan is also being distributed with the help of fake Flash Player installers. The pop-ups show up on various websites that claim that Flash Player is outdated and needs an update. This technique has been used for years, as Flash is one of the most common software users have on their machines.
Nevertheless, nobody should be installing the updates that pop-up like that – Flash, in general, will be discontinued by Adobe in 2020,[5] as the software is outdated and full of security holes. The infection of CrescentCore is triggered as soon as the malicious .dmg file is clicked – all while users think it is something entirely different.
CrescentCore then installs a LaunchAgent which prevents its successful removal and proceed with the installation of various unsafe system optimizers, Advanced Mac Cleaner is one of them. Additionally, malware can also install malicious Extensions on the Safari web browser.
The CrescentCore malware campaign shows that the Advanced Mac Cleaner is a malicious tool and should always be removed. Besides, Mac malware has become more prominent over the years, so users should be more careful, as Gatekeeper protection is no longer enough.[6]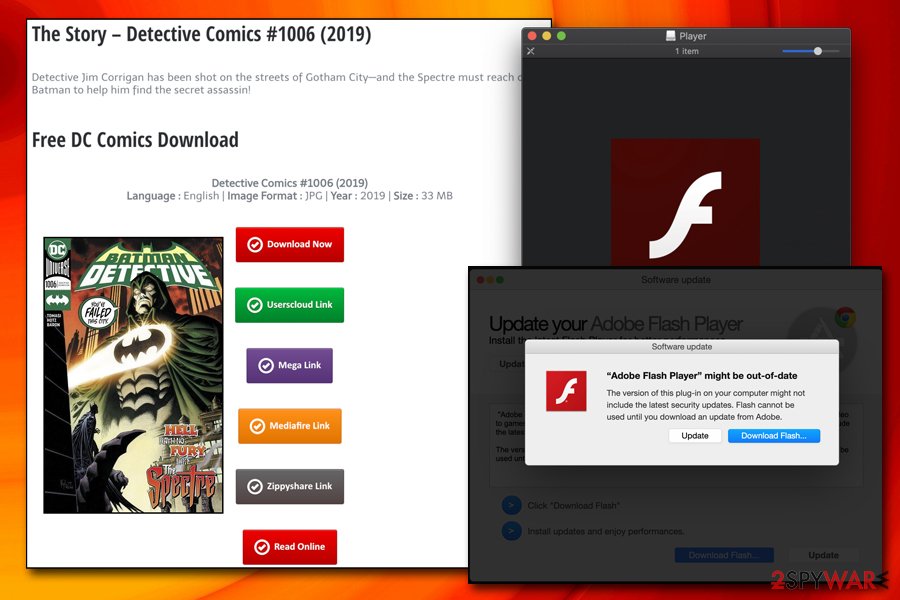 Security researchers from Intego observed Advanced Mac Cleaner being installed by Mac Trojan CrescentCore.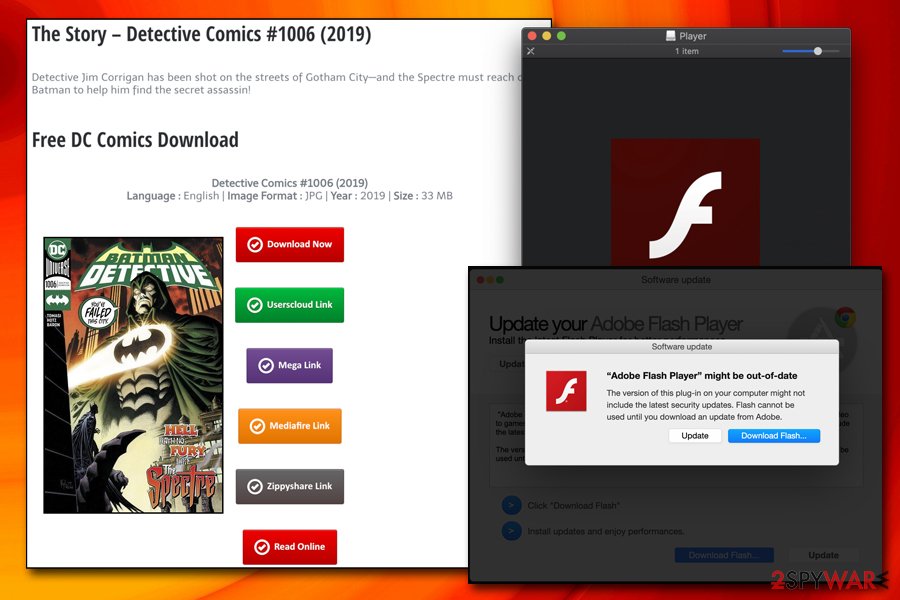 Security researchers from Intego observed Advanced Mac Cleaner being installed by Mac Trojan CrescentCore.
2019 update: Advanced Mac Cleaner is promoted via sweeps5164.yourmonday97.live and similar fake sites
There are more than one or two websites that appear to promote Advanced Mac Cleaner as a great tool for virus removal. Recently, a scam by the name of sweeps5164.yourmonday97.live was discovered by our experts' team. The suspicious message can be met when browsing through unsecured pages. The notification claims:
IMMEDIATE ACTION REQUIRED

We have detected a trojan virus (e.tre456_worm_osx) on your Mac.

Press OK to begin the repair process.
However, note that this type of content is only one big scam provided by the misleading sweeps5164.yourmonday97.live source. If you click on the "Scan Now" button you will be provided with the imitation of a system scan. After it is finished, a warning of Bankworm virus detected and /os/apps/worm.icv infected file will appear.
All of this is just a lie carried out to trick gullible users. To "fix" all the "problems" and remove the fake cyber threat, sweeps5164.yourmonday97.live virus will offer you to download Advanced Mac Cleaner. As you can see, this is just another way for developers to promote their misleading product and such scams should not be taken seriously.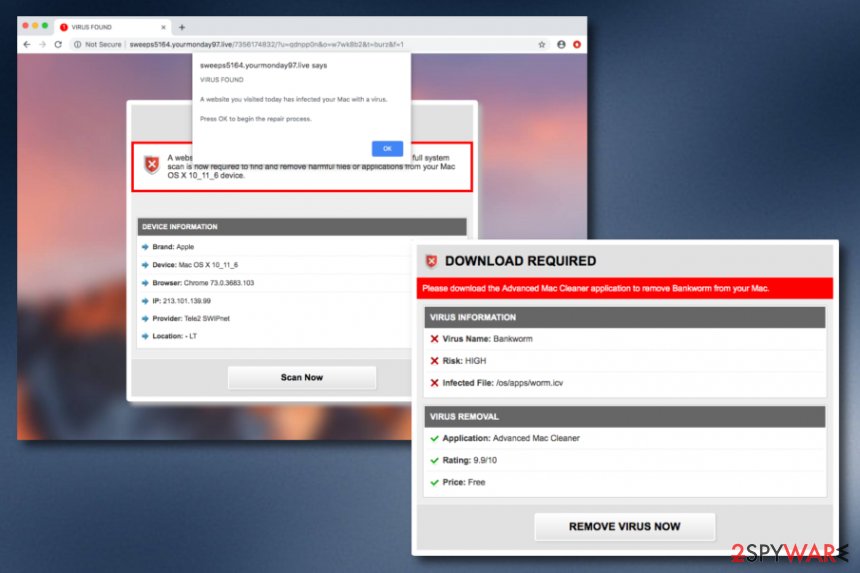 sweeps5164.yourmonday97.live – is a third-party promotion source of Advanced Mac Cleaner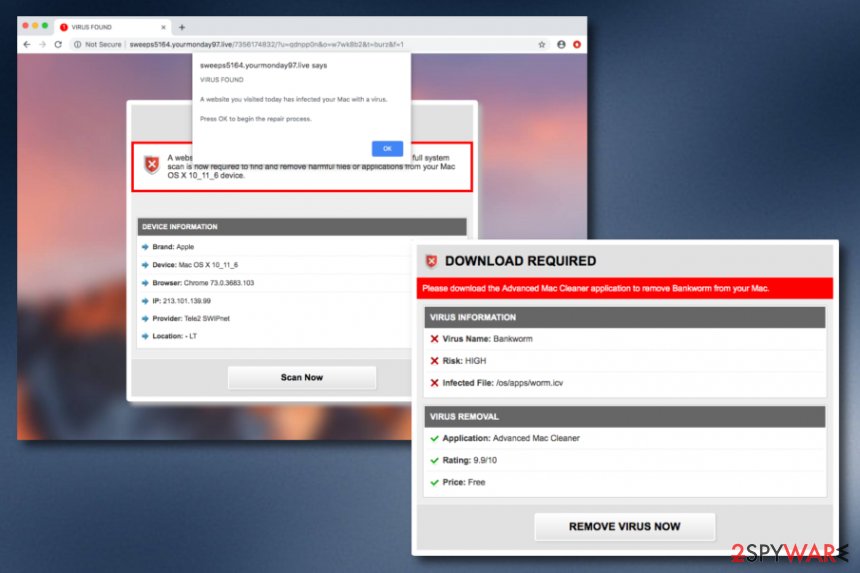 sweeps5164.yourmonday97.live – is a third-party promotion source of Advanced Mac Cleaner
Sadly, this is not the only scam campaign that aims to promote the fake security tool. There are other scamming viruses such as Advancemactools.live that have the same goals as sweeps5164.yourmonday97.live and operate by using the same principle. If you ever run into such scam, ignore the message, and close the window that is displaying it.
2020 update: Advanced Mac Cleaner virus can reinstall itself
Although the warnings that the Advanced Mac Cleaner is a fake system tool have been circulating around since 2017 or earlier, people still get caught by this Mac virus. Reddit community[7] keeps reporting about new attacks and recently shared a three that this pest keeps reinstalling itself even after being quarantined and removed.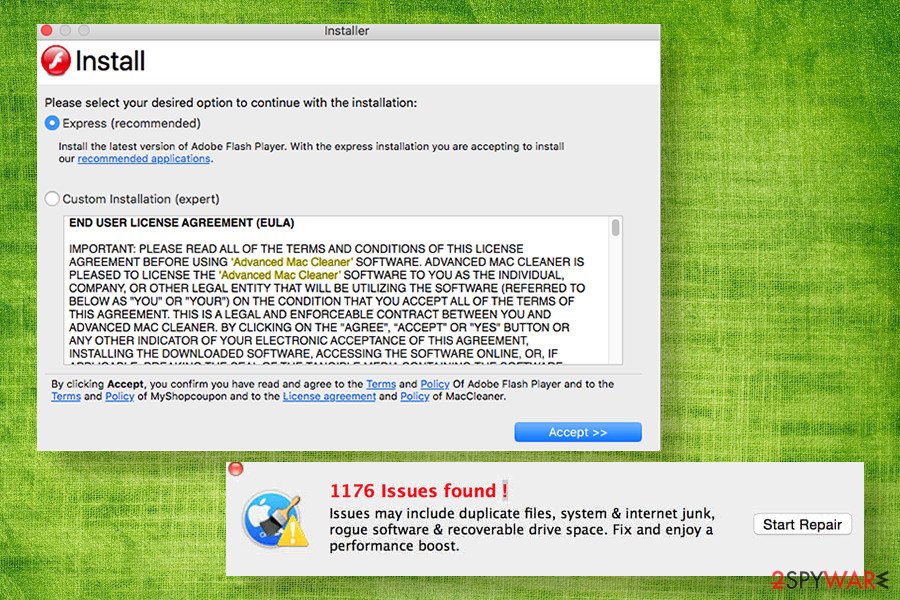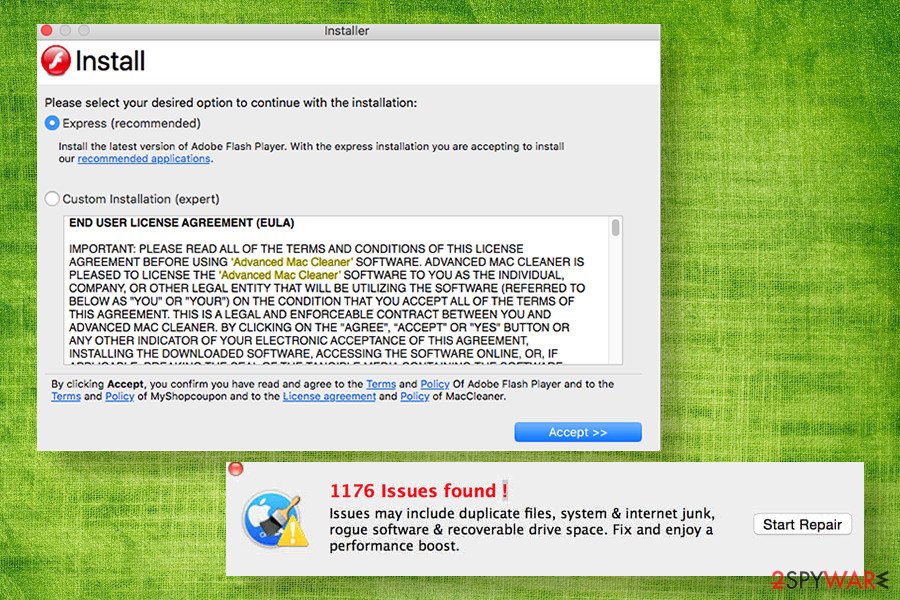 According to Mac security experts, there are two reasons for that, i.e. the system is infected with a persistent Trojan, which managed to sneak through AV scanner without being noticed or the Advanced Mac Cleaner virus leftovers within the following folders:
/Library~/Library
/Library/Application Support~
/Library/Application Suppor
/Library/Preferences~
/Library/Preferences
/Library/Caches/~
/Library/Caches/
/Library/LaunchAgents~
/Library/LaunchAgents
/Library/LaunchDaemons~
/Library/LaunchDaemons
/Library/PreferencePanes~
/Library/PreferencePanes
/Library/StartupItems~
/Library/StartupItems
The malicious executable may keep reinstalling itself or run intrusive ads every day at exactly 24-hour intervals. People may get small popups on Mac screen saying that the system is infected and needs maintenance. Alternatively, the malware can display promotional content, such as Black Friday deals on the Advanced Mac Cleaner subscription.
Thus, in order to permanently remove Advanced Mac Cleaner virus from the system, it's important to use a robust Mac security tool and then scan the system with Reimage Reimage Cleaner Intego or similar application that would be capable of detecting software remnants.
The new version causes even more problems for its users
We noticed a serious increase in users' reports related to this optimizer recently. They claim that they cannot uninstall Advanced Mac Cleaner from the computer easily. The official website offers to download Uninstaller which is supposed to delete the program from the device. However, if users have other antivirus tools installed on the device, they might block this app as potentially unwanted.
So, to use the official uninstaller, users have to turn off real-time protection. Then they can run the uninstall and remove PUP with it. Undoubtedly, the necessity to update security software is a warning sign that this program is suspicious. Do we recommend that? NO, because the installation of this tool might lead to the infiltration of previously mentioned Mac Adware Cleaner or Mac Ads Cleaner.
According to the VirusTotal information, Uninstaller (Advanced Mac Cleaner_mfoawcban.pkg)[8] is recognized by the majority of antivirus and anti-malware utilities. If you are not sure how this service works, we can briefly explain that this project allows inspecting suspicious files or URLs with over 60 antivirus scanners. Thus, chances that at least of half of the security programs deliver false results are hard to believe.
We recommend keeping away from the "official uninstaller" and eliminating the program with a reputable antivirus program. Then you can be sure that any potentially dangerous applications were not installed on your Mac.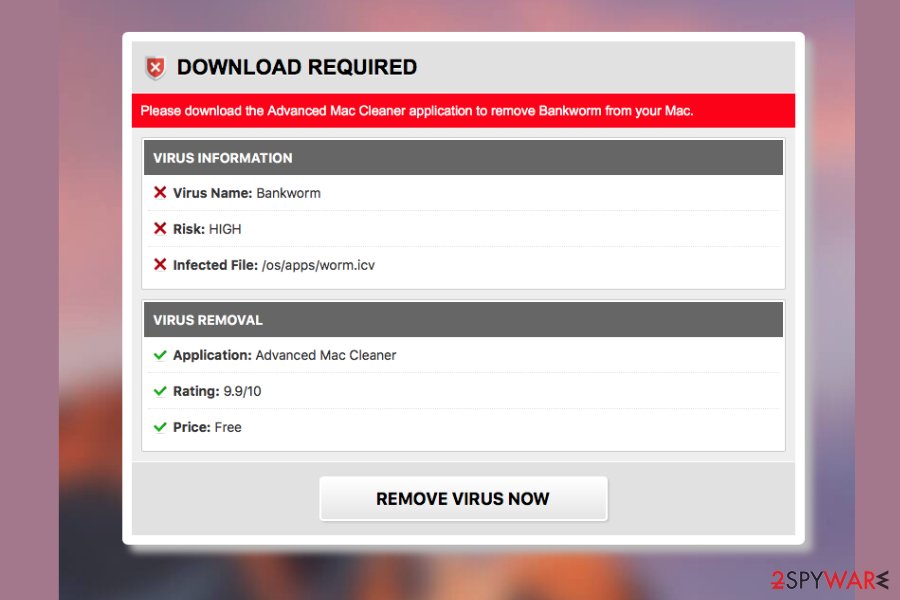 Advanced Mac Cleaner is the tool that detects fake malware. Try running an alternative scanner to make sure that the detection is invented.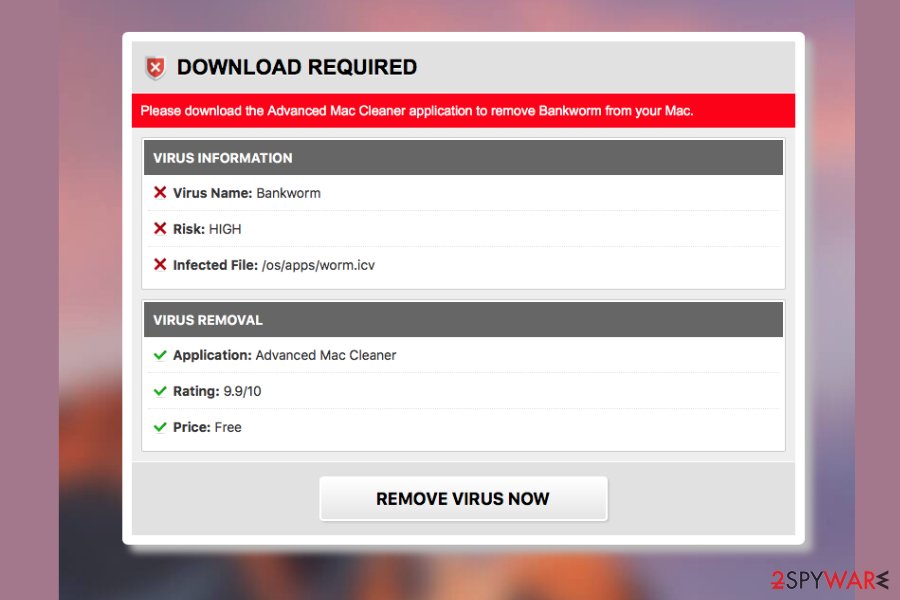 Advanced Mac Cleaner is the tool that detects fake malware. Try running an alternative scanner to make sure that the detection is invented.
The program is promoted on bogus sites and via bundling
When browsing the web, users can encounter a suspicious website that shows a fake security warning. It reports about detected "Bankworm" on Mac computer. The alert looks like a regular security program's window that provides information about the identified cyber threat: it includes the name of the virus, risk level, and the location of the infected file.
However, you should not forget that security alerts that pop up on your browser are never real. Such a site is used for spreading a free version of the Cleaner. Though, the "Bankworm" infection is just the imagination of a shady software marketing team. Thus, if you ever end up on such a site, you should not click the "Remove virus now" button and download this questionable tool.
Protecting your Mac from Advanced Mac Cleaner
Many Mac users believe that these devices are resistant[9] to computer viruses. Sadly, they're not – scammers and malware developers are slowly trying to take control over this market as well. However, nowadays, many ad-supported applications or questionable system tools, like Advanced Mac Cleaner, hijack[10] Mac computers via other free applications that are not available on the App Store.
Various free software promotes this tool, so it is possible that you will find this application on your Mac after installing certain third-party programs downloaded from the Internet. Due to this feature, users tend to call this program as a virus. However, we want to point out that this application is neither a virus nor malicious. It's just a potentially unwanted program that cannot do any damage to your PC.
However, if you want to avoid undesired apps:
check out comments about certain applications online before installing them on your device;
rely on Custom/Advanced installation settings when installing Mac software;
unmark all pre-selected programs that might be offered as "optional downloads."



Advanced Mac Cleaner is the program can be downloaded on the official website. However, in most cases, it enters machines without users permission
To remove AdvancedMacCleaner once and for all, you need to know some tricks
If you are still wondering how do I get Advanced Mac Cleaner off my mac, you came to the right place. Our team is willing to help you get rid of this potentially unwanted program. We want to remind you that you should not download the uninstaller from the official website or other third-party sources. It's a highly suspicious tool that might install additional PUPs to the system.
To delete the PUP from the system, we highly recommend you using an automatic removal option. For that, use the anti-malware software that we recommend down below this article. This is the easiest way to find a questionable program's components and remove them completely. However, you can also try to take care of virus removal on your own, but make sure you carefully read the instructions that we prepared.
If, for some reason, you cannot remove this PUP, please send a question to our support team. You might as well want to check out the comment section at the end of this page – you might find useful tips from 2spyware experts who had the "pleasure" to test the described program:
You may remove virus damage with a help of Reimage Reimage Cleaner Intego. SpyHunter 5Combo Cleaner and Malwarebytes are recommended to detect potentially unwanted programs and viruses with all their files and registry entries that are related to them.
When you work on the domain, site, blog, or different project that requires constant management, content creation, or coding, you may need to connect to the server and content management service more often. It is a hassle when your website is protected from suspicious connections and unauthorized IP addresses.
The best solution for creating a tighter network could be a dedicated/fixed IP address. If you make your IP address static and set to your device, you can connect to the CMS from any location and do not create any additional issues for server or network manager that need to monitor connections and activities. This is how you bypass some of the authentications factors and can remotely use your banking accounts without triggering suspicious with each login.
VPN software providers like Private Internet Access can help you with such settings and offer the option to control the online reputation and manage projects easily from any part of the world. It is better to clock the access to your website from different IP addresses. So you can keep the project safe and secure when you have the dedicated IP address VPN and protected access to the content management system.
While much of the data can be accidentally deleted due to various circumstances, malware is also one of the main culprits that can cause loss of pictures, documents, videos, and other important files. Potentially unwanted programs may clear files that keep the application from running smoothly.
More serious malware infections lead to significant data loss when your documents, system files, or images get locked. Ransomware is the one that is focused on such functions, so your device gets useless without access to needed data. Even though there is little to no possibility to recover after file-locking threats, some applications have features for such recovery in the system.
In some cases, Data Recovery Pro can also help to recover at least some portion of your data after data-locking virus infection or general cyber infection.
This entry was posted on 2020-07-15 at 02:24 and is filed under Mac Viruses, Viruses.